Flying high above the crowd, Maui born Kai Lenny has literally pushed extreme water sports to new heights. Whether dominating aerial acrobatics in big surf Jaws, or his inaugural Foil division victory in the Molokai 2 O'ahu paddle race, this phenom is in a league of his own.
The Hawaiian Island of Maui is well-known for being a windy oasis for the top kite and wind surfers, which makes for an ideal upbringing for a future champion. Growing up in Paia with the outer reefs of Sprecks as their backyard, the Lenny 'ohana is equipped and ready for any condition with no days off, and it shows. The trophy shelf is full.
Whether he's battling bucking broncos in Nazaré, Portugal, or solo-sessions in 40 knot winds in the Jaws of Pe'ahi, Kai has superseded his predecessors in nearly every watercraft with the world at his fingertips.
What will he do next? Only time will tell, and the world at large is watching in awe as he raises the bar. We caught up with the 27-year-old waterman for the latest installment of Freesurf Mag's "Surviving Giants" series, as we talk story about his inspirations, unconventional diet, and small boards in big surf.
Hometown – Paia, Maui
What's your biggest fear?
Under-performing, or getting caught inside by a 100 foot wave.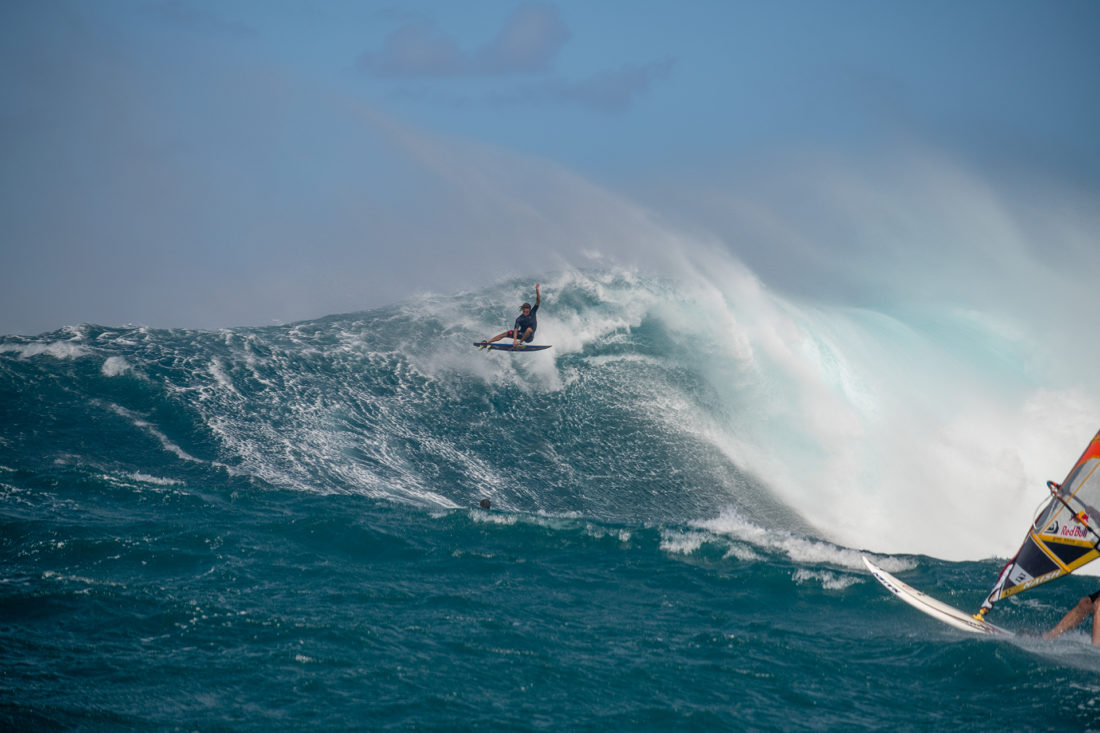 Closest near-death experience –
Fortunately, I have never had or felt like I was close to wind. I'd like to keep it that way.
What kind of mental preparation is required to survive a long hold-down?
I like addressing any doubts beforehand and eliminating as many unknowns, that way all I have to do is focus on the task at hand. I've always found that having a clear mind makes confronting a long hold-down easier since my mind is more at peace. Surviving a long hold-down is just about staying as calm as possible.
Heroes / mentors / role models –
Eddie Aikau was also a huge hero of mine and I always dreamt of being in his invitational event. Growing up, the Strapped Crew [also inspired] which consisted of: Laird Hamilton, Rush Randle, Dave Kalama, Darrick Doerner, Pete Cabrhina, Robby Naish, Mike Waltze, Brett Lickle, and Buzzy Kerbox. They were all climbing the mountain at Pe'ahi, and I got to witness it firsthand from the cliff as a little kid. Many of these legends gave me advice and some mentorship, which helped me get to where I am today.
What's your morning routine?
My morning routine is getting in the water as soon as I can after eating my first breakfast. In between sessions and during my second breakfast, I love to watch footage and listen to music to analyze what I could do better. Depending on the conditions, for example—if the waves are giant, I am up at 4am driving to the harbor to launch the boat and jet skis.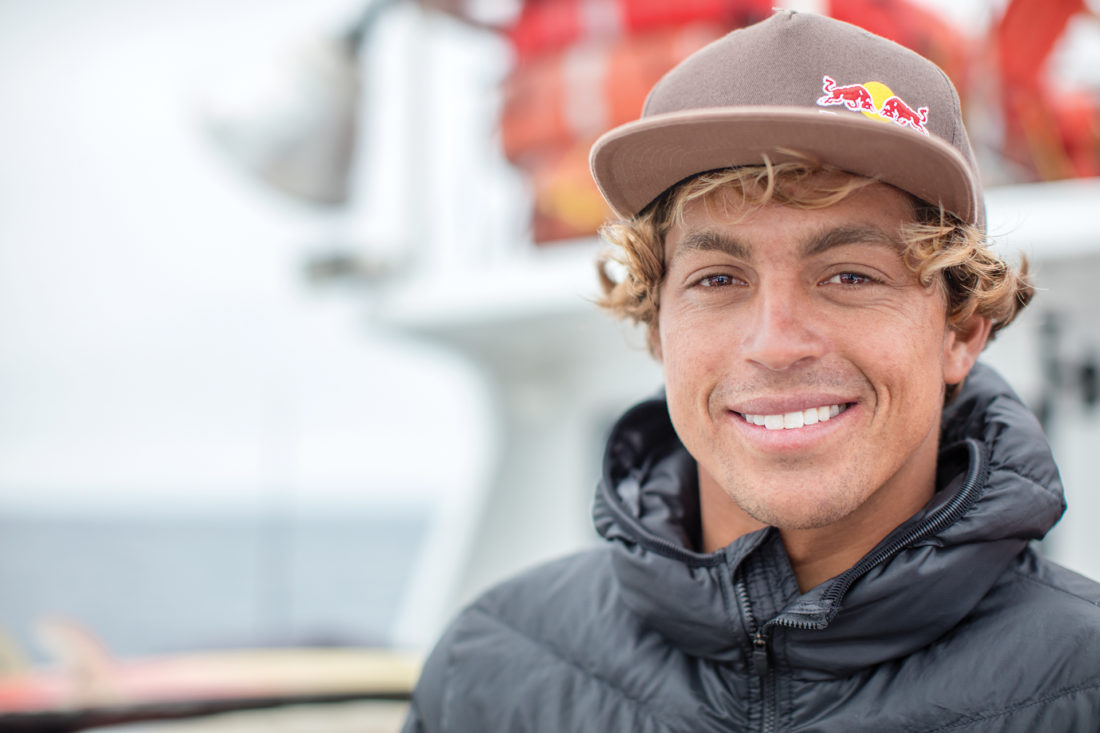 How have hydrofoils changed your approach to surfing and paddle races?
Hydrofoils really shifted my perspective on the definition of a good wave. Every time I see a crumbly wave now, I get so amped. For when the days come around that the waves are really good, it makes it even more exciting. A race like the Molokai 2 O'ahu has become a "surfing" race versus paddling. It's about really reading the swells as if you were surfing a point break that is delivering unpredictable sections.
Tell us about your winter surfboard quiver.
My quiver within the sport of surfing goes from 5'9" shortboards all the way up to a 10'4" gun. Within that range of boards, there are doubles and triples [carbon copies] of some boards in case anything breaks—especially the big wave boards—because at a place like Jaws, it's very often that just breaking your leash means the board is in a million pieces on the rocks.
Current trends in big wave equipment –
Right now I am all about having the most high-performance boards possible. I want to be able to do big open-face turns and have complete control when I'm in the barrel. That has led to some different designs inspired by my windsurfing boards. I believe the trend in the future will be shorter and shorter boards.
What makes Jaws the "Superbowl of Surfing"?
When that place is going, it's the best big wave in the world: it has the height, the barrel, the wall… It has every opportunity to ride at a level we are not at yet. So every season, every event out there, it becomes the stadium for next level performances. It's chow high the bar gets raised every session that goes down.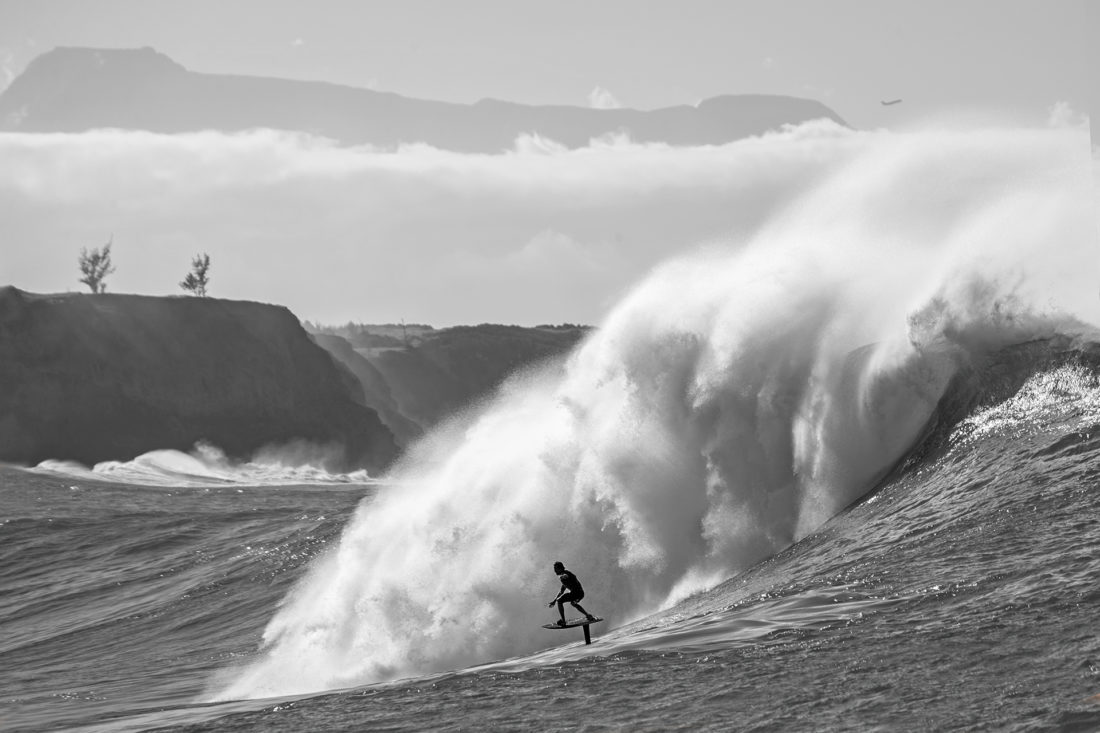 Fitness tips & training regimen –
The best training I have found is doing sports like stand-up paddling, as it simulates what big wave surfing is about. You're always out of breath, you need to have great endurance and you're using every part of your body to balance. I also find bodysurfing and swimming underwater is really comforting when getting blasted by a bomb. I always catch up with the freediving style courses during the summer and staying on top of that, focused on consistent gym workouts, mainly agility training.
Nutrition: Do you eat before a long day in the water at Pe'ahi, for example?
I found the best food for what I do is simply bean burritos, often times from Taco Bell! There's something about the refried beans, the protein and the carbs that lasts me most of the day and it's easy to digest. But it's important to find what works for you as we're all different.
What do you look forward to most after paddling in to shore?
Seeing all the footage and photos so I can relive the moments is so fun. I get so surprised by the insane shots these photographers and filmers
Predictions on the future of big wave surfing –
For myself, it's high-performance turns and aerial maneuvers on giant waves, mirroring what the best snowboarders in the world do up in the mountains.