A Big Wave Series by Shannon Reporting
Sleeping giants begin to awaken from their summer slumber, as thunder and lightning electrify the northern shores of the Hawaiian Islands. The rainy season warns us of potential for record-breaking storms on the horizon, and all the training leading up to this very moment is finally put to the test. Shapers sand down last minute orders as buoy readings rise, purple blobs igniting the storm graphs. This, folks, is big wave season.
Hawaiian winters are always exciting for big wave enthusiasts, but not all seasons are treated equally. El Niño winters, in particular, tend to light up the Pacific Islands with more frequency and strength, guaranteeing multiple XXL swells throughout the season and even the possibility of record-breaking size. The Eddie Aikau Big Wave Invitational, arguably the sport's most prestigious competition, last ran in 2014 during our most recent El Niño season. And it was epic, better than epic: it was historic! The Bay was closing out and, boy, was it huge. Local hero John John Florence proved his versatility in waves big or small by claiming the throne with home court advantage. For surf fans worldwide—especially those dedicated ones who camped out on Waimea Beach waiting for the early morning horn—it was entertainment at its best.
As we look back on recent memories of gigantic surf, there are a handful of local stand-outs who never disappoint when it comes to putting on a show. Given the pure numbers of big wave days on hand around the Hawaiian Islands every year, it's no surprise that some of the world's most celebrated big wave elite belong to this island chain. From founding fathers like Big Island's Shane Dorian (who influenced the invention of the inflation vest), to Pe'ahi Challenge domination by Billy Kemper, Maui's progressive hell-men: Albee Layer, Ian Walsh, and Kai Lenny, to the pioneers of women's big wave surfing (like Keala Kennelly and Paige Alms), to a single-fin enthusiast born into Waimea royalty (Emily Erickson), there's a plethora of big wave talent bred in the Pacific Islands.
The sport has come a long way since the Hawaiian kings and queens first paddled out to Waimea Bay—before leashes, impact suits, and "Instatweetergram." Today, there are two big wave competitions calling not only the strongest watermen out to the Bay, but also waterwomen. The Eddie Aikau Big Wave Invitational just announced four women in the lineup amongst the men, and the Red Bull Queen of the Bay is calling 24 ladies to the lineup in the first-ever big wave event for wahine. Times are changing, equipment is evolving, and equal pay has set a new standard for opportunity in the sport. The fall of the Big Wave World Tour under the management of the World Surf League only a few weeks before the 2019-2020 season opener was a shock to the system, with only the Pe'ahi Challenge event left on the schedule for big wave paddle-surfing. But hope is not lost! For how far the sport has come, we're sure the future has plenty in store.
We caught up with some of the most courageous chargers in the Hawaiian Island chain to talk story for Freesurf Magazine's new big wave series "Surviving Giants." They shared their insight on the dangers and emotional roller coaster of being a big wave surfer, how to survive a two-wave hold down, fitness and nutrition tips, and their greatest fears—the latter of which many of them struggled to answer, which made us wonder: Are big wave surfers fearless, or do they simply thrive off of the adrenaline of the unknown? Rather, are they more scared of risking it all, or not taking enough risk? This interview series will give you a glimpse into the unique big wave headspace and what it takes to survive.
To kick off the "Surviving Giants" series, Freesurf Mag talks story with two of the pioneers of the sport—Big Island Shane Dorian, and Kaua'i charger Keala Kennelly. These living legends have paved the way for so much of the momentum we see today. Respect is due.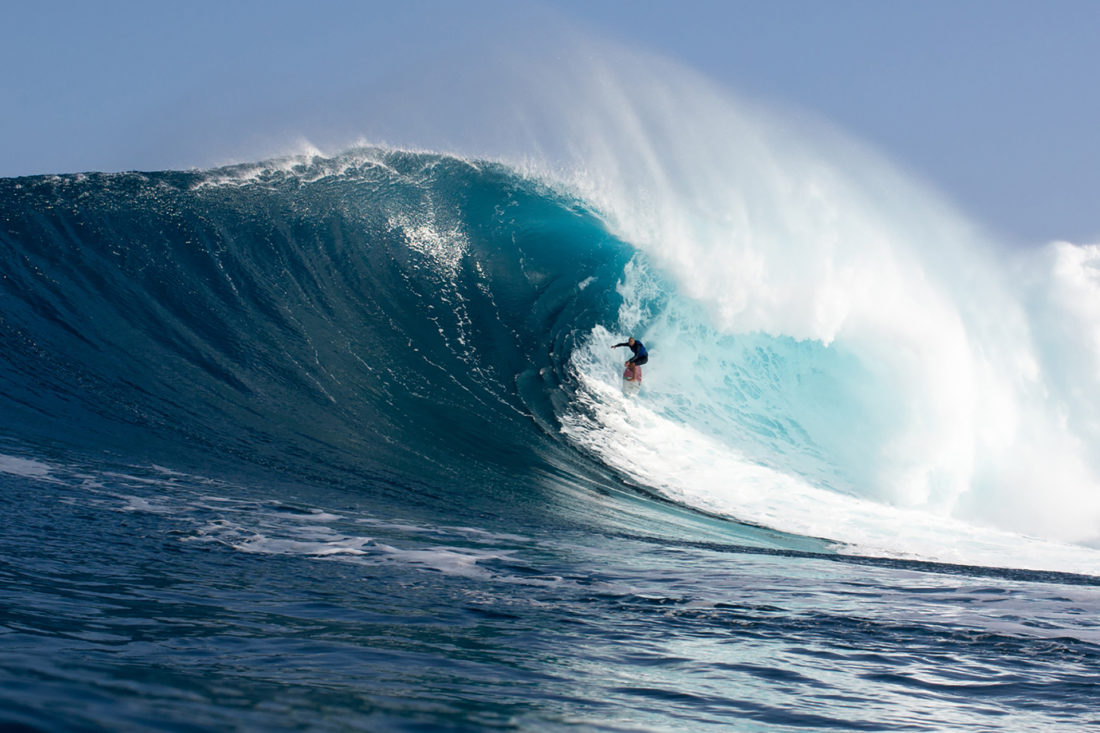 Big Wave Pioneer Shane Dorian
Inflation Vests, Training Tips, & "Dad Stuff"
Hometown, age – Kona, Big Island of Hawai'i, 47
Biggest fear – Being a terrible parent.
Morning routine – Healthy food, surfing, and doing simple "dad stuff" to get my kids ready for the day.
Current trends in big wave equipment – Slightly smaller boards, and different fin designs.
How did the idea of an inflation vest come to fruition?
The idea came to be as a result of a near-drowning experience I had at Mavericks in 2010. The vests make surfing big waves much safer by essentially making it very hard to drown.
What kind of mental preparation is required to survive a heavy situation like that?
I think lots of experience is the best mental preparation. Also, training a lot specifically for holding your breath in intense situations helps a lot.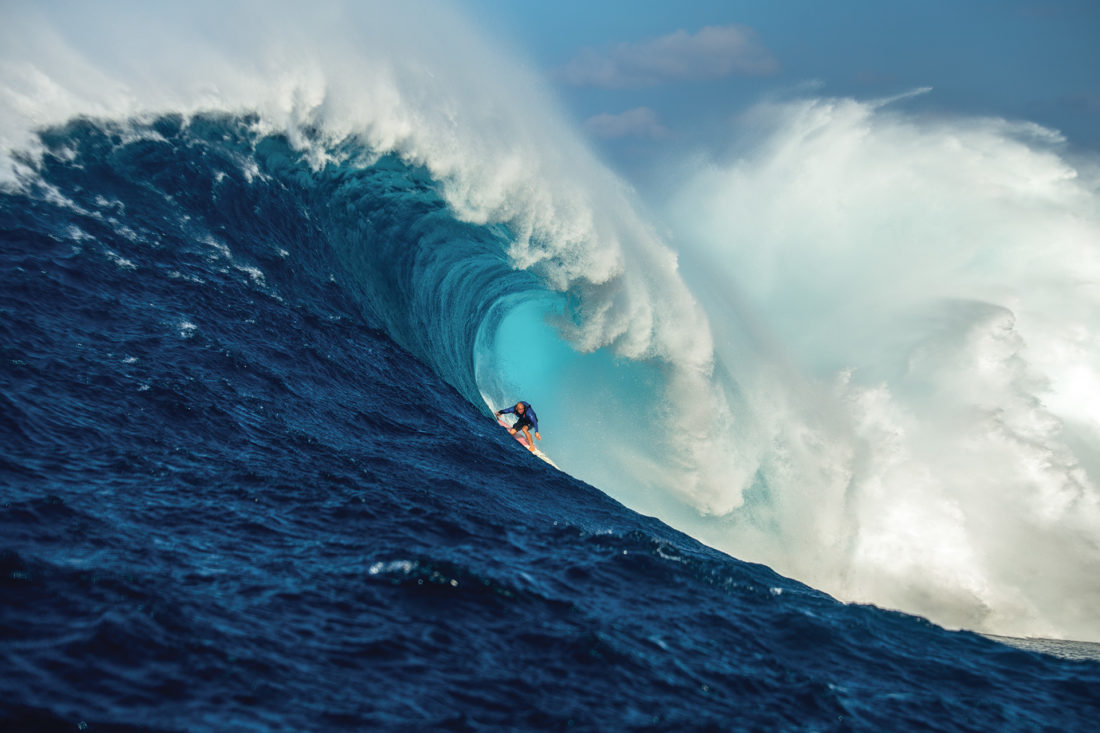 As I started traveling as a professional surfer right near the end of high school, Shane Dorian was a really big influence of mine. He's been a mentor through the entirety of that time and still is to this day today, not only as far as surfing goes. I look to him for leadership in the water and also outside: as a father and as a husband, everything he does he seems to do with a lot of class. He's been instrumental in my development." – Ian Walsh
Tell us about your winter surfboard quiver.
This winter looks a little different in terms of not being focused on Jaws so much. I have really fun new boards to ride, but mostly smaller boards—a couple of twin fins as well.
What do you look forward to most after paddling in to shore?
Food… I eat a lot of meals out of a blender – just throw a bunch of yummy, healthy stuff in there. Lots of fat, fish oil, avocados, MCT oil.
Training tips:
Find something you actually can be consistent with and do that. Train for health and fitness, not aesthetics.
Heroes / mentors / role models:
My mother, and close friends who are great parents and support their communities.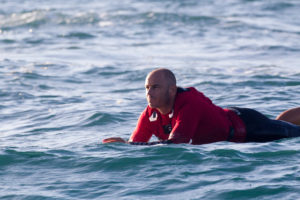 What does the future of big wave surfing look like?
Heavier and safer. The young guys and girls coming up are hungrier than ever, so it will be fun to see where it goes!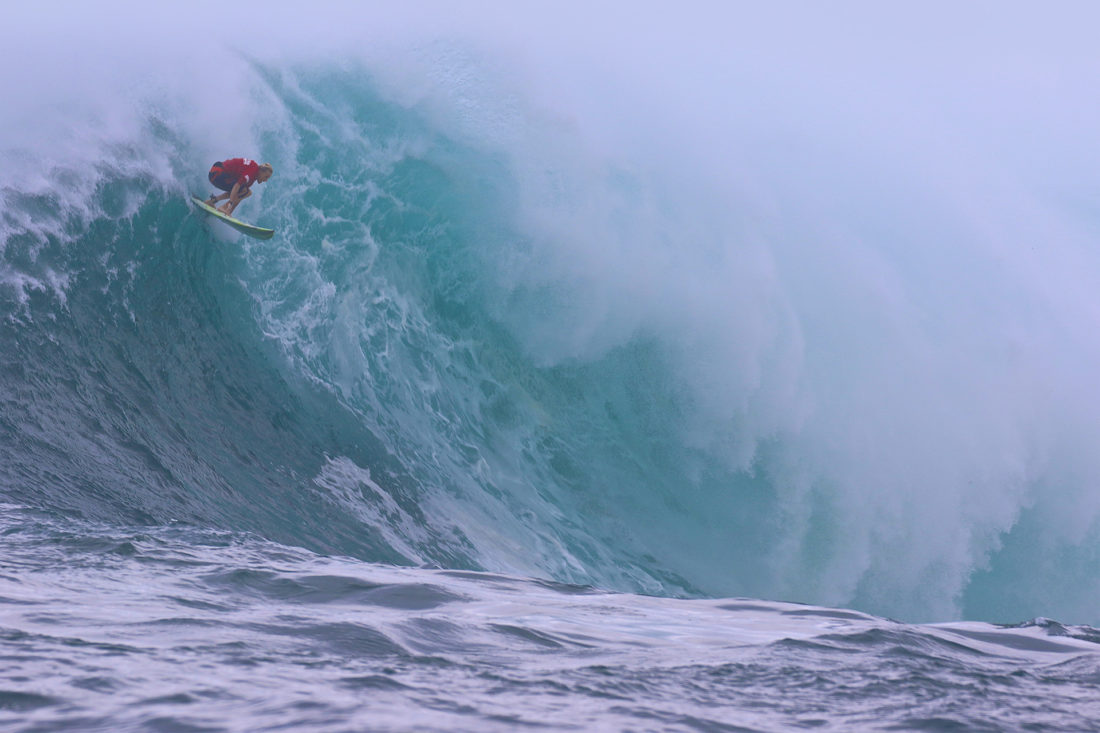 Big Wave World Champion Keala Kennelly
Equal Pay, The Eddie, & Jaws Redemption
Hometown, Age: Hanalei, Kaua`i, 41
Biggest fear – Getting paralyzed or dying. Losing people I love. Getting to the end of my life without accomplishing my goals.
Congrats on being invited to The Eddie Aikau. That's so exciting!
Years ago someone asked me, 'Would you ever want to be invited to compete in The Eddie?' And my answer was, 'Yes, but only if I was invited because of my skills and accomplishments, not because I'm the token female and I definitely don't want to take the spot of a male competitor who is more deserving.' It is with the utmost honor and gratitude that I accept my invitation each year and I also feel an incredible obligation and responsibility each year to earn it. And as for the Eddie inviting more females into the event [this season], I think it is very progressive of the Aikau's. They invited me as an alternate for the first time in 2017 (an entire year before WSL announced equal pay). I think it's also in line with the Hawaiian culture because back in the day in Hawai'i, men and women surfed together.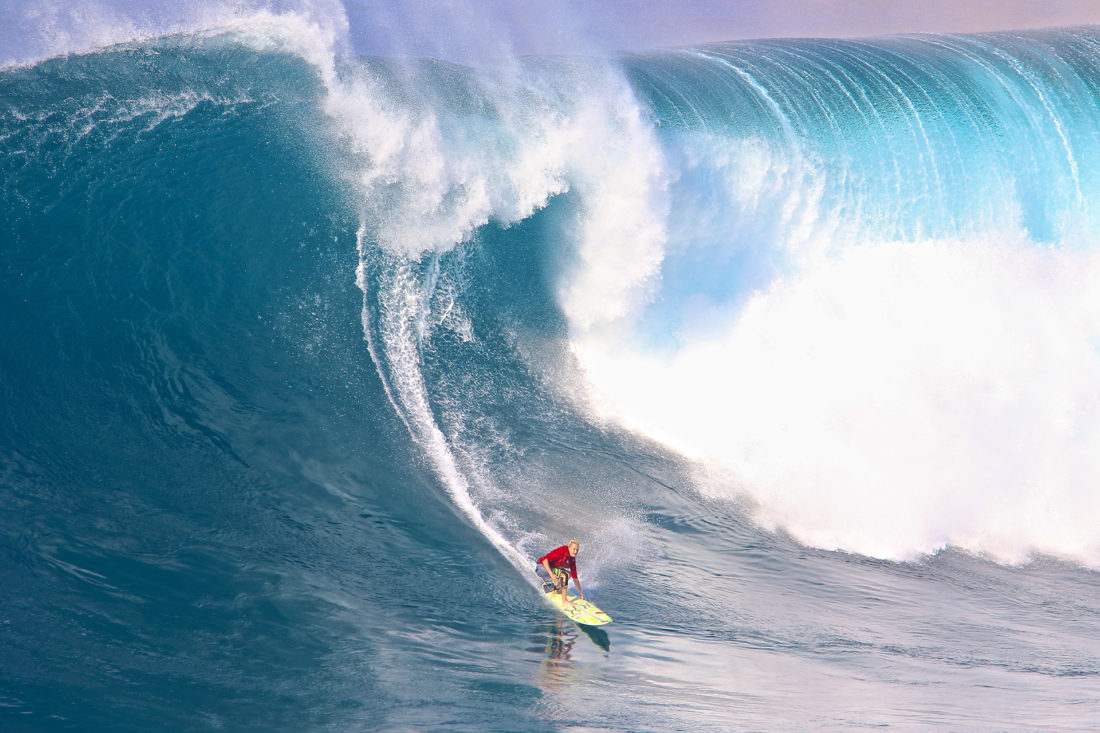 Closest near-death experience:
Well, getting caught inside of that 60-footer with no CO2 and no leash in the last five minutes of the Pe'ahi contest last year was definitely one. The other was the first time I surfed big Teahupo'o—the two-wave hold down was very scary. When I got that bomb at Teahupo'o that won the XXL "Barrel of the Year" in 2015 […] I got vaporized by the foam ball in the west bowl and slammed down so hard on the reef that it blew my helmet off and pinned me on the reef on my back. It almost beat me to death for sure. I still have nightmares from some of these.
Your head injury at Teahupo'o was one of the most seen images in surfing; how did you find the courage to surf there again?
I'm assuming you mean the one where I split my face open… That was so gnarly and the recovery l—both physical and mental—took a long time. I don't really know how I got the courage to go back out there. I can only attribute it to extreme FOMO [fear of missing out].
What's your mindset going into this season's Jaws Challenge as defending champion?
The mindset is redemption. I stacked it on every wave in last year in the final and with a 20ft at 20 second jacking swell with nuking wind, the conditions were tough for anyone, male or female. I chose to sit on the outside where the guys sit and take off in the pit. I felt incredible pressure to make sure I charged: I sat in the most critical spot and took critical drops, knowing that if I didn't, then I (and females as a whole) would get maligned for not putting it all on the line like the men do… Let's pray the conditions aren't as treacherous as last year. I'm still a bit traumatized from that experience, as were the people who love me that were watching, like my partner and my family.
Jaws is set up like an arena, and there are multiple peaks and sections. Most big waves are just a big drop and then they kind of fade out into the channel. At Jaws, you have a gnarly drop and then can set your rail. It offers the potential for barrels and critical rides in the pocket. It's unlike any other big wave spot I can think of.
What does it mean to you to represent the LGBT community?
I'm really proud to represent the LGBT community. They are very underrepresented so anytime a professional athlete, actor, politician, or public figure can come out and be visible as an LGBT person it is very uplifting for the entire community. It's especially empowering for the LGBT youths that are struggling with their sexual identity and how scary the coming out process can be.
How can equal pay positively influence local community?
Equal pay would be positive for every community on this planet! When 50% of the world's population is being subjugated, that's a problem. When you pay women equally, you [support] their financial independence. Young girls have been sold this bullsh*t Cinderella story that they need to find a Prince Charming to rescue them. What if we empower women to rescue themselves? Women wouldn't have to rely on finding and marrying a rich husband to survive in this world… I want to live in a world where young girls can aspire to be things like professional athletes as a career, because it's not just about equal pay; it's about equal opportunity.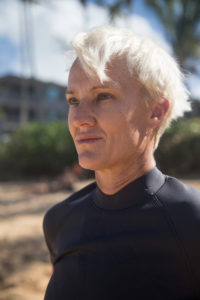 If the Red Bull Queen of the Bay ever runs (despite the unpromising holding period), it would be historic for women's surfing. How could that event help the sport?
It would be monumental. It would be the first women's big wave event on the North Shore ever, and with it being a women's stand-alone event, all the focus will be on the women athletes. It's going to allow women big wave surfers who don't qualify for the WSL event at Jaws the opportunity to compete in a big wave contest. Just to be able to surf Waimea Bay with only a few other people in the water is going to be such a huge opportunity for the women. I think when women athletes are given the chance, they end up surprising people so I'm really excited to see the women be able to challenge themselves. I think the fans are going to be stoked!
How can the Hawai'i community support equal opportunity?
We used to have a women's Triple Crown here in Hawai'i, and now there are no pro events for women on O'ahu's North Shore (other than a junior event). There used to be a women's division in the WSL events at Sunset and Hale'iwa. Members of the local community complained that the permit for Hale'iwa was too many days, so WSL's permit got cut from five days down to four. It takes four days to run the men's and only one day to run the women's, so the women got completely cut out of the event. This makes it incredibly hard for any aspiring female athletes from Hawai'i that wants to get on the WSL Championship Tour to qualify.
The Hawai'i community can help by:
1. Speaking up to the Hawai'i City and County about the permitting for Hale'iwa and Sunset to be extended one more day to allow for the women to have an event. I plan on launching a petition about this on a site like change.org so we can track support for women's events;
2. Come to women's events and cheer on the athletes. One of the big excuses "the powers that be" give for perpetuating inequality is that women's surfing doesn't have as much of a fan base as the male athletes. Let's change that and help get those numbers up;
3. If you are a business owner and you are in a position to sponsor an athlete, consider sponsoring a female athlete.
What does the future of big wave surfing look like?
It's uncertain right now because we keep losing big wave events. It's difficult to attract sponsors to fund big wave events when there is no guarantee if they will run. It's complicated when you require a major storm system to occur in a certain time frame in order to have a big wave contest. I remain hopeful that some day very soon someone is going to find a way to package and market big wave surfing properly, and then it is going to blow up because, let's be real, it's got to be one of the most exciting sports in the world! With the right marketing and support behind it, it could only get bigger and better; and in regards to women in the sport, we will only excel in performance—especially if given the support and opportunity!
Be sure to check out future installments of Surviving Giants: A Big Wave Series by Shannon Reporting, in the next issue of Freesurf Magazine.