Haleiwa Ali'i Beach, Haleiwa Nov 12-24
Featuring the top 128 surfers in the world, the Hawaiian Pro takes place at Ali'i Beach Park in Haleiwa, a town known as the gateway to the North Shore. With a heavyweight Qualifying Series (QS)10,000 status, the first event of the VTCS heavily impacts the ratings. Historically, regular footers have performed well at this event (only two goofy footers have ever won: Barton Lynch in 1988 and Conan Hayes in 1999). Last year, this trend continued when the North Shore's own John John Florence – already crowned as the 2016 World Champion – bested a talented field to take the win. This year, the stage is set for high drama with QS surfers seeking points to bolster their rankings, along with a group of veterans aiming for their first VTCS win.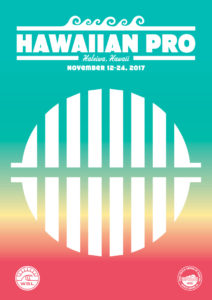 Wave Breakdown
The wave at Ali'i Beach can have numerous looks, depending on swell direction and size. As a predominant right hander on most swells, the left off the peak can also work when the waves are in the 4-foot and under range. This creates a very playful wall and lip, perfect for power mixed with progression. This also allows more versatility for the surfers. Once the swell builds over 4 feet, the right's powerful and punchy sections beckon for huge power carves and wraps in the pocket. The notorious Toilet Bowl section on the shallow inside reef can make or break opportunities for big scores.
Spectator Notes
An easy spectator experience, this event allows for front row seating on the sand as surfers tackle the tricky conditions that make this wave so noteworthy.There is parking directly in front of the beach and adjoining Haleiwa Harbor, but it fills up quickly. Beyond that, street parking is available along Haleiwa Road.The beach itself offers a good amount of real estate, with a handful of coconut trees for shade.Restrooms and showers are located on the northeast end of the beach.