Highlighting the pivotal storylines form the 2017 Vans triple Crown of Surfing
Hawaiian Pro
Filipe Toledo storms Haleiwa with a win; Two new faces join the WSL Championship Tour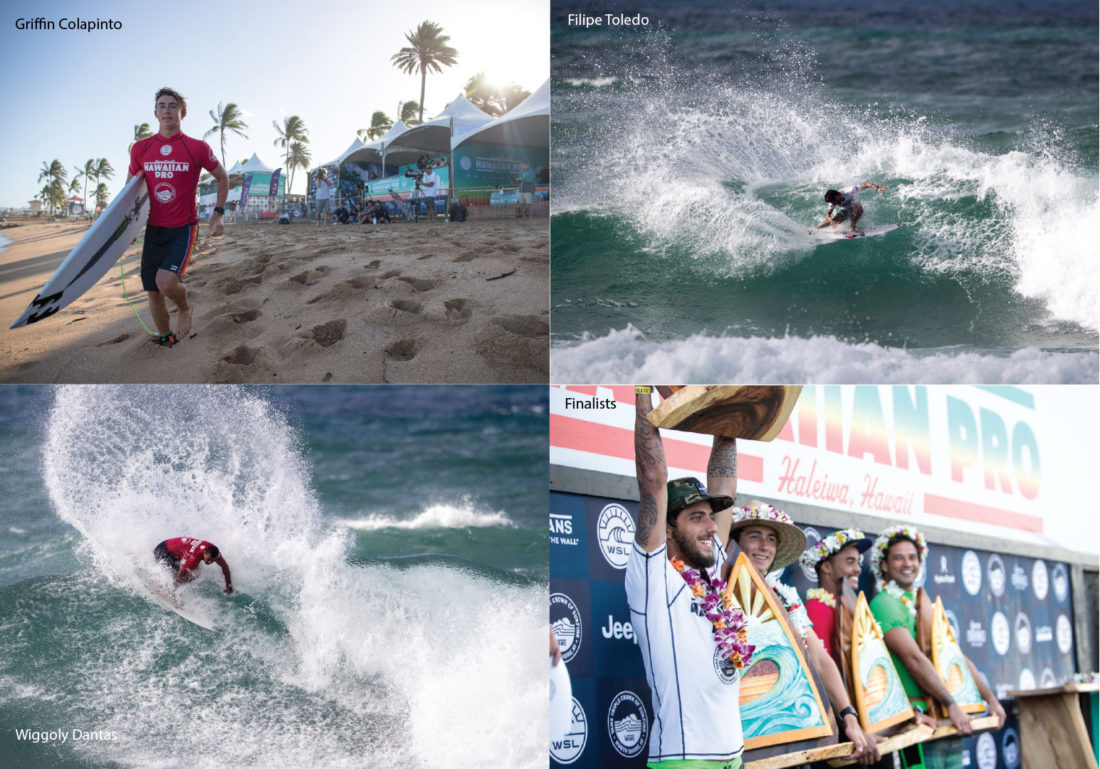 The Hawaiian Pro, the first gem of the VTCS, features the top 128 surfers in the world at Ali'i Beach in Haleiwa competing for big finishes and a boost in the WSL Qualifying Series ratings to qualify for the dreamy WSL Championship Tour. Throughout the early rounds of the QS10,000 that ran November 14-15 and 19-20, two CT hopefuls were surfing sharp and garnering high scores: Brazilian Willian Cardoso and California's Griffin Colapinto. On day 3 of action, Cardoso advanced from his heat in Round 3, giving him enough points to qualify for the CT. "It's not been easy. I've been in this moment before, been here, needed a result and it never came," said Cardoso, who spent 12 years competing on the QS. "I'm super stoked to qualify for next year." On Finals day, young gun Colapinto surfed into the final heat of the day and qualified for the CT after his runner up finish. "This will give me a lot of confidence, especially since I'm going to be on Tour next year," said Colapinto. In the Final, which ran in 4-6+ foot North swell and gusty onshore winds, Colapinto met Two-time Hawaiian Pro winner Michel Bourez and Brazilians Wiggolly Dantas and Filipe Toledo. Bourez opened the Final by pulling into a closeout barrel for a 4.67, and Colapinto quickly followed up with his first and best wave of the heat, an 8.17 for a strong carve and powerful finish. But Toledo wasn't finished. Instead of feeling any pressure, he applied it, landing a lofty 540 rotation on a buckled board, earning an 8.87 on the air and ultimately the win; no surfer could pull past his combined heat score of 16.54, one of the highest of the day and entire event. Dantas finished third and Bourez fourth overall. "It feels amazing, it feels really amazing," said Toledo. "I got runner up in 2015 and I felt that little taste of the victory. I stuck to my game with my strategy and I did what I needed to do and thank God for these wave and these airs, it was really fun." After the awards ceremony, attention shifted to the next and last QS event of the year: the illustrious Vans World Cup of Surfing.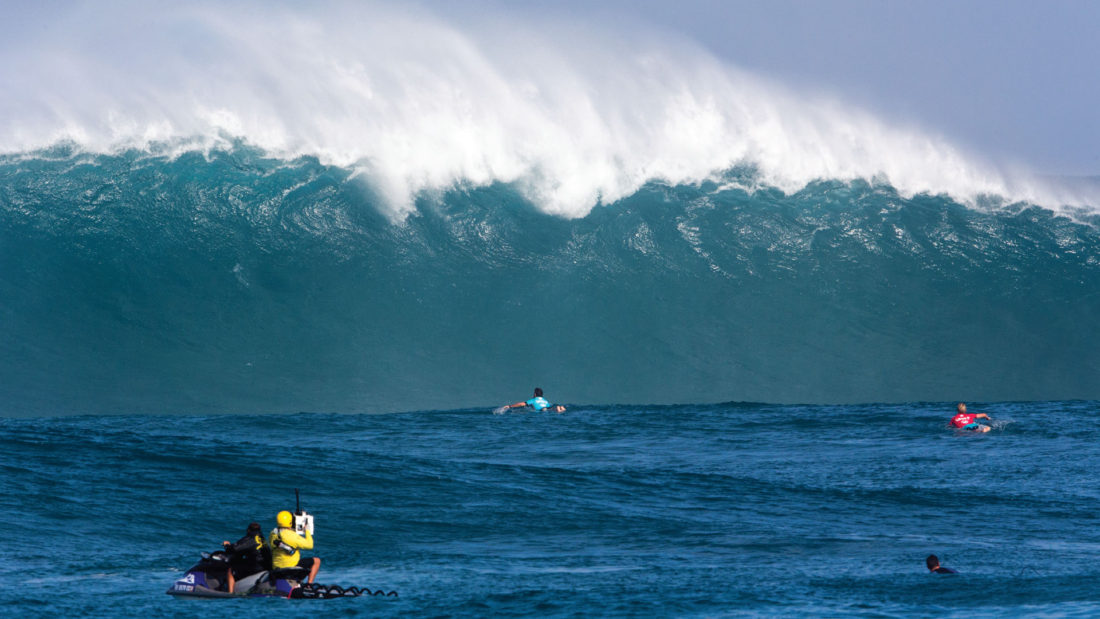 Vans World Cup
Conner Coffin's power game proves to be the winning formula; Colapinto continues his impressive run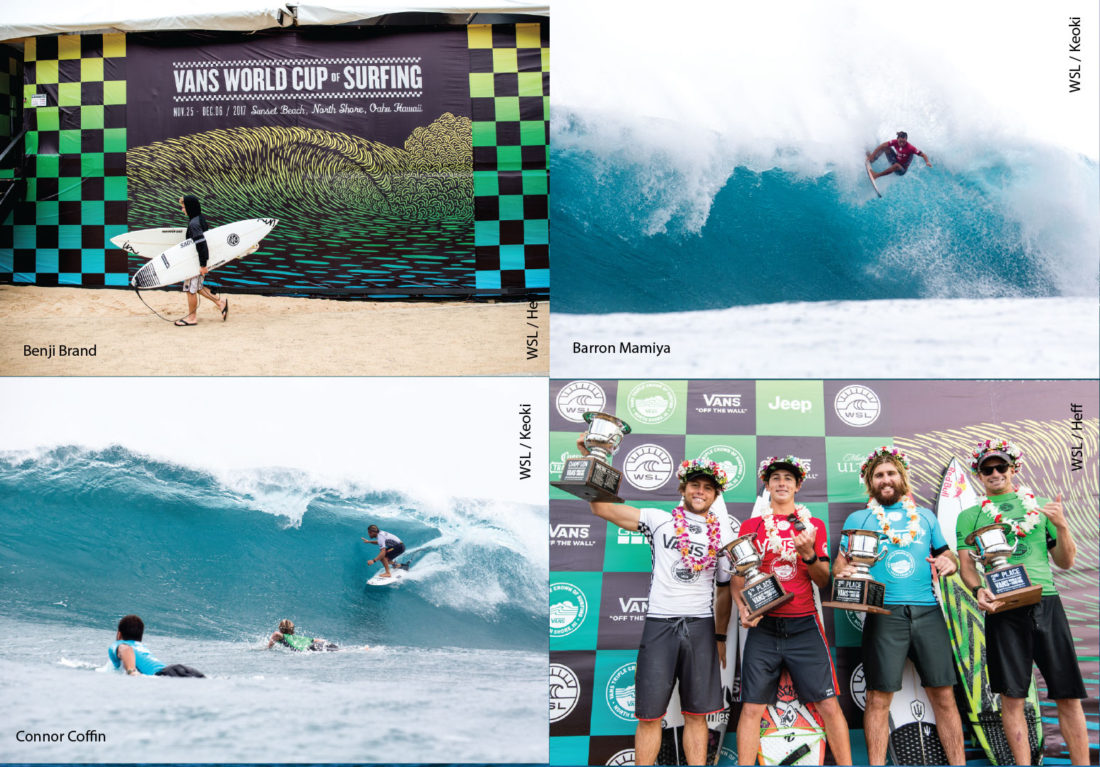 The Vans World Cup of Surfing, the second gem of the Vans Triple Crown of Surfing, runs at the challenging big wave venue of Sunset Beach and is the last qualifier of the year for the following year's Championship Tour. The QS10,000, which ran November 29-30 and December 1-2, saw an extraordinary display of power surfing throughout the event window. On the final day of action, Aussie Wade Carmichael, who won the Hawaiian Pro in 2015, qualified for the CT after his impressive showing in the Quarterfinals where he garnered two massive scores: a 9.10 and 7.00. "It's a dream come true," said Carmichael. "I've been trying so hard, I finally got a real good crack at it and it came true, I'm stoked." Along with Carmichael, Brazil's Tomas Hermas qualified onto the CT, and although they weren't surfing in the final day of action, Hawaii's own Keanu Asing and Ezekiel Lau both had enough points to requalify for the 2018 CT. In the Final, Carmichael met a trio of California talent: Kolohe Andino, Conner Coffin and 2017 VTCS standout Griffin Colapinto. Surfers battled for position in the challenging 4-6 foot surf – which equates to 10-12 foot wave faces. Carmichael picked up two waves in the first few minutes of the heat to build momentum. Coffin then dropped his first keeper score, a 7.33 for smooth, dynamic surfing and took the lead from the Australian, followed by Andino's 8.17 opening ride where he drew off the bottom for a nice snap and successful completion to shake up the standings. Andino and Coffin hunted barrels and Coffin found quick cover on a set wave, followed with a carving maneuver to add a 7.0 to his scoreboard. After time expired, Coffin was chaired up the beach to the podium for the awards ceremony, where he stood next to Andino (second), Carmichael (third) and Colapinto (fourth). "It means so much to win here," said Coffin. "So many of my favorite surfers have won this event, dream come true for sure." On the podium, Benji Brand was named the new 2017 WSL Hawaii/Tahiti Nui Regional Champ, and the youngest competitor in the event, Barron Mamiya, 17, earned the prestigious Vans Triple Crown Rookie Award. With the 2017 WSL QS complete, the surf world turned their eyes towards the forthcoming Billabong Pipe Masters, anticipating the crowning of a World Champion.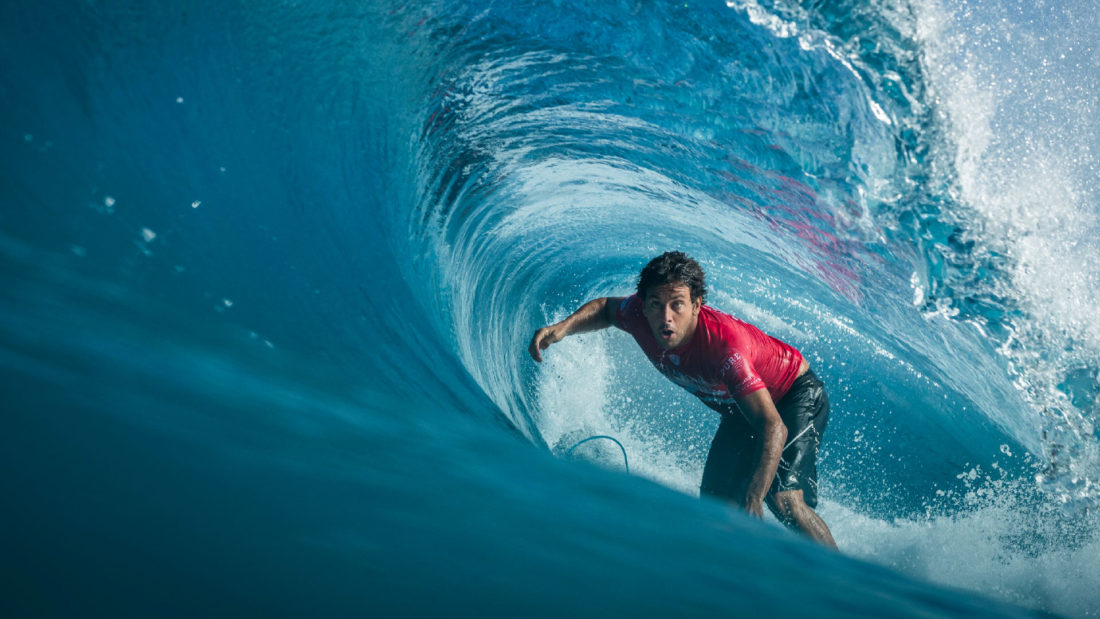 Billabong Pipe Masters
Jeremy Flores wins Pipe Masters Crown; John John Florence finishes runner up and wins WSL World Title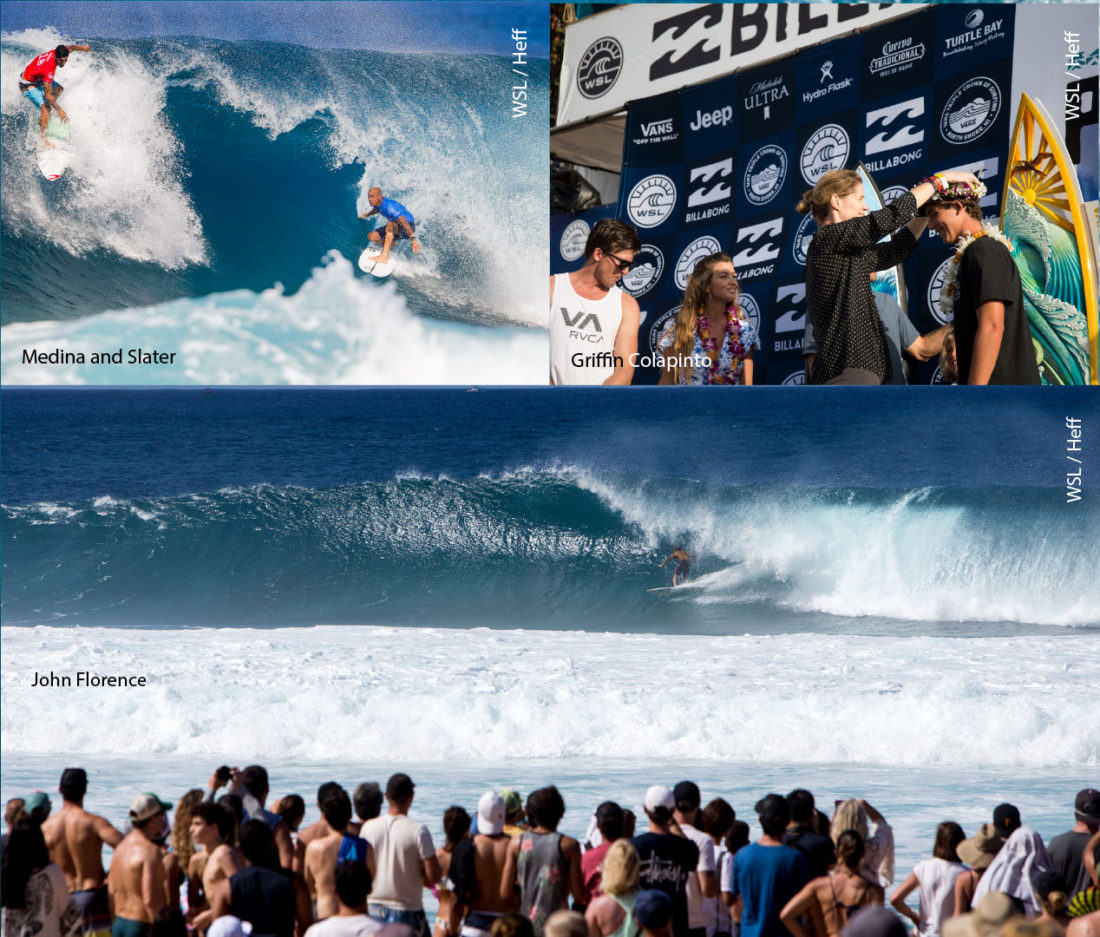 The culmination of the Vans Triple Crown of Surfing and the final World Title-deciding event of the WSL Championship Tour, the Billabong Pipe Masters In Memory of Andy Irons ran on December 8, 12, and 17-18 at the world's most challenging yet exciting wave: Pipeline.
The first day of action kicked off with the Pipe Invitational, where 32 of Hawaii's best surfers battled for entry into the main event, with the winner and runner up both obtaining the golden ticket – Dusty Payne and Benji Brand. When action resumed days later, the two surfers clashed with the world's best surfers, four of whom were vying for a World Title. Eleven-time World Champion Kelly Slater took out Jordy Smith in Round 2, ending his World Title hopes, and other contenders including Gabriel Medina, Julian Wilson and John John Florence surfed deep into the final rounds. On the final day of action, with a World Title up for grabs, Wilson lost to Florence in the Quarterfinals, and Medina lost in following Quaterfinal heat to Frenchman Jeremy Flores. The losses handed Florence his second consecutive World Title, and after a brief champagne celebration with friends and family, Florence grabbed his Yellow Jeep Leaderboard Jersey and paddled out into the Semifinals against 2017 CT rookie Ian Gouveia. Needing a big score with only one minute remaining in the heat, Florence found the exit from a barrel and then landed an air rotation to steal the win with an 8.73, gaining entrance into the Pipe Masters final against Flores.
After a slow start to the Final, it was Florence that found the first score of significance with a long barrel, rewarded with an 8.93. Flores answered with a 7.90, and Florence followed up with a clean barrel ride of his own for 7.23 and a solid heat lead. Flores was left searching for an 8.27 in order to claim his second Pipe Masters, but with limited opportunities the clock ran down. In the final seconds Flores found a deep barrel opportunity, stealing the win from Florence.
"Winning the Pipe Masters against John John Florence like that in perfect Backdoor in the last seconds, that's the best way to win," Flores said. "I couldn't think of any better way to win. I'm so, so stoked and there's a lot of emotions. To be honest, I don't like to be that guy that's deciding titles – it should be a showdown between John and Gabriel, these guys work so hard. "That's why honestly when I beat Gabriel, I felt bad. It's been an emotional day and yesterday was stressful. I had to make one heat to requalify pretty much and I made it with a 4 and a 2. I just wanted to have fun today and I did and the waves showed up. I won this title for France and it doesn't happen very much!"
After a second place finish at the Hawaiian Pro and a fourth place finish at the Vans World Cup of Surfing, California's Griffin Colapinto, only 19-years-old, added to his incredible run by taking the 35th Annual Vans Triple Crown of Surfing honor, becoming the first Californian to ever win the coveted surfing series.
"I'm feeling incredible right now and it's the best feeling ever," said Colapinto. "I was just looking at the names that have won the Triple Crown, just all the names on there are insane and to win after John John (Florence) won last year is amazing. It's been a really fun day watching the contest and to see all the action. John, congratulations on winning the World Title, I'm so stoked for you. And Jeremy winning the Pipe Masters, two times now, that's insane. Just really excited for next year and for Snapper and I think there will be a lot of energy there and to have my name on a jersey will be special. Thanks so much!"