Story by Shawn Pila
Photos by Shawn Pila and Tyler Rock
On Friday, March 18th, the first day of the 6th Annual Boogie's Pohoiki Bay Surfing Classic was held at sunny 2 to 3 foot Pohoiki Bowl. The black lava rock-ridden shoreline played host to the three-day event, where families and friends camped and celebrated the wonderful life of uncle George "Boogie" Kalama, who passed away in 2011.
Boogie was an entertainer, a musician and an outstanding waterman who spent the majority of his time fishing and surfing. He was also a former crew member of the first double hulled canoe, the Hokulea, that voyaged from Hawai'i to Tahiti in 1976. Members of this canoe team said he brought peace to the original journey "through song and his joyful spirit." He also created songs such as, "Hokulea Star of Gladness," which was later recorded and popularized by famous Hawaiian musician Israel Kamakawiwo'ole. Mayor Billy Kenoi honored him for his continual efforts and cultural spirit within different communities, proclaiming March 19th, 2011 as, "Boogie Kalama Day," on the island of Hawai'i.
Boogie's Pohoiki Bay Surfing Classic has long been missed. Thus, his son, Ikaika Kalama, continues this legacy in honor of his dad.
"We're just stoked to have everybody back and have dad's contest going again," said Ikaika Kalama, pro surfer and contest coordinator. "The turnout has been more than I expected and everyone is stoked."
Each morning, a Hawaiian pule (prayer) blessed the event, followed by Ikaika and his son Tamaroa paddling out with a ho'okupu (Hawaiian offering), and catching the very first wave of the day.
It was a weekend full of fun and games that highlighted the true meaning of aloha, and besides the surfing itself there were many other events for everyone to enjoy, such as Makahiki games,
Moa Pahe'e (a game of strength and skill played with large torpedo-shaped wooden darts), Ulumaika (rolling stone discs) and even Huki Huki (Hawaiian tug- of-war). Special trophies were made to honor the winners of the Makahiki games.
A drawing contest, beach clean-up and Bamboo Holoholo (fishing) tournament also took place with a total of 52 entrees. All 28 kids who caught fish won trophies, with the biggest fish being a 14-inch eel caught by Ka'iekeha Martin. Little Ocean Butts had a total of seven fish, catching the most fish of the day.
As for the surfing, there were events open to all ages from keiki (child) to kupuna (grandparent), starting off with the Menehune Kane (Boys 14 & Under) and Menehune Wahine (Girls 14 & Under) divisions. Turning heads and dominating the boys' division was Kane Turalde, riding long left-handers all the way to the jagged shoreline. Another standout surfer was Rumor Butts, winning the girls' division.
Following the Menehune was the Open Longboard and Bully Board divisions. Former professional surfer Solomon Ortiz was killing it, winning both the Longboard and Bully Board division (with his son Makani) and taking second in the Open Men's Shortboard.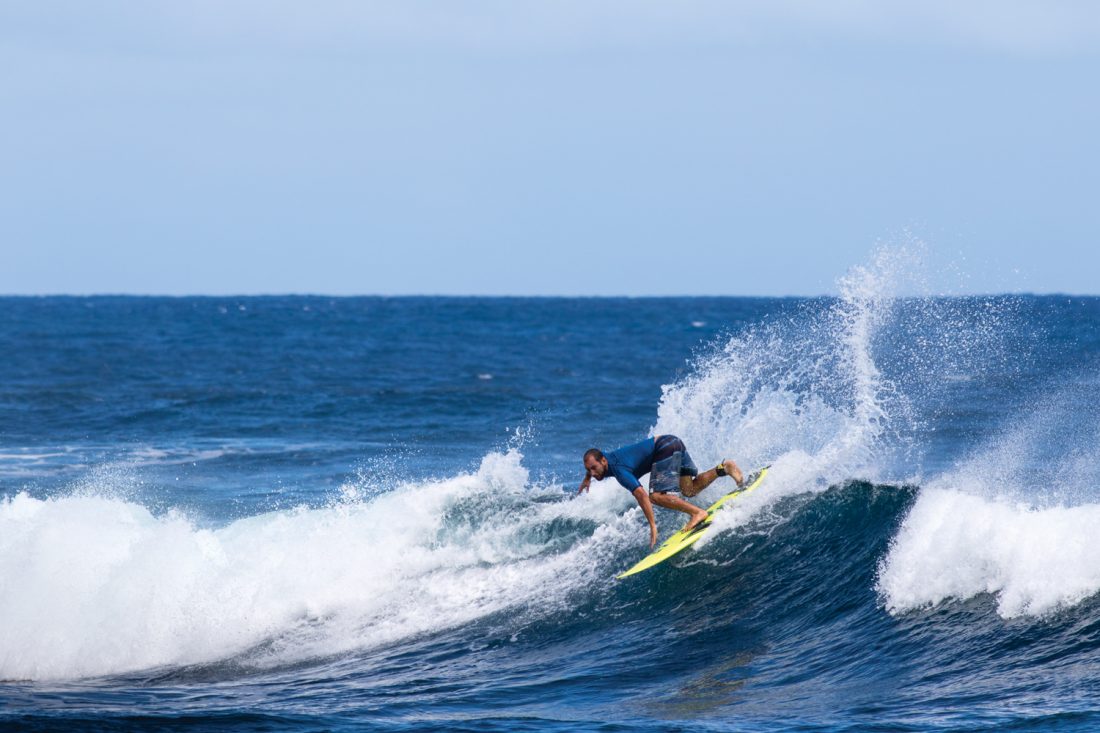 Day two consisted of the Open Men and Open Women Shortboard divisions, Stand-Up Paddle, and the much anticipated Open Alai'a division, where surfers rode waves on hand-shaped wooden planks just as their ancient Hawaiian ancestors did. Winning the Alai'a division was Kalae O'Shaughnessy, followed by Kainoa Hauanio of Kalapana. All Alai'a were provided by Ikaika and Alai'a made by Ahuna.
George "Boogie" Kalama was known to his family and friends as a guy who loved, cared and gave to everyone in need. As he would say repeatedly times before, "Aloha kekahi i kekahi." Love one another.
RESULTS
14 & Under Girls
1st – Rumor Starr Butts
2nd – Malaika Bishaw 3
rd – Mariko Nakano
4th – Starsea Kahikina
14 & Under Boys
1st – Kane Turalde
2nd – Tamaroa Kalama
3rd – Bradda Arraujo
4th – Kepo'inalu Alameda
Open Women
1st – Mariko Nakano
2nd – Rumor Starr Butts
3rd – Mahealani Gambil
4th – Manu Napeahi
Open Men
1st – Soleil Farnworth
2nd – Solomon Ortiz
3rd – Kainoa Hauanio
4th – Kalae O'Shaughnessy
Open Longboard Women
1st – Manu Nepali
2nd – Rumor Starr Butts
3rd – Pulama O'Shaughnessy
4th – Luana Jones
Open Longboard Men
1st – Solomon Ortiz
2nd – Pomai Hoopla
3rd – Kalae O'Shaughnessy
4th – Arjuna Morgan
50 Years & Over
1st – Phil Losconia
2nd – Jeff Hunt
3rd – Lawrence Pacarro
4th – Steve Hirakami
Stand-Up Paddle
1st – Kainoa Hauanio
2nd – Pomai Hoapili
3rd – Fuzzy Jardine
4th – Slugga Kahikina
Wood Boards
1st – Kalae O'Shaughnessy
2nd – Kainoa Hauanio
3rd – Gage London
4th – Solomon Ortiz
Bullyboard
1st – Solomon and Makani Ortiz
2nd – Pomai Hoapili
3rd – Sam Warren and Kainoa Andrade
4th – Malani and Kepo'inalu Alameda