Story and photos by Greta Evans
If you're hungry and craving something equally delicious as it is healthy, you go to the Hannemann's house. It's just what you do. Luckily for the North Shore community, Andrea Hanneman's door is always open. More often than not you'll find her blending up
a smoothie or a healthy meal, with tropical fruit scattered on her counter, and her two blonde sons stealing blueberries and vegan chocolate chips in between helping her.
The sweet-spirited mother from Canada struggled with a series of health problems throughout her entire life. Although she looked healthy on the outside, she was silently battling to find the answers. After years of countless doctors appointments and short fixes, she received life-changing advice: "Become an expert on you."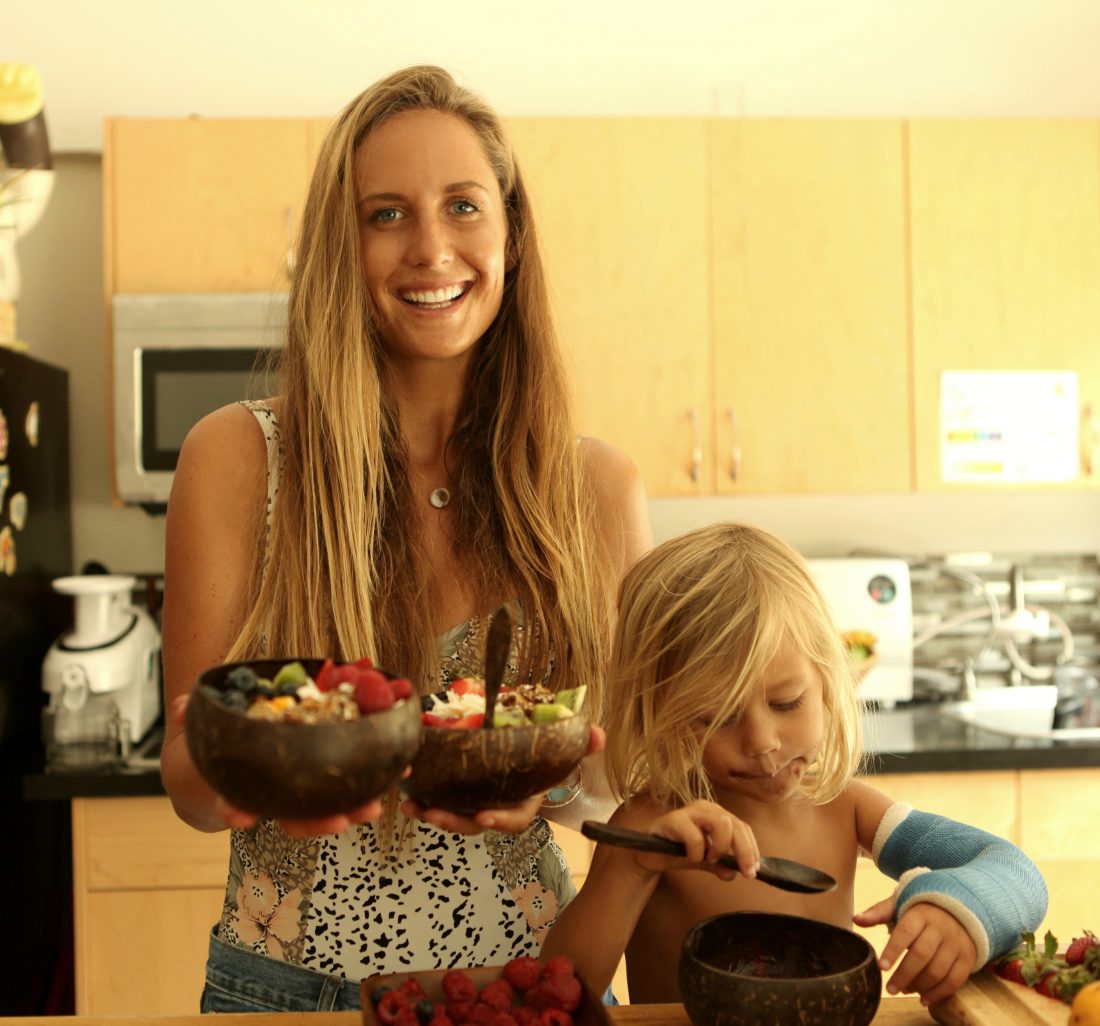 Andrea did just that. A few months prior to hearing this, the North Shore resident became fascinated with a plant based diet called Raw Till 4, a vegan diet that involves eating raw and unprocessed foods until the afternoon. She had initially thought the diet was crazy, but deep down, her intuition told her to give it a try. At the same time, she had a feeling that pushed her to make another decision, which was to create an account on Instagram to document her journey while trying out this new way of life.
A year later, Andrea has a clean bill of health and has her new lifestyle to thank for that. Her social media account that merely started out as a helpful tool today has a following of 182,000 people and is a solid platform where she offers inspiration, advice, and healthy recipes. We ventured to Andrea's kitchen (with an empty stomach of course) to indulge in some delicious açai bowls, home made by the beauty herself, and talk story about her journey to full health and happiness.
How and why did you start the social media account Earthy Andy?
Finding info and inspiration on social media outlets is where I found my spark of hope and a lot of my information and direction that has changed my quality of life. I was ready to give up and learn to live with my health problems, but due to all the amazing people from college students to doctors who have taken the time to put out free quality and organic information and knowledge, it has helped me change and I'll forever be grateful for that.
How has it grown since you started?
I started @earthyandy on an impulse around midnight after another day of having disappointing news from my weekly doctor's appointment. I decided right then and there amongst my tears to go with my gut and give plant based diet a try, giving it thirty days and committed to journalling it. I decided to keep my health change a secret from my family and friends in fear that I would be talked out of it. So every day I used instagram to document how I was doing, what I ate, what I had learned, as if it were an open journal. No motives to gain followers or find praise, just to be real and continue my health journey. I cherish it as my place of support and consider it a creative outlet and journal of life.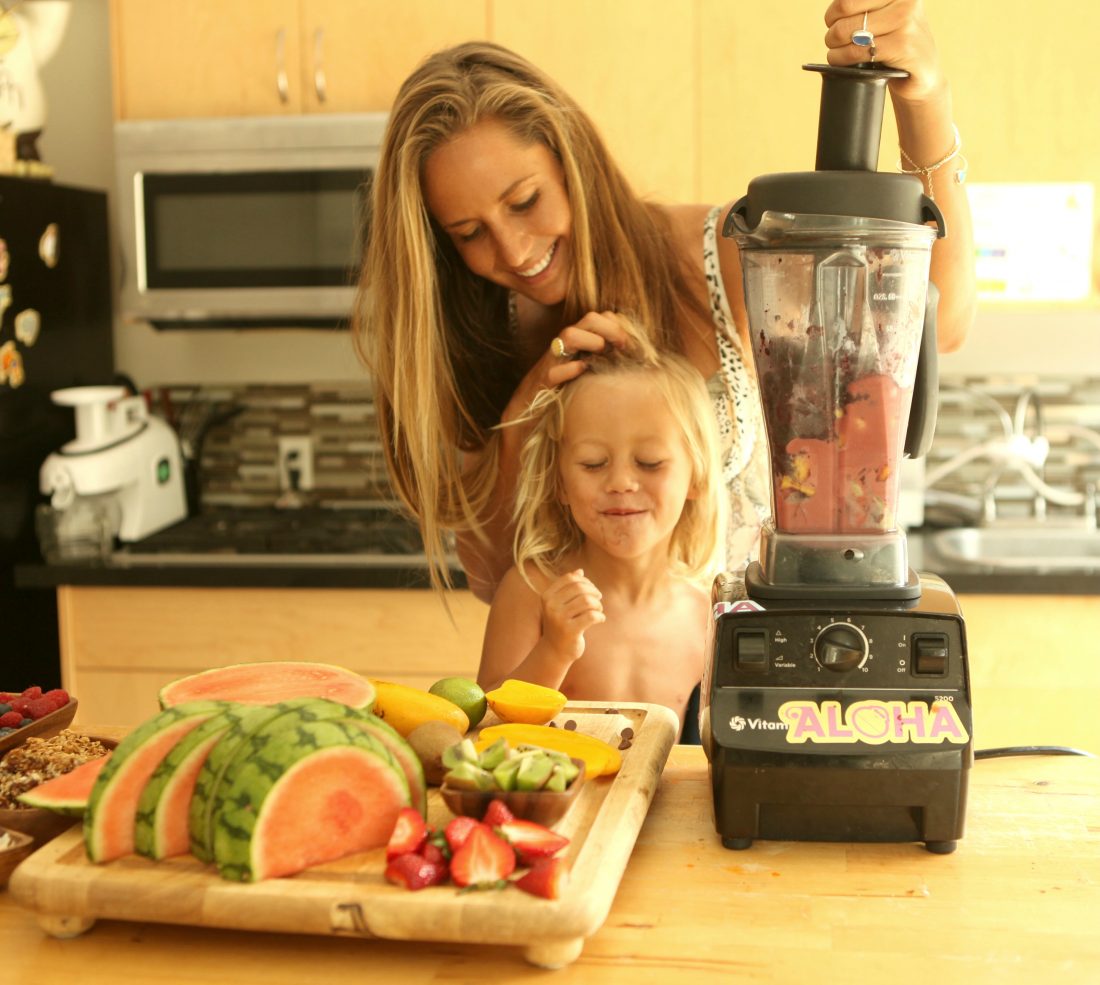 Where do you buy your produce?
To make it budget friendly we shop a lot at Costco, which is great for organic and even local produce and staples. Farmers' markets and Celestial Foods is a great place for produce stock-ups. We actually spend a lot less on food than we used to.
Do you believe in eating all organic, despite the high prices?
I believe in doing the best you can. I don't eat fully organic, although I would like to. I eat far from perfectly. It's all about doing the best you can, choosing plant over processed and aiming for a life of balance and happiness.
What is one of your favorite dishes? Favorite ingredients?
One word, mangos! I love food. I love fresh tropical fruit, açai bowls are definitely up there- but I also could eat Thai food like coconut curries, pad thai, summer rolls, Japanese and Korean foods, and French and Mediterranean dishes! My favorite ingredients are fresh quality ingredients. I always have lots of juicy cucumbers, salads, fresh herbs, basil, mint and cilantro, lemongrass, ginger and turmeric, and whatever fruit is juicy and in season.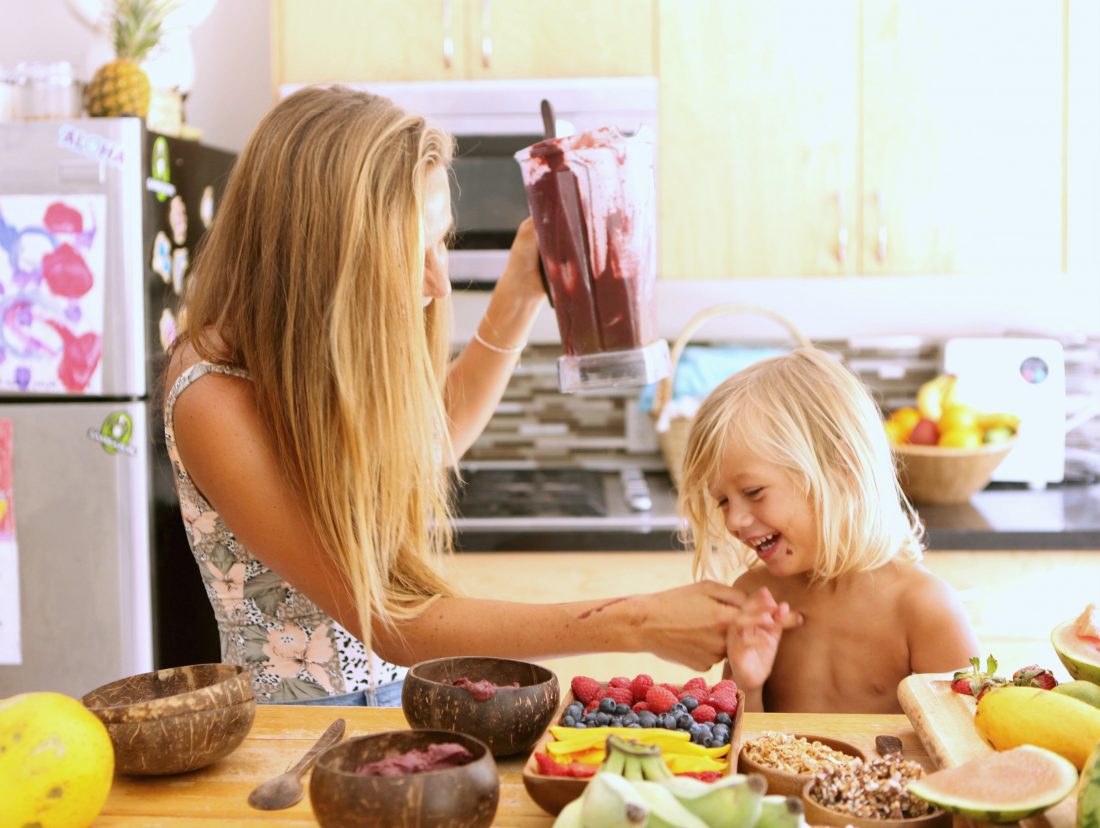 Any tips for people who want to start living a plant based diet life?
Commit! Fully commit and don't even allow yourself to question it until you have met your goal, whatever you decide that is. Our minds are amazing at convincing us to not change. Discipline is the challenge. Prepare to succeed, stay nourished, full and hydrated, get educated, enjoy and view the process as a new adventure and learning experience. Before you know it, it won't feel foreign and instead become simply your way of life.
POST-SURF SMOOTHIE BOWL RECIPE
Base
2 Sambazon Açai Packets
2 Handfuls of Frozen Mango (or any fruit- I also love blueberries)
3 Frozen Bananas
1 tbs coconut sugar or natural sweetener
1 fresh mango
Method
Put all ingredients in the blender.
Let frozen defrost for just a few minutes. Blend using the fresh mango as the liquid. Blend and mash repeatedly until smooth and creamy like ice- cream – you will see a thick creamy swirl.
Top with whatever you like (rawnola, fresh fruits like mango, strawberries and blueberries, dried coconut, peanut butter or vegan chocolate)
Toppings
Chopped Fruit (kiwi, banana, mango etc) Rawnola or Granola
Coconut Shreds