Downing DNA From Hot Curls to Now
By Ben Marcus
There is no Ancestry.com or 23andme.com for surfboards and that's a shame, because it would be cool and informative to scrape a sample of foam, stringer and lamination and send it to a surfboard genetics lab – which would do some hocus pocus and return results on the heritage of that board – the design DNA.
Surfboard DNA testing doesn't exist – The Shaper's Tree created by George Orbelian and Kendall Nishimine is closest to it – but it's a safe bet that whether you're riding a hipster-mod hull or a thoroughly modern thruster or a big wave gun or even a tow board, more than likely there is some George Downing DNA in whatever is under your feet.
Hot curls, vee bottoms, fin boxes, fiberglass and resin, ultra-fast big-wave guns: Necessity was the mother of surfboard evolution for George Downing and friends – a Happy Few born in the right place at the right time with the right skills and with all that surf from Makapuu to Makaha, waiting to be explored, probed, ridden deeper, faster, steeper.
They needed good boards, and George was hands on – from the 1940s and well into the 21st Century – a longer Arc of Relevance than even Dick Brewer.
SLIDING ASS: 1934
Born in 1930, Downing was a child when Pete Peterson had a balsa board on the beach at Waikiki as early as 1932 – but that board was ahead of its time. Most surfboards in the 1930s were made of Hawaiian hardwoods like wili wili or koa, or mainland imports like redwood, cedar, pine and even maple.
George was four years old when John Kelly and Fran Heath got tired of sliding ass, took an axe, gave their boards lots of whacks and created the hot curl. No more sliding ass and straight off Adolf. Now they could turn and race all those hot little curls along the South Shore.
According to the DowningHawaii.com website:
It was Kelly and Heath who had discovered the revolutionary hot curl design by suddenly and impulsively narrowing the aft of one of their wide-tailed redwood planks with a hatchet!"
When Kelly and Heath chopped the tail into a drawn-in shape and slightly vee'd the bottom, it suddenly caused the board to hold to the wave on an angle. This allowed them to traverse while staying in the green, rather than riding soup towards the beach, which profoundly changed surfing. That clan of surfers, of whom George was then the young hot-rod member, adapted that theory to their 10-11' craft and began exploring big waves around the island—waves that had previously been thought un-rideable..
FIRST STEPS: 1939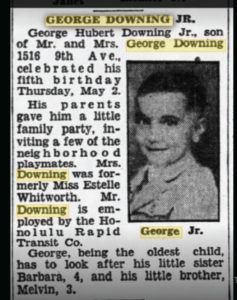 Downing started surfing when he was nine, in 1939, at Waikiki – under the wings and watchful eye of the Kahanamokus, Kealohas, Guerreros, Chick Daniels, "Steamboat" Keawemahi and two dozen swarthy Hawaiian men passing on the secrets of the sea to mainland malahini and kama'aina kids.
OCEAN OHANA: 1940
Downing's parents got divorced when George was 10 and like a lot of well-known surfers from busted homes – Miki Dora, Layne Beachley, Lisa Andersen, Kelly Slater – George looked to the ocean for home and ohana. He fell in with the Waikiki beach boys during their Golden Age out of the Roaring 30s and into the 1940s: "My father basically grew up on Waikiki Beach," Keone Downing was quoted by Jackie Young in Hawaii Business Magazine.
When he was only 10, my grandparents got separated and divorced. Rather than go back to the Mainland, my father ran away and got taken in by the Waikiki beach boys. He was kolohe (rascal) and street-smart.
Sometimes the Gods just get it right, and they positioned a young, lean, akamai, crafty, surf-stoked, Anglo/Hawaiian George Downing in exactly the right time and place to smooth the surfboard from the 19th Century into the 20th.
WAIKIKI BEACH KID: 1941
At 11 years old, Downing had a dream job as a Waikiki Beachboy. According to Pennybacker in The Honolulu Advertiser:
At age 11, Downing became a beach boy at Waikiki, where he eventually ran beach concessions. He attended Washington Intermediate and, for a time, McKinley High School, but his education came through constant observation of the ocean and asking questions. Keone Downing said: 'He learned economics and how to read people from the tourists coming at that time, because beach boys' survival depended on tips.'
Back then, in the first half of the 20th Century, before the EPA or environmental concern, when Waikiki was still unregulated and feral enough to allow surfboards to be carved out right there, on the sand. "On the beach there were concessions and a lot of local activity," Downing said in Hot Curl by Craig Stecyk in The Surfer's Journal. "They had this one area where they kept the drawknives, saws, and all the tools necessary to carve a board."
On the beach at Waikiki is where George began his apprenticeship, carving surfboards that would allow him to carve the surf of the South Shore, from Kewalo Basin to Black Point – and in the winter, beyond.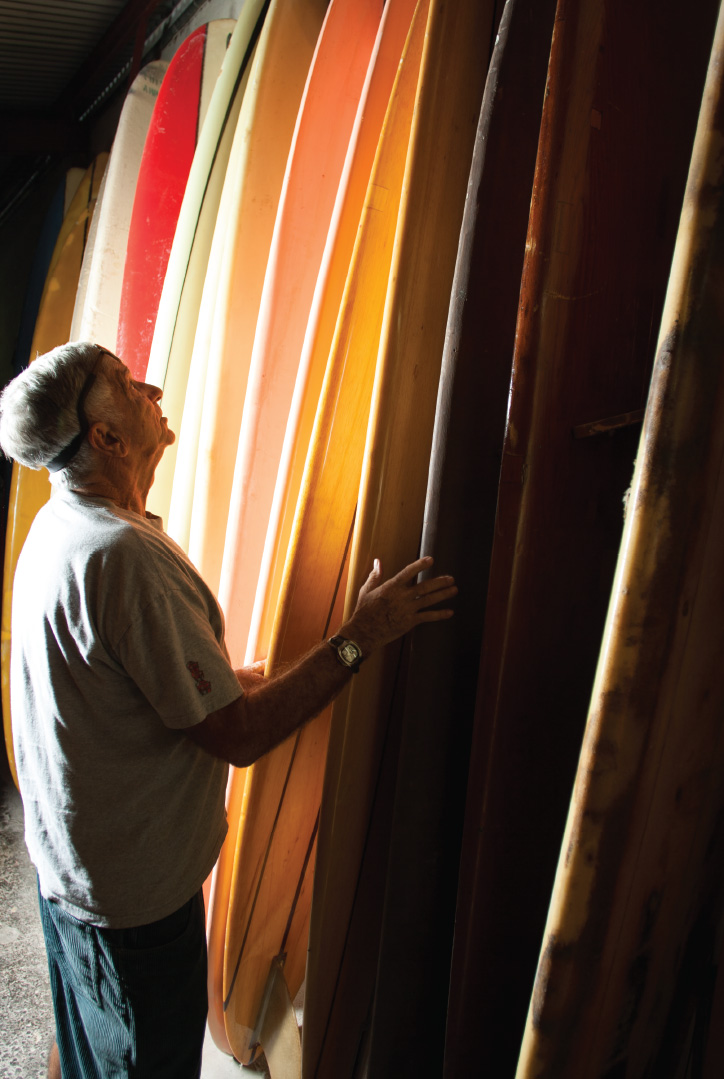 LIFE DURING WARTIME: 1941 – 1944
A teenager to young adult in Waikiki, on either side of World War II – oh lucky man. Probably making good money on the beach, doing what he loved: Surfing, paddling, canoeing, taking cute girls surfing and enjoying a Hawaiian Islands that was profoundly changed by the flow of people coming through during the war, but an Oahu that thrived after the war, as many of those service people stuck around, and others came back as often as they could, to Waikiki, to bring friends and family and put them under the wing of that Downing boy.
FIRST BOARD: JUNE OF 1941
According to Mindy Pennybacker in The Honolulu Star Advertiser Downing earned his first surfboard with sweat equity:
Downing began surfing at age 9 on a solid redwood plank at Waikiki. A paper boy, he bought his first surfboard from a homeowner along his route for $5 [2018 $88.52], agreeing to pay installments of 10 cents a week. "He made it to $4.80," said [Gerry] Lopez, "and he still has that board."
Paraphrasing George from The Boards in My Life: A Time Line from The Surfer's Journal: The $4.80 redwood plank was George's first personal board. This was after the invasion of Pearl Harbor, in December of 1941. George helped his cousin with a paper route that had to end by 7:00 PM, because military curfew started at 8:00 PM – on an island justifiably fearful that it was riddled with spies and the Japanese Navy would be showing up over the horizon any day.
Downing first saw that redwood plank while making a delivery to a house and spying it in a garage. He dreamed about that board, that night: "…my thoughts and dreams were about the board. I rode wave after wave until I fell asleep. The next day it was difficult for me to do anything. I was obsessed with the board."
A DOLLAR $3.80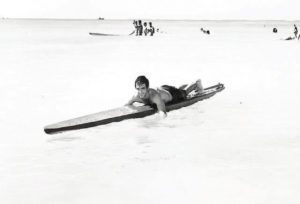 Downing was thinking about stealing the board until he met the owner, who talked about his younger years as a surfer in Waikiki. Downing visited a few more times until he got up the courage to ask to buy the board. The owner said yes, the price was $5, but George couldn't take it until the board was paid in full. George paid it off a dime at a time until the total got to $4.80:
When I knew I was close to paying off the full amount, I asked him how much I had paid and he answered, $4.80. Then he told me he was curious why I had not stolen the board, knowing it was in the garage. I told him I had seriously thought about stealing it, but after talking to him and hearing his stories, I believed this would bring me bad experiences, especially surfing in Waikiki where he grew up and where I was about to start. He put his arm around me, walked me into the garage and asked me to help him remove the board from the junk that covered it. It was the first time I had seen the entire board with the dust wiped off. He told me the board was mine. I did not have to pay him the balance owed. At that moment, my faith in mankind was uplifted like never before. I learned how people use kindness and understanding to teach a younger person the value of being honest to yourself and others. This act of kindness came along at the right time in my life.
The board weighed 70 pounds and George probably didn't. George and his cousin managed to slide the board down the rocks into the Ala Wai Canal and then George started paddling, under cover of the night, breaking the military curfew and wondering how he would paddle the board all the way to Waikiki.
This was life during wartime. Waikiki was on edge (See: From Here to Eternity) and George coulda got shot as he remembered in The Surfer's Journal:
Everyone had to be off the streets by 8 p.m., especially minors. In June 1942, I was 12. In those days, there was no Magic Island and no channel where Ala Moana Bowls exists today. The outlet for boats ran parallel to Ala Moana Park down to the channel at Kewalo Basin. That was my paddle route. Outside of Kewalo Basin, I turned toward Diamond Head. There were no lights, so I navigated by the surf breaks up to Waikiki.
I was a lightweight, skinny kid that always looked malnourished, but I managed to make it. I was so stoked to reach the surf at Canoes and experience the first wave on my new board. I had a difficult time in the dark and I held on when I wiped out, realizing that I could lose the board in the dark. I knew there were guards and barbed wire on the beach. I started to think about what I would tell them and to worry about them thinking I was an enemy spy making a landing. I figured my only out was to yell for help and get the guards' attention so as not to be shot. I yelled at the top of my voice and sure enough a guard with a rifle in hand came rushing over. He asked who I was and what I was doing there. I told him I was surfing out by Diamond Head, got caught in the current, and had paddled for hours to make the beach. I asked if he would help carry my board up to the beach because I was exhausted. He told me he could not put his gun down. I asked if he could lift one end and I would take the other, which we did. He helped me get my board to the Kuhio Beach banyan tree. We stopped there and he told me I must get home before the MP patrol came by or I would be arrested for curfew. I said I would, then, when he walked away, I dragged the board farther under the banyan tree and decided to sleep right there, between the crevasses in the trunk. (It was twice as big as it is now.) I covered myself with leaves and fell asleep. The next morning, I decided to give one of the Kuhio surfers the right to use the board as long as he let the gang know that this was my board. We made the deal that he could use it any time, and if he was out when I came to the beach, I would swim out to use it and he would swim in. Black Dan was his nickname, one of the best at Queens. The banyan tree was where the boards were stored. Black Dan made sure the board had a place in the tree. He was well respected by the Kuhio gang and no one gave me any problems.
The board was stolen after about a year. A couple of years later, I found it at the beach at the Natatorium, Kaimana Beach, painted. I have kept it in my possession ever since, for 61 years. I was told it was built in 1910 and ridden by the gentleman I purchased it from. I never did get his name and was devastated when it was stolen. For some reason, I felt that eventually I would get it back, and I did.
PEPE: 1944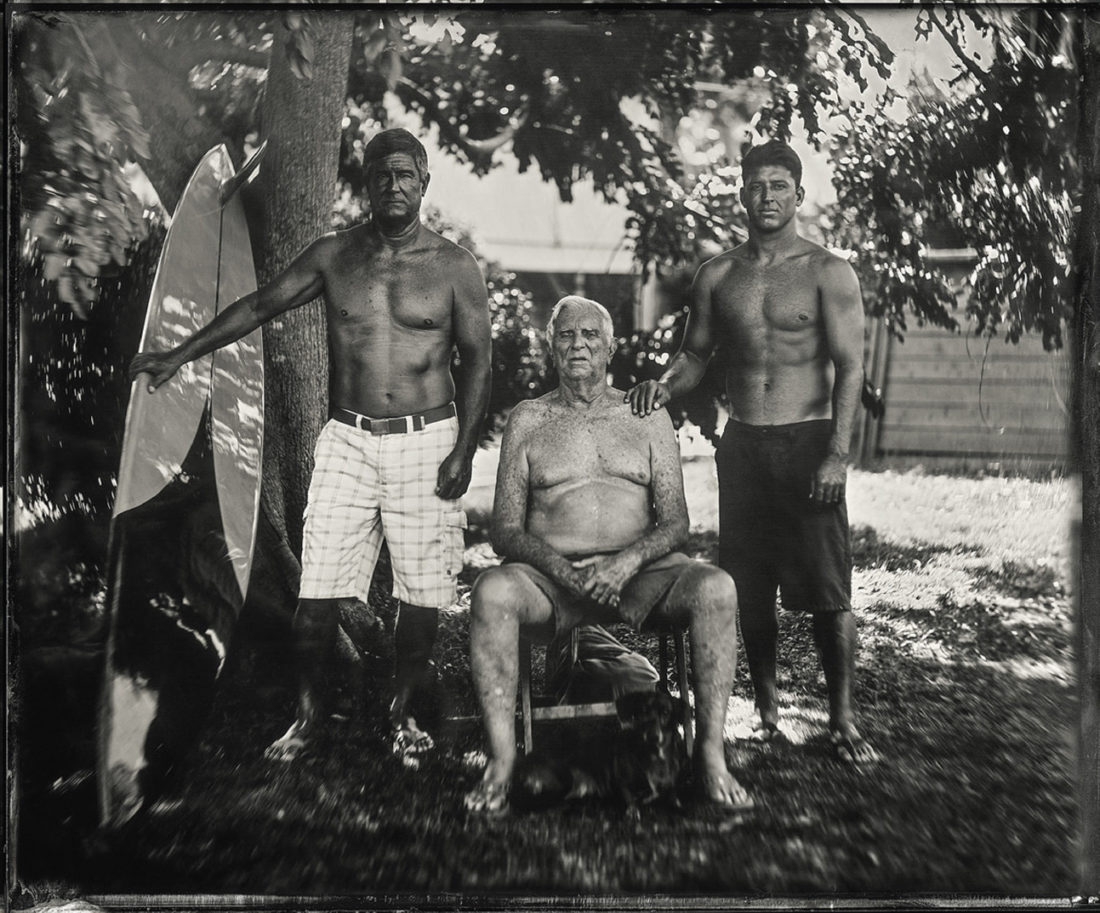 George's second board was just as beloved. George took a turn-of-the-century plank and shaped it into a modern hot curl – and named it Pepe, because this board was his baby.
From The History of Surfing:
Downing was 14 when Froiseth helped him remake an old redwood plank into a sleek hot curl he named "Pepe." Shaping the board was a slow, labor-intensive project, undertaken in Froiseth's garage with a drawknife and a hand plane, and as Downing whittled his new craft into existence he collected the shavings in a pair of burlap potato sacks, which he occasionally slept on.
Paraphrasing George from The Boards in My Life: A Time Line from The Surfer's Journal, Pepe evolved from the second redwood board in George's quiver – a gift from Uncle Brownie, an elder friend who was part of the crew at the Waikiki Tavern.
George hung out under the kamani nut tree making music with Kui Lee, Mango Kalahiki, Moroni Medeiros, Uncle Brownie and dem, but while George's fingers were on the ukulele strings, his mind was fretting about the ocean and his feet were itching to be on a board.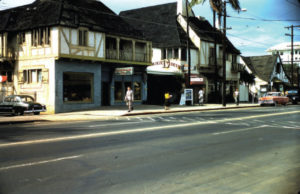 Arriving late for a music session, Uncle Brownie took George to the surfboard lockers and showed him two boards: Uncle Brownie's personal board, and an old plank, circa 1912.
George remembered in The Surfer's Journal:
I held the plank for a moment while he closed the locker, then he walked over to where the gang was waiting for him to resume the lesson. He called me to come next to his side, and then he said words of kindness that I will never forget. In a clear voice for all to hear he said to me, 'Keoki, you have a difficult time learning music, which we all know you love. Your mind and thoughts are in the ocean even when you sit with us and attempt to concentrate on the keys of the uke. This has caused the rest of the guys to be held back from more advanced chords. So, I've decided to give you this board— which I have had since 1912—for you to have and to shape into the new 'hot curl' design that you and Uncle Wally (Froiseth) have been working on.'
This particular board had been the object of desire for every surfer who knew that Uncle Brownie kept it in the locker. He never used it, wanting one day to reshape it to be like the one he used. When he announced the gift, it caught the gang by surprise. One of them later told me that the gift was only a joke. I stood there being handed the board not knowing what to say. He then told me to take the board and become a champion and make us all proud. He then restarted the music lesson as I stood there. He stopped, looked at me, and said, 'Go surf. You need to practice like we do.'
George Downing essentially "hot-rodded" that plank: Took something from 1912 and transmogrified the old and busted into the new hotness: a thoroughly modern hot curl. Downing used Wally Froiseth's Super Castle as a model – speedy rails and a deep vee bottom that allowed turning and maneuvering and wouldn't "slide ass."
Downing – like many other Hawaiians – fell in love with the look and grain of redwood, and slowly carved that plank into "Pepe." Downing rode the board from Makapu'u to Malibu and found that Pepe was a survivor.
The board survived a trip into a gnarly lava cave at Makapu'u, and Pepe was the board Downing took to California in 1948 and was riding at Malibu when he pukaed the nose on the Malibu Pier – and led to his introduction to modern plastics – fiberglass and resin.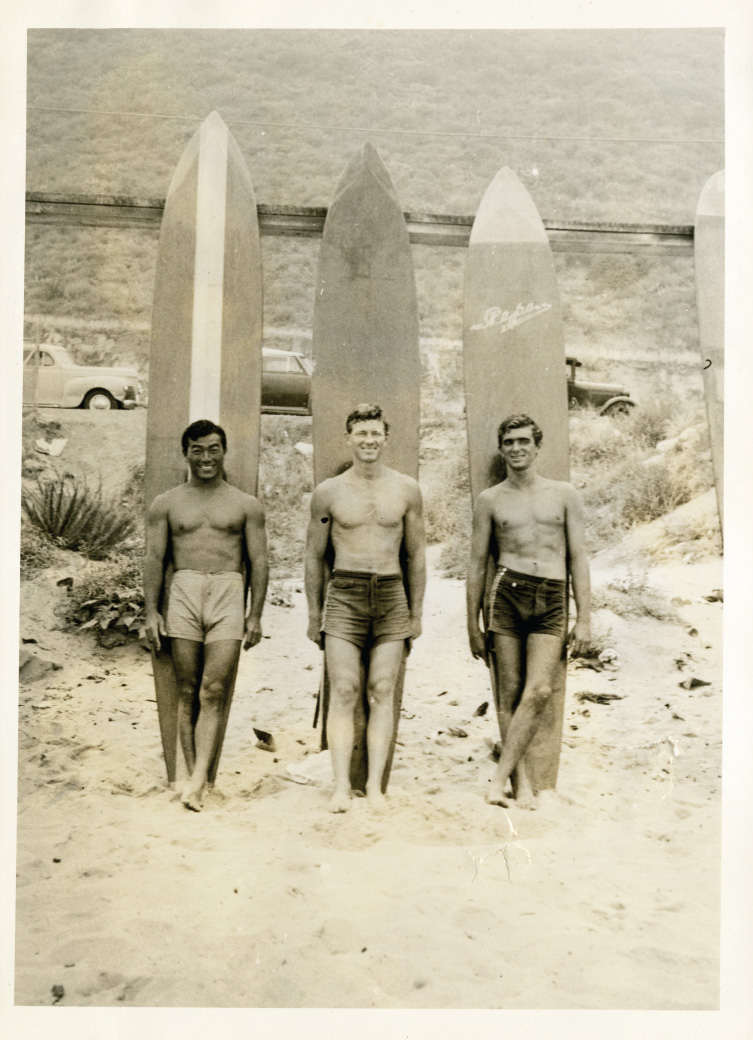 LIFE AFTER WARTIME: 1945+
As Downing grew in strength, ability and water-wisdom, so did he grow in ambition. The other shores of Oahu were empty, quiet, happy hunting grounds for young surfers looking for bigger thrills.
According to the DowningSurf.com website:
In the later 1940s, George became the youngest member of a group of watermen that included Fran Heath, Wally Froiseth, John Kelly, with ex-glider pilot distance record holder Woody Brown contributing aerodynamic ideas to their increasingly foiled surfboard shapes.
Makaha came into play after Kelly camped there on a dive trip and returned home raving about the surf. Makaha Point waves became the new frontier and George an eager explorer. The Hawaiian's hot curl plan shapes became the basis for the modern big wave surfboard. Primary architects and test pilots were George, Wally Froiseth, and their elder guru Woody Brown.
Always an experimenter, George and his decade-older mentor Wally Froiseth played together with surfboard design. One would swim out at Makaha wearing a mask to hang underwater and watch the other ride by, observing the water flow off the bottom, then they'd go in, revise the board right there on the beach and try it again. Through the late 1940s, George rode his beloved redwood plank "Pepe" at Makaha. It was a heavy, fast-tracking hot curl that he and Wally had shaped out of an already aged "plank" belonging to a beach boy named "Brownie" who had awarded it to young Georgie, sensing he had a future.
PLASTICS, GEORGE: 1948
In the John Larronde Collection at the Ventura County Museum there is a black and white photograph of George, Wally Froiseth and Russ Takaki standing with their boards on the beach at Malibu. Behind them and kind of visible is the Model A jalopy they bought for $25, after sailing a Transpac yacht from Honolulu to San Diego. They used that jalopy to surf Windansea, then drove up to Malibu, where George ran his beloved Pepe into the Malibu Pier.
Bob Simmons – garans one of the heads on the Mount Rushmore of surfboard shaper/innovators – was on the beach that day and showed some "Caloha", by offering to repair George's broke board.
"How you gonna do that?" George asked.
And that was the first time Downing and friends saw fiberglass and resin applied to surfboard repair. According to Matt Warshaw in The History of Surfing, Downing didn't dive into this Brave New World of plastics head first:
…for over a year Downing held off on using the new materials for his own boards. Furthermore, he rejected the new Malibu chip design, with its full profile and half-moon stabilizing fin—Downing believed he could hold just as high a line on a narrow finless hot curl as the Malibu surfers could on their wide-nosed chips. But by 1949, Downing realized he'd taken the hot curl as far as it could go, especially in bigger waves.
THE NEED FOR SPEED: 1948 – 1949
Downing and the Hawaiians weren't the only surfers doing fiendish R and D to come up with boards that could handle bigger surf. Joe Quigg and Matt Kivlin had their eyes opened wide to Hawaiian surf on their first visit, and on the multi-day passenger ship trek back to the mainland, Quigg had time to ponder: "On his way back to the mainland aboard the S.S. Lurline," Craig Stecyk wrote in Hot Curl in The Surfer's Journal:
Joe decided to cut the center out of his pintail and reattach the rails, thus making a narrower board. Kivlin and Quigg returned to Malibu where they reported the virtues of finless hot curl sliding to a skeptical public. The 1948 arrival on the mainland of Downing, Froiseth, and Russ Takaki demonstrated to many doubters the viability of finless, hot curl surfing. It was on this trip that the Hawaiians met Bob Simmons who introduced them to his concepts of composite material construction using foam, wood, and fiberglass. In '49, Quigg returned to the Islands with his pared-down balsa quiver. Additionally he personally investigated hot curl theory while building a couple of boards for himself in Wally's shop. Kivlin and Rochlen were also in and out of the scene with Dave hooking up an occasional old redwood plank, which could be reshaped by himself, Matt, or whoever, into a suitable hot curl.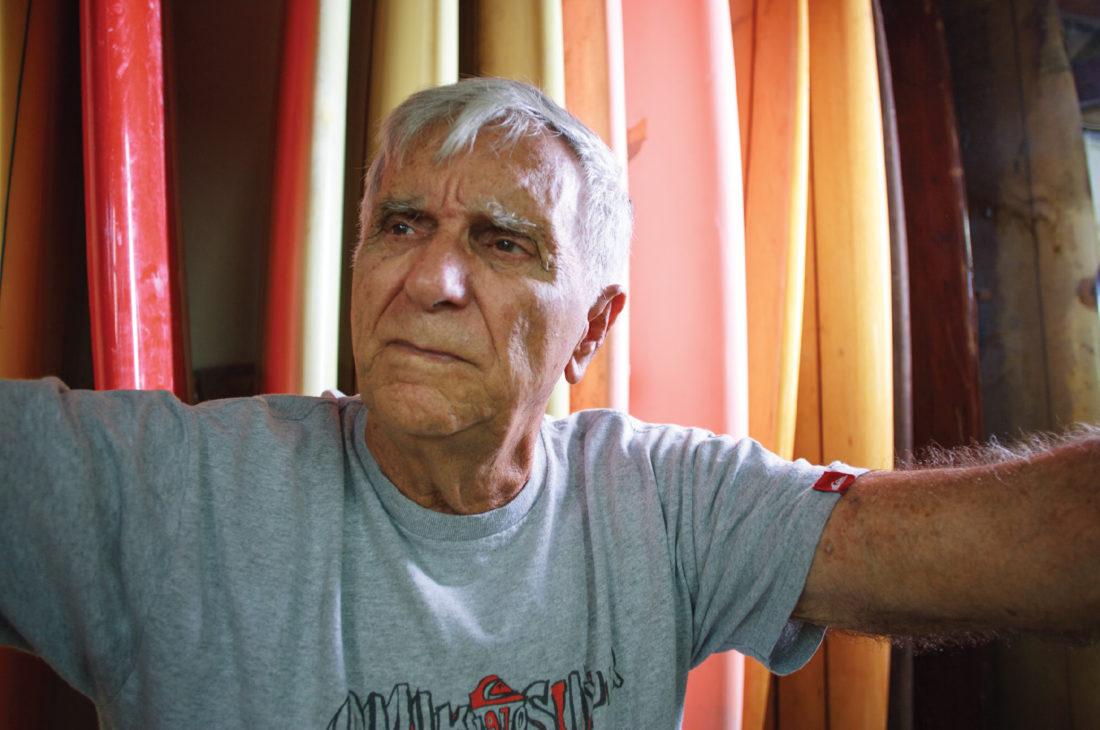 THE ROCKET: 1951
And according the DowningHawaii.com website, that plastics revolution, and cross-pollination with coast haole shapers like Simmons and Joe Quigg, led to an important board in the evolution of big-wave guns – featuring possibly the first removable box fin.
According to the Downing Hawaii website:
In 1951, George would build an experimental, all balsa, pintail named "The Rocket" that featured the first moveable fin: a redwood (sic, see below) fin box with a wooden fin that he could wedge in, try, then take out and move fore or aft and retest. Using trial and error he determined the correct setting and glassed it into a permanent position. George would later explain that the use of fiberglass made an even bigger contribution when used for attaching fins which spread the load of the fin torque across a greater bottom area, allowing for deeper fins thus modern maneuvering, versus use as a waterproof coating for light but absorbent balsawood.
George Downing and friends really really wanted to make those big, sparkly, grinding thunderous Makaha walls – and not swim so much – and that necessity mothered their invention.
Paraphrasing George from The Boards in My Life: A Time Line, he claims that introduction to plastics was a major change for him – and the world: George had crafted a few lightweight balsa/redwood hot curl boards but they were finished with varnish – not resin – and that varnish would crack, the balsa would absorb water, and the board was pau.
Putting vee into the round bottoms of these boards cut down on the "sliding ass" but that salvation in smaller surf didn't apply to Makaha. Downing's first skeg came from a water ski. He bolted it to the bottom of one of his guns, paddled it out to Makaha and managed some turns and some trim. It felt good, but George knew it could feel better.
THE FIRST FIN BOX
But screwed-on skegs were screwy as the screws would pull out from the stress and fins came off mid-turn or mid-trim and that would screw up a sweet ride. No bueno. So George turned to that smelly, sticky stuff he'd seen on the beach at Malibu with Bob Simmons: "Fiberglass not only solved the problem of waterproofing the balsa," George wrote in The Surfer's Journal.
…but, more importantly, allowed us to laminate the skeg to the board. Understanding the value of a skeg, I designed this board to take advantage of one. Not knowing where to place it and what size to make it, I decided to build the first skeg box with a slot to hold the skeg in place. Once I decided on the skeg I wanted, I fiberglassed it into the box. I went through some wild free-falls when testing skegs in this pressure-fit box before glassing the right one in. I remember doing a 360º on a large point wave at Makaha. Occasionally, the skeg would fall out while I was traversing a wave. This encouraged me to pick a permanent solution and glass it in. Once I did, I never again changed it.
Keone Downing added: "That fin box was made out of teak not redwood. Teak had oils that stopped water from being absorbed and was perfect for the box."
So there it is: Fiberglass and resin lead not only to stronger, more water-tight laminations, but also the first adjustable fin box, and then glassed-in fins.
Matt Warshaw supported the importance of The Rocket in The History of Surfing:
Made for the upcoming 1950-51 winter surf season at Makaha, the Rocket was essentially a hot curl crossed with a Malibu chip. Downing kept the hot curl's streamlined shape, but flattened out the back hull, knowing that a non-rounded planing surface would run faster through the water. The board was fiberglassed, like the chip boards, and had a strange 10-inch redwood-lined slot (sic, see above) routered into the bottom, near the tail.
Downing had changed his mind about the fin, and was now convinced that it would be the key stabilizing feature in big surf, but he wanted to try a few different sizes and shapes—this "fin box" would allow him to experiment. Three longitudinal strips of redwood, one of them down the board's centerline, were set between the balsa planks, and the resin coat had been fine-sanded and polished to a gleam. The Rocket looked fast just laying in the sand.
It took Downing a few weeks (and a few cartwheeling Point Surf wipeouts) to come up with a fin solution, but from then on it was a big-wave surfer-surfboard partnership like no other. Downing rode the Rocket for ten years. "I had so much confidence in this board," he later said, "that never once, if I got it trimming right, did I feel like I couldn't make it to the end of the curl line."
In 2010, sixty years after launch, the Rocket still had a place in Downing's board collection.
CELER, CITIUS, VELOCISSIMO
Dig around on the Internet or dig up your copy of Riding Giants and you will catch glimpses of big, windy, haul okole Makaha – this is where George shone the best. In small to big surf, he was an upright, graceful surfer – stylish and smooth. But when the jungle drums were lighting up the Coconut Wireless that Makaha was big and bigger, that is where George came alive: Tall, lean, strong and an exceptional, Dorian-class paddler, Downing was perfectly framed to sleek and streak big Makaha – but he needed the perfect boards to match his physicality.
Buffalo Keaulana summed up the early days of Makaha best in Riding Giants: "You don't wanna mess up. You don't have no leash. And you are way out there. And when you get wipe out – there's nobody."
GO MANGO
Buffalo is correct. Getting wipe out and swimming in at Makaha over and over again sucks, and that necessity mothered the evolution of big-wave guns that had three qualities: Go! Go! Go!
Paddle fast to catch da buggah, drop in fast, more fast off the bottom and then high or mid-line trim to fast-pass that screaming wall, make it through the Bowl and out with adrenaline flowing from your nostrils – hands in the air like you just don't care – and glad to not be doing that swim to the beach.
That's what the 50s were all about, and George Downing was one of the leaders – riding his own boards, carved from necessity: The need for speed.
According to The History of Surfing:
Surfers from both Hawaii and the mainland would contribute to the new charge on Makaha, but George Downing, a slender Waikiki regularfooter and the youngest and most tightly-wound of the group, went at it harder than anybody. Downing was just 20 in 1950, but as the protégé and nephew by marriage to early hot curl pioneer Wally Froiseth, he already had years of Makaha experience. His surfing was more graceful than flashy, and he had a reputation as an excellent sailor and canoeist, as well as a deadly paddleboard racer.
Like Bob Simmons, Downing focused on all things related to surfing with a scholar's obsession: on calm days he snorkeled over reefs to better understand how they affected incoming swells, he studied weather charts to better decipher swell creation, and he invented a way of corkscrewing his body into the water during a wipeout to minimize the punishment. Downing took as much joy in riding waves as anybody. But he regarded the vast amount of surf-based knowledge left to be unearthed as both a challenge and a responsibility—almost a burden. Downing didn't take many days off.
By the '50s, George Downing understood the mechanics of big waves better than any other surfer. He wasn't unequaled as a big-wave board designer—Joe Quigg, for one, had plenty of arrows left in his quiver—but he was the best combination of shaper and test pilot in the game.
JOE SAYS
Joe Quigg, for one, has vivid memories of watching George Downing joyfully Rocketing into Point surf and hauling okole through the Bowl on boards he made himself: "I can remember paddling out at Makaha in Point conditions and pushing up through the lip on a big set wave," Quigg remembered in Hot Curl in The Surfer's Journal.
Right at the top, as I'm about to punch through, I looked down and there was Georgie standing there smiling, going faster than hell on his redwood. He was just streaking along in impossible situations and making it because of positioning and all that inertia. Downing pioneered the riding of really big, nasty waves.
Because George pioneered the shaping of badass big-wave guns that would make those waves. Balsa and redwood Ferraris.
CONQUERING KON TIKI: 1954
Some surfers/watermen shy away from competition because it doesn't suit them. Others eat it with a fork and spoon. George Downing was a competitor as a paddle boarder, canoeist and surfer. His accomplishments were listed in The Encyclopedia of Surfing:
Downing won his first Makaha International in 1954, but didn't really hit stride as a competitor until the '60s – a remarkable feat given that he was constantly matched against riders 10 or 15 years his junior. Aside from his run at Makaha (winning again in 1961 and 1965, placing second in 1966 and fourth in 1968), Downing finished seventh in the 1965 World Championships, second in the 1967 Duke, and third in the 1968 Peru International. At 40, he competed one last time in Peru, finishing fourth. He coached the Hawaiian team to victory in the 1968 World Surfing Championships. (He has also set a number of paddling records – from 100 yards to one mile – that as of 2003 were still standing.)
In 1954 The Outrigger Canoe Club tapped George to travel to Peru to represent Hawaii at the annual surfing competition organized by Club Waikiki in Lima, Peru.
According to Felipe Pomar:
The Peruvians had previously tried to surf their newly discovered big wave spot, Kon Tiki, without success and had decided it was too powerful and treacherous to ride with their heavy finless surfboards.
George arrived with a finned balsa board and when he heard about the new big wave discovery he asked the Peruvians to take him there.
As the story goes George paddled out and proceeded to give a masterful demonstration of how big waves should be ridden.
That day changed the history of surfing in Peru. From that day forward, thanks to George Downing, Peruvians have valued big wave surfing as the highest form of wave riding.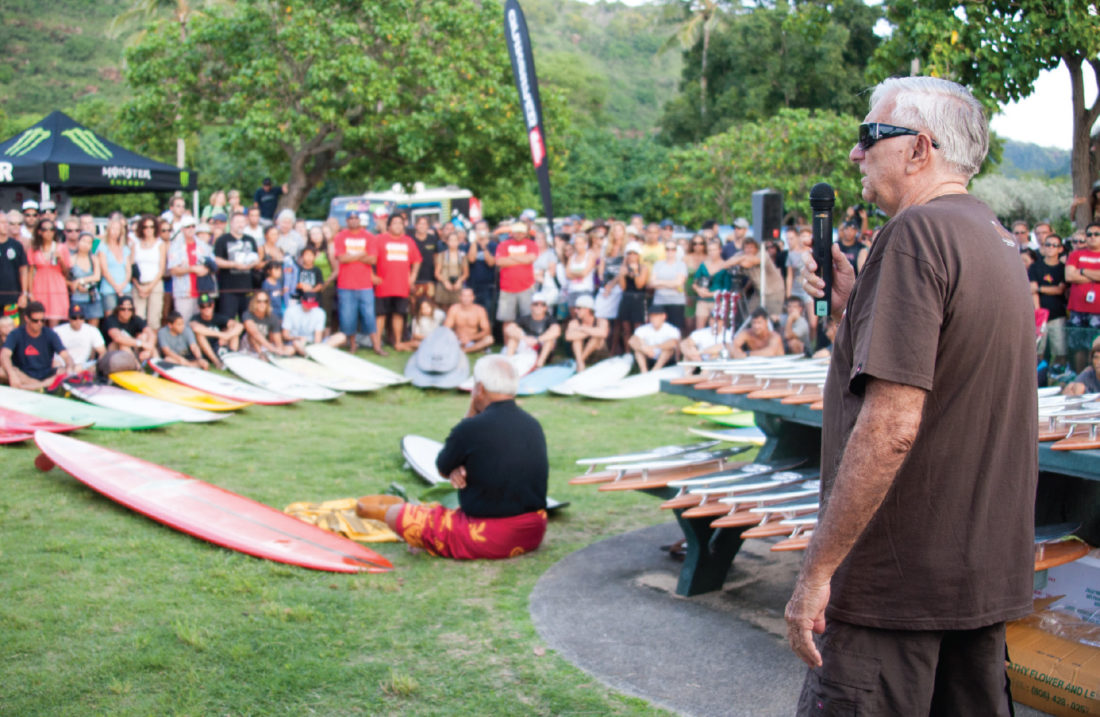 MAKING HEADLINES: JANUARY 13, 1958
George was 28 years old in 1958, and in his prime. He had Makaha as dialed as anyone on his Rocket: "On this new board," according to Warshaw in The Encyclopedia of Surfing:
Downing was able to ride bigger waves than anybody before him, and by the mid-'50s he and Froiseth, along with Woody Brown and Californian-born surfers Walter Hoffman and Buzzy Trent, had cracked the 20-foot barrier at Makaha. Downing, Trent, and Froiseth were the standout riders on a glassy Makaha afternoon on January 13, 1958, when the waves were roaring in at 30 foot.
On that day a photographer named Skip Tsuzuki was on the beach snapping photos of George and friends charging those sparkly walls. One photo of Downing, Buzzy Trent and Wally Froiseth made the front page of The Honolulu Advertiser. That photo went out on the wires and across the Pacific and "..hit the mainland like a bomb," according to Stacy Peralta in Riding Giants.
Those three bombing along that big, sparkly Makaha bomb wall sparked mass coast haole freakout, inspiring the likes of Ricky Grigg, Peter Cole, the Van Dyke brothers and others to drop everything – jobs, kids, weapons, PhDs, wives, lives – and flock over to Hawaii to ride the wild surf.
POINT SURF MAKAHA: JANUARY 12, 1959
By the end of the 1950s, George and the Happy Few had company. Waimea Bay had been cracked in 1956 by Greg Noll, Pat Curren, Mickey Munoz, Al Nelson, Greg Noll, Mike Stange, Fred Van Dyke, and a lot of the energy and attention went over the Waianae Range to Haleiwa, Sunset and Laniakea.
But George just couldn't tear himself away from those wild Makaha walls. And The Rocket was under foot, almost a decade after he shaped it.
From The Surfer's Journal:
The biggest waves I ever rode were on this board—Sunset, Laniakea, Makaha Point, and the biggest day of any in my memory was January 12, 1959 at Point Makaha. I had so much confidence in this board that I never felt, once I was trimming across and set into the face, that it could not make it to the end of the curl line. On that day of the 12th, it was the first time I heard my rail hum like you hear when a skeg's trailing edge is not sufficiently shaped down. I determined, after much thought, that you can go so fast down a wave that although the front of the board is pointing down, if the outer rail is lower than the inside rail, the board will slide sideways faster than it moves forward, making the inside edge the stern. The hum I heard was from the inner rail leaving the wave face like the back of a skeg. Riding this board taught me everything I have learned about drag-curve factors in a surfboard. The Rocket allowed me to go fast enough to identify the dragging curves of rails and bottom rockers.
1959 IS A TURNING POINT IN SURF HISTORY
You could easily write a book about every decade in the life of George Downing, from 1930 to 2018. But that's the thumbnail history of gorgeous George and his gorgeous boards up to 1959 – a milestone year in surf history:
In 1959, the movie Gidget came out nationwide and was a big hit, introducing the squares to the secrets of surfing and focusing a lot of attention on Malibu.
In 1959 Dick Dale and the Rhythm Wranglers changed their name to Dick Dale and the Del Tones and would soon start playing surfer stomps in southern California.
In 1959, Jack O'Neill moved his surf shop from San Francisco to Santa Cruz and was perfectly positioned for the surf boom that was just around the corner.
In 1959, Brian Wilson got an F grade for a high school music composition that would become a #1 hit a few years later for the Beach Boys: Surfin'
In 1959, George made the transition from wood to foam and resin and fiberglass with Pinky, a "user friendly" 10' x 35 pound foam gun colored pink perhaps in tribute to the Royal Hawaiian Hotel, Tripler Army Hospital and a lot of Hawaiian sunsets but maybe because of the pink motif of the newly-christened Hilton Hawaiian Village – where George was running beach services out of the 1950s into the 1960s.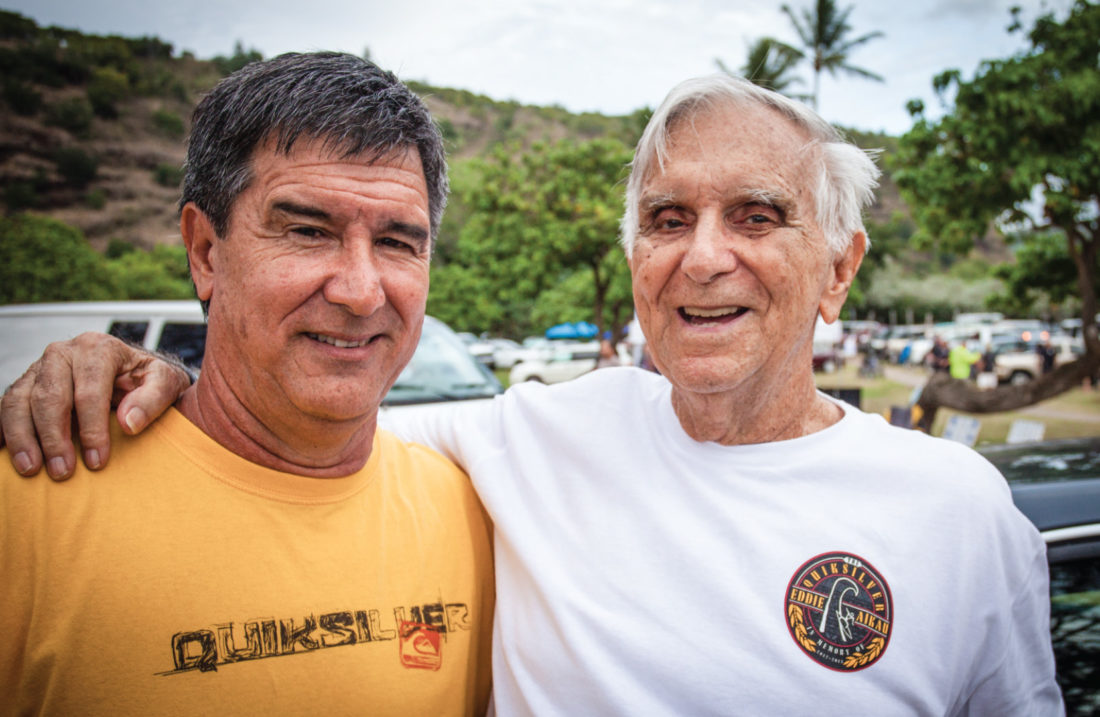 In The Surfer's Journal, Downing explained:
I designed Pinky to turn completely back toward the curl. Before that, our focus was on out-running the curl to the channel. My desire for speed was now combined with a need to maintain position in the most critical portion of the wave. I shaped Pinky in 1960. The bottom rocker has a curve that works well with any wave face. The rail line allowed this board to pick up speed going down the line without losing control when cutting back. Since this board, I have used this rocker strategy continually to this day.
George Downing at 30 was just getting started and there was much to come: Victory in surf contests, many more surfboards.
George embraced the plastics revolution and was the hand behind some of the best fiberglass and resin big-wave guns of the 1960s. Boards that won the prestigious contests, sometimes with George at the helm.
Keone Downing said:
As contest director he also started surf contests to look at the surfer for his maneuvers and the degree of difficulty verses length of ride or completed wave through the Hang Ten American Pro.
The Rip Curl and Coke Surfabout tried to implement this objective scoring but did not understand as the wave size changed so should points awarded. If they only talked to George the scoring system used now could have started over 30 years ago.
From 1959 to last year, George stayed involved, active and relevant as a shaper, organizer, kahuna. Too many examples to cite here, but in 1989, Barton Lynch won the Pipe Masters and clinched a World Title on a George Downing-shaped board. According to Hot Curl:
Some of the curves employed in building Barton's boards were in fact derived from the very same templates used in shaping George's 1945 redwood "Pepe." Ditto for the gun built for his son Keone on which he won the Aikau Contest at Waimea Bay.
Keone backs that idea up: "It was the balsa Rocket and Pinky – George's first foam board – that was the DNA for Barton's pipe board and my Waimea gun."
And speaking from Down Under, Bob McTavish threw this into the calabash:
"Sugar"….Our latest glider shape for long distance trimming on our points is 95% a sweet Downing from the mid fifties. Goes so fast for so long….
It's his coconut tree and string template, with soft roll forward and low rocker. Flatter bottom in the back end. A bit more tail lift than George …
He had the eye for the perfect trimming template…
SURFBOARD DNA
So no, there is no surfdna.com or 10'3"andme.com for surfboards and that is a shame, because it would be cool to shave off a core slice of foam, fiberglass and resin the next time you're fixing a ding, send it into a lab and trace the design DNA of that board.
More than a little bit of it would be George – no matter what you're riding.
pau