Elijah Kai Fox (@Elijah_Fox)
By Sean Reilly
Hometown: Kapaa, Kauai
DOB: May 22, 1999
Height/Weight: 5'10/ 155 lbs.
Stance: Regular
Favorite Instagram to Follow: @kook_of_the_day
Sponsors: Rip Curl, DHD Surfboards, Kreed
Neighbor Island stand out Elijah Fox has been kicking butt and taking names for quite some time now. Dominating the Kauai surf scene from an early age, the 15-year-old regular foot already has a state championship under his belt and in 2014, was nationally recognized at the Rip Curl Grom Search National Final for a critical high-tail air-reverse. The lofty punt earned him a cash prize and the Mophie Maneuver of the event.
No doubt about it, this wondergrom radiates talent. But I'm willing to bet Elijah's results are a better reflection of his hard work and determination. The Kauai grom trains at least three days a week with his surf coach/trainer/Dad. From cross fit routines and kettle bell swings to cleans and jerks in the weight room, Elijah isn't afraid to break a sweat to get to where he wants to be.
But this steadfast surf stud is no one trick pony. When Elijah isn't making west side surf excursions to the base, he's winning gold medals with the Kauai Junior Lifeguards and reeling in 120-pound ahi on his buddy's boat. Finding success in just about anything he puts his mind to, Elijah Fox is worth keeping an eye on.
When did you start competing?
I started competing when I was 10 in the local HSF Kauai contests. My first win was in 2009 at the Iron's Brother's contest at Hanalei. That was a very memorable experience for me. My American bulldog Coco secretly chewed half of my trophy on the drive home to Kapaa. I still have what's left of that special trophy.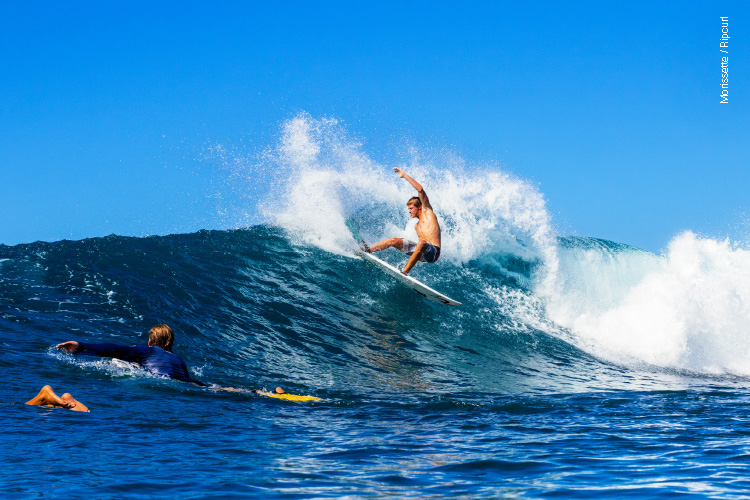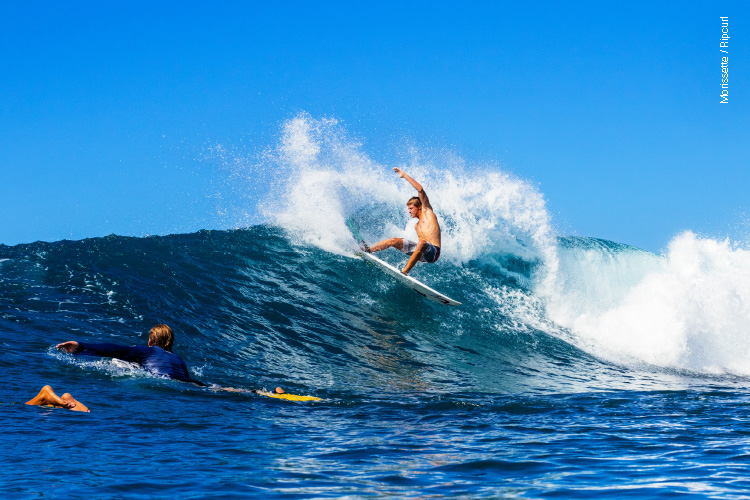 What do you love most about your hometown of Kapaa? 
There are a lot of good places to eat, places to hike, fish and spear fish. It is green and cool. Everything is really close. I have a lot of good friends here too. When the trades die, and there's swell, the waves can go off.
Would you call Kealia your home break?
Yes, Kealia is my home break. I live about a mile up the street from there. I have a love/ hate relationship with Kealia. It is super consistent because of the trades… Always surf, almost always a mess. It's a lot like a washing machine on the high cycle! Great for training, but I get burnt out of the place. It definitely has its days, though. And the cool thing is, I paddle so much there, it's like a hamster wheel, that when I go anywhere else it's easy. But I really like it when I go out and surf the north shore or the west side where it's clean and organized. I can't think of a better training wave, though.
It seems like most wondergroms are homeschooled these days, do you learn in a classroom or from home?
I'm a freshman at Kapaa high school, but I was home schooled in middle school. It's nice to be in classroom with other kids my age learning from an actual teacher.
Are you surfing less now that you have to be in a classroom?
No. I surf before or after school, or sometimes both. From time to time I am late for, or skip, first period PE. My teacher Mr. Takasaki doesn't roust me too much for it. He is a really cool guy. I missed a few weeks for the Rip Curl camp on Oahu and he's having me shape a board for the school I missed. I think I'm going to shape a 7'0. It will be my first time shaping.
What's your quiver like?
Right now my go to is my 5'11 DHD Duck Nuts round pin or squash tail. My step-ups are a 6'2 duck nuts and 6'6 duck nuts. For smaller waves I like my 5'9 Skeleton Key. I also love to doyle. Those things are so much fun.
What is something most people don't know about you? 
My family and I go to church every Sunday. I have an older brother and younger sister. My brother is a ginger, just like the ginger on '16 Candles' and 'Breakfast Club'. Classic. I have deep redneck roots too. My mom's family, all in the midwest, squirrel hunt and do weird redneck stuff like that.
Who do you look up to and why? 
Of course my mom and dad, they make it all happen for me. My sponsors Rip Curl, DHD and Kreed. I also have so much gratitude for the lifeguards at Kealia. They really keep me in check. Eugene, Kaipo, Garret, Kaleo, Kaeo, Kleve and Dustin. The Hawai'i Surfing Federation crew, and Milo, the contest director, have been so supportive of me it's crazy. They are like family to me. Also coaches from the Hawai'i Surf Team, Rainos, Kahea and Bert have really helped my surfing.     
You have had quite a bit of success on the islands, what results are you most proud of?
My best surfing results have mostly been the local stuff, number 1 on Kauai for the past 4 years in my division. I won the State Championships in 2013 at Ala Moana Bowls. This past year was cool, I was awarded the Mophie Maneuver twice this year at the Rip Curl events at Kewalos and Upper Trestles.
Outside of surfing, do you compete in anything else?
I've been fortunate to compete with the Kauai Junior Lifeguards for the past few years. We are state champions for the 11th straight year. This past year I was number one in the state overall with several golds, a silver and a bronze medal. We went to Virginia Beach this past summer and kicked butt with a team of 22, getting something like 50 plus medals. I personally got a gold and silver. The gold was in the paddle, and the silver was in the premier event called the "Iron Guard". It was an amazing experience.
What are your future goals? 
At the moment to win a Pro Junior event. Eventually to get on tour, be successful and win.
pau