By Kyveli Diener
DOB: August 7, 2003
Sponsors: Moku Hawaii, North Shore Surf Shop, Chance Em, Kai Coffee, Reezen Eyewear, Ezko, Matunas Wax, Carve Visionaries, Kuleana Sun Protection, Organic Amazon Acai, Aluminati Boards, Aloha State University, Robin Johnson Surfboards
John Michael Van Hohenstein is barely 14-years-old, but his style as he works his 9'0 Robin Johnston longboard is easily 40 years old. Nimble cross walking to toes on the nose and riding backwards to full-coverage barrels… every minute this long-haired grom spends in the water is spent grinning ear to ear — and people watching him from the beach or on his perfectly curated Instagram (@johnnytheripper) don't look much different.
A meandering pathway led Van Hohenstein and his family to Hawaii through Southeast Asia, thanks to a father willing to chase swell to offer his kids the best waves possible to hone their skills. John's prowess on a shortboard — which won him his first contest at the age of nine at the 2014 T&C Surfer Magazine Grom Contest — soon gave way to his true passion: classic logging. Even his skateboard is a longboard.
John's most recent competitive victory was at the 33rd annual China Uemura Classic in Waikiki in July. At the annual fundraising longboard contest (which Johnny has surfed in at least four times) that has helped many keiki develop their competitive skills while raising money for local charities, Van Hohenstein's team once again got first place. John took first place in Menehune Boys 13 and Under.
When he's not in the water at Queen's or mastering 8th grade at Kaimuki Middle School, there's only one place to find this grom-to-watch: inside his main sponsor's home of Moku Surf Shop, cruising with all his friends, a tight-knit group John excitedly listed by name without a moment's hesitation when asked about his longboarding inspirations. Friends who surf together stay together, and this Waikiki grom gang is for life.
I have to ask you about your last name — it sounds like royalty or something, it's epic.
It's German. I think it mean's like…tall rock? [Jumping in, John's 15-year-old brother Michael, who is equally frothing, tanned and long-haired, corrected him: "Strong rock!"] Strong rock!
Did you grow up in Waikiki?
I grew up in the Philippines. Then Thailand, then here. My dad brought me here because he wanted me to be a surfer and have better waves. I was 6-years-old.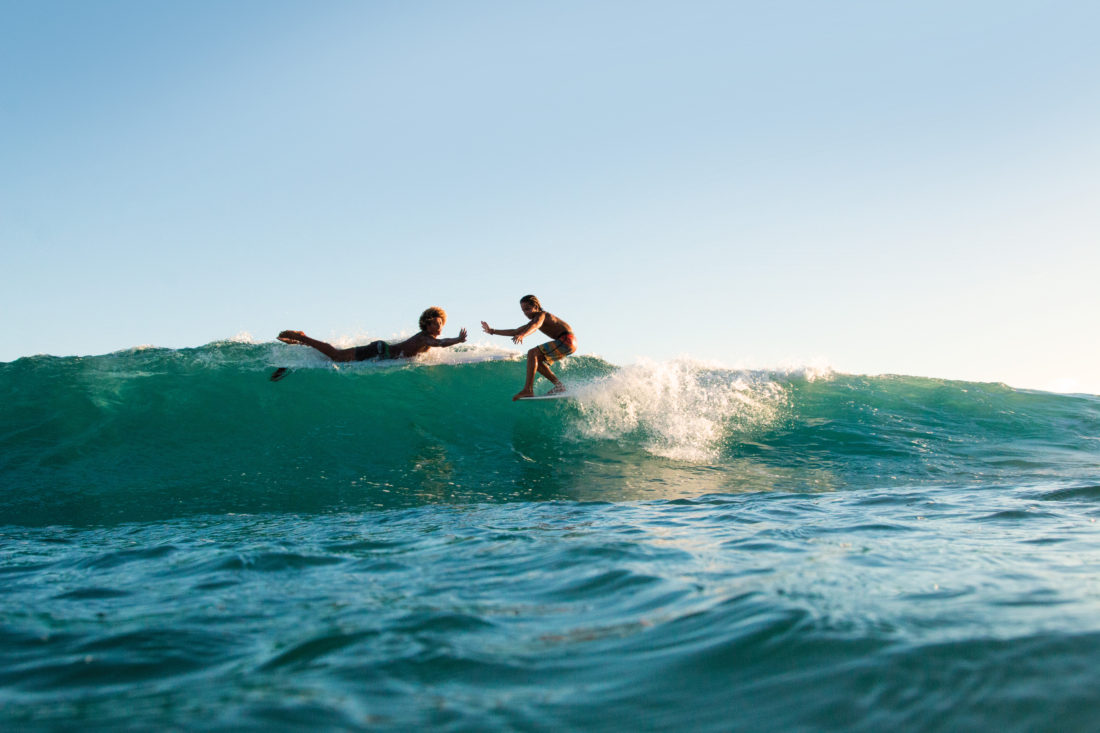 What's the first wave you remember riding?
It was over here [points towards Queens and Pops]. I was on my shortboard, I caught a small wave, I stood up, I was happy. Then I just kept doing it.
You chose not to do the home schooling thing — you actually go to school every day.
Yes, so I can go with my friends, play with my friends. Then after school I just surf with all my friends.
Who was your first sponsor and how old were you when you got signed up?
Moku [Surf Shop], I was 10-years-old. I was happy, then I started knowing everyone here.
Who are your longboard inspirations?
Kani Salami! [laughs] His name is Kaniela Stewart, and Kai Sallas, Lala and her ohana, Nelson Ahina III, and Kaimana Takayama.
What's it like when you're on the wave, finding your line, and deciding what moves to flow together during the ride?
It's like dancing. Like walking on water!
What are your favorite maneuvers to do on your longboard?
Hanging ten, roundhouses, tail threes, and helicopters. There's a lot. Oh, and getting barreled! Right out here, it was perfect.
Who are your favorite surfers besides your crew?
Kelly Slater, John John Florence.
What are your goals in surfing?
I want to go on the longboard tour and travel a lot longboarding.
What's your advice for catching waves in the very crowded Queen's lineup?
You have to know everyone, and just share the waves with everyone else. They'll give you some waves.
How did you get into shooting GoPro videos of yourself while surfing?
When I got Instagram, I was looking at videos and I saw these people shooting with GoPros on the selfie sticks. Probably like two years after, I got sponsored by Kai Coffee and they said they could get me something. So I asked for a GoPro and they got me one, and I started doing it. I was doing it before because I had an old GoPro, but it broke, so…
What are you like on a skateboard?
When I'm skating, it's just like when I'm surfing. I'm nose riding on the skateboard.
What do you want to be when you grow up?
A pro surfer.
What's your favorite thing about being a grom?
All the uncles, they let me go on all the waves. Everyone here [at Moku] takes care of me. I get treated like I'm family.
What are your last words for the Freesurf audience?
Thank you Jesus for everything and God bless everyone.