By Chris Latronic
Full name: Ku'i'o'okalani hokulele (@kuio.hammah)
Age/grade: 16 years old, 10th grade
School: Kamehameha Schools kapalama
Fav subject: Hawaiian Language
GPA: 3.42 cumulative
Sports: Surf Team
Height: 5'10
Wt: 165 lbs
Years surfing: 8
Surfboard dimensions: 6'0 x 18 1/2 x 2 1/4 Eric Arakawa Amplifier.
Tail type: Rounded square
Sponsors: none
Home break: Haleiwa Ali'i beach
Fav surf spot: V-land
Fav pro surfer: Dane Reynolds is by far my favorite, but John John, Noa Deane, and Chippa Wilson are pretty close up to him.
Fav meal in Hawaii: Ox-tail soup! My grandma makes the best!
Fav meal outside Hawaii: Two 4×4's from In-n-Out and a large fries, animal style and a strawberry shake.
Fav surf maneuver combo: Big barrel to a tweaked frontside straightie.
Growing up in Hawaii is a special privilege. Tell me about your earliest memories of learning to surf and growing up in the islands. Do you remember your first wave?
I think the first place I learned to surf was between the two rocks at Three Tables on the North Shore with my mom, definitely not the ideal place to learn how to surf, but I guess it worked, huh? haha. I think the first real memories I have of surfing that I can remember are surfing all day till I was burnt to a crisp on Kauai at PKs with my dad.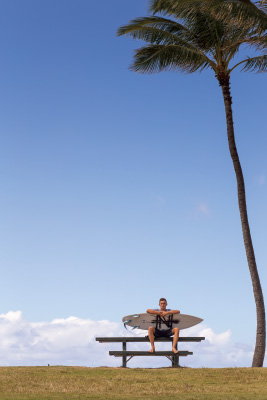 Tell me about the first moment you knew you were hooked on surfing.
I knew I was hooked on surfing one summer when I was about 9 or 10. I would wake up super early and pester my dad to get up and drive me to the beach. We would spend the whole day down there and I wouldn't want to go home until it was dark. Sometimes I wish I could do that all day every day, but I know that I have other priorities to attend to. My parents have instilled in me that school and a good education are very important.
How do you like being enrolled in Kamehameha Schools?
I really enjoy being enrolled at Kamehameha Schools, it's a great institution for Hawaiian children and I am really thankful that I have the chance to go here. I've learned so much about my Hawaiian culture and I believe that this school is really preparing me for college and the real world.
When do you find the time surf?
It's a busy schedule that we have here. I personally wake up around 6:00am to get ready and eat breakfast, then school starts around 7:25am. We finish around 3:00pm and I'm lucky to be able to surf town once or twice a week with the surf team. The waves usually aren't that great, but it's always nice to jump in the water after a long day of school. I primarily capitalize on the weekends to get all of my surfing in.
Tell me about high school surfing in Hawaii. What's it like to surf on a team?
High school surfing is really great. I think it gives kids a good chance to represent their schools at a state and national level. Its really different than individual surfing because you surf with one or two more people in your heat that are from your own school, so you really need to make sure that each person is catching waves and getting good scores. It's much more different than individual surfing in that sense because you're not just hustling waves for yourself and you're not just focusing on your own effort. The team is really good because we have very supportive coaches like Lea Arce, Daniel Ikaika Ito and Isaiah Walker that are there to make sure we are surfing our best and that our heads are in the right place.
Biggest contest results?
I haven't really done many comps in my life. I do the odd HSA contest here and there and I've won a couple, but I wouldn't say that I've had many big results. I recently entered my first Pro Junior at Papara in Tahiti and made it through a few rounds. I'm just starting to get into doing contests and I'm hungry to get a good result one of these days. I'd say the biggest result I've had is helping my team win the NSSA National high school title in California last year. I believe I lost in the quarters or semi.
What are some of your long and short term goals?
Short term goals for the future are to start entering more Pro Junior and WQS contests to get a little more experience in the field of competition. Also to do well in the NSSA Nationals this year, and to work on my surfing technique so that I can surf as well as I can, and to train harder so I can be in my best physical condition.
In the long run, I really want do have success in the surf industry, whether it's making it to the World Tour, working with the marketing and design part of a surf company, or making it in a few surf movies. I really get psyched to surf when I see all the people in Kai Neville's movies like Dane Reynolds, Noa Deane, Dion Agius and Chippa Wilson; I hope that I can surf at that level one day so that other kids can get stoked to surf. I just hope that I can surf for my whole life and make a successful career out of it. Surfing makes me the happiest and I never want to lose that feeling.
Do you have any role models or people who really inspire you?
Role models would be Dane Reynolds because he is a really individual guy that has found success in the surf industry by just being himself. Not to mention he's like the best surfer in the world. Also my friend Kainoa Kealoha because he's a good guy that surfs super well, takes care of all his responsibilities, and always takes me for a surf!
My biggest inspiration would have to be my dad though because he always spent whatever money he had to get me new boards, to put me in contests, and to always make sure that I was happy and healthy. He passed away about a year and a half ago now, but I really hope that I can be as good of a dad to my kids as he was to me. He was my number 1 supporter even when I would lose first round in keiki contests. Also, my mom is a big inspiration to me because she works hard and teaches me to work my hardest in school and in surfing. Sometimes I really need the inspiration.
For our future surfers out there, what are some good tips they could use to balance an academic/surf lifestyle?
I would tell kids to work hard, go to a real school, get a good education, show respect to your elders, and have fun with surfing! The most important thing to do is budget your time wisely when you have a busy schedule. I'm not too good at that, but I'm working on it. School is really important because you need something to fall back on if surfing doesn't work out. But then again, my opinion doesn't mean that much, I'm still a kid myself!
Thank you to Freesurf for giving me this opportunity. Aloha and I Mua!
pau