By Lauren Rolland
It's not always easy to tell who the pioneers and veterans of our sport are. There's the legends that everyone recognizes, like the Duke or Kelly Slater. And then there's the professionals that shake hands with heavies at industry functions. There's the household names that are internationally known, like Bob Hurley and Rusty Preisendorfer, and then there are those that fly under the radar, remaining underground and mostly out of the limelight.
The forerunners of surfing are everything from board developers and pro tour masterminds to event organizers and shop owners, and each one of them has helped pave a pathway for surfing to succeed. These pioneers have witnessed the biggest transformations to ever happen to our sport, and have the stories to back it up.
One man who has been around to see some serious change grace Maui is Kim Ball. The Lahaina local helped turn the Valley Isle into the wind and water sport capital that it is today by developing the Maui Race Series. He single-handedly owns three Hi-Tech Maui shops, which harbor the most extensive variety of board sport equipment on the island. Mr. Ball is helping turn surfing into a reputable scholastic sport through the Maui Interscholastic League surfing, plus he helps coach wrestling and is a huge community supporter.
For one of the more fascinating interviews to grace our pages, read on for a humorous, insightful and inspiring Q&A with the man himself, Kim Ball.
As the owner of Hi-Tech, Maui's largest surfboard/skateboard shop, you have your finger on the pulse of the Valley Isle sports scene. In your opinion, how has surfing changed over the years? Would you say there is one thing in particular that has improved?
It never ceases to amaze me to see the innovations that Maui guys have come up with to ride waves. From windsurfing to strap surfing to towing-in to hydrofoiling to kiting to stand-up paddling, it's cool to see kids like Kai Lenny excel at riding waves with a surfboard, sail, kite or paddle.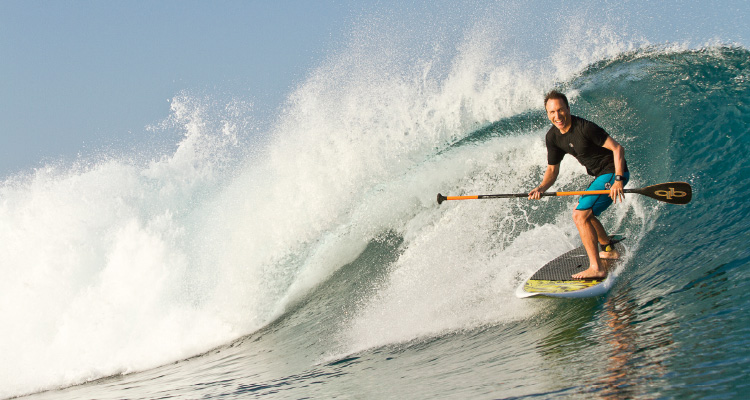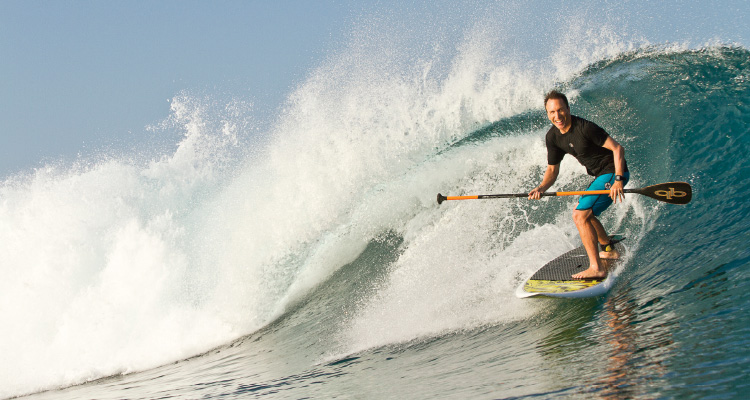 One improvement? Board design/shapes continue to be off the charts. For example, some of our customers laughed at the Tomo shapes when they saw the boards on our rack, now you see variations of the Tomo shape everywhere.
How and when did you become the owner/president of Hi-Tech Maui?
Craig Maisonville started Hi-Tech in 1982. He had a factory at the Haiku Cannery, and a board outlet in Paia. It was a board outlet because there were never any boards for sale. Craig shaped the most sought-after windsurfing waves boards in the world. He'd throw orders in the waste basket (mostly Euro orders) because he knew he could never get to them. He was an animal, he shaped three boards a day and would ride waves at Hookipa every afternoon without a harness, just holding onto the sail… something nobody does now or even then.
I was a windsurfing junkie at the time, and my pastor, Ricky Ryan, got Craig and I together in 1984. We shook hands and became partners, no signed agreement. I opened another Hi-Tech store in Kahului. Craig entered the ministry full-time in 1990, and we worked a buy-out. I can't say enough good things about Craig as a partner and a man of integrity. Since then we've expanded a few times and opened two more stores, but I'll never forget Craig's influence on our company.
Before your current career path, what were you doing when you were younger?
For two summers in high school, I scooped horse manure and dug post holes and mended fences for the local county fair and horse races in Nebraska, made up to $1.30 an hour. Then the next summer, we hit the jackpot. A bunch of us high school seniors scored jobs at the meat packing plant for $3.38 an hour! We thought we were rich. I had the stinkiest job on the kill floor, even worse than my friend who cut and tied assholes. I would get the bloated stomachs full of undigested meal, and I would have to cut each one open and pass it to the next guy so he could wash it on the wheel. Every time I cut into it, it was like the meanest fart exploding in my face… I only had to do it about 800 times a day. That's why resin never bothered my nose. Ha!
Wow I was not expecting that! What a humble beginning… Okay, so you're also the coordinator for Maui Interscholastic League surfing, tell us a little bit about that.
I'm actually co-coordinator with PK Higa, the King Kekaulike athletic director, for Maui Interscholastic League surfing. For MIL surfing, we created a four-meet schedule at four different venues. We put together a two-day coaches certification clinic in Lahaina, with the help of Archie Kalepa, Cary Kayama and Zach Edlao. We also had a clinic at Maui High School for our judges and officials. We just had our third meet (of our second season) at Lahaina Harbor. The coaches have done a great job of getting the student/athletes organized with all the release forms, physical exams, grade checks, etc. I'm always reminded by my brother, who is a complex area superintendent… students first, athletes second.
In 1985, you helped organize what has today become one of the largest wind surfing events in the state. Do you continue to organize the Maui Race Series each year?
We started the Kanaha Team Slalom in 1985. You've got to remember in the 80's, windsurfing was blowing up, it was the fastest growing sport in the world. The races were something for windsurfers to do in the summer when the north shore was flat. The first year, we had guys on asymmetrical wave boards, and every other kind of board and sail. But gradually it got a little more serious, and before we knew it, we had the best slalom racers in the world competing in our amateur races.
This will be year 31, and as long as our race director wants to talk at skipper's meetings (he's the youngest 72-year-old on the planet), I'll continue to organize what is now called the Maui Race Series, a series of five windsurfing events.
You mentioned you also coach for the Lahainaluna wrestling team. How did you get into all of these different sports? You seem to have a calling for coaching…
When you're a little skinny kid who was the only non-white kid (besides my bro) in our town, you naturally wrestle and play football. My mother was actually the only true minority in town, she was a local Hilo girl who went to U of Missouri and met my dad. When they got married (1951), it was against the law in southern states, so they had to go to Iowa to get married. My folks were such the radicals.
I went to one Lahainaluna wrestling practice in 1980, and the athletic director asked me if I wanted to help coach. I thought, 'I can help for one year'. Now they can't get rid of me. I coached pretty heavily until my oldest son, Bailey, was born in 1988, and then when he was in kindergarten, we started a wrestling club up north, the Napili Surfriders… how original, huh? We helped Molokai start a club because we wanted to take our club over there to camp and surf; wrestling was just an excuse. I gotta say though, this past month was absolutely the pinnacle for all of us in the Lahaina wrestling community when Lahainaluna became the first neighbor island team to win a wrestling state title, capturing the boys and girls titles at the Blaisdell. Leigh Tonai (HIC) and Ryan Sugihara (T&C) are big wrestling guys, so when I see them at industry functions, the topic always turns to wrestling. Talking business is always too boring.
Being as busy as you are, how often do you get in the water?
I get in the water almost everyday, I'm a full-on SUP kook now. I came out of the closet a few years ago.
Where's your favorite place to surf on Maui? How about in the world?
I'm a dawn-patroller, so anywhere it's not crowded. World? I've been to this island somewhere in Indonesia three times, but it's terrible, I wouldn't go there, not worth mentioning.
When you're not managing the shop, coordinating MIL, planning the MRS or coaching wrestling, how else do you spend your time?
No time for hobbies, but one of the cooler events we've organized was the Mauna Kea Snowboard Championships. Kevin Akiyama (owned Big Island Surf) would help me. We did a few of them, the first was 1994. Your publisher even showed up one time. I took my nine-year-old son up there, big mistake. He was so altitude sick, he couldn't get out of the SUV. One of our buyers went with us, and she was so altitude sick too that she tossed her cookies in front of the Aloha Airlines counter at Hilo Airport when we were checking in. Boy those one-day snowboard trips were fun.
Any tips for creating a work/life balance?
My wife, Cindy, will probably say I'm the worst at creating balance. But at the end of the day, I still enjoy going to the shop, still love catching a few waves, still look forward to wrestling practice, and still can't wait to see my wife every night. PTL.
pau