Growing up on the North Shore, Nalu Shizuo Deodato's first wave was at the Menehune Surf Contest when he was 6. He was immediately hooked on both surfing and competition, and as his surfing talent evolved years later to include powerful cutbacks, threading consequential tubes and playful airs, so did his knowledge, learning the meaning of his powerful name.
Nalu means "wave" in Hawaiian. "I believe my parents named me this so I would feel comfortable in the water," he said. His middle name – Shizuo – means "quiet hero" in Japanese and his last name – Deodato – means "God given" in Italian. His full name translates to "wave quiet hero God given."
We sat down with the God given quiet hero surfer, now 11 years old, to talk about his quiver, his favorite thing about being a grom and his surfing goals.
How did you get involved in competing, Nalu?
Besides the Menehune contests at Ali'i, I've competed at Duke's Oceanfest, T&C Gromfest at Queen's and Rell Sun at Makaha. Now I compete in the Hawaiian Surf Association contests.
What does your quiver look like?
My boards are all shaped by Wade Tokoro and glassed at Third Stone Glassing Factory in Waialua. I have a 4'9" square tail, a 5'2" pin tail step up and a 6'0" pin for Sunset. I also ride my dad's 7'0" J.S. at Waimea Bay. I mostly ride my 4'9". I love Tokoro's boards. They have been working with him for the last couple of years!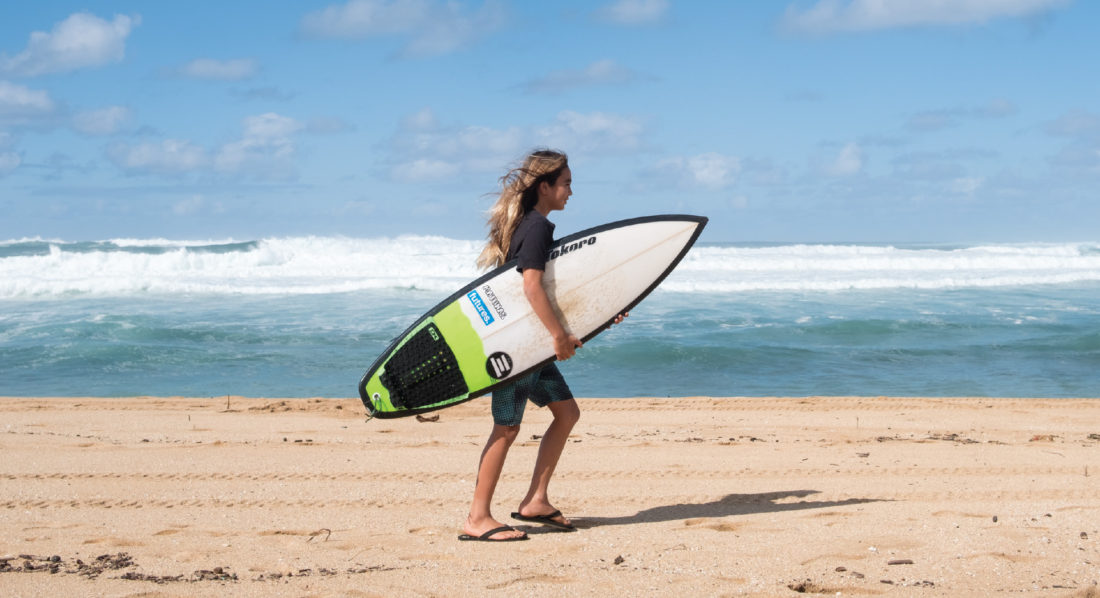 Do you like airs or barrels more?
I like barrels better than airs. But if the section calls for it, I'll do an air!
Which surfers do you look up to?
I look up to surfers like John John Florence, Julian Wilson and Filipe Toledo.
Why those three?
I like their progressive airs and rail game.
What's your favorite thing about being a grom?
My favorite thing about being a grom is that people let you go in waves! I also love being able to surf all day with my friends.
Where have you surfed besides Hawaii?
My grandma and grandpa live in Japan, so I surfed there twice. Every summer we stop in Japan on the way to Bali. I've been there four years in a row.
What are your favorite waves in Indonesia?
I love surfing at Keramas, Padma Beach and Uluwatu. The waves are so good in Indonesia, and the food is so good!
Where would you like to go in the future?
I hope to visit California and Australia soon.
Tell us about your worst wipeout.
My worst wipeout was last year at Ali'i Beach! I hit my head on the reef at the toilet bowl. I had several cuts on my head.
Did you have to get stitches?
No!
What do you do when the waves are flat?
My favorite things to do on North Shore besides surfing are skateboarding, cave diving, and fishing.
What are your surfing goals?
My main goal in surfing is to make the WSL Tour and win a World Title.
Any last words?
Thanks to my sponsors, my family and God. Peace out!