By Shannon Reporting
Kauai native Kelta O'Rourke is a senior in high school and quite the overachiever at just 17, in the best sense of the word. In between charging big waves, she's busy applying to universities to achieve her goal of being a doctor. The wahine who attends Myron B. Thompson Academy was the youngest invitee to the Women's Red Bull Queen of the Bay Waimea Bay Championship this year after proving herself as one of the top performers in big conditions, and now her goals are set on competing one day at Pe'ahi on the WSL Big Wave Tour. Kelta believes that women could (and should) be surfing the same venues as the men. I believe this young and optimistic surfer girl's story will further convince you that the ladies have earned their spot in the big wave lineup, as we see the sport develop with more opportunities for girls like Kelta to pursue her dreams than ever before.
Freesurf: Do you remember your first big wave session?
Kelta O'Rourke: It was at Sunset Beach when I was around 12 or 13 years old. Kahea Hart lent me his 7' board and took me out. Up until that point, I rode longboards and shortboards, so it was really different to go out on a bigger "gunnish" board. He took me right out to the peak and I caught a ton of waves. My dad was on the beach and he didn't know that I could do that. I became super hooked on it and wanted to keep getting bigger waves and going for it. When I realized I could actually focus on big wave surfing, that was really the turning point.
How did you step up your game to surf big waves?
Even when I was little, I did things very daringly. I would jump off slides and had so much energy, always running around. I always wanted to go to the beach when I was young, and begged my parents to take me surfing. I started when I was 6, then at 12 I got more into surfing bigger waves. The uncles would take me in and they look out for me… I loved the feeling in bigger surf.
How was your first experience surfing in a contest?
I did my first contest when I was 9, the Irons Brothers event on Kauai, and I won! That win got me hooked and the feeling is addicting.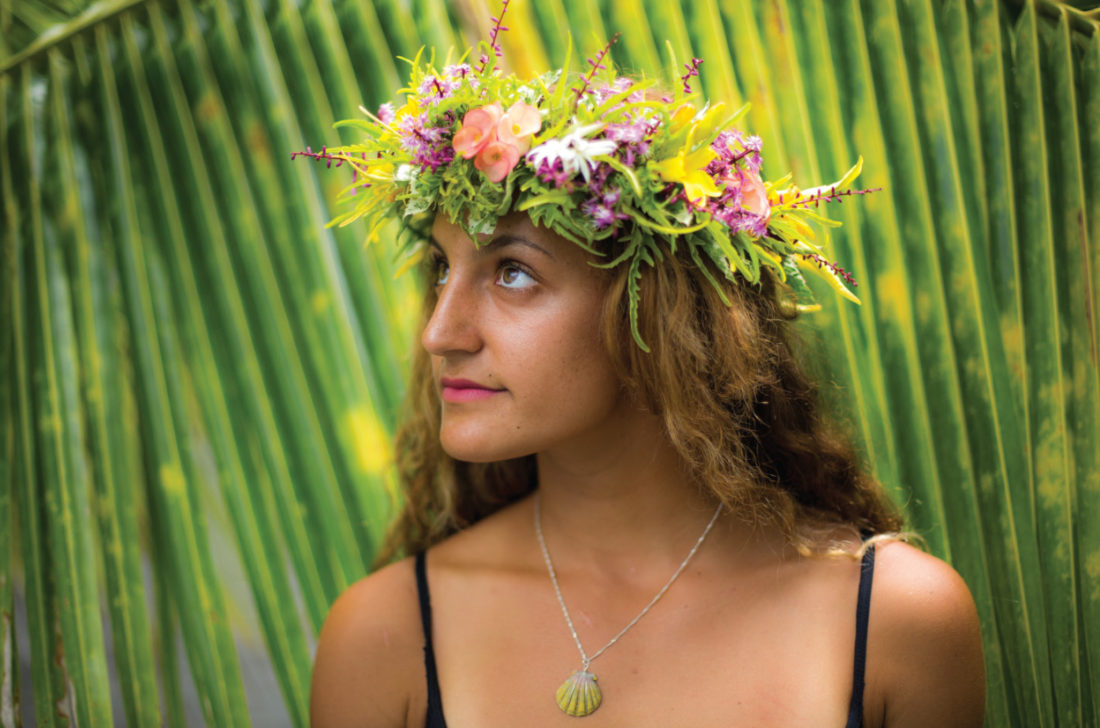 What would it mean to you to surf in the Women's Red Bull Queen of the Bay Women's Waimea Bay Championship?
It would be super sick! We would be able to show that we can do what the guys can do. I believe most of the men who surf big waves know that, and they see the girls out there and they know that we can do it. But there's a lot of people outside the big wave bubble that have doubts. Having a contest out there by ourselves would be able to show off the girls' abilities for good. Since The Eddie has gone on for so many years and women have never been a part of it, I think that it is really important to have something for them with similar stature. Girls have been excluded from something that they've really wanted to be a part of for so long. Jamilah Starr and all of the pioneering women have been pushing for this event for so long. They have been out there for years along with the guys and seem to go unnoticed. Giving women an event as a chance to show what we can do is really important, especially for up-and-comers like myself. It would really push the sport of big wave surfing for women and show other people that we're not just out there in our bathing suits looking pretty; we are out there getting it done. We are battling with the men and making it happen.
What's the most challenging obstacle as a big wave surfer?
(laughs) I'm very injury prone… I've had shoulder surgery and have a couple of bum knees, so I've had to go through recovery times, but other than that it's been smooth sailing. I'm still in high school, so I've been traveling and doing all this while I'm still in school, so sometimes I'm stressed about that and it can be hard, but I just tell myself, "this is what I love to do and you are going to make it happen."
Describe the rush of successfully kicking out of a big wave ride.
I've always loved rollercoasters, but that is nothing compared to the rush you get when you kick out of a 30-foot wave. You are 110% in that moment, nothing else matters: my physics exam that's due in a day doesn't matter and all of my math homework. I force myself to calm down and stay in that moment and be present. You really get into the zone. Even if I get pounded, I come up laughing because I know that I went for it. There's no other feeling that can compare to that pure adrenaline rush.
Kauai is a power house for breeding top surfers. Anyone in particular on island that's inspired you the most?
Tatiana Weston-Webb has really inspired me. Seeing her career grow as a professional surfer on the Tour has really pushed me and shown me that even though I'm from a small island, it's possible. Big things can happen. She really worked hard put her mind to what she wanted, and she got it. I really look up to her.
So you're graduating soon, and then it's your 18th birthday? Are you thinking about what you are going to do after high school?
I've applied to a few colleges, because I think that education is super important. I love surfing but it's always good to have a backup plan in something that you can do. My goal is to be a doctor. I've applied to a few colleges, and I would of course keep doing big wave surfing and do some QS events in the summertime and try to do both. I have been able to juggle it thus far, so I might as well keep focused on both of my dreams.