By Kaiser Auberlen
I have only been on Earth for eleven short years and have been lucky enough to travel to places like Fiji, Nicaragua, California, Australia and Bali. Australia is probably at the top of the list, so while all my friends were chasing titles at Nationals over the summer, my Dad (Geoff) and I decided to take another trip back to the Gold Coast. After surfing epic 3-4 foot barrels at DBah on our first session, I knew we made the right decision.
We spent the first half of our trip on the Gold Coast, always up at dawn surfing either Dbah or Snapper. The Superbank is an amazing set up: it's the longest sand bottom point I have ever seen. If you get a good one all the way to Greenmount, your legs are burning.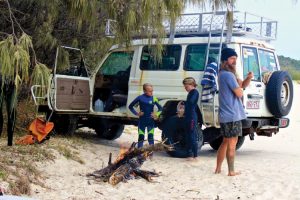 The one bummer about these spots? The crowd. There can be easily over 200 people out at the Superbank, and the amazing thing is you can go 15 minutes south to Fingal or Kingscliff and find great waves by yourself. You just have to know where to look.
One of the best parts of the trip was our session at South Straddie, a small island off the Gold Coast. It's known for some of the best beach breaks in the world. We got to the boat ramp at dark and knew it was on when we saw Dean Morrison, Ryan Hipwood and The Mad Hueys launching their skis. It was solid 4-6 foot barrels and the best beach break I have ever seen. We did step offs and it was the most fun I've ever had on a surfboard, just stepping off and getting barreled. I was hooked!
The next day we went off on another adventure with a friend to a secret spot on an island off Brisbane. We will call this Spot X, because they didn't want me to mention the name. It took us an hour to get there by boat, and there were perfect 3-4 foot rights peeling down a sandbottom point for over 200 yards. Nobody was out! We surfed for a solid three hours, went to the beach, made a fire, had lunch and paddled back out for another three-hour surf. It was epic.
After a great ten days on the Gold Coast, we moved on to our next destination: Byron Bay. I really like Byron because it has it all: point breaks, reef breaks and beach breaks. It's a cool town with great food and nice people, like a hipster version of Haleiwa. We would usually surf the Pass in the morning, followed by an evening session at the Wreck. The Pass is another long sandbottom right-hand point with a thick crowd. Evening high tide sessions at the Wreck were sick, because the wave consists of two peaks that break off an old shipwreck.
One of the nice things about most of the surf zones in Australia is that they are usually around a headland, so you have a point, a beach and a back beach. This is good because you can almost always find an offshore wave. If the wind goes North and the Pass is onshore, you go surf the back beach. The back beach at Byron is called Tallows and it's a super powerful wedge of a left and a right with great barrels and small crowds. We scored Tallows a couple of times and it was insane!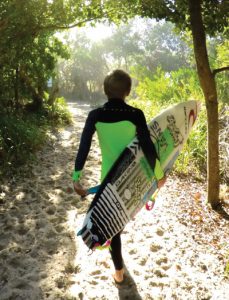 During our stay in Byron, we took a few road trips south to surf some spots my Dad really wanted to check out. The first was Lennox Head, and it's only twenty minutes from Byron. Lennox is a rock point and has a pretty sketchy entry into the lineup. You have to jump off big boulders full of urchins. We saw several people get worked and lose their fins.
The waves were really good, solid 4-6 foot and guys were getting pitted. The next spot was Angourie. It's located in a nature reserve and is just an amazing place. It's a rock point that wraps into a little bay with an inside bowl like V-land. The day we surfed it was a perfect 3-5 foot and sheet glass with only 10 people out.
This was probably the best surf trip I have ever been on. We surfed everyday at least six hours, met a lot of new friends and saw some old ones. Australia is just an easy place to go, great food, nice people and guaranteed you're gonna get all types of waves. What else do you need?
pau