Written by Shannon Reporting
Traveling around the globe on the WSL Qualifying Series, Maui's Imaikalani deVault is clocking his share of miles chasing his dream of making the World Tour. At only 21 years old, he's still getting his feet wet amongst the top seeds, but what strikes us most about him (as with many of the Maui community) is his humility. Granted, we caught him at a peculiar time for our interview: we were in Ericeira, Portugal, for the QS 10,000 event and he had just scored the best wave of the contest—a 9.4 on a solid right-hander! However, when the horn blew, he was short of 0.5 points on his backup score in order to advance [deep exhale in frustration]. It was clear that Imai was ready to shed the wetsuit and head home to warmer waters, and so were we.
Being on Tour can be bitter-sweet for Hawai'i surfers, as it seems like the one thing we can all agree on is that the best quality waves are often found at home in our backyards. We're spoiled rotten by perfect surf, but guys like Imai keep a cool head on their shoulders while abroad and simply enjoy the journey, constantly pushing themselves to improve on all sorts of different waves. His Hawai'i quiver, shaped by KT on Maui, awaited his return for the Triple Crown events beginning at Haleiwa, a wave that Imai has been competing at since he was a grom. Excelling in bigger and more powerful surf, deVault is also looking forward to being in his element at Sunset Beach.
We talked story about why Pipe is the best wave in the world, the contagious buzz found on the North Shore during the Vans Triple Crown, and what a breakthrough performance at VTCS means for the local Hawaiian competitors.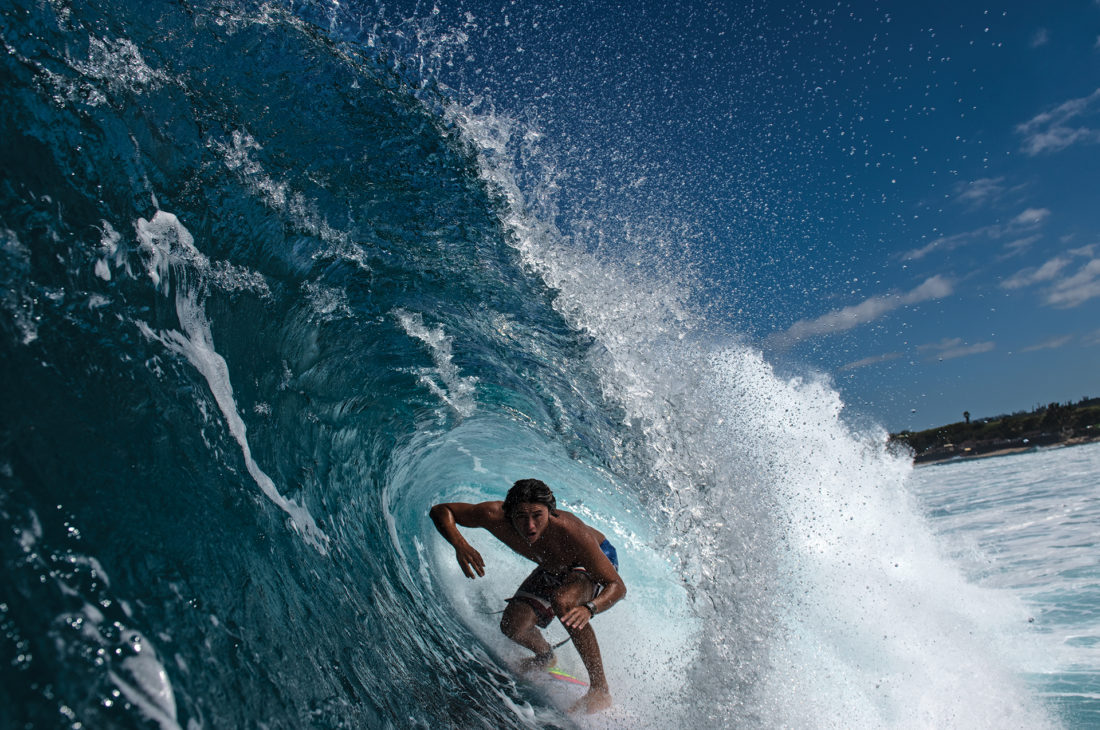 Are you excited to kick off the Hawai'i leg back on your home turf?
Yeah, I am really excited! I always look forward to the Hawai'i season, getting to compete at home and being comfortable with the waves. Hawai'i is the best place in the world I think: it's home and full of really good waves, big change from the typical QS grind the rest of the year in some small or bad surf, so it will be a nice change of pace. I'm always looking forward to going home and surfing waves with more size.
What's the vibe like during peak season on the Seven Mile Miracle?
The North Shore scene is definitely a whole other world compared to my home [Makawao]. But I enjoy competing, and it's pretty easy for me to island hop to and from Maui (just a 30 minute flight) so there's no time to get home sick. I also have family on O`ahu so it's an easy transition.
There's so much going on during the Vans Triple Crown, like the Vans BBQ. The Gudauskus brothers are also organizing a Vans Stoke-O-Rama. The entire Vans team is on the North Shore during the season, so it's always fun to be around the crew.
What makes Hale'iwa so highly contestable?
Hale'iwa is great: it could be 6ft or 1ft lefts, so you never really know what you're going to get. It's actually a really tricky wave because of that. I grew up competing in NSSA contests and the Menehune events there, so I know the wave pretty well. Either way, if it's big or small, I'm always looking forward to it.
You must be excited to surf pumping Sunset Beach for the Vans World Cup.
Yeah, I think Sunset is my favorite wave to compete at. If there's a lot of swell, it's really tricky, but it's my favorite spot to ride the big boards and being able to really surf. When I'm out there, I don't think about the heat as much. Everyone's out there just doing their own thing with the ocean, and I like that. I always look forward to Sunset.
Speaking of bigger boards, what does your winter quiver look like?The North Shore quiver varies from your typical 5'11'' shortboard to a 7'6''. I usually bring two of each board size from 5'10'' to 7'. Then, if you want to paddle Waimea an even bigger board… I'm not really in the [big wave] paddle scene too much, but I like to watch those guys do that. At Pipe, I like to ride around a 6'10'' if the waves are big, and down from there.
Pipe Masters has to be one of the hardest contests to secure a wildcard spot, so highly desired and competitive. What's your approach going into the Trials?
Luckily, Hawaiians get a couple extra chances to show what we can do at Pipe. It's a difficult wave to compete at in general, especially if it's small or onshore. Some of my best freesurfs on the North Shore were definitely at Pipe; that's the pinnacle of surfing anywhere. I always want to get good waves during the freesurfs to hopefully carry that over to the events. When you think of the North Shore, you think of Pipe. It's an iconic spot. The danger level is real. It's a really challenging wave. It's scary, but I love it. Getting a good wave out there can change your life and help you get on the scene, if you're not in there yet. It can open everyone's eyes to see what you can do. That's definitely the wave everyone is looking forward to most—especially freesurfing.
How do breakthrough performances by Hawai'i surfers in the VTCS inspire you?
Sebastian Zietz and Dusty [Payne] are good examples of what can happen if you perform there. Everyone saw Seabass get his breakthrough result and make the Tour all thanks to the Triple Crown. It has that effect, so if you can do well at a couple of the events, that's huge. Being able to make two Triple Crown finals gives you a chance to qualify, and everybody knows that and looks forward to this time of year, especially the Hawaiians. That is my biggest dream—to win Triple Crown events. I am looking forward to seeing what happens this year.
pau