Full name: William Jackson Bunch the 4th
Hometown: Paia, Maui
DOB: December 19, 2003
Height/ Weight: 4'5, 61 lbs.
Stance: Goofy foot
Sponsors: Billabong, Oakley, Dakine Hawaii, Hi-tech Maui, SurfCo. Hawaii, and Kazuma Surfboards
Groms seem to be getting younger and younger every year. Remember when a grom was a pubescent teenager? Well this 9-year-old shralper is redefining the age-bracket. William Jackson Bunch the 4th (you can only imagine the confusion that takes place during his family reunions) caught Freesurf's attention after an impressive final at the HSA State Championships. While most 9-year-olds are getting pushed into waves at the Menehune Classic, this Maui ripper is taking names in divisions far beyond his years.
I first met Jackson a few days before our scheduled interview during an evening surf at Goat Island. There were waves to be had, but in no way were conditions ideal. While I was struggling to catch a wave in the sporadic 4-foot chop, this minigrom was launching 360 reverses on the inside!
The following day, at the Arnette Cash Pot Surf Series, I ran into Jackson once again. This time he was slashing his way through heats in the U16 division, competing against kids almost twice his age!
The day of our interview, Jackson impressed me once again. Unleashing powerful front side carves and throwing buckets of water into the sky, Jackson nearly made the semis against a highly competitive and much older crowd at the Kewalos Rip Curl Grom Search.
If you are not intimidated by this 60 lbs. fourth-grader, you should be. This little Bunch packs a mean punch.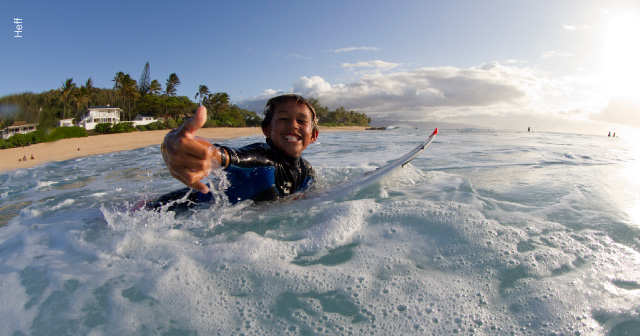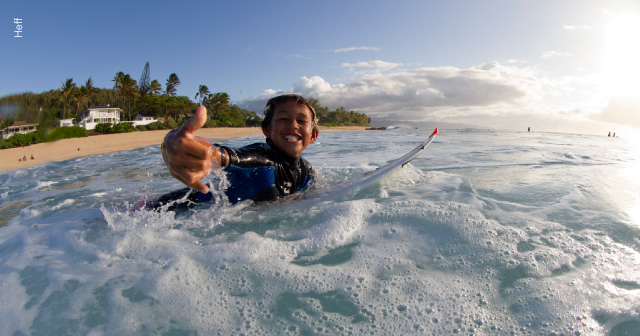 What does a typical day in the life of Jackson Bunch look like?
"I surf everyday. I go with my friends to surf, then we'll go get something to eat, then we'll get ice cream for a while. Then we'll go skate. And then maybe go back out for another surf."
Where is your home break?
"My home break is Ho'okipa, that's where I surf most of the time."
What is your first memory of surfing?
"My first memory of surfing is getting pounded! I was five years old at Ho'okipa. I kind of caught a wave, stood up and then fell. When I was paddling back out a big set came and washed me all the way in."
When did you start competing?
"I started competing when I was seven. My first contest was Ian Walsh's Menehune Mayhem at Ho'okipa on Maui."
What does your quiver look like?
"My go-to board is a 4'6 Kazuma Milkman. I also have two 4'7s and a 4'9.
Where is your favorite surf spot?
"My favorite spot is either Pipeline or Rice Bowls. Rice Bowls was really fun during that summer swell in May."
What is your favorite post session grindz?
"Burgers! My favorite food is fruit and cheeseburgers. I eat fruit a lot, and I eat cheeseburgers a lot!"
Who are your favorite surfers?
"My favorite surfers are Parko, Mick, and John John; Parko because he has the sickest carves and wraps, Mick because he is super fast and has great style in the barrel, and John John because he can do crazy airs!"
How would you describe your style?
"My style is all about hard carves… Front side power surfing."
Who do you usually surf with?
"I surf with Kain Daly a lot. Kai Barger, Matt Meola, and sometimes Albee."
Do you have any friendly rivalries?
"Cole Alves, Ocean Macedo, and my friend Axel."
What motivates you?
"Kelly, Parko, and Mick are motivating, but it's all about having fun, traveling, and surfing with your buddies."
What is your biggest accomplishment?
"The 2nd place at Ala Moana (Hawaii State Championships) because I worked really hard to get second, and I got second! I also won Consideration at Doris Todd Memorial Christian School, an award for trying really hard. I got straight A's."
Where do you see yourself in 5 years?
"Having fun, going places and traveling. I would like to win the Juniors at Nationals, the Grom Search at Kewalos, and Surfing America. I have to try really hard and practice everyday."
Any last words for the Freesurf audience?
"Hit every section and keep surfing!"
Recent Accomplishments
• 2nd in Boys U11 HSA State Championship, Ala Moana Bowls, April 2013
• 1st in Boys U12 Hurley at the Harbor, Lahaina Harbor, June 2013
• 3rd in Boys U14 Hurley at the Harbor, Lahaina Harbor, June 2013
• 1st in Boys U9 & U12 at the Carlsbad Beach Fest Surf Contest, Tamarack State Beach, June 2013
• 1st in Boys U13 at the Revolt Summer Surf Series, Pacific Beach, June 2013
pau