With Backyards as her backyard and a set of surfing parents who frothed for big Sunset, Zoe McDougall was destined to develop a talent with waves. This thirteen year old began surfing at a young age and competed in Oahu's fun contests throughout her childhood. By eleven, Zoe began attacking HSA and NSSA events and climbing the ranks. Nabbing a 1st place finish in June's Roxy Waikiki Classic (14 & Under SB division), this teen is proving herself in the highly competitive world of female surfing.
Inspired by her long-time neighbor Coco Ho, Zoe recognized a talent in herself at a young age. It was through Junior Lifeguards that this ripper realized she was comfortable in the ocean. "I think being a really strong swimmer gives you a lot of confidence in the water," she muses. Which brings us to a tidbit you might not know about this young waterwoman; Zoe craves big waves. "I like power," she remarks with a glimmer in those big brown eyes. This two-time Hawaii State Champion is training her way to the top with coach Kahea Hart, not to mention with friendly rivalries between fellow surfing pals, Kai and Moana Jones, Brisa Hennessy and Honolua Blomfield.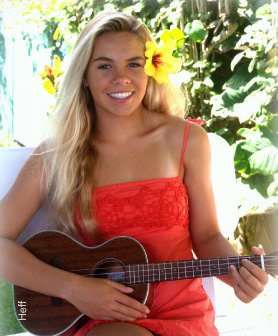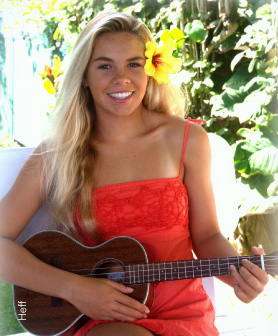 Multi talented on land and in water, Zoe is gracing the competitive surf scene and working toward getting serious with NSSA events. Keep a lookout for Zoe, she'll be the one riding the recognizable striped and solid Dennis Pang board, waiting for the mackers on the outside.
Full name: Zoe Adele McDougall
Nickname: ZoZo
DOB: 1/17/2000
Age: 13
Stance: Regular
Hometown: Sunset Point
School/grade: Homeschool/HTA Charter School/8th grade
Favorite break:  Sunset Point
Favorite board: My 5'5'' red white and blue Dennis Pang made for powerful North Shore surf.
Which accomplishment did you work the hardest to achieve?
"I work hard in all I do but I feel one of my big accomplishments in the past year was getting some sponsorship to help with the cost of competitive surfing. This year I also started modeling with Larson Talent to help out some myself. I also train very hard with my coach Kahea Hart and our grom training group where I'm always trying to accomplish a new level in my surfing."
What are your future goals? How about your near-future goals for 2013/2014?
"My near future goals for 2013-14 season are to find a few more sponsors so I can seriously compete in NSSA outer island and qualify for Surfing America next year and NSSA Nationals, and hopefully place in both. I also have a goal to model more and I have to get good grades to compete so that is also a goal.
"As for the more distant future I want to be placing in ASP Jr. Pros soon and then go on to the QS tour and finally on to the ASP world tour someday. Also to travel around the world as a designer of some kind."
 What challenges you?
"Kahea Hart… (laughing). Having a lot of close friends who surf well. They and my coach Kahea are always pushing me to do my best. Also, small waves challenge me."
What are you working on in the water?
"I have been working on completing my waves and I've also been trying to slide my tail out a bit more, and playing around with some blow tails."
Any hobbies aside from surfing?
"Yes, in my spare time when I'm not training, surfing, or working out I play ukulele and guitar, make jewelry and do art. I really want to have a clothing line or a jewelry line or a bathing suit line, or even all those mixed together."
What's something most people don't know about you:
"I sing in the shower. Also, I really like to win and I always like to be right. If someone says I looked good doing something in the water, but it didn't feel good to me, then it's not good enough for me. I want to do the biggest turn I can, the biggest maneuvers, just kill it. I want to do something that really makes a session feel great."
Tell us about your favorite surf break:
"Sunset is really a great place to learn big waves because you've got a channel and you can inch your way over to big waves. It's such a powerful wave, but there's always people out there watching you. They see you move from the inside to the outside, they watch you surf the bigger waves. Everybody knows your name out there, it's such a special thing to have Sunset, it's such a neighborhood spot. And such a well known surf break."
Surf celebrity crush:
Sterling Spencer and John John Florence.
Last words for the Freesurf audience:
"See my life on instagram @zoe_mcdougall online at www.zoesurf.com and soon on my upcoming Facebook fan page too. Thank you!"
Sponsors:
Smith Optics
Sanuk
Dragonfly Blue
Clif Bars
POM POM
Recent Accomplishments:
• 2 time Hawaii State Champion May 2012 (HSA), 1st U12 SB & 1st U14 co-ed LB
-• 1st place at Roxy Waikiki Classic in 14 & U SB, Waikiki, June 2013
• 3rd place Surfing America Championships in U12 at Lowers, June 2012
• 1st place in Menehune Championships, Haliewa SB, October 2012
• HSA Season end of Season ratings for Oahu: 1st SB Junior Girls 16-17, 2nd SB 14-15, 3rd SB 12-13 , 4th LB.
• 1st Place in 13 & Under at the China Uemura Longboard Surfing Classic, May 2012
• 1st place in NSSA 17 & Under Explorer Girls LB 2012 & 2013 Sunset Pt., Oct 2011 & Oct.  2012
• 1st place in all 4 divisions at HSA #9 at Turtle Bay. (Divisions SB 12-13, SB 14-15, SB 16-17 and Longboard U17) March 2013