By Jodi Wilmott
(With special thanks to Ross Williams & Jason Rem for interview support.)
There's a time in September when a palpable shift occurs in the waters off the North Shore of Oahu. It comes after the last Southern Hemisphere swell sweeps through Tahiti and hands the torch to the Northern Hemisphere. It's a primal stirring those who intimately know this shoreline notice. There might not even be waves at the time, but something has changed. The color of the water seems a shade darker. There's a frenetic movement and an underwater force you can literally feel that tells you the season just turned. Big waves are coming, and with them, the best surfers on the planet and the most famous surfing series in the world: the Vans Triple Crown. It's the high point of the year for those who call the North Shore home.
It was around this time 22 years ago – in 1992, that a young Kelly Slater ushered in a new dawn for professional surfing in Hawai'i, winning the Pipe Masters and claiming his maiden ASP world title. Just days earlier, John John Florence came into the world at Kapiolani Hospital in Honolulu, and was brought home to the North Shore in time to hear Pipeline erupt with Slater's ascent to the throne.
Looking back, we now know that Slater changed the face of surfing forever. His contribution of a seemingly infinite number of records, game-changing performances and world titles he amassed is one half of the story. But perhaps more important was the career path he represented for countless young pro surfers behind him, along with the inspiration to fuel every single one of them going forward. Pipe was at the apex of that.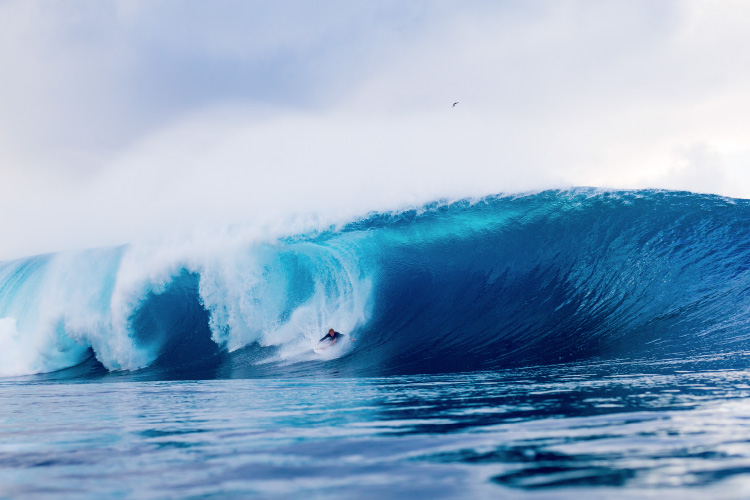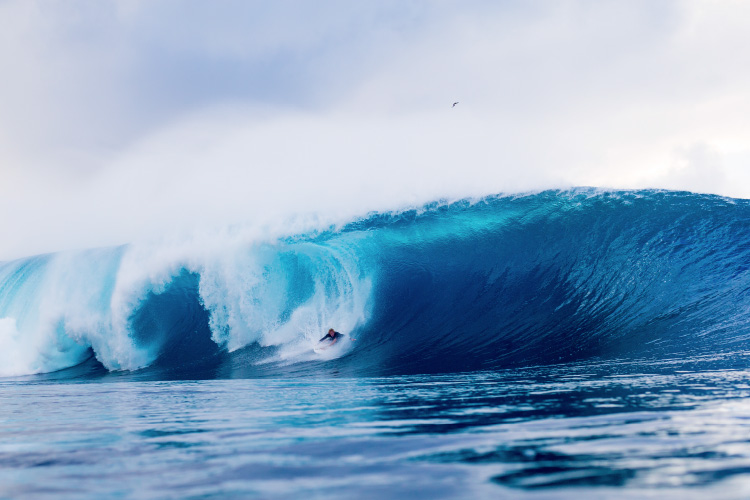 And that's where we return to the story of John John Florence… because, in a way, his story is inextricably tied to Slater's.
"I've grown up looking up to him," Florence says of Slater. "He won his first world title the year I was born, it's so crazy! By the time I knew who I liked in surfing, he had won a few world titles already. So growing up my whole entire life I looked at Kelly like 'King Kelly', like anyone does."
To grow up as a young surfer on the North Shore is to grow up spending nine months of your year waiting and preparing for the three months that the world's best will be in town… each year growing taller, growing stronger and chipping away at the progression of surf breaks and pecking orders that line the road to the ultimate wave on Earth: Pipeline.
John explains: "Growing up in Hawai'i, everyone comes here for those three months of the year and everyone knows that the whole surfing world comes to town for the Triple Crown. So growing up and being able to see those guys surf Pipe and seeing the best surfers in the world come and surf my home breaks every day for the whole winter was pretty inspiring. It inspired me to get out there.
"I first started surfing Pipe… I don't remember what age exactly, but I just remember sitting in the channel for like 3 hours and maybe getting one wave, if that. I'd just sit there and wait and wait and wait and maybe I'd get a little corner wave and be pretty stoked. And I did that for so long. It seems like 4 years. And towards the end of it I knew I had to go out there and start catching more waves.
"I think once you break that barrier of learning how to commit into the waves, that's when everything changes. When I was little I remember paddling for a few waves and getting stuck in the hesitation and getting so worked you know you don't want to do that again. Once you get over that barrier of not hesitating – committing 100% – that's when everything changes. Once I was able to do that, the whole wave changed for me. Being able to go and see a bigger one and knowing you want it… when you make it, it's the best feeling in the world."
As the years progressed and Slater's domination continued, the tiny blonde-haired grom from Pipe started to garner major attention. Barely four feet tall, his positioning was impeccable, his style a slick and futuristic blend of skate and surf. Living at Pipe, guided by a grounded, sure-footed young mom who equally ripped on skateboard and longboard, and with the motivating company of two younger surfing brothers, it appeared his road to surfing greatness was destined to be as singular as the North Shore's Kamehameha Highway itself.
In November of 2005, as Slater closed in on his 7th world title, 13-year-old John John, wide-eyed and in a cinched up contest jersey at Haleiwa, stepped into his future, becoming the youngest surfer to ever compete in the Vans Triple Crown.
Just six years on, in 2011, John had grown into a 6-foot tall, filled out 19-year-old with power to burn. Opening his Triple Crown campaign with a semi-final finish at Haleiwa, he stampeded to a momentous win at solid Sunset, but narrowly lost in the quarters at Pipe to none other than Slater. Armed with a string of stellar heats that included a perfect 10, John's dream was cut short by his hero in what would stand as the highest scoring heat and highlight moment of that year's Pipe Masters. It ended with a priority blunder by Florence, coupled with a magical last minute score from the veteran Slater. The 5th place finish was enough to secure John his first Vans Triple Crown title, but the Pipe Masters still eluded him.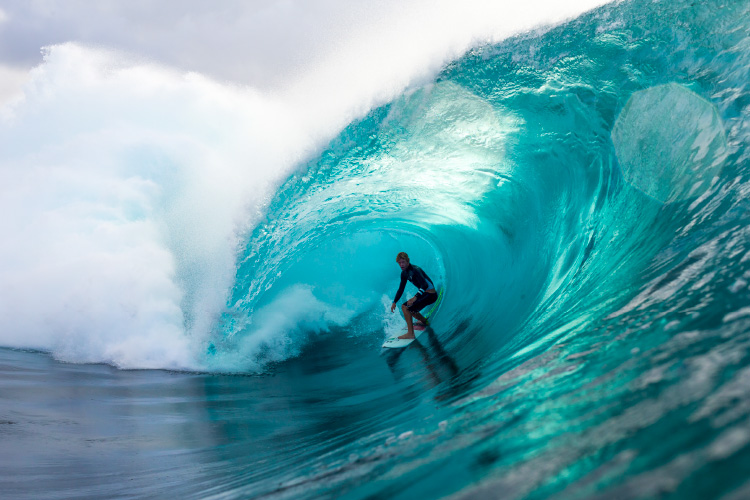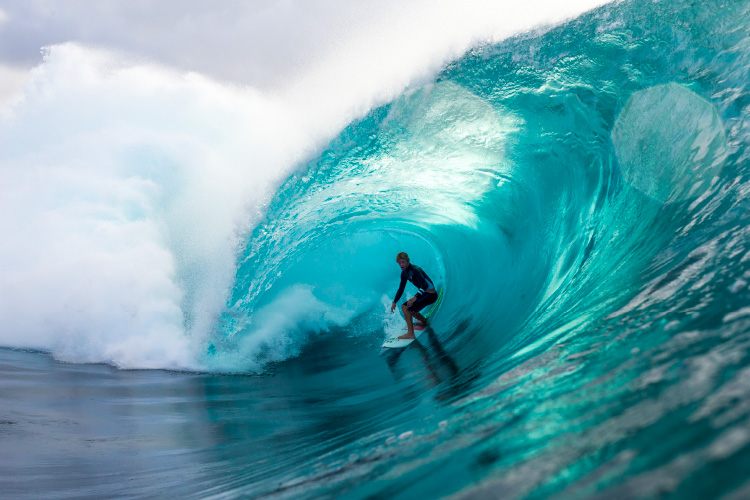 Since then, the memorable moments for Florence have started to mount, including his first WCT win in Rio 2012, and a second Vans Triple Crown title last year that he will now defend. But the back half of the 2014 ASP season has rung loud and clear with proof of the competitive brilliance we've all been waiting to see from Florence; that extra ingredient that would push him past "world's greatest freesurfer" into the exclusive realm of champions.
It was at Teahupoo, in August, that one of the most exhilarating competitive exchanges in history went down in the semi-final duel between Florence and Slater. Dreamlike, heavy barrels produced an inspired exchange of genius tube-riding only a master and his prodigy can share. There were no rookie mistakes, no mystical veteran magic, just an epic volley of extraordinary talent that incredibly ended in a near-perfect draw of 19.77 points. It didn't even matter that the count-back went Slater's way. What does winning or losing by 0.1 really mean? It had been a heat like no other. And just like that, like the change of the seasons, you knew that something was different. John had arrived.
"There was no way I could be bummed about it," Florence said of that experience. "There was definitely something to learn there. The feeling I had in that heat when I needed the score in the end, there was no doubt in my mind that I could get it. I knew that if the wave came, I was just going to go. To have that feeling, that confidence that you can get it, is pretty amazing. So that's what I strive for in every single one of my heats. I had that in Brazil when I won (my first) event… that feeling that if the wave comes to me, I can do it."
September. Trestles, California, and he tapped into that feeling again. John Florence, Kelly Slater and Adriano De Souza in Round 4. Those who had been caught up in the post-Teahupoo critiques of what might have made the difference for Florence were soon quieted. With layers of technical nuance, subtle additions of torque and flair, Florence was brilliant. He rhythmically threw down knives of nines that could have easily been bullseyes if the judges weren't holding onto fractions for what might still come. John's roll was incredible, including a damaging blow to Slater's world title hopes three rounds later in their semi final. Then another hair-splitting final that went against him, this time with Jordy Smith. John had the crowd eating from his hand.
October, and on to France. Momentum built like an Atlantic storm as John dismantled bomb after beach-break bomb. One by one, they all fell to Florence, including world title contender Mick Fanning and an inspired young Brazilian finalist, Jadson Andre. And then there was John, back on the winner's dais after two close calls and two years between victories, now with a sea of followers ready to raise him up. At this moment, he is the greatest surfer in the world. He's the man to beat.
Having just celebrated his 22nd birthday, John is home at the Pipeline. He's the defending Vans Triple Crown champion. All eyes are on him. It's a feeling of pressure he's known since he was in single digits. It has grown as he has, and along the way he has learned how to deal with it. Just surf, and the rest will take care of itself.
Every true Florence follower knows what's on John's mind. For as much as he cherishes his Triple Crown titles, and as fulfilling as his recent victory and present form feels, he knows he's not there yet. His goals are clear: A Pipe Masters title and an ASP World Title. It's what every surfer dreams of. If he can do it while Slater's still gunning, all the sweeter, and how fortunate for us to see two of the greatest surfers in history push each other higher. It's a collision of cosmic talent from two different generations. And the seasons are changing. You can feel it.
The story of John John Florence seems like it will play out much like his own recent description of a single wave at the Pipeline. When asked how it feels to surf that wave, he is at once carried away and totally absorbed, like nothing else exists: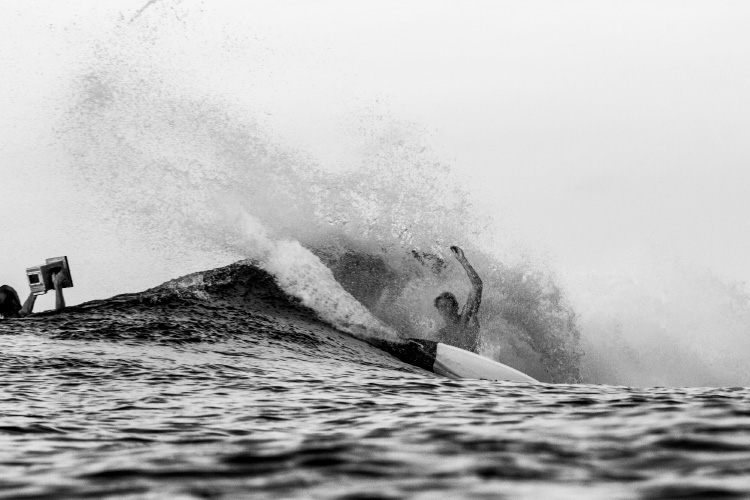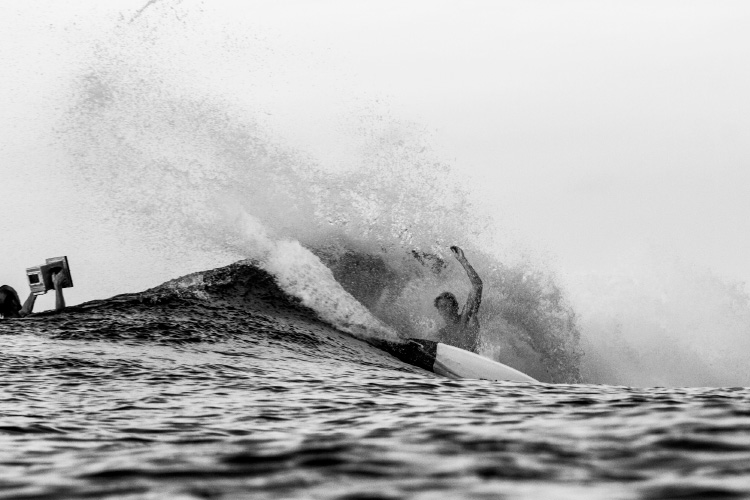 "Am I going? Am I in the spot? All the adrenaline starts building. You're looking around. You start to paddle. Guys start to back out. You feel obligated to go. I'm pretty committed. You start going. Someone's yelling to go right. They hesitate for a second. Oh no. I'm going left. You have the big drop to make. You're on the boil. Finally you get to the bottom of the wave. The thing just starts to throw over and you're hoping that it's not a wide one, 'cause you weren't looking. You were thinking about people or something else. Once you make it to the end of the wave, you're stoked, even if you come falling out of the barrel. It's like, 'I've made it!' And all that happens in five seconds."
John's life story takes place on hallowed surfing ground, on a wave of exponential intensity that requires an instinctual approach fine-tuned across a lifetime. Its power is packed into an instant that sets your senses on fire. This wave has traveled a thousand miles to meet him, and in a singular moment will further define his destiny.
pau