by Kyveli Diener
With a perfect 10 for World Junior Champion Finn McGill, a dominating win by local legend Sunny Garcia, and a wildcard victory for Pipemaster Jamie O'Brien, the local Hawaiian talent showed how it's done in firing surf during an exciting Day 2 of the Volcom Pipe Pro.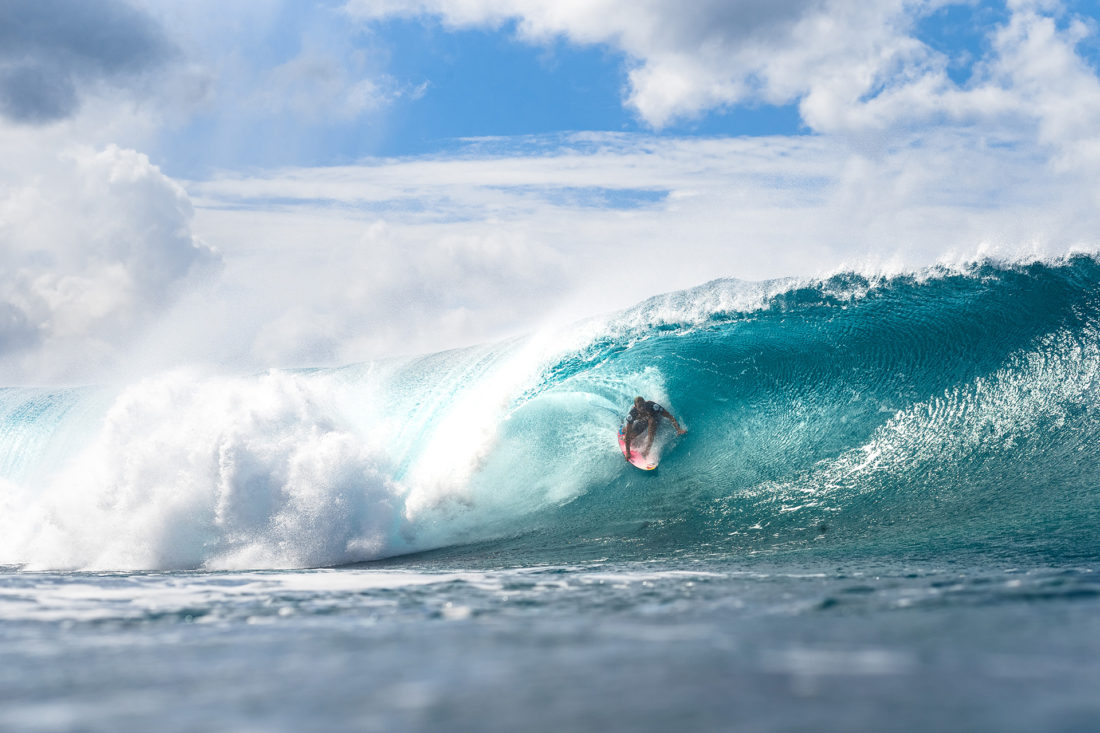 With pristine conditions and barreling 10-12 ft waves, McGill disappeared into an impossible-looking Backdoor ride, ultimately reappearing with the spit as he sped down the line. The perfect score he was granted is the latest of many victories in the past month, including his World Junior title, the Sunset Junior Pro title, and a quarterfinal finish in the Sunset Open.
"I feel like once you're on a roll, you're on a roll for a long time," McGill said. "Even if you do have one loss, it doesn't matter that much, you still feel like you're on top of the world and you can do anything. I just feel that I'm on a roll right now and just feel really loose; going out into every heat I'm never nervous, it's such a cool feeling."
McGill advances to Round 3, where he will face Japan's Reo Inaba, Australian Brent Dorrington, and fellow Hawaiian powerhouse Torrey Meister.
Another local victory went to Pipeline expert Jamie O'Brien, who competed in the eight-man, half-hour Volcom Last Chance Qualifier heat after forgetting to enter the main event. Surfing without priority in double-overhead sets against Hawaiian legends Gavin Beschen, Dave Wassel, Kalani Chapman, Jonah Morgan, Takayuki Wakita, and Derek Ho, as well as Portugal's Mauro Diaz, 2010 Volcom Pipe Pro champion O'Brien earned a 9.33 when he threaded a mighty Backdoor barrel, then backed it up with a 9-point backhand tube ride at Pipe. His near-perfect heat total earned him a spot in Round 3, which looks likely for Friday as the sizable WNW swell looks like it will hold through the weekend.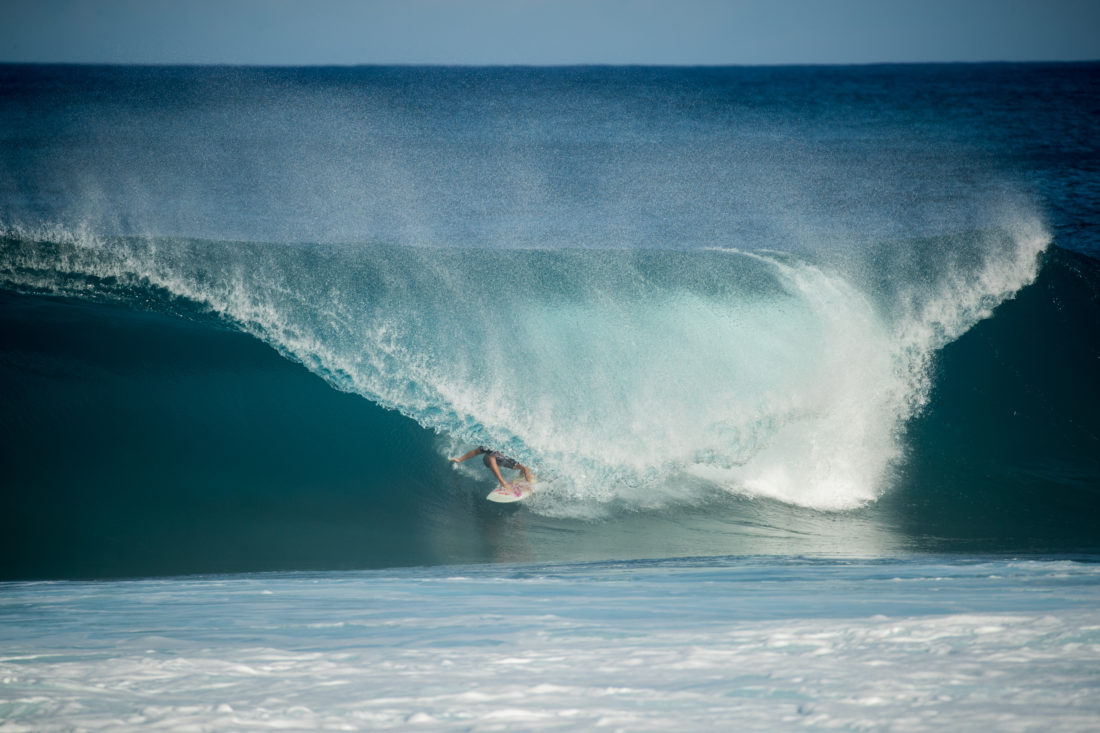 "The eight-man heat out there is no easy task, they're all great surfers," O'Brien said. "I look up to them all, I've lost to all of them before. It's pretty much just cat and mouse out there and I kind of got my rhythm and it just didn't stop. It kept delivering wave after wave, I got four really fun waves. That was pretty much a dream heat and there were only 8 guys out there. I got lucky."
Other Hawaiians posting excellent scores and earning a spot in Round 3 included Pe'ahi champions Billy Kemper and Ian Walsh, Maui standouts Cody Young and Hank Gaskell, Big Island's Ulualoha Napeahi, Makaha icon Sunny Garcia,  and North Shore boys Koa Rothman, Kalani David, and Noah Beschen.
The contest will be broadcast live on Volcom.com/pipepro, and live scoring will be available through Worldsurfleague.com.
ROUND 3:
H1: (1) Josh Burke, (2) John Mel, (3) Kaito Kino, (4) Matthew Macgillivray
H2: (1) Billy Kemper, (2) Kyle Ramey, (3) Liam O'Brien, (4) Love Hodel
H3: (1) Cody Young, (2) Noa Mizuno, (3) Makuakai Rothman, (4) Skip McCulough
H4: (1) Dwight Pastrana, (2) Manuel Selman, (3) Ryland Rubens, (4) Facundo Arreyes
VLCQ:
ROUND 2:
H1: (1) Matthew McGillivray, (2) Kyle Ramey, (3) Shayden Pacarro, (4) Wyatt McHale
H2: (1) Love Hodel, (2) John Mel, (3) Cole Houshmand, (4) Kala Willard
H3: (1) Makuakai Rothman, (2) Ryland Rubens, (3) Miguel Blanco, (4) Sean Woods
H4: (1) Facundo Arreyes, (2) Noa Mizuno, (3) Jhonny Corzo, (4) Christopher Kervin
H5: (1) Evan Valiere, (2) Alonso Correa, (3) Jason Shibata, (4) Colt Ward
H6: (1) Olamana Eleogram, (2) Hank Gaskell, (3) Kai Lenny, (4) Kaimana Jaquias
H7: (1) Ulualoha Napeahi, (2) Jacome Correia, (3) Martin Jeri, (4) Tristan Guilbaud
H8: (1) Yage Araujo, (2) Luke Gordon, (3) Kainehe Hunt, (4) Logan Bediamol
H9: (1) Sunny Garcia, (2) Harley Ross, (3) Luke Shepardson, (4) Kekoa Cazimero
H10: (1) Joaquin Del Castillo, (2) Ian Walsh, (3) Andrew Jacobson, (4) Joh Azuchi
H11: (1) Finn McGill, (2) Anthony Walsh, (3) Charly Quivront, (4) Gabriel Morvil
H12: (1) Koa Rothman, (2) Brent Dorrington, (3) Ezra Sitt, (4) Kade Matson
H13: (1) Keijiro Nishi, (2) Laheki Minamishen, (3) Jake Kelley, (4) Bruce Irons
H14: (1) Ethan Osborne, (2) Riley Laing, (3) Eliott Napias, (4) Eli Olson
H15: (1) Kalani David, (2) Noah Beschen, (3) Keoni Yan, (4) Cory Arrambide
H16: (1) O'Neill Massin, (2) Danny Fuller, (3) Adrian Garcia, (4) Shaun Burns
ROUND 1:
H1: (1) Kyle Ramey, (2) Kala Willard, (3) Isaac Stant, (4) Ian Gentil
H2: (1) Makuakai Rothman, (2) Noa Mizuno, (3) Sheldon Paishon, (4) Tom Dosland
H3: (1) Jason Shibata, (2) Kai Lenny, (3) Ryder Guest, (4) Edrick Baldwin
H4: (1) Ulualoha Napeahi, (2) Kainehe Hunt, (3) Chris Foster, (4) Cole Alves
H5: (1) Sunny Garcia, (2) Ian Walsh, (3) Michael O'Shaughnessy, (4) Nathan Florence
H6: (1) Anthony Walsh, (2) Ezra Sitt, (3) Kai Mana Henry, (4) Kelson Lau
H7: (1) Laheki Minamishen, (2) Eliott Napias, (3) Luke Adolfson, (4) Eala Stewart
H8: (1) Kalani David, (2) Danny Fuller, (3) Mikey Bruneau, (4) Dante Silva