By Greta Evans
Covered in sand with "wild hair", floaties attached to their arms, and "wearing bikinis": listening to Luna Courtois and Indie Pyzel talk about growing up on the North Shore of Oahu sounds like a children's story book with a fairy tale ending.
The two met when they were only six years old, at Sunset Beach Elementary, and have been best friends ever since. When they weren't running around at the beach as groms, they were cutting out paper bikinis, coloring them in, and dreaming about designing their own one day.
At the age of only fifteen, they decided to make that dream a reality, and started their very own bikini company, calling it "Benoa," which translates to little island in Indonesian. Starting a company at such a young age isn't all fun and games as one might think, especially while juggling high school, traveling, jobs, and the everyday struggles of growing up. When I ask them about their first designs and samples they start to laugh again, "They were terrible." They say in unison, and laugh some more, "But we just kept perfecting it until we got it right. It's important to persevere."
When asked how their design process has changed as they've grown older over the years, the two exchange a look and smile, "We're less selfish now," says Indie. "In the beginning we just wanted to create hot bikinis. Now we want to design bikinis everyone can love and enjoy."
Their humble tone doesn't waver when the topic of body image is brought up. So what's their take?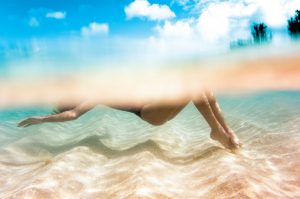 "We're both so different. We have very different body types, and we strive to design bikinis that flatter everyone's body type, and make everyone feel confident and happy in their skin."
On their most recent trip to Indonesia, which served as their graduation present, they explain how they saw a girl wearing one of their bikini tops and they couldn't help but feel overwhelmed and starstruck.
"It's amazing seeing something you drew in your sketchbook on someone across the world. It's really rewarding," says Luna.
Now the girls are both eighteen and recently graduated. Indie is heading to California for schooling with hopes to start marketing more of Benoa on the mainland, while Luna is staying in Hawaii and still managing the creative process.
They're both heading in their own directions, but Benoa still remains at the center of it all.
When asked if the girls would have started a bikini company even if they had been raised somewhere else, they both shook their head.
"People say It takes a village to raise a child," Indie says. "It's really taken a village to start Benoa. Everyone has been so helpful. Growing up on the North Shore everyone feels like family, and the whole community has really put their energy into us and supported us and we're very thankful."
pau