By Kyveli Diener
Leila Riccobuano has only been an official teenager for less than six months, but she's been ripping waves apart and turning heads in contests since before her age even hit double digits.
The 13-year-old power surfer from Ewa Beach has benefitted from Kahea Hart's guidance and has been under the tutelage of Freddy Patacchia since he came off Tour at the end of 2015. The core of her surfing career is deeply rooted in her supportive family, including her fellow junior pro brother Jake, mom Reiko and proud papa Erek, her first and most trusted surf coach. This year has proven to be a banner year for Riccobuano: she won every Hawaiian Surfing Association Under 14 contest she entered, and winning all but one contest in the Under 16 division, which collectively earned her the highest season ranking in HSA Under 14 and Under 16 as of November.
So what's ahead of this spritely, energetic athlete? Undoubtedly, more dance contests with her idol Coco Ho, a serious run for the Championship Tour, and, if she gets her way, an invitation to The Eddie.
Do you remember your first wave, Leila?
No, because I started when I was like two on the front of my dad's longboard. The first memory I have of surfing, I was 6 or 7 years old surfing Haleiwa and believe it or not I always used to be regular foot, and then one day I just automatically changed. I didn't try it, I didn't mean to do it, I didn't even notice it until my dad looked at me and said, 'You're surfing…differently.' And I've just been goofy ever since.
How did you start getting into competitions and make that decision to be a pro surfer?
I have a brother, Jake. We used to be into all different kinds of sports and I used to be a cheerleader and stuff. Then Jake did a contest out at one of my home breaks, Makaha, and he loved that. So he told my dad we're just gonna start doing this, so being the younger one I just went along with it and I had so much fun doing it even though I lost…all the time…I had so much fun with it. I'm a really competitive person myself, so I like being into the competitive side of it.
Your family support is really moving. How does it feel to have your entire family connected to your passion and your dreams?
It's so nice to have a family that supports you. My dad is pretty much my coach. I mean, I have Freddy P. as my coach, but my dad is there with me all the time, he studies my videos with me. My mom takes me surfing every day, and then I have my brother to compete with. It's like I pretty much have a set plan and I have everyone to help me.
Which surfers really influence your style?
I love Carissa Moore, she's a powerhouse. Just all the girls on tour, but definitely the ones that come from Hawaii the most because there's more power and they come from the roots, like Tati. I like watching Coco Ho. I just went on a trip with her to Japan and it was the best thing ever, best trip of my life.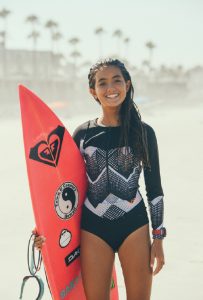 Tell us about it.
She's this World Tour surfer and she was hanging out with a 12-year-old. She was super sweet to me. She's so nice to everybody, like her fans and stuff – she would talk to them and then give them her full attention, look them in the eye and talk. She was so sweet…and she rips!
Who are your sponsors?
Roxy, Sun Bum, T&C Surf, DaKine, and Banzai Bowls.
There's also a popular video of you dancing on your surfboard. Does that happen a lot?
When I'm done with a wave, either if it was a bad wave or a good wave, I'll usually do a dab or something funky. It was a super small day so I just thought I'd do the dab at the end of the wave because it was the new craze to be doing that. We're like 'should we even post this on Insta?' and we just posted it and it blew up. The Inertia posted it, everyone posted it.
What are your goals in surfing?
I want to be on tour, I want to get a couple of world titles…that's my number one, and number two…I really want to be invited to The Eddie at Waimea. That would be so sick if I was at least an alternate or something, but I just really want to be a part of it.
Last words for the Freesurf audience?
All the Uncles, the lifeguards, all the people at the beach who let me catch waves, I want to thank them. And for the Freesurf audience: I'd like to see more girls surfing. Some girls don't do competitions as much as they used to because I guess they didn't feel like they should be there or they weren't good enough, but you get better by going and I wish so many more girls would surf because there's really not that many. So I really want some more girls to come to contests. It's more fun with more people, the more the merrier!
pau