By Chris Latronic
Kaoli Kahokuloa is the flyin' Hawaiian. All it takes is one surf session with the athlete to realize why. With a strong, light-footed build and an always-stoked smile, this goofy footed ball of energy is taking the power of Hawaiian surfing to new heights, literally. 
Unlike the traditional Hawaiian powerhouses like Sunny Garcia, Ezekiel Lau and others who utilize more of the face of the wave for maximum water displacement, Kaoli's preference is a more focused above the lip approach. The surfer uses the same Sunny Garcia Hawaiian hack power and transfers it to produce incredibly dynamic lip launched aerial maneuvers like no other. On any given day, you can find Kaoli consistently flying rotators over lips at a completion rate that is somewhere above baffling.
Fresh out of the junior professional surfing realm, Kaoli now faces the semi-charmed life as a working pro surfer. But having deep roots in his family and Hawaiian heritage, Kaoli stays grounded and never forgets his humble Hawaiian origins. After an exciting Panama adventure this past spring, we were fortunate to catch up with Kaoli to talk about life, family and future.
Your family, how big? 
My family is big, I got nine siblings! We get along sometimes and sometimes we don't, but got to love one another no matter what. Most times, we're always surfing with each other! Family is very important to me because they always have my back. My family gives me support financially and mentally so I don't make the wrong decision.
Your childhood growing up? How was? 
I was a loner but I had a few friends that would hang with me once in a while, only because I was the only child for 10 years!
How did you start surfing?
I started surfing when I was four. My dad taught me because he loved to surf. Molokai, Waialua Beach is where he taught me on an old tanker. The guy I looked up to back then was TJ Barron from Endless Summer 2.
How did you get into your first contests? 
I owe my parents and Andy & Jill Smith for their support in helping me get to the outer islands for NSSA surf meets, and really starting me off in the right direction.
When did you know that surfing professionally was going to be your life? 
When I was 10 and just won the Irons Brothers contest for the 2nd time in a row and got sponsored by Quiksilver.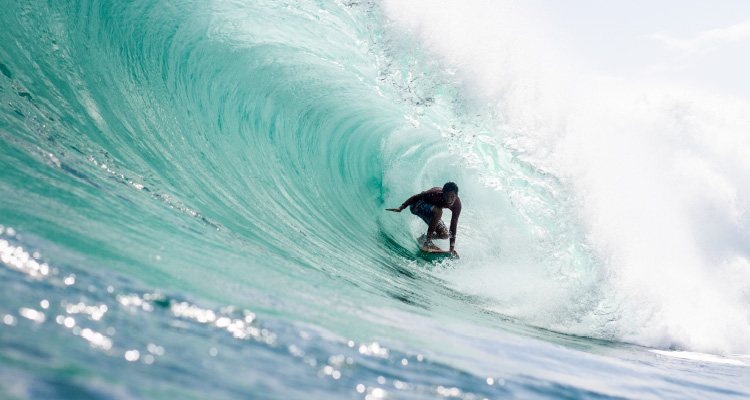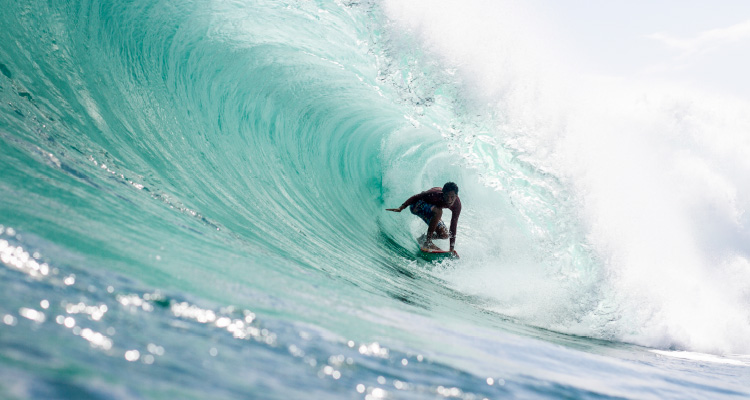 What were your best 3 contest results?
•  3rd at Billabong Tahara Pro
•  3 time State Champ in HASA
•  1st Regional NSSA Champ in Open Mini Groms
What's your surfing life like today?
It's awesome! Just trying to think of new things to do on a wave! I want to create an aerial that's never been done before. My drive and motivation is my love and passion for surfing, the ali'i sport of my culture. Surfing is my way of escaping reality and I am blessed to be Hawaiian. It's a different lifestyle from other's.
Do you train?
I try to train at least 2 times a week.  When I was on the Hawai'i Surf Team, coach Kahea Hart taught us a great workout program. I've been sticking to that.
How would you describe your style of surfing?
My style is innovative creative.
Surfers and role models you look up to?
God, Dave Rastovich and my Dad.
Skateboarding… shoes or barefoot?
I prefer barefoot! It's super fun because you can still do surf tricks. But when you eat it, it's the worst!
Heard you were a kendama hobbyist?
Yes! I got into it a year ago. It's a craze because it's the harder modern day yoyo. I got some moves. Moon circle – tap back – ken flip lighthouse – insta downspike (best 5 move combo).
Your favorite surf trips and competitions around the world?
My favorite surf trips were going to the ISA Junior Surfing Championships with the Hawai'i Surf Team. The most recent and awesome trip was in Panama with the Freesurf mag crew!  Getting to surf Silverbacks and many other beautiful and exotic spots was mean!
What kind of trips or competitions do you have planned in the future?
Tahiti is a dream destination for a surf trip, hopefully soon, but competition wise, I'm looking forward to the US OPEN of surfing, possibly the Virginia Beach event and this year's Triple Crown events.
What are your future goals?
Be a world champion, win the Eddie (Aikau Big Wave Invitational) and win the Triple Crown of Surfing.
What would you do with one billion dollars?
Take care of all my family's debts and take everybody on a vacation for the rest of their lives. Go to Tahiti, learn the culture and surf as much as I want. Support the many good charities of the world. Start a new clothing company and make my own kendama brand.