Updates & Interviews from Freesurf
For the fourth year in a row, the annual Steep & Deep Pipeline Photo Challenge in memory of Sion Milosky is showcasing surf photographers' best images of surfers charging infamous Pipe and Backdoor from this winter season.
Photos taken between November 1, 2014 and February 8, 2015 are eligible to win, which means photographers still have time to submit! Images that best represent the Steep and Deep technique that legendary Pipeline surfer and big-wave charger, Sion Milosky, was known for are up to you to decide and the judges to choose. Past winners include photographers Zak Noyle and Tony Heff and surfers Billy Kemper, Nathan Florence and Tyler Newton, all who embodied the Steep and Deep sentiment and set the stage for this year's competition.
In lieu of a growing social media world and in an attempt to make the submission process easier, (as well as keep fans involved) all Steep and Deep entries are submitted by photographers via Instagram by hash tagging #steepanddeep2015 on their photos. Fans can keep track of competition frontrunners as the season unfolds, and with only days left of the competition, it stands to reason that the best Pipe image of the season has already been shot.
On Monday, February 8, judges will begin mining through the river of submissions to find the gold, and will post the top 10 finalists to the Steep & Deep website, livelikesion.com. Stay tuned to see which photos will make it to the finals, and which image will ultimately win the prize. Winners (both the surfer and photographer) will receive $2,500 each from Vans, a custom hardwood framed copy of the winning image, a spread in SURFING Magazine, a custom Will Scovel surfboard for the surfer, and a swag box to include Kicker audio gear, Oakley, GoPro and a custom design set of Futures Fins. Plus a year's worth of bragging rights!
So photogs… if you're registered for the Steep & Deep Pipeline Photo Challenge and haven't submitted an image yet, be sure to upload it to Instagram or send it via email on or before February 8! For Instagram submissions, please hash tag #steepanddeep2015 to be entered. For photographers that don't have an Instagram account or are saving a photo for print, you can email submissions to steepanddeeppipeline@gmail.com.
"Rest your swim fins intrepid shutterbugs. Empty your memory cards. Start posting. Start tagging. Great work. Good luck."
Check out Freesurf mag's interviews from past winning photographers Zak Noyle and Tony Heff, previous winning surfer Billy Kemper, and standouts from the season photographer Brent Bielmann and surfer Mikey Bruneau below!
To stay in the loop on all things Hawaii surf and beach lifestyle related, sign up for Freesurf's monthly newsletter here or follow us on Instagram @freesurfmag on Facebook at Freesurf Magazine and on YouTube at freesurfmagazine.
Zak Noyle, photographer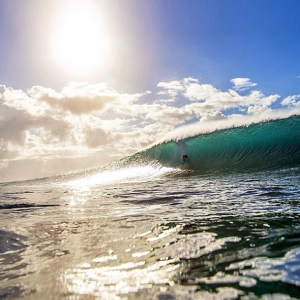 FSM: Of the photos you plan to submit, which featured surfer has been a standout for you this season?
ZN: Some of my best shots are of Mikey Bruneau. I think he was a real standout this year at Pipeline, and he kind of always is. Everyone has great shots, but to me when I look at all of mine, he is a standout.
FSM: Do you have any favorites that have been submitted already?
ZN: I haven't seen too many, just what some of the photographers have sent me directly, so I'm really excited to see some of the other stuff. Any little perspective of the wave changes how the wave looks, and can make a completely different point-of-view.
FSM: What do you think of this year's new format?
ZN: It's such an awesome event, and it's brought a lot of awareness by putting it through social media. But I have so many images that I want to submit, which makes a big problem for me when I'm trying to edit it down because if I put all my photos up, I might not be able to use them for print. I'm glad we got it all figured out, and I just love being a part of this contest because it highlights the surfers' and photographers' relationship.
FSM: How does this photo competition circle back to Sion?
ZN: I had a really important relationship with Sion, it was really close, the way we worked together and shot. Sion was always stoked on people shooting, and he was always stoked when his friends got a good photo, so I think this contest fits perfectly with that.
Mikey Bruneau, surfer
FSM: You've been touted as a standout at Pipe this season, any comments on that?
MB: Wow, that's really cool to hear. It's been a good, fun season with lots of waves, so I've been happy with that. My wife's been letting me have a few more breaks than usual too haha.
FSM: Have you seen any really awesome photos submitted of yourself?
MB: Yeah, there's a couple. I saw one earlier today, I think a John Hook photo. It was a pretty cool shot and probably one of my favorite photos I've ever seen of myself.
FSM: Who, in your eyes, has been a standout this season?
MB: There's of course the usual suspects, Jamie and John John, and they can always get the best wave and the best photo on any given day. And I know Zak Noyle is out there all the time and on most of the best waves. But there's just so many, and all the boys are charging. The winner could be anyone really, because everyone out there charges.
FSM: What do you think of the Steep & Deep Pipeline/Backdoor Photo Challenge?
MB: It's really cool. I love how they continue to do it each year, and I hope they always will. I've always looked up to Sion so much… The way he was is the way I want to be, and how everyone should be – a good dad, friendly role model, great surfer. I like that Sion's memory is alive with this contest.
Brent Bielmann, photographer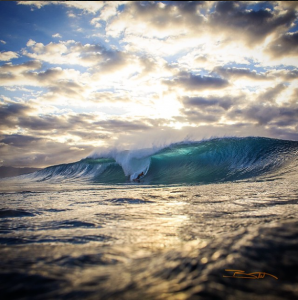 FSM: Have you been checking out the Steep & Deep submissions lately?
BB: Yeah, I've obviously been looking through to see what kind of competition is out there this year, and yeah there's some good ones. There's so many, I'm looking right now and see 291 posts, so hopefully whoever is picking a winner goes through all of them haha.
FSM: Are you planning to submit photos?
BB: Yeah, I was thinking of submitting about 10. But it's kind of tough for me because I'm never sure what they're looking for. Before I used to submit the really heavy, down the line, deep in the tube shots, and now I'm thinking maybe I should just submit a heavy drop.
FSM: What type of image would you like to see win?
BB: I would like to see a really heavy barrel shot win this year.
FSM: Which surfers have been standouts this winter at Pipe?
BB: Definitely Mikey Bruneau, Koa Rothman, Landon McNamara and Uluboi.
FSM: How do you think this contest brings SIon's memory back to life?
BB: For me, I didn't know Sion that well before he passed, but he came up really quick and was in the heavy surfing community. He started surfing outer reefs and became one of the gnarly paddle guys, and I think the Steep & Deep Photo Challenge is a good opportunity for guys like him to rise up into the limelight.
Billy Kemper, surfer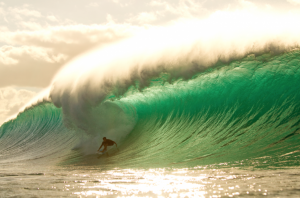 FSM: What kind of image would you like to see win this year?
BK: Something really steep and deep. I won this event the first year and it seems like the images are chosen correctly, like the people who have won it I feel really deserved it. They might not be Kelly Slater or John John, but they're someone who is really climbing the ladder and making a statement in the eyes of Sion.
FSM: Tell us a little more about Sion and how this contest connects his lifestyle.
BK: Just the way it's run. The Steep & Deep Challenge is really backyard, grass roots and down to earth, exactly what Sion's lifestyle was. It's all about friends and family, not just the competition. Of course at the end of the day we want to win, but it's a friendly competition, which I feel is something Sion was really about. Also by keeping it here in Hawaii, especially out at Pipeline… I mean that's where Sion ruled. It's really rad and I appreciate it. This contest suits him really well.
FSM: Which photographer has been a standout this winter in your opinion?
BK: Zak Noyle just always seems to impress me. He's one of my best friends and it's crazy how much we shoot together and hang out every year, and his angle just keeps getting crazier and crazier. Zak is someone who really doesn't do it for the money or for Surfer Magazine, he does it for himself. Whether the waves are amazing or not, he is just out there getting shots because he loves it.
FSM: How about standout surfers?
BK: There's so many kids who are impressing me with their surfing, but really Seth Moniz has been a standout. I like his attitude, he's so outgoing and happy whether he's winning or losing, and he's just a really good kid. Seth is all about family and I feel like he's a great candidate. He really caught my eye this winter.
FSM: Any comments on the new format this year?
BK: Social media is kind of taking over, so it's cool that people don't have to submit a bunch of photos by email, they can just upload them right to Instagram. It's cool because everyone gets to look at the submissions and check out the hash tag, and I think it's a rad way of growing this contest.
Tony Heff, photographer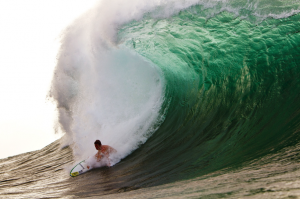 FSM: What type of photo would you like to see win this year?
TH: I just want to see something inspiring. Something that takes your breath away a little and reminds us how amazing surfing Pipeline is. Something that makes us thank God we're alive on this miracle called planet Earth.
FSM: Which submission(s) have caught your eye so far?
TH: There are so many dedicated and talented photographers that shoot Pipe… It's hard to say.
FSM: As a previous winner, what insight do you have into the Steep & Deep Photo Challenge?
TH: Submit something that says, "Steep and Deep".
FSM: How do you think this contest brings Sion's memory back to life?
TH: The memory of Sion has never died and never will. But every year when this contest comes around, I am always awestruck but the incredible images that have been captured of Si, and forever inspired by the stories of how he lived in and out of the water. It's something timeless.
FSM: Which surfer has been a standout this winter in your opinion?
TH: Man, I've seen Mikey Bruneau ride some unreal waves this winter… guy's been on fire. Landon McNamara… Jamie O, John John and his crew… the usual suspects. All the photogs have been killing it.
FSM: How about standout photographers?
TH: There's so many great photographers. Brent, Zak and Keoki have all been putting in overtime and getting some gems. I can't wait to see the Hawaii issues of Surfing and Surfer, and am definitely looking forward to seeing the top submissions from this year's Steep and Deep.
The Latest 30 Entries via Instagram #steepanddeep2015
[alpine-phototile-for-instagram id=717 user="freesurfmag" src="global_tag" tag="steepanddeep2015″ imgl="fancybox" style="cascade" col="3″ size="M" num="30″ highlight="1″ align="center" max="100″]