By Chris Latronic
Josh Moniz has always had that look, that look of undeniable determination. All the Moniz boys have it, but I think I personally saw it in Josh first.
It was years ago, and he was probably 7 or 8 years old. The entire Moniz clan paddled out to V-Land one sunny afternoon: Micah, Isaiah, Kelia, Josh, and even Seth were all there, sitting on the inside bowl trying to pick off whatever waves they could.
Uncle Tony Moniz paddled straight out the back, knowing exactly where to sit, and shredded the first or second wave of every set that came through. After catching a few waves, I noticed little Josh Moniz paddling his compact frame deeper into the lineup – a bold move for a grom.
He sat there smiling. Then a set came, and I was in the perfect position for the first wave, but as I tracked down the line I noticed a smiling little Josh Moniz fluttering inside of me. Usually in this situation, the older local boy would exude his dominance over a younger grom and simply ignore the grom's feeble attempts and just take the wave.
But then Josh gave me that look. That look you only see in the eyes of the best surfers. They see something more, something special. They are completely tuned to what they are about to do. They can almost see the future. I saw it in Andy Irons, Kelly Slater, Sunny Garcia, Makua Rothman, John John Florence… and now I see it in a little Hawaiian boy about to punk me off my wave.
I couldn't help but give Josh the wave, almost paralyzed by the wonders of what he was about to do. Josh took off late behind the peak and got completely pitted through the inside section, brothers and sister cheering as he boosted an air while beaming the biggest smile. At that moment I knew Josh was on his way.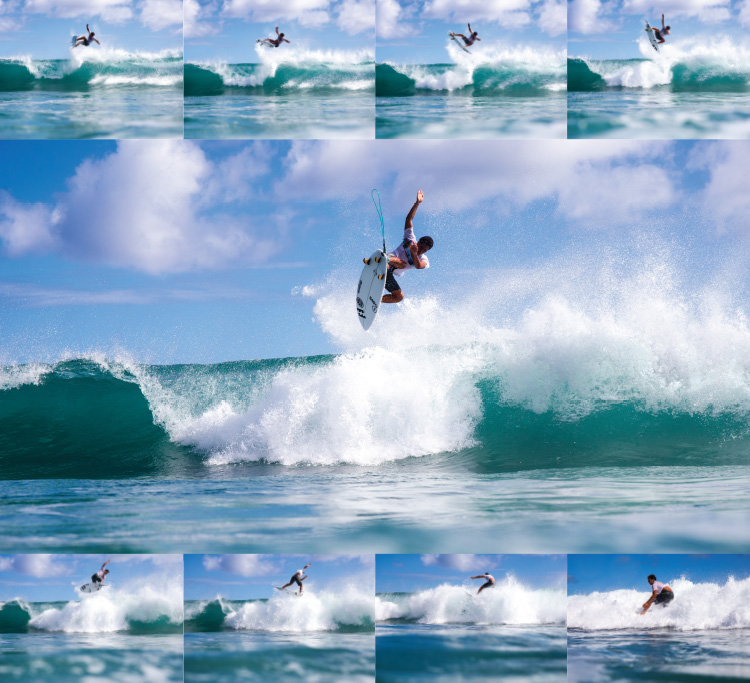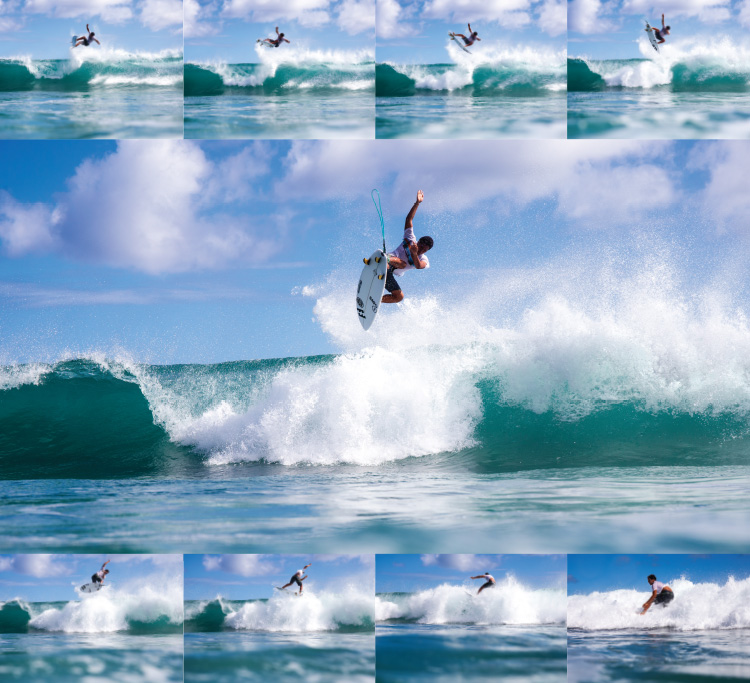 Fast forwarding to the present, Josh Moniz is now 20 years old and has been grinding away at the World Qualifying Series events for 4 years in hopes of earning a coveted spot on the World Championship Tour. He has been Tour rated since he was 16, where he was ranked 243.
Josh is now rated at 21, on the threshold to a monumental achievement. Yes, it's still a long and hard road ahead, but when you got that look, you know something special is in the works.
What's new Josh? What have you been up to this year?
More traveling than I've ever experienced! I haven't been home longer than 2 weeks since the QS season has started. I've been trying to stay busy doing events and going on as many photo trips as I could during the beginning of the year, since we didn't have too many events to do in the first half of our year.
So where has the QS grind taken you to as of recent?
The QS has taken me to Australia, Martinique, Japan, and South Africa. It's been a fun year so far being able to check out so many different countries.
What has been your most memorable result on the QS?
My best result for sure on the QS was winning the 3000 in Martinique last year but my most memorable result was making the semi at the HIC 4 star at Sunset Beach when I was 16. The reason this one was so big for me was because it was my first QS I ever did, and in every heat, I surfed against someone I looked up to. I remember when my semi started and I finally realized that I was actually in the semi and I was just tripping out. I looked at the guys I had in my heat and I didn't even want to surf, I was just so rattled I was still in the contest. I ended up losing that heat but after that contest I gained so much confidence in myself.
You're currently ranked in the top 25 in the QS leaderboard — how have you been dealing with the stresses and struggles of qualifying for the world tour?
The way I've been trying to deal with my stress with the rankings this year is by not looking at the rankings at all. I'm usually the guy who loves looking at that stuff, breaking everything down but after last year I noticed I was just thinking of other guys too much and not myself. The QS is so hard that if you want to make it to the world tour you need to just be focusing a 100% on yourself and making sure you are doing everything to be ready for the next event.
When you first started the QS grind, what was your goal on qualifying for the tour? How close are you to that goal today?
When I first got on the QS last year I wanted to feel it out. Last year I was just cruising doing the events and trying to get comfortable with all the pressure going into heats. My goal this year would be to have a shot at qualifying going into the last two contest here in Hawai`i. Honestly, I don't know how close I am right now but we still have a long year ahead of us and a lot of big events, so I just hope I can put myself into a good position.
What's something you've learned on the QS grind that the average spectator wouldn't realize?
Something I've quickly learned on the QS is that it's not easy. When I first got on the QS I thought you just show up to events and surf as good as you can but it definitely doesn't work like that, especially if you want to try qualify. The amount of work I see guys putting in to get results is pretty crazy and it's not always fun but it's what we have to do now days if you want to compete against all those guys.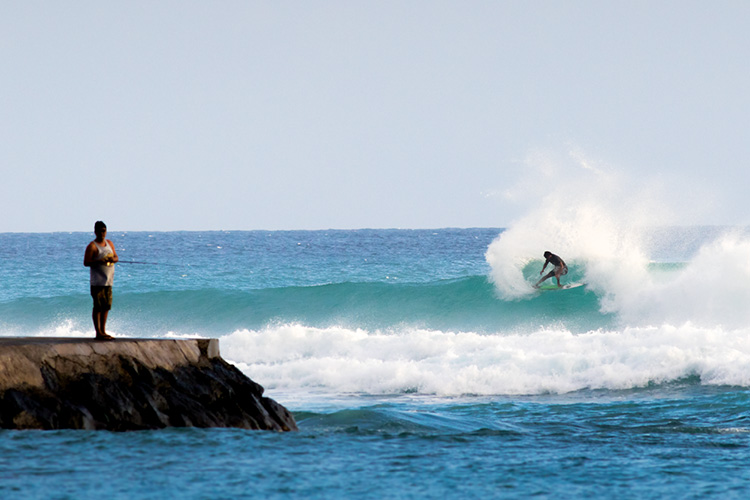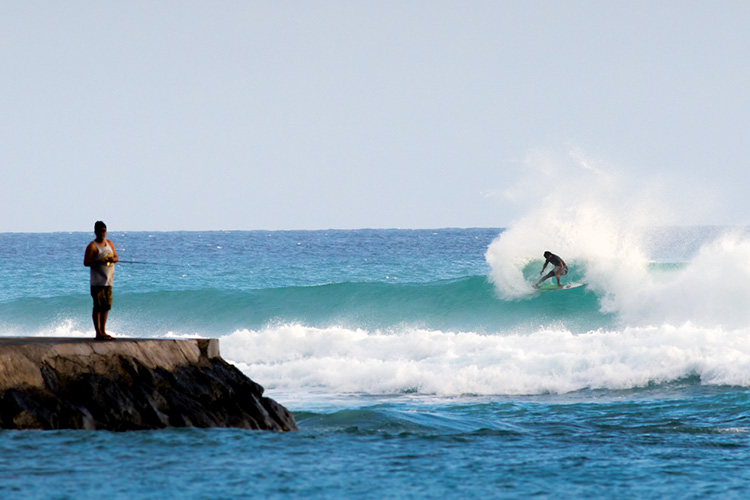 With so much time on the road, how have you been staying fit for surf?
This year I actually been trying to train a lot at the gym, anytime I'm home before events I go as much as possible. I got good program going right now down at Tactical Strength and Conditioning with Darin Yap. I really like his program he does and I feel better than I ever have felt before. He's been doing a lot stuff with Zeke Lau over the years and a lot of other amazing athletes so my brother Seth and I just jumped on that program. Zeke has been helping Seth and I out a lot this year he's been pushing us hard.
Growing up in Town: what was this like?
Growing up in Town is amazing! Especially where I live it's nice because it's outside of all the buildings and chaos. I couldn't have imagined growing up anywhere else, I don't think I ever want to leave this place.
How do you think Town has helped mold you into the surfer you are today?
If it wasn't for the waves in Town I probably wouldn't surf the way I do today. It's a perfect place for a young kid to grow up surfing. We got a lot of waves down here for every level of surfing. It's a great place to train and work on surfing, but you also need to know when it's time to go up to North Shore. You can't get stuck down in Town and just surf those types of waves. Luckily, my parents loved driving up all the time so we can surf waves with a bit of power in it so we can get comfortable in bigger waves.
What are your favorite three waves in Town and why?
Kewalos, because almost every wave gives you the same opportunity. It helps us a lot to try new tricks and combos. Second, Waikiki Beach. This is the place I learned to surf and I didn't leave it until I was 10. It's actually really fun wave on a big south swell the right reminds me of Lower Trestles when it's good. And third, Bowls. I rarely go out here but when Bowls is bombing and breaking in the bowl it gets really fun. It's the closest wave we have in Town that holds North Shore power in it when it gets bigger.
Favorite places to cruise in Town?
My favorite place to cruise in Town is for sure Sandy Beach. When I'm home every weekend I'm always down there cruising all day with my friends.
And what does the rest of the year hold for you?
The rest year for me gets pretty busy. A lot of big events are about to start coming up. Pretty much from the US Open on I won't be home longer than a week probably until the winter season starts. It gets pretty wild with all the traveling we do, but I couldn't think of a better job to be doing. I love it!
pau