By Chris Latronic
When you see this crew of young surf friends, it's hard to believe they're still junior pro surfers. This has been THE crew to watch as of late, whether it's competition or free surfing.
From my experience, I have been watching these kids ever since they first started paddling out on the North Shore. They all shared that naturally stoked attitude and were always smiling and frothing in every situation… especially when they were trying to burn you… 🙂
Nearly a decade later, those same faces are now frequently seen in the surfing limelight. Consistently competing and winning in expert level world qualifying contests, as well as national and world junior championships, these boys are coming up quick. One of their more recent milestones was the ISA World Junior Championship in Ecuador, which took place this past spring. An all-star team of misfit talent banded together to win the team gold medal, the most prestigious award of the event.
As our homage to crews who accomplish great things, we were reluctant to catch the crew on the fly as they were on the threshold of a Bali adventure of a lifetime.
Seth Moniz, 16, Honolulu
Josh Moniz, 18, Honolulu
Noa Mizuno, 15, Honolulu
Kaulana Apo, 16, Ewa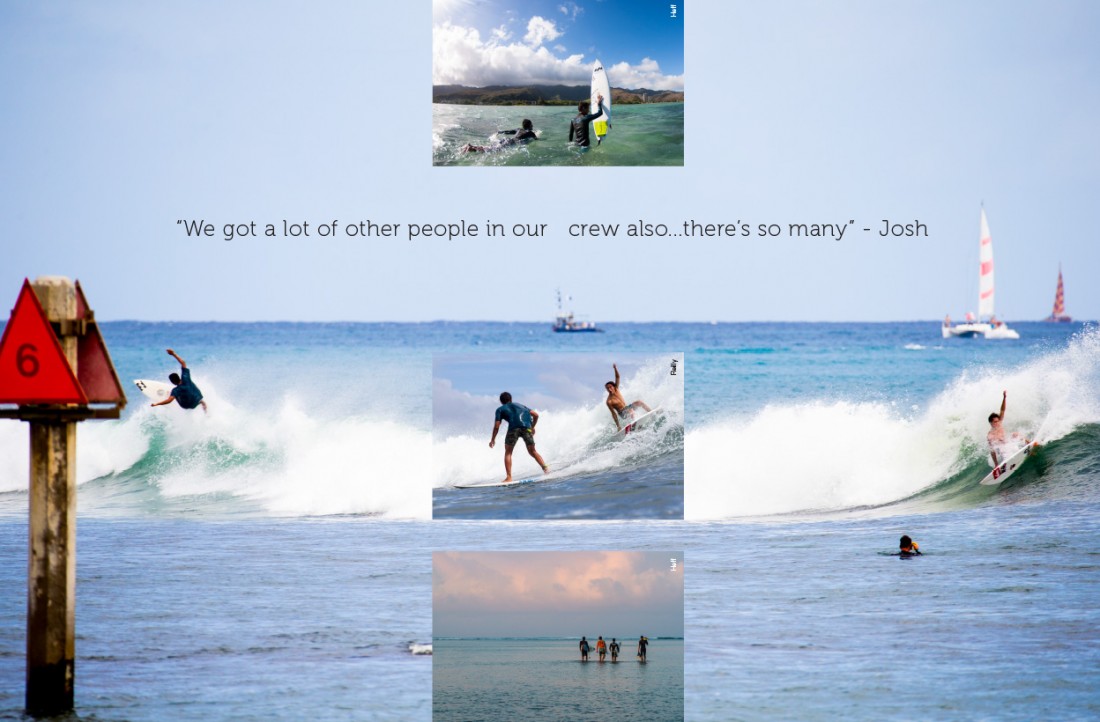 What makes you guys a crew?
Seth: We grew up together, we surf together, we do everything together. We live close to Noa (Mizuno), and Kaulana (Apo) usually stays with us all summer long.
Josh: It naturally happened, we were all doing several contests together at a young age.  We always surfed together and developed a strong bond.
Noa: We push each other's limits and that helps progress our surfing.
Kaulana: Yup, what they said.
Tell me about some of your earliest experiences together?
Seth: We all surfed Waikīkī together early on. Noa moved in down the street when we were around 5 years old. We skateboarded down the street together and became good friends quick. We met Kaulana at one of the surf contests our parents put on at Queens and we've been hanging out ever since.
(Everyone nods in agreement).
What's everyone's role in the crew?
Seth: Josh tries to be the leader.
Noa: Yeah, he's the 'big deal' haha.
Seth: Noa is 'the talker'.
Noa: Psssst.
Seth: Kaulana is laid back and down to do whatever we want to do.
Josh: Noa is the grom, Seth is the lipper.
If you could name your crew, what would it be? 
Seth: We don't really have a name.
Josh: Da Crew.
Noa: It's a big friend group.
Seth: Family.
What do you guys do when you aren't surfing?
Seth: When the waves are small, we like to go fishing or diving. Or if the water is dirty, maybe go play some golf. There is always something to do.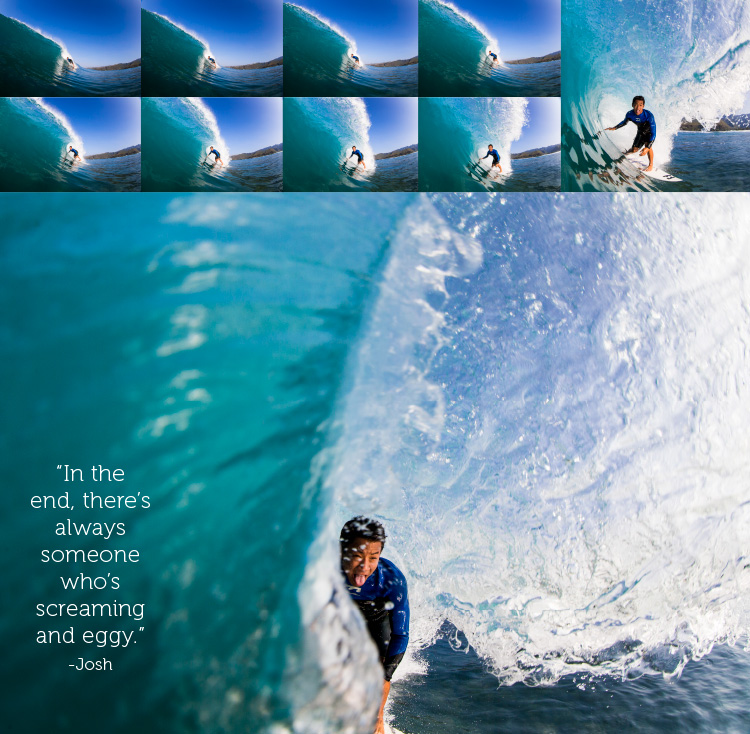 Are you guys pretty competitive amongst each other?
(Everyone nods, smirks and laughs immediately).
Noa: Yesterday me and Seth got into it pretty big.
Josh: Noa thinks he's the best at everything.
Seth: It's funny; it's more like family fighting.
Josh: Every time we do something it ends up in a fight.
Seth: Not real fighting.
Noa: More like brothers fighting.
Josh: At the end, there's always someone who's screaming and eggy.
(They all laugh).
Do you guys have nicknames for each other?
Kaulana: Soul Surfer Seth, JBR and NBN.
Noa: FOL – Flexed Out Lana.
Does your crew extend beyond just the core four?
Josh: Yeah, we got a lot of other people in our crew also. Along with my other brothers Isaiah and Micah we have The Yamakawa's- Kylen and Cole- then there's Kaito Kino, Geno Sano, Liam McTigue, then there's other guys…There's so many!
Noa: A lot of outer island kids too.
Josh: Zeke Lau. When he's home he always hangs out with us… Surf, do whatever. Yeah, we always have a big crew. We never go with just a few people, there's always about 8 of us. I don't think people really like it, but it's fun.
(Everyone laughs.)
You are all out surfing together, what's happening?
Seth: We don't really have a priority system.
Josh: Whoever is out the back first gets the first good wave.
Seth: We don't snake each other. It's like 'he's been waiting awhile, go!' We all end up getting waves.
Josh: Skip people sometimes hehe.
Noa: Josh does that all the time.
(Josh smirks).
Kaulana: Seth is usually dropping 10 footers at Pipeline while Josh is going on a 10ft Backdoor. All the while, me and Noa sit on the sidelines, taking notes.
Who got the best barrel to date?
(Everyone points to Seth).
Noa: Either Josh or Seth.
Kaulana: Definitely not me haha.
Josh: Seth at Backdoor last year.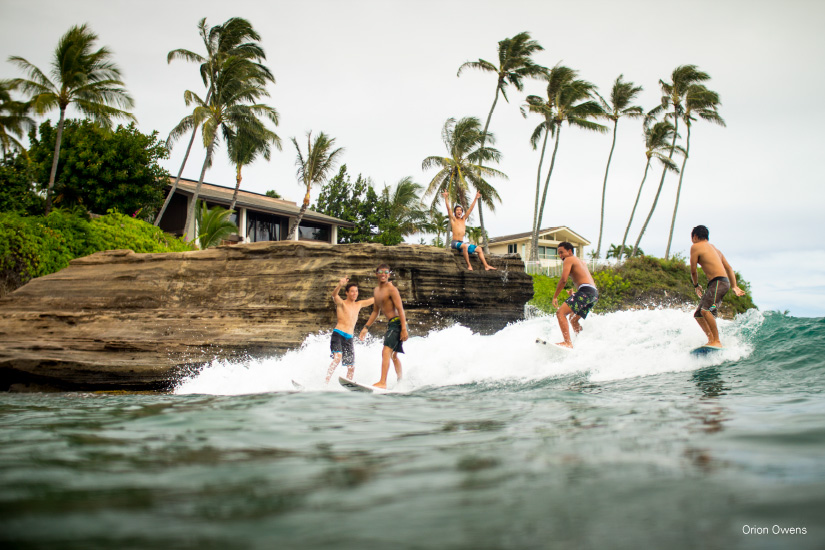 Best aerial?
(Everyone points to Josh).
Noa: It's so obvious.
Seth: Josh's airs are crazy. How inverted he gets… (Showing example with hands) … before he lands, the nose of his board is upside down. He always lands in the most critical areas.
Noa: I concur.
Kaulana: I concur.
(Josh modestly shakes his head in disagreement).
Best turns?
(Josh and Seth point to Noa and Kaulana).
Josh: It's between these 2 guys.
Seth: Kaulana has the most styled out carves.
Best free diver?
Josh: We all suck. Kylen (Yamakawa) is the best free diver we surf with. But amongst us, it's got to be Seth.
Kaulana: I'm the worst; I never shot a fish yet haha.
Noa: Seth caught the biggest fish, he got lucky.
Who gets the girls?
(They all laugh).
Josh: Quantity or quality? Haha.
Seth: Noa goes to Punahou…
Noa: Nope.
Josh: Me and Seth go home school so… nothing really.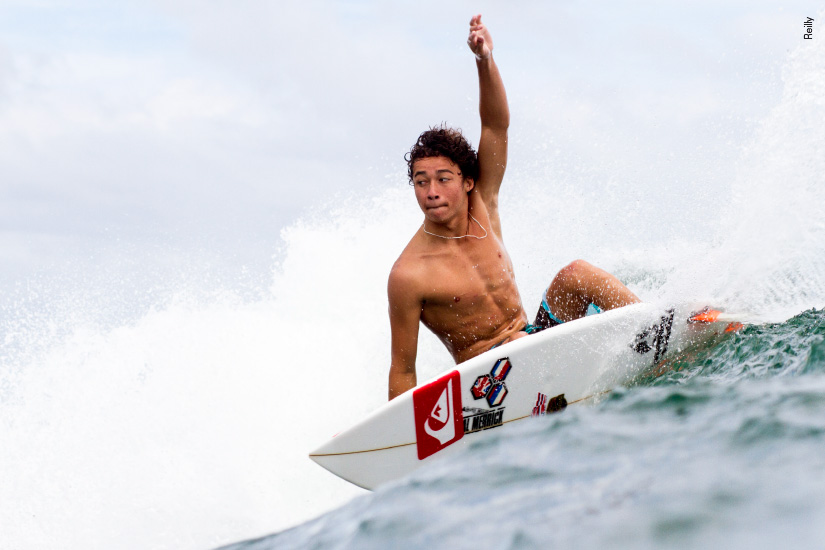 Who has the odd habits?
Noa: We all have pretty odd habits. Seth picks his nose.
(Seth shakes his head).
Josh: Noa says random stuff all the time.
Seth: I'm a notorious sleepwalker, sleep talker, sleep run, sleep scream…
Josh: Seth will walk out to the freeway at 2 in the morning.
Seth: Yeah, I probably almost died a few times.
You're all stranded on a deserted island, who survives last?
Seth raises his hand. 
Noa: I don't know brah. Punahou could be my advantage on this one.
Josh to Noa: No, you're book smart, not survival smart.
Noa: Actually, I'm neither haha.
Kaulana: (boldly) I would last the longest for sure!
(The other 3 laugh in disbelief.)
Josh: No you would not! Haha.
Seth: Here's the survival line – Kaulana, Josh, Noa, me dying first.
Josh: (disagrees) Nah, I'd probably last the longest.
Noa: You wanna give us a theory on that?
Josh: You wouldn't last. I wouldn't last either. But I would before you.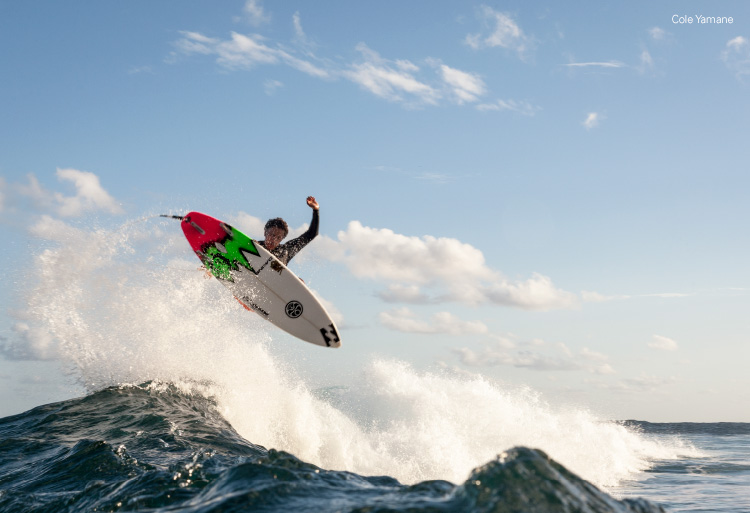 Last words before you guys embark on your trip?
All: BARRELS! BARRELS! BARRELS!
And then they went to Indo…
pau