Carving Out A Name
Lauren Rolland
Each year, the champion of the Triple Crown of Surfing stands atop the podium to be honored, and each year the winner hoists a heavy wooden trophy above his head in triumph. The award is carved with great detail and matches the year's Triple Crown poster art almost exactly. Sometimes it radiates color, other times the wood grain speaks for itself.
John Nippolt isn't necessarily a name that might ring familiar to surfers or artists, but the man's artwork surely will. John is the name behind the wooden carved trophies that the Triple Crown champion wins each year.
The artist has been carving these masterpieces for 26 years, but there's more than double that amount of Triple Crown trophies out there in the world. "Some years I carved 2 or 3," John says. And when the women's events have run, he carved those trophies too. It seems that each year the trophies get better and better and after 26 of them, the master carver still recalls his very first one.
It was Gary Elkerton, back in 1989 and the trophy was carved out of beautiful glowing koa. "10 or 12 years after he won that trophy, I saw Gary on the beach," recalls John. "I asked him if he remembered me, and he didn't know me from anybody." But once John told Gary he was the man who carved his first Triple Crown trophy, Gary frantically grabbed a woman off the beach to snap a photo of him with John. "'Hey, hey, take a picture of me and my mate!' he said, it was pretty funny," says John. "He told me that was one of his favorite awards."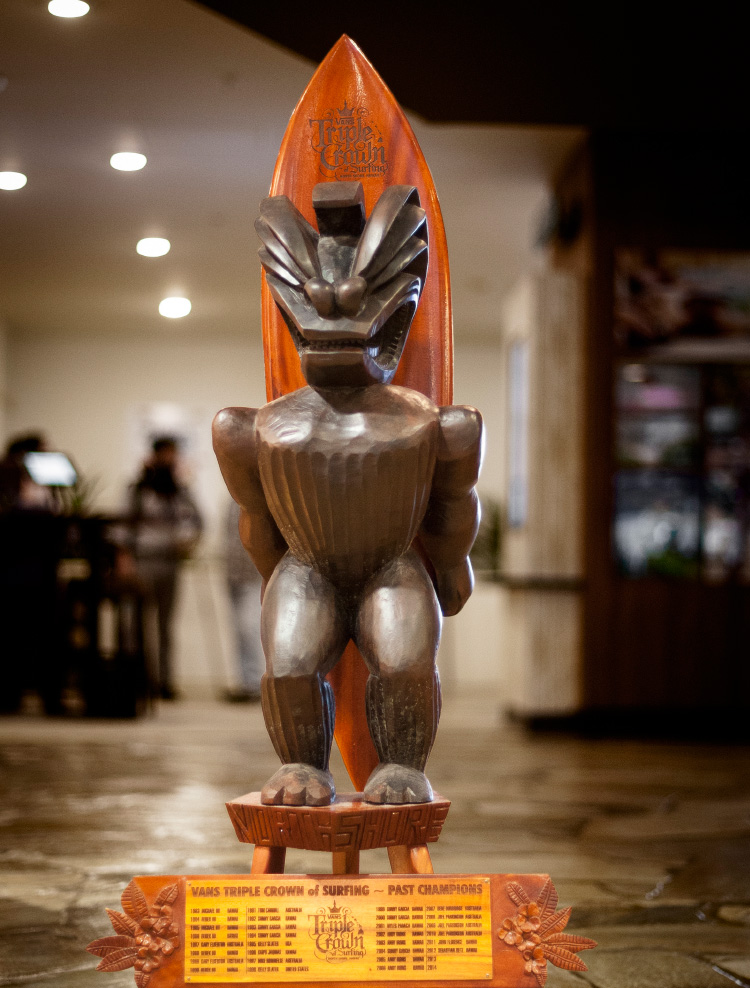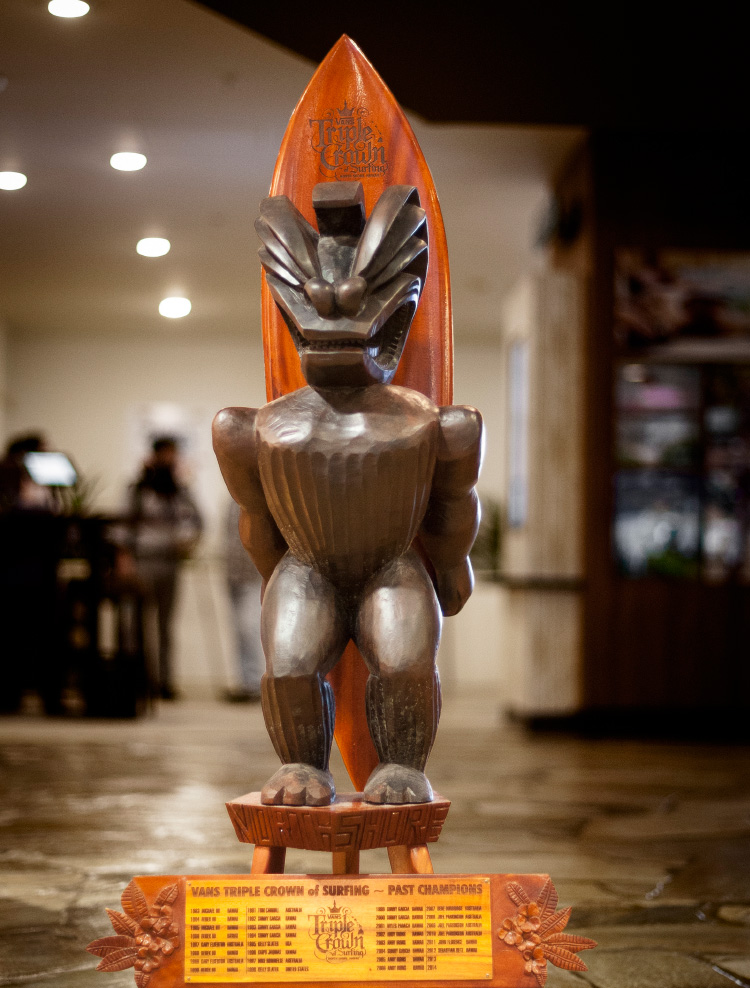 The trophies seem to gain their own history based on who wins them.
After Andy Irons won his 1st Triple Crown title, Billabong wanted to do a photo shoot with Andy and the trophy. The award was mailed to the Billabong Waikiki Shop, and when the postal service dropped it off, they asked for a signature from an employee in order to release it. Turns out that 'employee' was just a random guy in the shop, and he signed for the package and made off with Andy's trophy. "Billabong had to hire me to re carve it!" John exclaims. "But the second time around, it was a better carving."
Originally from Long Beach, California, the artist has called Hawai'i home for 41 years. Ironically enough though, just this past September John left Hawai'i and moved to San Juan Island in the Pacific Northwest. Quite possibly the biggest question on everyone's mind is, will John Nippolt continue to carve the iconic Triple Crown trophies?
"I'll keep doing it for as long as I can!" the artist laughs.
John got his start in wood carving when he was a senior in high school. The teen needed money to hitchhike the southern California coast to surf, so he began carving signs for companies. The surfing businessman pitched and sold them to restaurants, shops and businesses. "Everybody needs a sign company, that was my logo," John chuckles.
But the craftsman's start in art began much earlier than teenage years. "My mom allowed me to draw on my walls when I was a little boy," John describes. "I was always drawing, my whole life. All my catechism books had spaceships shooting holes into the hand of God." With an intact sense of humor and a raw talent for art, it seemed inevitable that John would create an interesting career path for himself.
Later in life, John became a fine arts instructor and the art department chair at Kaimuki Middle School and Kalani High School on Oahu. Art teaching and surfing is what has kept him youthful, and between the sculpting, painting, fine wood working and embellishing of furniture, the man seems to have done a little bit of everything. John is even the author of a surf sci-fi trilogy called Surf Fu, which he is in the process of revising and publishing.
When Hawai'i became home in the early '70s, John began creating surf carvings for the Fountain of Youth Series on Kauai in 1973. Ever passionate about surfing, he later moved to Oahu and remained in the scene in and around Waikiki. Throughout the years, Mr. Nippolt kept up with the sport and its growing success in the media in Hawai'i.
One day on a whim, in the spring of 1989, the artist decided to look up Randy Rarick's number in the phone book. "I asked if he did any awards for the surf events he was putting on," recalls John. "Randy is a man of few words, but he knows what he likes. When he came over and saw what I was working on, he said 'wow, that looks like just like the poster' (for Fountain of Youth). And it began."
Creating a 3-dimensional work of art from a 2-dimensional poster is an expertise that comes with time, talent and patience. "You really arrive when you start doing that stuff," the craftsman mentions. "With carving, as I matured, it just came along with me."
Each trophy takes John about 4 to 5 months to carve, but the process is very fulfilling. "I've gotten these things to really come alive," he describes. These wooden trophies have etched their way into the surf memorabilia scene, but furthermore, they have become part of surfing's history. "We all want to be part of something, we really do," the artist describes. "And surfing is all I ever wanted to be part of."
pau