By Kyveli Sophia
If the best surfer really is the one having the most fun as the old adage goes, Moana Jones may be an unofficial bonafide Pipe Master. Sure, she hasn't officially bested a group of her peers according to a finite numerical scale over a selected number of days where your performance is counted — in fact, she chose to withdraw from the rat race of contest surfing over two years ago, ending her six-year contract with Billabong at the ripe old age of 17.
Now almost 20 years old, Jones is surfing more than she ever has, plus she's working towards a biology degree at the University of Hawai'i. Moana is in good company as a freesurfer; Mick Fanning and Freddy Pataccia being just a few other all-stars finding new stoke away from the competitive scene as freesurfers.
"I'm not sponsored now and I'm totally fine with that," said Moana when we caught up with her in late February. "Back when I was sponsored and doing contests, I just looked at surfing so much differently. Nowadays, I feel like I'm just having so much more fun and I'm realizing how much I love it. I never realized it before; I never thought about it. I think now that I'm in school and I'm not sponsored, I'm not out here trying to be better than all those other girls and I'm just out there to have fun. It changed my outlook on everything and made me a better person. I surf more than I've ever surfed, ever! I'm like a grom again, like back when I was eight years old!"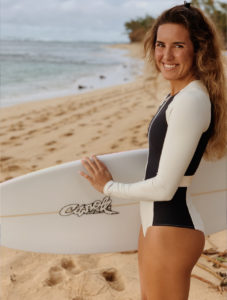 Well, all those good times and happy, carefree days in the waves with her core North Shore crew paid off less than a month after that initial statement: in late March, Joel Centeio gave Jones an opportunity to join close friend and aerial coach Barron Mamiya at Hurley, adding a bit of honored flair to the nose of her board without lessening any of the laid-back drive she was maximizing in her stretch as a freesurfer.
"So stoked," the perma-grom posted on Instagram as she grinned beside her brightly painted quiver, newly adorned with the logo that has her on the same team as one of her biggest supporters, Big Island's Ulualoha Napeahi.
Undoubtedly, one of the things that landed her that prestigious new sponsor was her Pipeline prowess. What designates an official Pipe Master is the consistently highest string of two-wave totals, but it's hard to argue with the idea that one must certainly be an unofficial Pipe Master if they've racked up nearly a decade of experience, demonstrated the humility and good sense necessary to understand their place in the lineup and still operate to score waves, and mastered the ability to foster and maintain close friendships while garnering respect (and the occasional razzing) from the top young surfers of today.
North Shore born and raised, Jones' list of best friends reads like a roster of some of surfing's most recognizable names: Barron Mamiya, Makana Pang, Zoe McDougall, Noah Beschen, Kalani Rivero, and Moana's best friend, Makani Adric. Her current path towards a possible nursing degree fits the picture as well since it's in her blood to not only surf with the North Shore's finest, but to patch them up, too.
"A lot of my aunties are nurses, so it's kind of our family thing to be a nurse," she says, her infectious giggle on a constant, joyous replay loop. "It's funny: whenever my friends get injured with cuts and stuff at my house, I always try to act like a nurse. I've been doing it forever…I remember the first time, I think it was Dax McGill who got a cut on her foot when we were about five years old and I was like, 'I'll fix it!'"
Jones and Adric stay fit with weekly jiu-jitsu classes at Sunset Beach Jiu-Jitsu alongside other local surfers, including Eli Olsen and Ezra Sitt. Moana has earned her place in this constellation of surf stars with her humble soul, her warm heart, and some noteworthy hard-charging, for sure. The fact that some of those significant connections were in place before she was born doesn't hurt either.
"Out of the uncles, I look up to Uncle Gavin [Beschen] a lot… He's my grandma and grandpa's neighbor, so we'll just be out there talking story and he'll be like, 'Oh, how's that coconut I gave your grandma the other day? She made haupia with that?'"
Those who haven't surfed Pipe before may wonder how to survive it. Moana has the answer: "Just lots of respect and being nice to everybody." During her time as a freesurfer, she was wowed by underground chargers
"I really like watching Matahi Drollet, the Tahitian surfer. He's a goofy-footer like me and he charges Teahupo'o and Pipe, too," Jones said. "I feel like he's kind of underground…He's a freesurfer but he charges and has super nice style. He's friends with Barron, so we're all friends."
Remember those unofficial qualifications of an unofficial Pipe Master? Experience, humility, knowing your place in the lineup and still scoring waves, and earning crazy respect and the occasional razzing from the world's greatest surfers? Well, in January, Moana Jones earned all of that and more on just one wave during an extended run of absolutely impeccable Pipe.
"That was a fun ride," she recalled, going back in time. "I was out there for six hours that day and it was small… I was out there cruising in my little bikini like, 'It's not even big!' Then I just got stuck out there — I always get stuck out at Pipe. After three hours it got a little better, so I stayed out. Then all my friends came, so I stayed out and I was like, 'This is so good!' Just talking story with everybody… I didn't even think I was going to catch a wave, I was just cruising. Then right before sunset, that wave came out of nowhere and I was like, 'Is anybody gonna go?' Nobody was going and I was in the spot, so I just turned around and went for it. This guy on the shoulder was going to go, but he backed out and I was like 'Oh, good!' I was way deeper, too. I was so stoked I got that wave and when I came out it felt so good."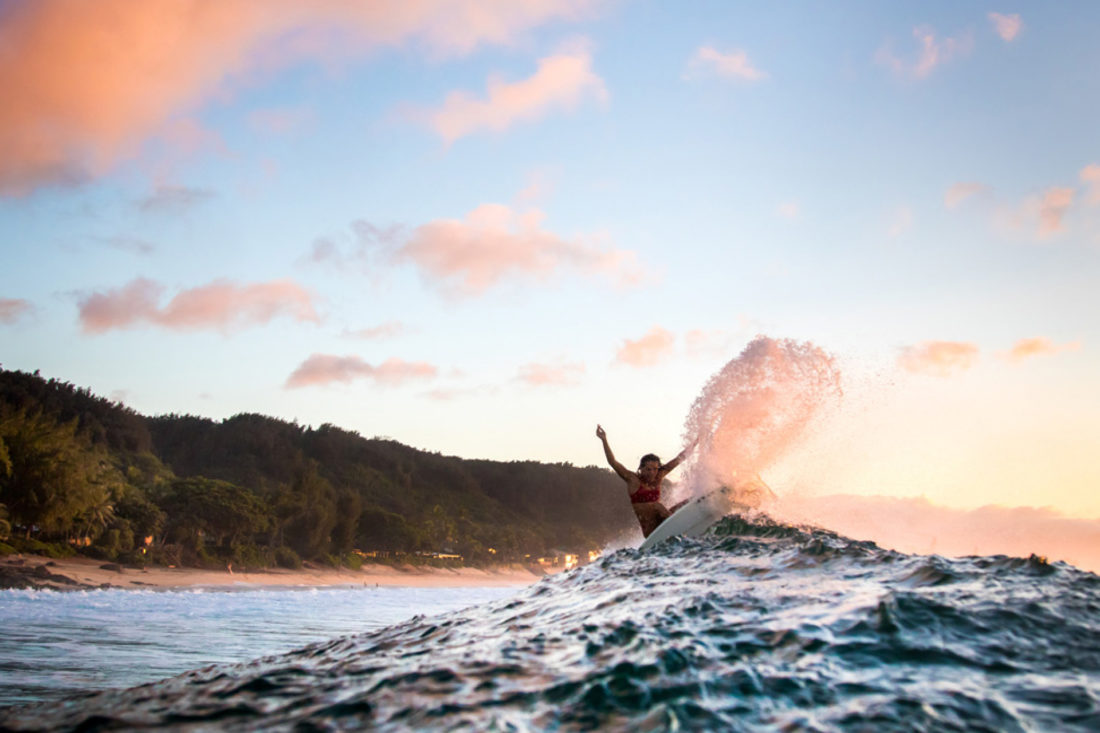 Moana's perfectly placed drop had her deeply slotted, but when she emerged she was as casual as if she was exiting a spa. She languidly flipped back her dripping locks, then calmly reached down to make sure her bikini bottom was still in place. It was – but that tiny tweak earned her a nickname she's still trying to live down.
"At V-land after that everybody was like, 'Teeny Bikini Moana Jones!'" she said, dissolving into laughter. "That was the one time I wore that! I usually wear shorts or a wetsuit… I need to wear shorts forever now and reverse my name."
Riding a quiver shaped mainly by Tim Carroll and Bret Marumoto, Jones is out on good surf whenever it's breaking and class allows. She's also taken up foiling to maximize the flat days, having received a foilboard for Christmas.
A true waterwoman, Moana also fulfilled another family legacy that many people may have expected, or at least hoped for: she loves doing the Molokai 2 O ` ahu paddle race with younger sister Kai and father, Dawson Jones. Dawson was a founder of the 32-mile race, guaranteed to give you arms of jelly and a sense of accomplishment like no other. The father/daughter relay team has competed in the race twice since 2015 and expect to complete a third crossing in 2019.
Whether you're trying to wrap your head around a mind-bending barrel you've just watched her thread, sitting next to her in biology classes, or watching her navigate the Second Reef Pipe wave she accidentally got stuck on by being so zoned-in to the ocean that she never wanted to go back on shore, it's perfectly understandable to find yourself giving mad respect to the unofficial Pipe Master lovingly known as Teeny Bikini Moana Jones.