By Shannon Reporting
Regarded as one of Hawai'i's top rising stars, 14-year-old Kai Martin is surfing well beyond his years and turning heads around O'ahu. After dominating the State Championships three years running from 2016-18, the soft spoken Billabong athlete is staying humble. Born and raised in Honolulu, Martin can be spotted out at Kewalos surfing his home surf spot nearly every day that its breaking. His dedication to the sport and focus on the goal to be a world champ one day is clear; Martin has secured two prestigious victories at the National Championships and isn't slowing down anytime soon. Slater Designs recently pulled him under their wing to test out their latest run of high performance shortboards. We sat down with Martin to break down the dimensions of his favorite boards and discuss the competitive mindset required to take on the Islands' emerging talent.
Age & Home Spot:
I'm 14 years old and from Honolulu. I started surfing when I was really young, probably around two or three years old. The Menehune Contest was my first experience competing, and I fell in love. My home spot is Kewalos. It's a fun little wave, right and left.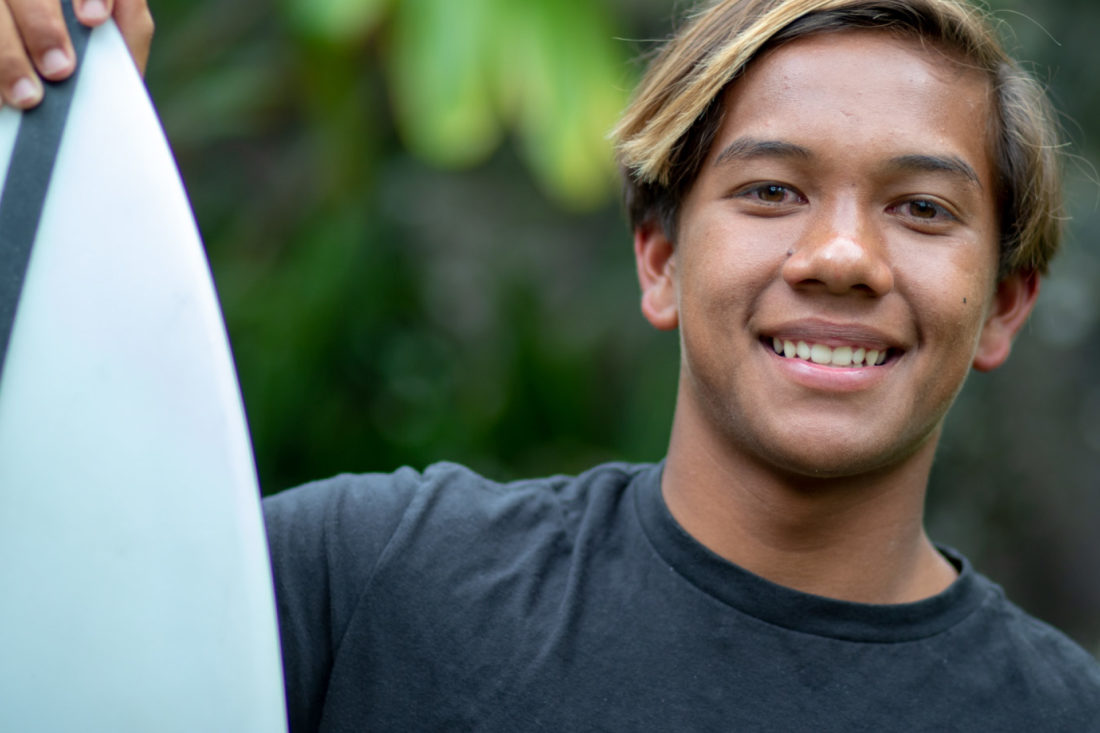 Sponsors:
Billabong, Slater Designs, Skullcandy, Vertra, FCS, Sticky Bumps
Describe your quiver:
The board I rode today was a Slater Designs "Gamma", my all-around shortboard. The dimensions on this one are 5'5'' x 17 7/8 x 2 1/8. I usually just ride this board at head-high or under wave size. It paddles good and is a nice high-performance shortboard. All the boards I get from Slater Designs are pretty good. I love this one because it's good for waves that don't offer much. You're able to get speed out of anything. When I come to the North Shore, since the waves are much bigger up here than where I live, my board sizes range from 5'5'' up to 6'6'' for Sunset Beach.
Favorite part about surfing:
I just love to get barreled. Turns are fun, airs are fun, I love everything about surfing… but barrels are the best. If there are barrels out there, I am definitely looking to hunt them down. The view from inside is unreal and it feels so good to make it out.
How has the Billabong Bloodlines training camp helped your surfing?
My coach is Rainos Hayes. He's awesome. I've been working with him a lot over the last four years. He has a lot of ocean knowledge and helps me at contests to improve my surfing. During a contest, he'll help me clear my mind and not get overwhelmed by nerves. He helps me figure out which waves the judges will score the highest.
Freesurfing or contests?
Freesurfing is way more fun, but contest surfing is cool, too, when you get into the competitive mindset.
Goals for your competitive surfing career:
I want to make it to the World Tour. I eventually want to win another national title, and start doing QS comps. Winning Nationals gave me a lot of confidence going forward into the Junior QS events.
Mentors:
Definitely the Moniz brothers… I grew up watching them and surfing with them a bunch. Seth Moniz just made the World Tour so I'll be watching him. It's going to be awesome to watch him on the CT up against all the top guys. He's one of my favorite surfers, so I'm excited. Josh Moniz is a crazy surfer, too. He does some of the craziest airs I've ever seen. I also surf with him a bunch.
Most progressive surfer in the sport right now?
Probably Filipe Toledo. I haven't seen anybody do the crazy stuff that he's doing on a daily basis. There are so many progressive guys… John John Florence, Gabriel Medina, and Italo Ferreira are all gnarly, too.
Words of advice for groms looking to go pro?
Have fun and don't take it too seriously in the beginning, especially at the grom contests. Don't get too bummed if you lose; everybody goes through that. You're not alone. Just have fun.