Catching up with the North Shore native who is rapidly ascending the Women's Qualifying Series ranks
by Cash Lambert
Zoe McDougall kicked off 2017 with a win at the Sunset Pro Junior Final in January, and at the awards ceremony, her focus was set on making 2017 a career year: "I just want to carry this momentum," she said.
That's exactly what the 17-year-old, with blonde hair, a bright smile and a wicked forehand attack, has done.
She won her first World Surf League Qualifying Series event in April at the Corona Durban Surf Pro in South Africa. Two months later, she was on the podium again, winning both the SA Open of Surfing Junior Pro, and the Open Women's QS 1000. Two weeks later, she was chaired up the beach at the Jordy Smith Cape Town Surf Pro QS, and, you guessed it: a week later, she was holding the first place prize at the Ballito Pro Junior.
In short, Zoe has been on an absolute tear, and we had to find out what the catalyst has been for her unprecedented competitive run.
Take us through your recent strings of wins — the Ballito Pro Junior, the Jordy Smith Cape Town Surf Pro QS, your Junior Pro win at the SA Open of Surfing and more. What are your emotions and thoughts after your incredible wins?
I think that winning these contests has been a result of my surroundings on this leg of the QS tour. I've been having so much fun in South Africa and scoring such good waves and surfing so much. When I first arrived here, I was really motivated to win my first QS and after that, I just wanted to do the best I could and try for my best results possible.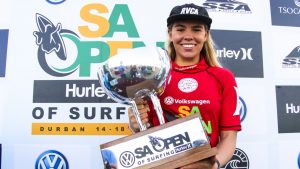 What has lead to such success so far in 2017? Anything you're doing differently, or specific parts of your surfing that you've been working on?
It's definitely the constant support I have from my boyfriend, Matthew McGillivray. It's helped me so much traveling with him, because he surfs so much and is so focused. Sometimes it's hard for him to play both the boyfriend and the coach roll, but he's really good at it and I've learn a lot from him and his surfing.
What have you learned throughout this year through traveling and competitions?
Even though I'm used to a lot of traveling, this leg in South Africa has taught me even more about adjusting to your surroundings. Cape Town was the coldest place I've ever been and was 40 degrees during the morning freesurfs. I'm not used to that!
How have these wins had an effect on your confidence and on your overall surfing goals?
I think that my Quarterfinal result at Junior Worlds in Australia at the beginning of the year gave me a lot of self belief in situations where I doubted myself. South Africa has given me confidence and peace in heats that I didn't have before. Going into a contest, I feel like I'm not as nervous and can focus on my surfing more now than the result.
With so much traveling, how do you maintain a fitness routine and eating well?
I think that one of the most challenging things while traveling is to stay on top of your nutrition. My parents have raised me to eat healthy and drilled it into my head since I was little. My sponsor Clif Bar has also taught me a lot about what to eat and why. I definitely feel the difference when I'm not eating well on the road and I try to make sure that I'm eating lots of fresh food. My dad always packs a giant vitamin box with everything I need, and I try to remember to take them. I always travel with spirulina tablets, so if for some reason I can't eat enough greens, at least I have those.
Any funny stories from your travels this year?
There are so many funny moments that happen on the road that it's hard to keep track, but we're always laughing! One that comes to mind was a couple months ago, my dad came to South Africa for a couple weeks and he scored waves, he was ripping. One morning we were out at Supers, and I got a bomb but he burned me and I think he got barreled! Nobody knew who he was because he was wearing a hooded wetsuit and the locals were going to yell at him but then I said 'wait no it's okay that's my dad!'
What's your focus headed into the second half of 2017?
Training hard and working on improving my surfing. I will also be traveling to the rest of the important QS events, trying my best, then I'm coming home to enjoy winter back home on the North Shore!