By Cash Lambert
Photos: Gage Hingley
A splash of bright pink color illuminates California's cold and gray lineups. It moves swiftly and precisely: spray erupting, quick yet smooth carves. On shore, a lone cameraman's shutter click click clicks, trailing the blaze of pink. Eye-catching for anyone standing on shore, the surfer represents originality, playfulness and confidence.
It's not that Lelia Hurst needed to make herself stand out more; the 22-year-old's contest surfing does just that, plus her charismatic personality tacks on even more charm. So why the change in hair color? "I wanted something different," the Hawai'i- turned-California transplant will tell you. Which is the exact mentality this natural blonde took towards her surfing career. After a discussion with Vans years ago, Leila downed the freesurfing pill and has yet to look back, all in the name of change. "I stopped doing contests and ever since then my career has blossomed in a different way," she says.
Leila's day to day activities quickly shifted: Video edits. Plane tickets to locations she can't wait to see. A hand in product design with Vans. Even road trips up Highway 1 to destinations of her choice. We recently caught up with the creative wahine on her 2015 year and had to ask: will that pink wash out in Hawaiian waters?
We know you've been a California transplant for some time now. Have you spent much of 2015 there, or more so traveling?
"I've been here for the most part, especially for the U.S Open and all that madness. Vans, my sponsor, is located here and that means doing a lot of stuff, we actually just did a big collaboration with Disney. I don't have a set schedule… I don't think any pro surfer does and with Vans, we work on designs and collaborations together. I try and travel as much as I can to film. I actually just went to Indonesia to get out of my wetsuit. Besides Indo, I went to Mexico, did some music festival things in Chicago. I didn't really have a crazy traveling year since I'm not on the QS. I just freesurf, so I'm not running crazy to every part of the world and if I go on a trip it's to film and surf quality waves. This year I've done a lot of trips to Northern California because, well… it's amazing.
Trips often teach us lessons that are impossible to learn in our comfort bubble. Has this been the case for you as well this year?
Right! In Indonesia we stayed at this camp that was… ghetto. No toilet seats. It was all squat pots. No toilet paper… we were living so differently than we do in California and
it had me thinking… People live so simple over there and in the US we think we need so many things. We want more and more and over there they have literally one of everything. One sheet, one bigger blanket, everything. There's no doubles or triples. It's really basic. It's what we all miss out on. We think we need so much and we don't.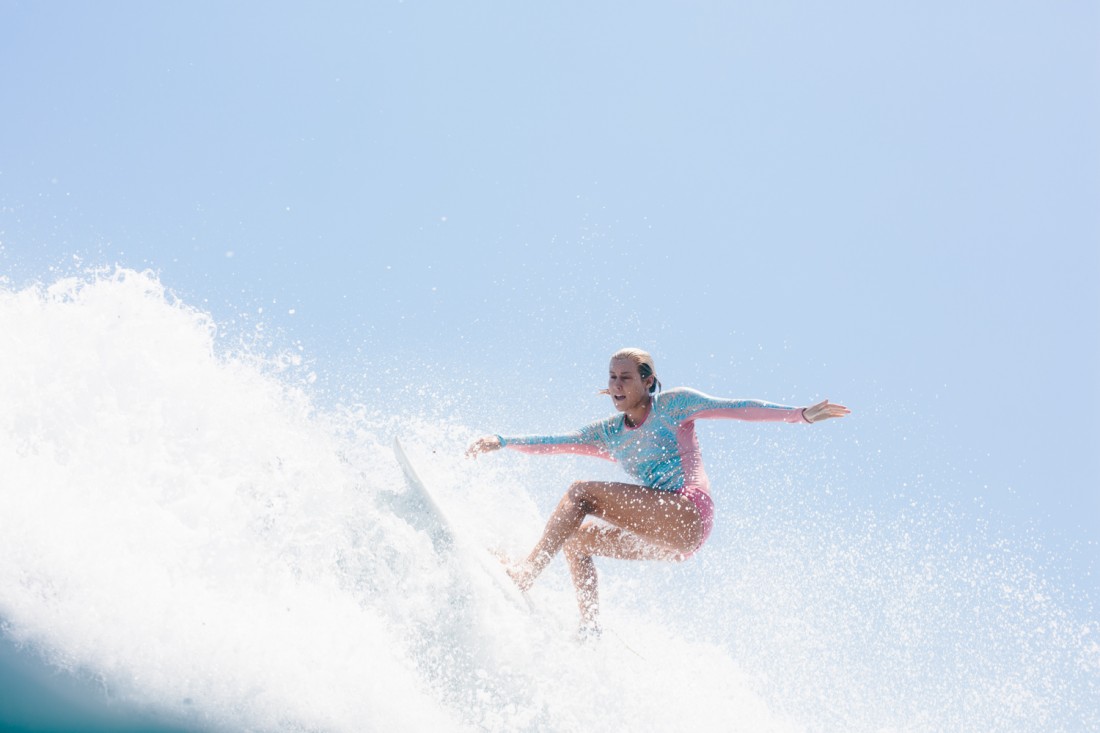 Have you been able to make it back home to Kauai this year with so much going on in California and trips like these?
I've only been twice. I get so homesick! Kelia Moniz is here in California with me and when I'm with her it makes me feel like I'm at home. Back home, I just hang with my parents and surf and I'm obsessed with my dog. She's a golden retriever, and I swear every golden retriever I see is one is the nicest dogs ever. Her name is Honey girl, and she's been on 3 Vans t-shirts. Vans will turn my photos into graphics, and they chose photos of her.
Back home, you grew up with the likes of Sebastian Zietz, Alana Blanchard and Bethany Hamilton. What's it been like to watch their ascent into the pro surfing spotlight?
I feel like I'm so used to it, because everyone from Kauai has done so well. Alana, Bethany and myself used to watch Andy and Bruce. Bethany is incredible, she's done such good things and Alana was just at my house the other day. I hadn't seen her in 3 months. All of us, we barely see each other because we're never there.
And with so many 'Staff Picks' section edits on Vimeo, we see why you're rarely home. It seems like you're always filming somewhere. How do these ideas come about?
My filmmaker, Matt Pagan, is really talented. I just have to surf and do my talent and he designs the project in a way that he wants to do it. It takes so much work; it takes months and it's only two minutes of video. That's if you want it to be perfect. Now that has become a goal of mine to keep creating other staff picks.
What other goals have you made or achieved in 2015?
I'm currently working on a video that's of different trips I recently went on. My sister has a walking disability [called Spina Bifida] and she's going to be in a video and that's my main goal: to finish a good video about my surfing and my story with my sister. And my personal goal… I've never figured that one out. It always changes… but yeah my main goal is to get a good video that I'm happy with and proud of. And this winter in Hawai'i I'm just going to surf and film and enjoy the Triple Crown madness.
One of the videos we recently watched was of your sister's involvement with Life Rolls On, an organization that takes those with disabilities surfing. What was it like to share your love of surfing with her?
It was epic! We've done it a few times, the first time was amazing. The coolest thing ever. I cried the whole time we did it and each time it's emotional. It's crazy that she can be in the ocean with me. It affects her in such a positive way.
You've been with the "original surf brand" Vans for 9 years now. How did you get linked up in the first place?
Reef McIntosh actually asked them to sponsor me. They are particular about who they put on their team, so it's such an honor and it's just been epic, growing to what it is now. We all like each other. I get to hang out with the Gudauskas brothers and they're hilarious. Vans is a cool brand, they stand for cool things, and it's fun to be creative. I'm so happy to be with them. And I've been surfing since… forever and been sponsored since I was 9. There's been times in my life when I've questioned what do with my career. With surfing, it's so easy to get into a groove, with contest after contest and all these things you can do for years and years.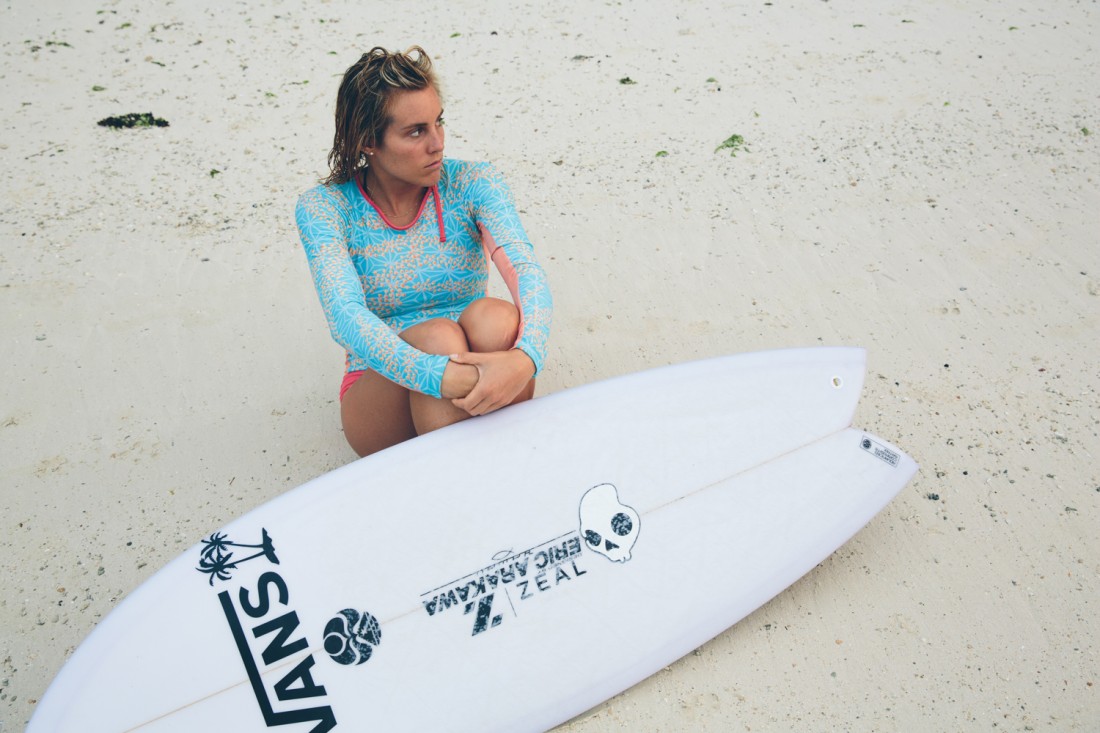 So I stopped doing contests and ever since then my career has blossomed in a different way. I enjoy surfing so much more, because I enjoy going places and I get to explore and make a video out of the places. That's what changed a lot of things in my life. I needed change. I didn't think that [freesurfing] lifestyle existed, and I tried the QS. But I decided to commit to freesuring and Vans completely backed me. I said 'I'm going to run with it and make it my best'. It's just different than what a lot of surfers are doing and it's hard to trust yourself but I'm so much happier and have had so many more opportunities that I've always wanted. Like the collaboration with Disney. That's huge for me. I also get to ride different boards when before I've ridden only plain shortboards. Now it's longboards, twin fins, single fins. I didn't know how to ride them before.
Besides experimenting with other boards and traveling, what have you filled your extra time with this year?
Well, I dyed my hair pink. I was bored and I needed to change something. My dad was freaking out and I said 'hey I'm gonna surf 5 times it's going to be gone'. It washes out. And my sister's getting married, and we're all planning that. But overall, just working on being a better person every day.
And with the winter season now here, what are you looking forward to the most?
All the people out at Rockies! Kidding. I really love seeing everyone at the Triple Crown, because in California I'm far away and I enjoy seeing the people I grew up with. Plus Thanksgiving and Christmas. I love being home for that too.
pau