Fantastic weather and ripable 2-foot surf welcomed the 21st Annual Shane Dorian Keiki Classic, held at Banyans in sunny Kailua-Kona on the Island of Hawai'i. Truckloads of groms covered the beachfront as families, friends and spectators enjoyed a day of hilarity and friendly competition.
"The last few years we've been blessed with gigantic waves here in Kona, and a lot of our younger kids were a bit scared," said Shane Dorian, an acclaimed big wave surfer serving as the contest coordinator. "But this year was awesome, plenty of waves but super mellow and fun."
Promoting character and good grades, the annual event requires kids to maintain a 2.25 GPA to enter, and to bring a few canned goods to donate to the Kona Giving Tree.
The event followed a first come, first surf format as 50 keiki shredders competed for a shot at victory. The drug-free event not only showcased rad surfing skills; it embodied leadership, character and good grades. Each year, the event requires kids to maintain a 2.25 GPA in order to enter along with bringing a few canned goods to donate to the Kona Giving Tree.
The community and its volunteers strived to make this years event even more sustainable by hosting a beach cleanup the day before competition. A Zero Waste effort, driven by Tony and Krista Donaldson, was in full effect, showing the participants how easy it is to reduce, reuse and recycle. As a result, the  community produced only three bags of trash during day, and a full truckload of compost and recycling.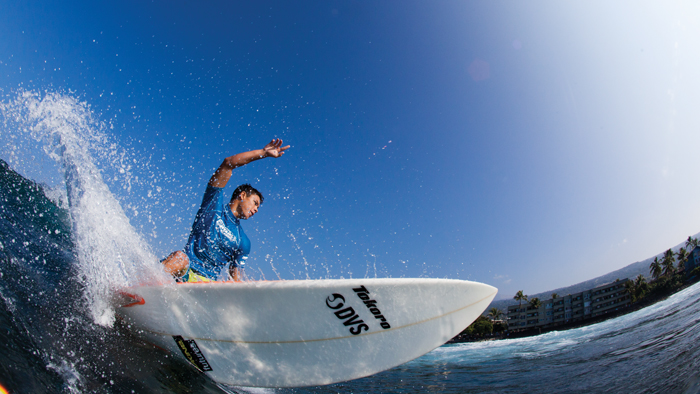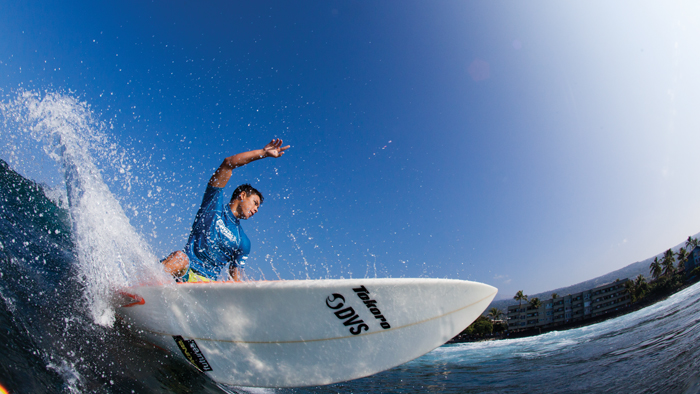 A number of sidesplitting events took place alongside the competition. Jamie O'Brien and his Red Bull video series cast member, Poopies – the kids' favorite – had everyone in stitches when they covered Poopies in sardine juice and cornstarch and sent him off into the ocean in speedos and a plastic kayak. Soon after this grand departure, Poopies lost control of the kayak and had to swim in over the jagged sea urchin-covered reef of inside Banyans.
"It was so nasty, I smelt so bad," said Poopies. "People were about to vomit every time I walked by."
Yes, grom torture was a thing of the past because at this year's event it was the pros that were being picked on. Local pros CJ Kanuha and Torrey Meister also participated in the action as Jamie and Poopies got annihilated with tennis balls during the Banyans post-surf session kid game, "Butt's Up!"
Also joining in the festivities were Maui groms Jackson Bunch, Eli Hanneman, Levi Young and Tony Nunez. Pro surfers like Billy Kemper, Matt Meola, Albee Layer, Griffin Colapinto, Josh Moniz and Seth Moniz also made an appearance, signing autographs on free posters and kids foreheads.
Tricks and turns and standout surfers like Brodi Sale took the podium in the Boys 13 & Under division, with up-and-coming Ocean Donaldson for the win in the Junior Boys. For the Girls 13 & Under it was young Sophia Carlucci, who took some long right-handers all the way to the shore. Taking home gold in the Junior Girls and winning the Surfer of the Year Award was the one and only Kehanu Delovio. Kehanu announced her goal for this year: to treat others how you want to be treated.
All contestants were stoked out with a Billabong contest t-shirt and trucker hat, free lunch and boxfuls of fresh fruit for dessert. The winners of each division earned a koa wood trophy, a bag of goodies, GoPros and an epic 1×1 canvas wave painting by artist Chris Nelson. Local shapers donated new and custom surfboards, and even little surfers like Brodi Sale donated a surfboard to a friend that was in need of a new shred stick.
After the award ceremony, The County of Hawai'i gifted a Certificate of Appreciation to Shane and Lisa Dorian for their outstanding performance in the community.
A special mahalo goes out to Shane Dorian and his family and the Daniel R. Sayre Memorial Foundation for continuing this event each year and to all the parents, volunteers and supporting sponsors who help make this day possible.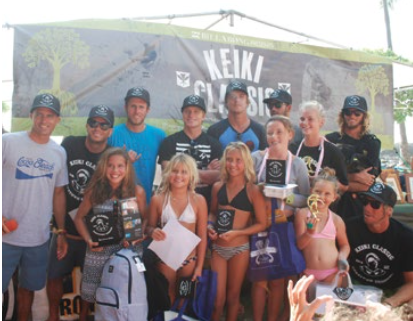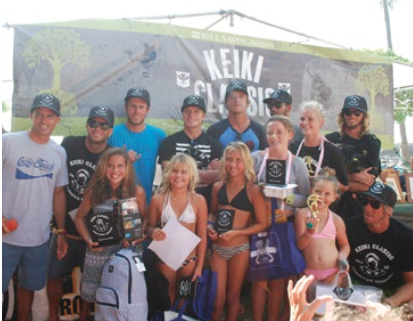 KEIKI CLASSIC 2016 Results
Girls 13 and under
1st Sophia Carlucci
2nd Rumor Butts
3rd Tegan Harrs
4th Danni Sale
Boys 13 and under
1st Brodi Sale
2nd Tony Nunez
3rd Jackson Bunch
4th Luke Heflin
5th Kenalu Kamehaiku
6th Eli Hanneman
Junior Girls 14-17
1st Kahanu Delovio
2nd Chloe Smith
3rd Jade Steele
4th Malaika Bishaw
Junior Boys 14-17
1st Ocean Donaldson
2nd Loa Ng
3rd Wyatt Walter
4th Kade Ketcheson
5th Jesse Kirkhill
6th Chris O'Donnell
Surfer of the year award
Kahanu Delovio