By Andrew Oliver
It has been well documented that the women's performances on the WSL World Championship Tour are in uncharted territory; one of the key influencers of this current performance surge is Carissa Moore. She is the rare surfer whose impact on the sport, from a teenage phenom to a global ambassador, has come to define a generation. And she's still going.
Straight out of the gates as a 17-year-old rookie, Carissa brought a well-balanced display of raw power and style that was deeply influenced by her Hawaiian surfing roots. Her approach to wave riding was in sharp contrast to the precision lines of the once-thought-of unstoppable Stephanie Gilmore, and the two went back and forth as world champions during Carissa's first five years on Tour. Of this great rivalry, anchored in mutual respect and admiration, came the stratospheric rise in women's performance surfing.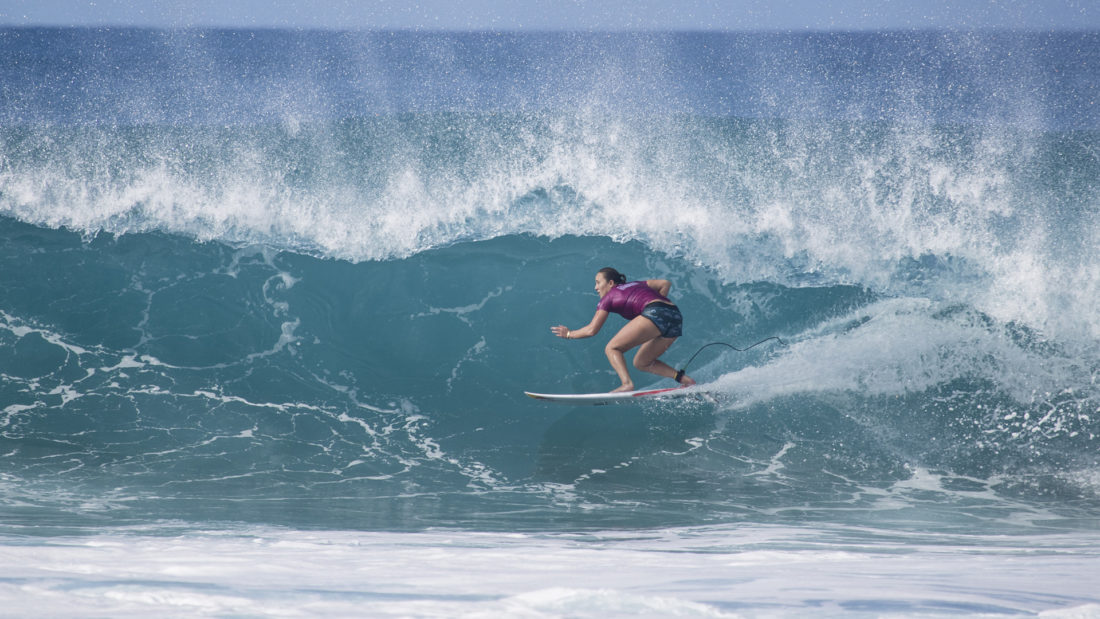 In those early days, Carissa and Steph stood out from the pack. Yet in time, those performances lit a spark amongst the rest of their competitors who have done well to catch up. Not one to rest on past glory, Carissa has been deeply inspired by the recent progression of women's surfing and has raised her performances to new heights, doing some of the best surfing of her career.
We spoke with Carissa as she entered the final leg of the 2019 World Tour sitting at number one, aiming for a historic fourth world title.
•
This is your tenth year on the CT. You have been surfing exceptionally well, and you're vying for your fourth world title – how does it feel?
I feel like I'm in a really great place at the moment, both mentally and physically. I'm feeling strong, motivated, happy, and passionate about surfing and competing. I'm deeply grateful to be in the mix for a world title this year and I am excited for the next three events.
Is this familiar territory for you, or does this year feel different?
It's been a few years since I've been in the world title conversation and there are different types of attention that comes with it. Not being on top has really put things in perspective for me and I'm thankful to be in the position that I am. It is so special to put everything I have into chasing a dream.
You've been at the forefront of performance since your days as a breakthrough junior competitor, but since then the sport has evolved and become so competitive. How have you evolved with it?
Over the ten years I have been on Tour, I have seen tremendous growth in overall performance from the ladies. I am continuously pushed by my peers to step outside my comfort zone, train harder, smarter, and be more progressive. All the ladies are extremely passionate about doing their very best and pushing for more. I pay more attention to detail now and checking all the boxes.
We spoke with Megan Abubo recently and she feels you are doing some of the best surfing yet this year.
That is a huge compliment coming from Megan. Thank you! I think that I am getting closer to doing my best surfing in competition. That has always been a huge goal of mine: to compete how I train or surf every day. I think I am finding more confidence in myself which is translating into the lines I am drawing on waves.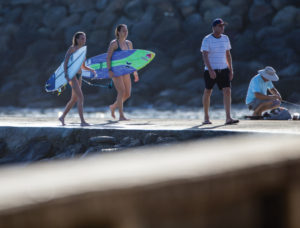 What have you done to achieve this new level of performance?
I have a great team of people in my corner. I train with my dad on a daily basis. He's the best coach for me and holds me to a high standard. I also just started working with a sports psych which has really helped me to redefine my goals, keep things simple for myself, and live a happier life. My trainer is amazing, as well as my whole family of sponsors. My husband is an incredible support. All the love is what keeps me going and pushing forward.
With the performance level on Tour so high, can it be overwhelming to you, or does it fuel your fire?
It's exciting! I'm embracing it. It's an exciting time to be a female in sports, especially in surfing. I am proud to be a part of the movement and am super inspired by my peers.
You're in the final leg of the Tour. You've had some great results in Europe, and an incredible relationship with Honolua Bay; you must be feeling pretty confident going forward?
I am never 100% confident because anything can happen and there are so many variables in the ocean. I am really looking forward to the next couple of events and giving it my very best. I enjoy everything about Europe and have a love affair with Honolua Bay, so it should be fun.
What is going to be your biggest challenge in finishing this year on top?
Staying present and not overthinking things. Just keeping it simple and having the right perspective.
Let's talk about Honolua: it has to be one of the most iconic and beautiful waves in the world. Tell us more about the place, the wave, and what it means to you.
It's one of my favorite waves in the world. Honolua Bay holds a very special place in my heart. I feel a unique connection to the ocean and sense of purpose when I surf there. It is one of the most picturesque places, with the islands on the horizon and the untouched mountains when looking back at the bay. The wave is strong, powerful, and raw. It is an honor to be able to compete there.
With the performances you have had out there, it looks like that wave was perfectly made for your surfing.
Well, thank you. I don't know about it being perfectly made for my surfing, but I absolutely enjoy performing out there and I think that shines through.
Shifting gears a bit, you have always been incredibly active and taken the role of an ambassador very seriously. For example, all the work that you and your dad do with the C-Stars (Carissa's surfing mentorship program with young women in Hawai'i). How do you balance that part of your life that is dedicated to giving back with being such a fierce competitor?
Giving back is what gives me a true sense of purpose and brings me a lot of happiness. Competition results are fleeting. What lasts for me is the interactions I have with others and the way you make people feel.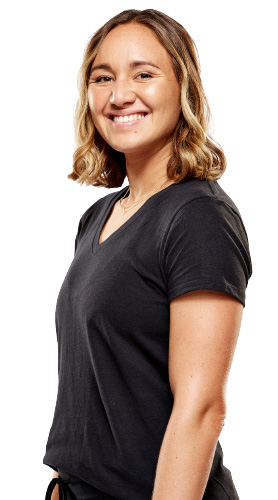 You hear it from other world champions, especially on the men's side, that competitors really have to be selfish in many ways to win world titles. How do you balance that in your life?
I've just felt it out. Finding the balance between giving and taking, making time for myself and others. I think giving back refuels my soul, motivation, and desire to compete.
What are some of the main lessons that you share with C-Stars, or that you wish you could go back in time and share with yourself when you were their age?
'You are awesome.' There can be so many negative distractions that influence you to be someone you're not. Stay true to your inner voice and know that you are perfect just the way you are. We are all put on this planet for a unique reason; embrace your journey.
Mahalo Carissa.
Best of luck in Europe!