While experiencing Dennis Mathewson's artwork for the first time, you will find yourself embracing and sharing his passion for the true island lifestyle in Hawaii. His work is distinguished by his unique and exotic underwater sea-life pieces that come alive through his exclusive color combinations. Mathewson showcases the realistic, liquid style of the ocean, that include his signature bubbles which blend seamlessly into the skillfully hand carved images he creates on aluminum panels.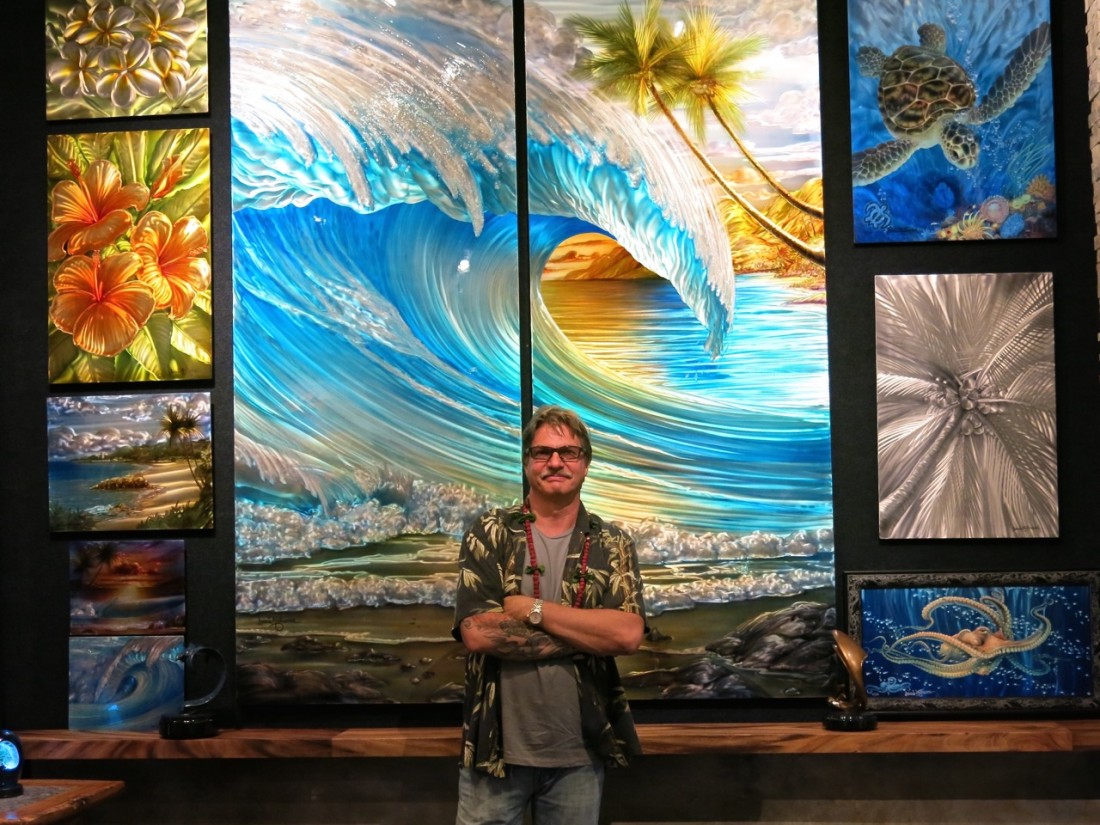 Mathewson has been a professional artist for over 40 years. As a naturally artistic kid, back in the 70's he started in Las Vegas with his first airbrush in 1973 and after a few years he went to work airbrushing shirts at the Rat's Hole for the late Karl Smith (Big Daddy Rat), founder. He successfully owned and operated his commercial art studio, Cosmic Airbrush for over 35 years and is considered one of the world's "top guns" in the custom automotive painting industry. He relocated to Honolulu Hawaii in 1980 where he stills lives and paints today. Local Hawaii customers brought 1000s of projects like motorcycles, trucks, cars, boats, surfboards, guitars and even walls murals to Cosmic Airbrush for decades. Mathewson now dedicates all his time to his fine metal art seen in his Hawaii Art Galleries.
1. You have a very unique style of art. How as it come to be and what are the materials and methods involved? 

My art varies in subject matter from tiki/edgy, sea life to my more 3-D effect metal art. 95% of my original work is on marine grade aluminum, since it can best resist the Hawaii weather and elements. I begin with a sheet of aluminum (after cleaning and preparing the edges) I use a variety of different sized grinding, sanding and polishing tools, both electric and air. I actually carve the images like waves, turtles, bamboo or just water backgrounds into the metal on a special table I created. Once the image is carved into the metal it goes through a few chemical baths to clean, etch and seal the art into the metal. Once sealed with a top coat of special clear coat, color and detail is added or even a detailed illustration over the carved metal background. This could take days or weeks to process, depending on the detail in the image. Then a final industrial top coat is applied, once dry, then it is then hand sanded and polished to a show car finish.
2. What is your favorite piece and why?
My favorite pieces contain stories, like Father Surf (our local surfer hero), Crabs in a bucket (it shows a Dad with his kids fishing), Coconut Wireless (about my 17 year old daughter and the cell phone, text, boy era in her life) or even my newest piece, Blind Date (about the beach trash problem that also affects our oceans and sea creatures). My favorite pieces make people smile when they see them.
3. On average, how long does a single piece take from start to finish and how do you get inspired to create your various styles?
As an artist, I am sometimes cursed with a hundred ideas in my head. Hawaii's beauty, the folks who live here and the lifestyle is what inspires me daily. One painting can take a few days to a few months to complete depending on the size, subject and details. Even just the drawing for Coconut Wireless took a month to draw the idea out. I also try to do simple paintings to keep them affordable so many others can enjoy my art.
4. Being from Hawaii and as a constant theme, you know that the Ocean is a sacred place, not only to the locals but visitors alike. Is there any thing you can tell our audience in hopes of understanding how precious it and how it important it is to our Island chain?
I am constantly inspired by the ocean, trying to preserve it and it shows in my newest painting Blind Date. The message of Blind Date is about the trash in our reefs and the damage it can cause to or sea life and shores. A trash bag is the jellyfish's blind date, what a surprise a blind date can be sometimes, right. I even donated part of the sales to the Oahu Surfrider Foundation to support their efforts to keep our shores safe and clean. I plan to paint more art with similar types of messages in the future.
5. If you weren't doing art in Hawaii, where would you be and what would you be doing?
I love teaching and have done over a hundred classes for the Iwata Airbrush company all over the world. Sharing your knowledge is very enjoyable to me. But I guess that's about art too. Cooking is also a passion to me it allows me to create and use color in a tastefull way. Wait, I guess that's art too. Oh well, I will alway be an artist in some way, shape or form, so be it.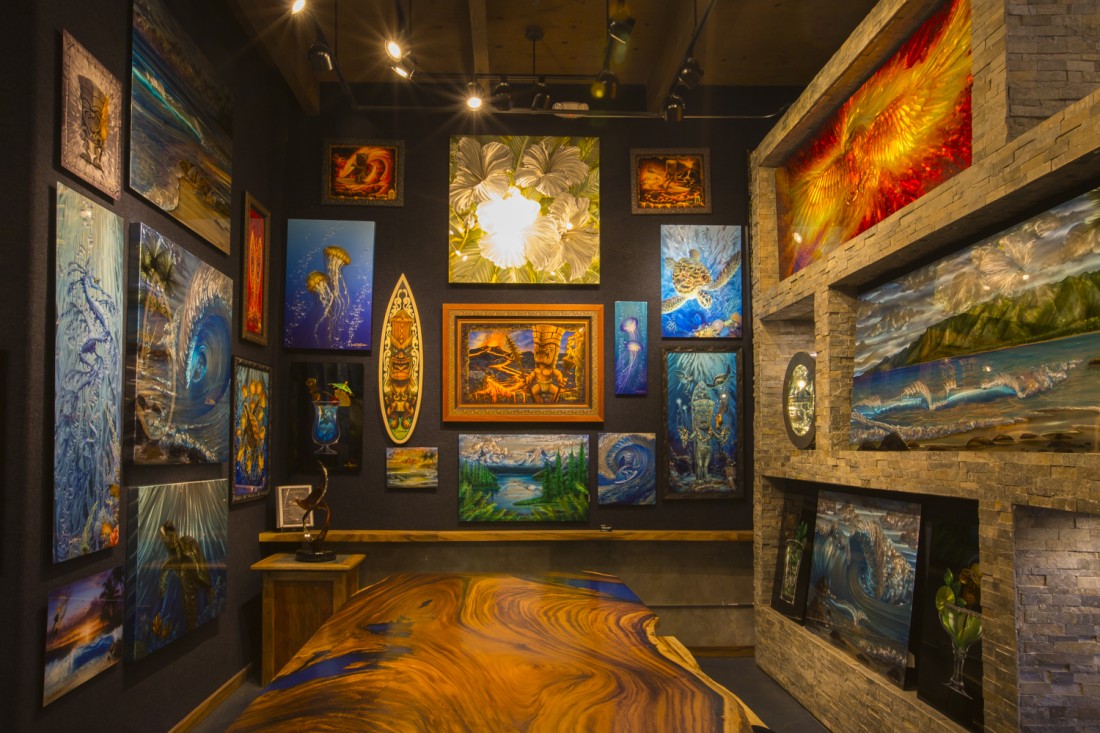 To see more of Dennis Mathewson's artwork, head on over to Wy's Galleries website
Wy's Galleries
Haleiwa Town Center
66-145 Kamehameha Hwy
Haleiwa, HI 96712
(808)200-4678