By Lauren Rolland
Hawaii is a very progressive state. Many of us strive to eat healthy and plant gardens, stay active and enjoy the outdoors, recycle, reuse, reduce. We passed the ban on plastic bags and enhanced smoke-free policies, and many locals aim to lead a healthful and simple lifestyle. Organic and sustainable farming techniques are being practiced more often, and consumers are making conscious choices about where to spend their money.
It's obvious we care about our future, and Freesurf promotes this type of pono lifestyle.
A few summers ago I was helping friends get outfitted for a Shark's Cove snorkel at North Shore Surf Shop. I heard the cashier ask my friends, "Do you need a rash guard?" When they replied no, he then asked, "How are you going to protect your skin from the sun?" The obvious answer was sunscreen. All of a sudden I had this image of Shark's Cove, the beautiful marine life conservation district that we all love so much, with an oily purple-pink-green sheen coating the water's surface. Gross. And sad. Both for mankind and for the fragile ecosystems below water.
Thankfully there are sunscreen companies that have this similar sentiment, and are working to develop ocean and reef-friendly products that are also good for our skin. Did you know that the epidermis is our body's largest organ? From head to toe, our skin is exposed to the elements of nature, and here in Hawaii, the sun is the number one thing to protect against.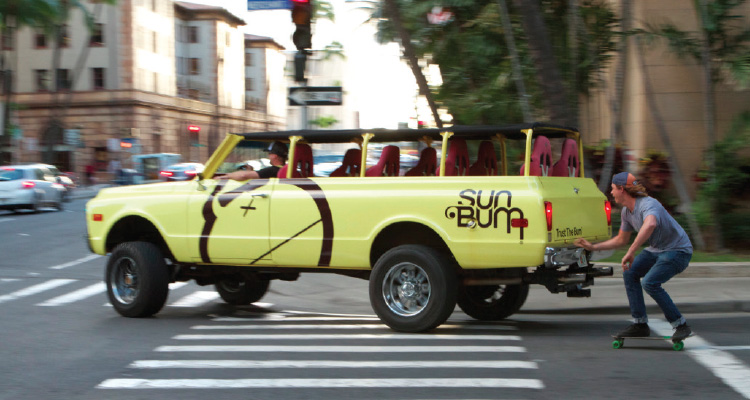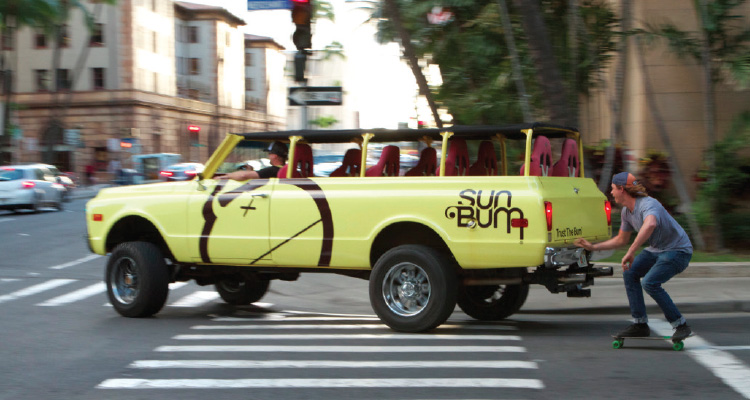 Because summer is fast approaching, and Freesurf likes to share the Living Pono lifestyle, we're giving you a quick run down on sunscreen and how to keep your skin (and the ocean) safe while enjoying the outdoors. We caught up with Co-Founder/President of Sun Bum sunscreen, Tom Rinks, to find out why we're seeing the Sun Bum monkey everywhere in the islands, and why it matters.
The company was created by a close-knit surf community that cares about the environment and their own families. As ocean enthusiasts, it was easy to see the need for a sunscreen company that put both aspects of the product – people and the ocean – on the same pedestal. Tom told us that Sun Bum does everything possible to protect the reef while also protecting the one's they love.
"I think what makes us different is that we started this thing for ourselves without worrying about what the rest of the world wants," explains Tom. "We live on the beach and our kids are in and out of the water all day, so it just had to perform for them. We didn't consider what tourists might want for one second, we're stoked they like it, but we didn't make it for them."
Since Hawaii sees millions of travelers to their island chain each year, it's a good thing Sun Bum has spread state-wide! You can now see their brown and yellow burly monkey in surf shops, dive shops, bikini boutiques, hotel sundry stores, and pretty much any shop that's affiliated with water sports.
As surfers and ocean lovers, one of the most important things to understand is the importance of good sunscreen. "Definitely use a mineral based sunscreen with Zinc Oxide or Titanium Dioxide as the main "Active" ingredient because it performs so much better in the water," says Tom. "And don't forget your ears."
Sun Bum has spent years testing and perfecting their surf/signature formula with surf friends on the North Shore, Southern Cali and Florida. "It's the best thing we make," adds Tom. Athletes like Julian Wilson, Malia Manuel, Zak Noyle, Noa Mizuno, Bailey Nagy, Kaiser Auberlen and The Hawaiian Water Patrol are all ambassadors of the Sun Bum team, and stand behind the product and their mission.
"When we started we swore we'd try to create a company surrounded by good people, not just good surfers," describes Tom. So Sun Bum chose their ambassadors based on athletes who lived pono. "I guess you could say we picked our ambassadors like we'd pick friends, people we really love and want to hang out with, not because of their standings but because of their goodness."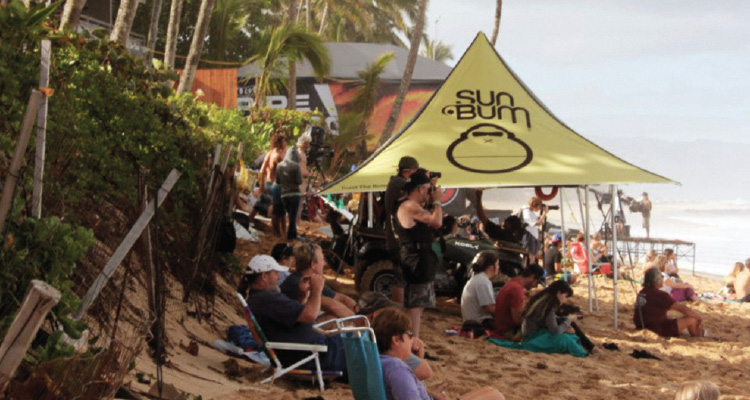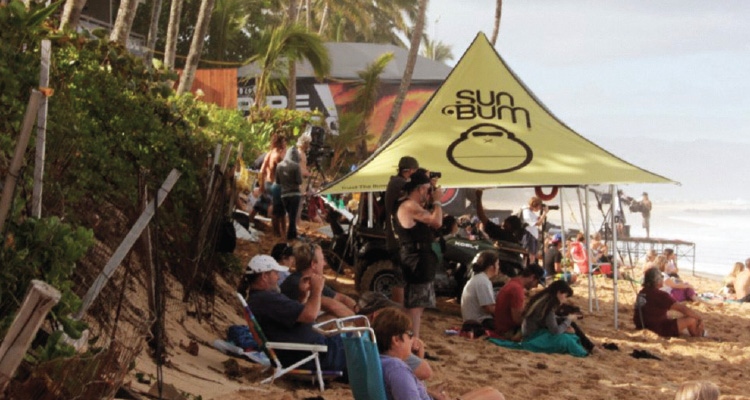 Further perpetuating this goodness is Sun Bum's backing of the surf community. The company supports surf camps and core shop events, and they contribute to ocean/environmental charities. "We're also at most of the big contests and supplied many of the corporate houses this past season at Pipe," says Tom. "This summer we are launching a non-profit called 'Protect The Groms,' which will aim at inspiring and educating the next generation on the importance of sun protection and community."
Most locals' beach bags are packed with the essentials – hat, sunglasses, water, towel, sunscreen. When we begin to notice that companies like Sun Bum are striving to encourage a healthy lifestyle and perpetuate living pono, it's a good step toward making conscious choices in our consumer behavior. It's also a vote for protecting our skin and the ocean. Freesurf asked Tom Rinks to narrow Sun Bum's whole mission into a few words…
"Spread the love… and the sunscreen. In that order."
pau