Words: Jericho Rell Panasuk
For twenty-two-year-old Oahu native Kelia Moniz, surfing is second nature. With a natural grace and ease on the waves that only comes from growing up in a family of surfers, Sister has been in the water as long as she can remember. Placing second last year in the GoPro World Longboard Championship, China presented by Wanning event, Kelia has a promising competition this year and we can't wait to see what her path holds.
Moving to Hermosa Beach two years ago, Moniz has been living the Cali lifestyle with fellow Roxy ambassador Bruna Schmitz and Volcom team rider Quincy Davis in what's referred to as the 'Dollhouse'. Visitors come and go on the regular, and now the Dollhouse sees Bruna's fiancé and Kelia's boyfriend as part of the home dynamic too, adding to the fun.
We jumped at the chance to catch up with this chick who rips and find out about this year's travels, what waves Kelia is stoked on, and where the wahine is headed next. It's no doubt, whether modeling for Roxy or in the water surfing, Kelia Moniz is doing it with style.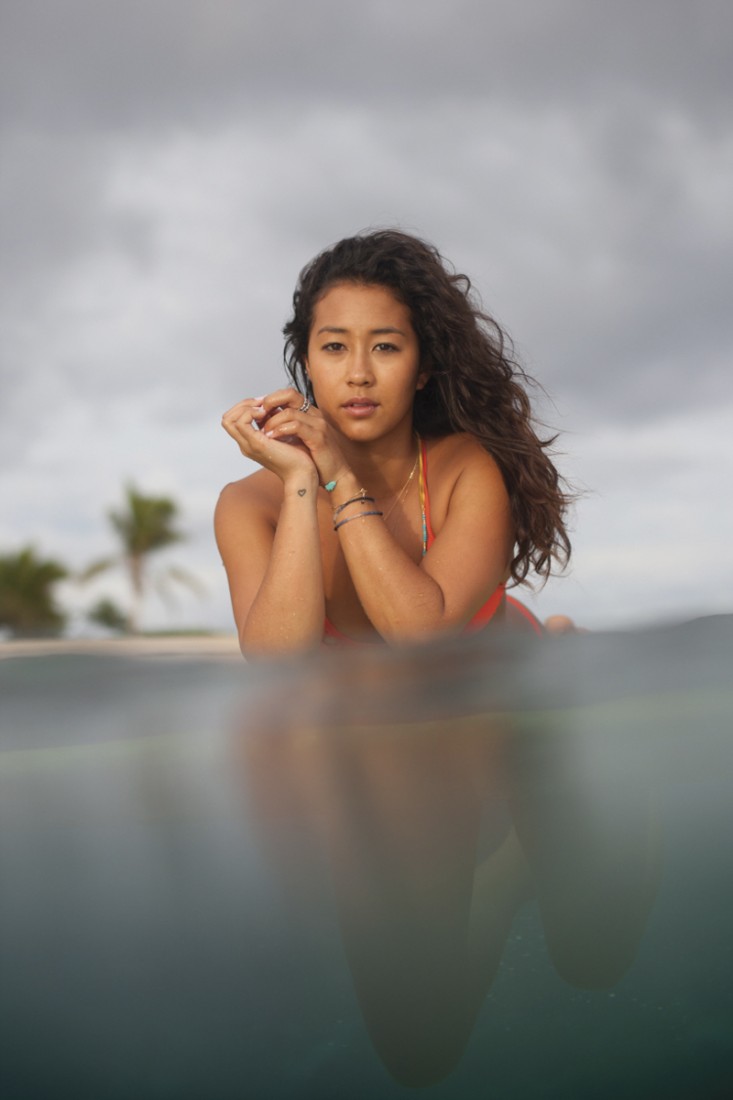 Date of Birth: February 5, 1993
Stance: Goofy
Favorite break: Favorite place to surf is Waikiki, because of so many precious memories.
What has been the highlight of this year?
Being able to travel with my boyfriend. We spent a couple months
in Australia in the beginning of the year. We went snowboarding in Mammoth and surfing in Mexico. We're also heading to the east coast and then to South Africa for one of his events in a couple of weeks.
Favorite place you've traveled to this year?
Japan, I love that country! The people, food, culture. It's amazing
Tell us about where you're living now.
I currently live in Hermosa Beach with some of my best friends. We have a pretty big house we call the Dollhouse where lots of friends and family stay at during transit because we're super close to LAX.
What are you doing lately for training?
Boxing, Pilates, and day-to-day circuits I do on my own for cardio and core in my garage. Who knows if it actually works, I just like to do it for peace of mind haha. If I sweat and get out of breath I feel good.
Have we ever asked you how you got the nickname Sister?
Well, my mom and dad didn't name me for a whole month after I was born, so they would refer to me as Sister to my older brother during that month. And then my mom popped out three more boys after me, so that name had no time to fade away. I love it.
This year marks 10 years as part of the Roxy family… Congrats!
It was my dream as a little girl to be a "Roxy girl". To be in bikinis all day and
frolic on exotic beaches and surf incredible waves. Every trip we do exactly that, but now just with my best friends. It's pretty dreamy. I'm very blessed.
What is your ideal day?
Coffee and pancakes to start the morning with as many friends as I can manage
to rally in my house, followed by a
sunny beach day with tons of food and refreshments. That's pretty much what my weekends consist of when I'm home in Hermosa, my favorite time.
Any surfing goals this year?
I just want to surf more. Last year I felt like I only surfed when I had to, but this year I want to go on trips to surf little fun longboard waves. And it's always a goal to win that one event I do at the end of the year.
pau