You might think that a woman born in South Africa with an Australian accent – currently living on a remote island in the South Pacific with numerous passports and multiple citizenships – could potentially be a multinational industrial envoy, an agent of MI6, or a former high level aide to high ranking government official. Icons like Lara Croft, Mrs. Smith, Nikita and Elektra come swimming into mind…
Did I mention she's a regular foot and has a wicked snap? Meet Jodi Wilmott – the newly appointed Hawai'i regional General Manager for the World Surfing League who lives to reflect the Aloha Spirit. On top of being one of professional surfing's most valued players, this wahine also rips!
Born in South Africa in 1970, Jodi's father was a surfboard shaper while mom also surfed and was involved in surfing events. Wilmott happily exclaims, "I had a no-alternative introduction to the lifestyle, and what's not to love about it!? Nothing beats the feeling of being in the ocean and riding a fun wave, and I love working in surfing just as much. "Though her family roots were far from Hawai'i at birth, Wilmott's connection and love for the Hawaiian Islands were authentic. Her first wave ever ridden was at Queens, Waikiki on the nose of her dad's board, and at that time Wilmott and her family were living in Pauoa Valley with the Aikau family.
"It was truly a blessing to grow up with the Aikau's and they remain a big part of my family's life," describes Jodi. "We first met Eddie in the early '70s when he was in South Africa for an international event in Durban. Shaun Tomson's family had originally offered to host him, but they had a house fire and were themselves living in a hotel. My mom was keeping her eyes out for Eddie and crossed paths with him at the beach early one morning. She found out where his hotel was and arranged to pick him up and bring him to our house, and that's how it all began.
"When Eddie and Clyde used to travel with the tour and stay with us in Australia after we left Hawai'i, they were incredible ambassadors for the Islands. They would come to my school and play music and teach the kids about Hawai'i. They even learned a couple of Australian folk songs to play for the kids… like 'Tie Me Kangaroo Down'..in slack key… haha. Eddie used to love trying to mimic the accent."
With a soulful taste of true Hawai'i and real life hard work ethic, Jodi would later go on to earn an Associates degree in public relations and business communications. That education and mana – in combination with a true lovefor surfing and a challenge – landed her pole position as the first ASP tour media director, a long career running Hawai'i based PR company Ocean Promotions, as well as communications director for both Triple Crown of Surfing and Quiksilver in Memory of Eddie Aikau events. Perhaps no one person in the history of our sport has had such a consistent hand in reflecting the big news and spirit of our culture.
"My life has run parallel with professional surfing from my first day," Jodi maintains. "It has always fascinated me and I love learning more about it as it evolves. Growing up, my family hosted a lot of the surfers from Hawai'i, South Africa and Brazil in Australia when the pro tour began, so being surrounded by (the worlds best) really made professional surfing a total living world for me.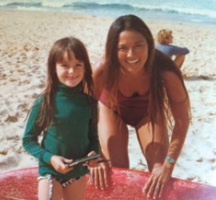 "I had grown up knowing so many of the men and women who competed as professionals and am indebted to them for the time and kindnesses they showed. I was the biggest fan of surfing and surfers growing up. I watched every surf movie that came to town, knew every surfer on sight, read every surf magazine, and followed results in competitions like a hawk. That gave me a subliminal archive of all the events and athletes from the beginning. It has given me a lot to draw upon."
You recently stepped into the role of General Manager for WSL Hawai'i. What does this mean for you?
I explain it as a full-blown collision at the intersection of everything and everyone I've ever known, haha! I love it! Hawai'i is the epicenter of surfing and the birthplace of professional surfing, so that makes me incredibly grateful to have an opportunity like this. Before accepting the position, I thought long and hard about what it would mean to me and what goals I would like to achieve for surfers in Hawai'i. I decided that my foundation – and the foundation of WSL Hawai'i – would be Kids, Culture, and Community. We need to make sure we are checking off those three boxes in all that we do. The kids are the future. The culture of surfing coupled with Hawaiian culture is to be respected and appreciated. And as for community… the fact that surfing and surf competitions take place in public arenas means we operate in our own backyard and that of our neighbors. That requires huge awareness, respect and responsibility.
"Our currency is relationships and time, and I am dedicated to doing my utmost to pursue positive working relationships and to understand the many different ideas
and opinions that exist here. Let's face it, professional surfing isn't for everyone. The world won't stop spinning without it. But I'm a huge believer that surfing is an incredible
and fortunate lifestyle and can bring great quality to life – whether it be through the friends we make while surfing and traveling; the opportunity to work doing something you love; sharing the culture; or reaping the health benefits. What professional surfing provides is the platform from which we can share all these things with a large number of people around the world, so to that end, I believe it represents very powerful opportunities for many, many people.
As one of surfing's most VIP industry members what has been the most fulfilling part of your career?
Learning and traveling. Surfing is a "world" within the world. It offers continued learning through human interaction with people of all colors, races, cultures and beliefs while doing something we love, surrounded by nature. We are each other's greatest teachers. Because surfing is such a small world, you come face to face with all of this more often and in more intense ways than most – dealing with all the different personalities and opinions, hopes and ideas. I love that! Every single one of them represents an opportunity to learn and grow. They all fascinate me. What could be more fulfilling than that?
pau