By Kyveli Diener
Finn McGill is the complete package. At only 16, he's earned the second highest regional ranking by dominating junior championships with his tactical Hawaiian-raised power surfing, shredding waves with carving turns evocative of Mick Fanning and one of his inspirations, Conner Coffin.
On top of that raw talent, he has a laid-back way about him, and a constant smile alongside a heart filled with the purest passion and love for surfing. That innate stoke constantly fuels the internal bonfire that has driven him to the top of his heats and into the 2016 Triple Crown, where he put on a momentous showing with a 4th place at the HIC Pro and a Round 3 finish at the Vans World Cup. He saved his best result for last in the 2016 year, winning the Pipeline Invitational and gaining entry into the 2016 Billabong Pipeline Masters.
"I cannot even believe this is happening right now," said McGill, after being chaired up the beach. "I've been surfing here my whole life and wanted to get some waves with only three other guys out. That was my mentality going into this event."
What was McGill's reaction to facing Jordy Smith and Keanu Asing in his first heat at the Pipe Masters? "I'm so stoked! I have been wanting to be in the Pipe Masters my whole life and I have been coming down to this event since I was three years old. I went to school across the street and I remember sitting in class and listening to the scores, wishing I could be there."
Finn McGill is also part of the ultimate package. Anyone who knows the Pupukea local knows his older sister, fellow rising junior pro star Dax McGill, and his parents: photographer Mike with his sleeves of colorful tattoos and easygoing, affable demeanor, and fashion photo shoot producer/ever-upbeat supermom Lindsay, who graced this interview with her presence, allowing us a true glimpse into the North Shore life and family that created a surfing powerhouse we're likely to be watching for years to come.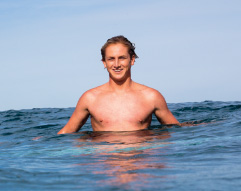 You and your sister both have really interesting names, Finn. Where does your middle name, Thunders, come from?
My dad's favorite band was New York Dolls, and Johnny Thunders was one of his favorite musicians. So he named me after him.
And where did Finnegan come from?
I don't know…
Mom: Well, he has the Irish-Scottish background and we wanted to honor that, so we chose Finnegan. Dax had a book growing up called "The Legends of Finn McCool," so we thought, "Oh, wow: Finn McCool, Finn McGill, that sounds pretty good!"
You've had such a standout year. What was your mindset coming into 2016?
Honestly, in 2016 I just wanted to do okay at NSSA Nationals and then come to Hawaii and make the Triple Crown. That was basically my main goal, to make Triple Crown and I made it! I wasn't expecting to do good at the HIC Pro either, so I was happy about that. I'm stoked to make a heat at Haleiwa.
There's a photo of you on the wall surfing Sunset at age 7. What's it like to now be out there in a QS 10,000 and part of the Triple Crown?
Yeah, I've been surfing Sunset since I was like four years old. That's basically my favorite wave. That, and Pipe. I surf there a lot and I have a lot of experience out there. It definitely gives me confidence being out there knowing which waves are coming, which waves are good, and I know all my equipment out there.
What's the latest thing that you've learned?
Mom: To have more fun.
Yeah.
How do you keep your surfing fun and lighthearted and not get too caught up in the seriousness of competition?
I don't know, I think you're just born with it. Some people surf to compete and some people surf to have fun. I surf to compete, but even when I'm done competing I go out and surf all the time. Even if it's one-foot, I'll go out there for two hours on a little hand-shaped board that I made. I love surfing. It's just one of those things that you just do not stop.
How do you shake yourself out of a hard heat when you're in the middle of it?
I think it's just always believing in yourself, never give up. A wave can come at the last second, and even if you need the biggest score of the heat, it can come, it's totally possible. Unless you're comboed and there's like one minute left and you're at Sunset. That's impossible.
Looking ahead to 2017, what's your mindset and your goals?
I'm just trying to have fun. I'm getting into the bigger QS comps that I need to go to to solidify my spot, so I'm just trying to stay calm and not get too nervous and hopefully it goes well and I'll make a couple heats. But if I don't, then I'll just try again next year.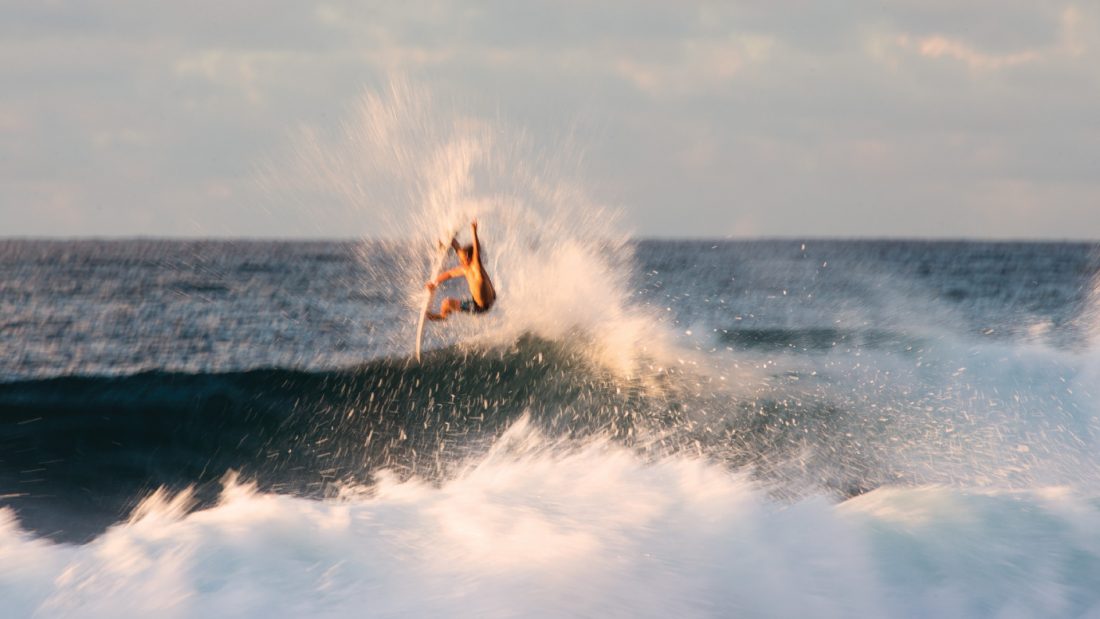 Let's talk about your training.
I've been training with Kid Piligro for the last three years and he really helped me a lot with burning off my baby fat. I was really slow when I first started working with him and tight, just not flexible at all. He really helped me with that, I'm getting better and better. He's definitely helped my surfing, I can feel it. Even in smaller waves I can get up and go right away. I can tell the difference.
What kind of exercises do you do with him?
It's called ginastica. He adds stuff to it, but not much. He told me it was made almost to train for jiujitsu by yourself. So it's the sort of moves where you roll on your shoulders a lot, you spin around. It's ab strength and a lot of the same movements [as jiujitsu], but it's not a giant guy putting your arm in an arm lock and almost dislocating it.
What does family mean to you?
Family is everything. My parents teach my everything and my sister pushes me. I don't think I'd be even close to where I am now without my family.
Do you remember your first wave ever?
No, I do not. I was way too young for that, probably still in diapers.
Mom: Oh, definitely in diapers. I think Dad was holding you at like 3 months old on a wave.
I remember my first skateboard. I was one of those handboard skateboards, and I skated on it when I was like 1.
Mom: He got this little rocker board thing, and he would actually sleep with it and cuddle with it. There's the Mom angle. Girls will love that.
Where do you see yourself in five years? You'll be 21 — where do you think you'll be?
Mom: At the bar.
Hopefully I'll be on Tour by then! If that doesn't happen I don't know what I'm going to do.
If you couldn't be a surfer, what would your backup plan be?
Maybe a skater, or a racecar driver.
Do you have any desire to get tattoos like your dad?
I have plenty of desires to get tattoos. I already talked about it with my mom, but it's not going to happen for a while.
Mom: The family rule is that they have to wait until they're 18. Dax waited until she was 18, and she got one. And then you have to wait one year between — no wait, I said two years in between — until you're 25, you have to wait two years between each tattoo.
No, you said one.
Mom: I think I said two.
You said one! I remember you said one.
Mom: I think I should change that.
It's already set in stone.
What do you want for your first tattoo?
Still thinking about it. I want to get a small one with my friends. We made this little drawing, it's like a sippy cup with a smiley face on it, we always draw it and it's kind of our group. I was gonna get that super small. My mom hates it… I don't know how that's possible.
Who's the surfer that you look up to the most?
I look up to a lot of guys. I look up to John John with his surfing and his attitude. I like how he comes at it like not too hardcore. John John's just good at everything he does. I like Conner Coffin's mentality and how he surfs, too. I think Conner's turns are the sickest turns in the whole CT. That top carve that he does is smooth, he has an old school kind of style but it's super fast and raw. I look up to those guys a lot.
Does it make you nervous that the better you do, which you want to do, the closer you'll get to competing against John John?
It doesn't make me nervous at all. I would be so stoked to compete against those guys. I was just talking about that the other day: in the Triple Crown, if I got to compete against one of those guys it would be so fun because no matter how you do…I'm against John John, if I do good it's like you did good against John John.
Throughout your travels, what is the gnarliest thing you've ever eaten?
I've eaten fruit bat before. It was pretty good actually, they put it in fried rice. I was in Micronesia, this island called Yap. It was a little bit like chicken, kind of saltier. It wasn't as bad as I thought it was going to be.
Finish this sentence: If the waves are flat, I'm…
Skating!
Mom: Watching The Office.
What are your favorite breaks outside of Hawaii?
This summer I got to go to Tahiti to surf Teahupo'o. That was definitely one of my favorite waves. Trestles is super fun too, Lowers and that whole area.
What's something that you're dying to learn how to do?
I think learning to play an instrument really well would be super cool.
Is there one in particular you want to learn?
Everything! I never really played instruments growing up and now I'm starting to get the urge to start playing. When I have time I'll play here and there, I have a bass and a guitar.
What's your pump up music before you paddle out?
It changes a lot. Mostly when I'm driving it's The Doors or Creedance Clearwater Revival. I don't listen to music before my heat, it's some weird thing, I just never get to it. But on the drive down I'll listen to music.
Final words for the Freesurf audience?
No brain, no headache!
pau