It's the tallest mountain on earth, home to some of the world's most advanced astronomical observatories, and Hawai'i's largest and perhaps most revered heiau (temple).
Mauna Kea stands tall on the island of Hawai'i at around 33,000 feet from the ocean floor. Considered the "piko," or center, of the island, her natural beauty demands attention from almost anyone who crosses her path- from avid hikers to snowboarders, from astronomers to native Hawaiian cultural practioners. 
However, during the past year, Mauna Kea has been attracting a different kind of attention after a group of self-proclaimed "protectors" of the mountain successfully halted a groundbreaking ceremony for the $1.4 billion Thirty Meter Telescope (TMT) project. Since then, a movement to protect the mountain from further development has spread around the world with no end in sight.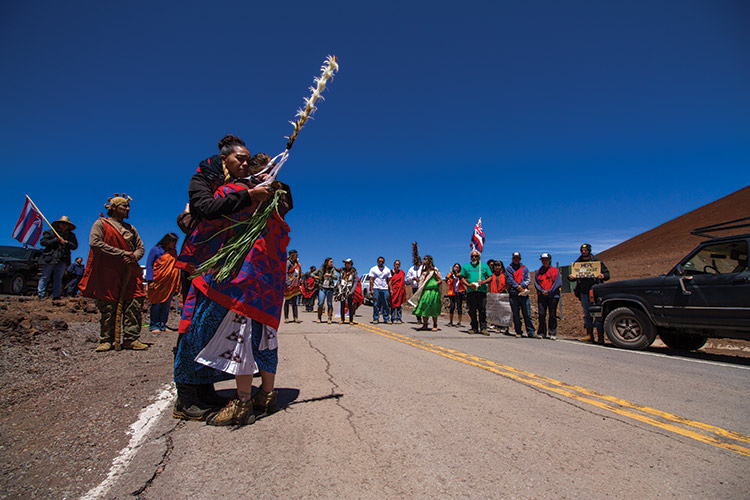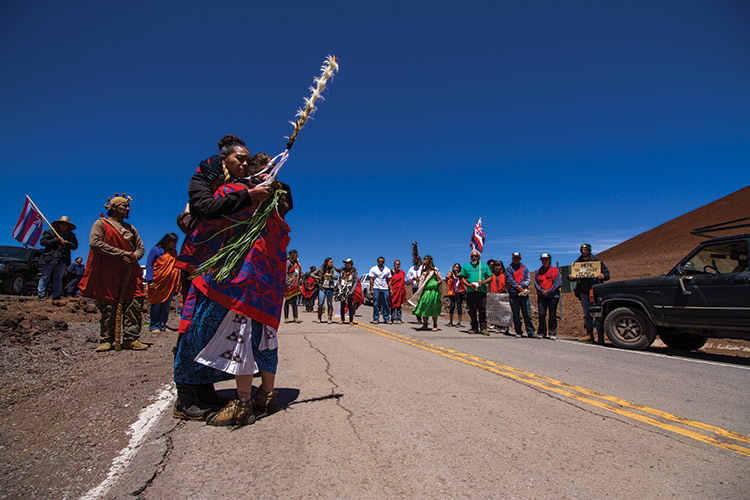 News about The Mauna Kea Movement began making headlines on October 7, 2014 when a couple hundred protesters used civil disobedience to block off the road leading to the mountain's summit. The action stopped a caravan of University of Hawai'i officials, astronomers, media and TMT project advocates from their ceremony.
The protest was small, but powerful. The story about what happened on Mauna Kea that day went viral, spreading across social media and featured on major news outlets such as NPR and The New York Times.
Word about the movement surfaced again in March of this year, when more demonstrators stopped TMT construction crews from heading up the mountain. A few days later on April 2, police arrested 31 individuals for blocking the road.
Professional surfer and former Kauai mayor candidate Dustin Barca was among those arrested. He, like others, took to social media to shed light on the dramatic episode. "Divide and conquer is the way of the oppressor, $$$ local police told they would lose their jobs if they wouldn't arrest their own Ohana?!?!?" he wrote on his Instagram account below a picture of a single protester sitting down while a swarm of police stood in front of him.
Barca's picture of the protest and many more posted by social media users representing the #WeAreMaunaKea hash tag helped to advertise the debate, turning what started out as a local issue into an international controversy.
In recent months, fans of the movement and support for the protection of Mauna Kea have voiced their opinions publicly, including celebrities.
Surfing pro Kelly Slater, along with "Game of Thrones" actor Jason Momoa, "Lost" actor Ian Somerhalder, former UFC world champion BJ Penn, and actress Rosario Dawson published pictures of themselves with the words "We Are Mauna Kea" written on their bodies in an attempt to spread awareness about the issue and reel in signatures for an online petition to stop the TMT project. With their clout, they've helped to influence outsiders on the issue of Mauna Kea.
What is the Mauna Kea issue?
In Native Hawaiian tradition, Mauna Kea is sacred ground. The upper regions of Mauna Kea are said to reside in Wao Akua, the realm of the Akua, or Creator. The mountain is considered the temple of the "Supreme Being," acknowledged as such in many oral and written histories throughout Polynesia.
Home to the divine, Mauna Kea is said to be the meeting place of Papa (Earth Mother) and Wakea (Sky Father), who are considered the progenitors of the Hawaiian people. In tradition, it is the place where the Sky and the Earth separated to form the Great-Expanse-of-Space and the Heavenly Realms.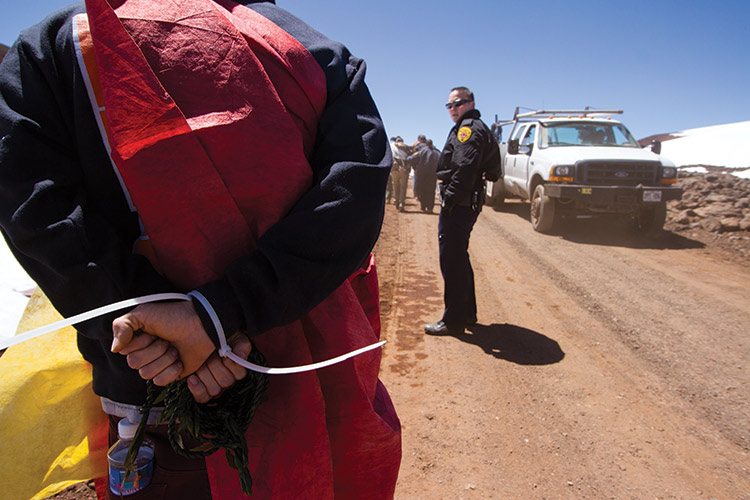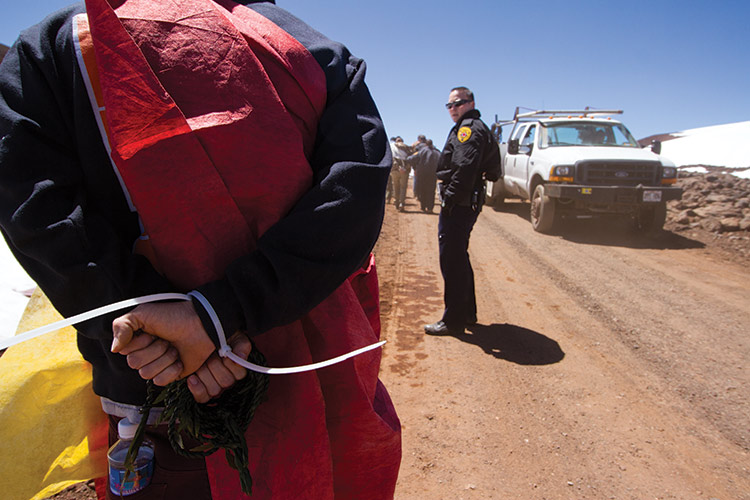 Fast-forward to January 16, 1893, when the United States military supporting American businessmen and missionary interests occupied the islands. Hawaiian Queen Lili'uokalani declared the invasion an act of war, but with little military force of her own she ended up yielding the kingdom of Hawai'i over to the U.S. government. Several years later, U.S. annexed Hawai'i and took over more than 1.8 million acres of the crown and public lands without consent.
The debate over statehood is an emotionally charged issue with some Hawaiians advocating that the Kingdom be completely restored, while others search for more diplomatic methods of recognition with the federal government. Nevertheless, the history of America's involvement with Hawai'i is essential to the Mauna Kea debate.
Hawai'i became a state in the 1959. At the time, ceded lands were returned to the state of Hawai'i and placed in a public trust. The Mauna Kea Science Reserve, where TMT will be constructed and other telescopes currently exist, sits on these ceded lands.
In 1968, the Institute for Astronomy, established by the university and astronomers, requested a 65-year-lease for all land above 12,000 feet elevation that later became known as the Mauna Kea Science Reserve.
Eager to use the mountain's pristine view of the sky, astronomers built the first telescope by 1968. Another telescope was constructed a year later, and another in 1970. By 1983, there were six telescopes on the mountain and by the 2000's, 13 telescopes sat atop of Mauna Kea.
Throughout the years of what some would call rapid astronomical development on Mauna Kea, environmentalists became worried about the impact of construction to the mountain's delicate ecosystem while Native Hawaiians worried about protecting their sacred land.
In response, the Department of Land and Natural Resources began laying out various comprehensive management plans beginning in 1977. These plans aimed at addressing a wide-range of issues to protect various endangered and delicate life on the mountain and attempted to protect Mauna Kea's cultural and archaeological sites.
Another master plan, The Mauna Kea Comprehensive Management Plan, was developed in 2009, again in an attempt to layout boundaries for building on the mountain and ways to recognize and support Hawaiian culture.
Currently, there's an Office of Mauna Kea Management that is charged with overseeing the mountain and seeking input from the public, but some argue these actions are a "smoke and mirrors" attempt while others commend the state and university for attempting to address the concerns of the public.
Regardless, it did not stop organizations such as the Sierra Club and Hawaiian cultural practioners from voicing their opinion that development on Mauna Kea needs to come to end.
Under the lease's terms for the science reserve, the university is allowed to build in the area but must abide by strict rules, such as not damaging or defacing anything of monumental or historical value. If the terms are broken, then the state Board of Land and Natural Resources could reclaim the summit. Many of the protesters are arguing that the TMT telescope, set to be one of the largest in the world, ranging 18 stories high plus 20 ft. below ground, would violate that term. Construction for TMT will impact more than 5 acres, about four football fields. (The average football field is 1.32 acres)
TMT attempted to address these issues with environmental impact statements and a $17 million decommissioning plan that would pay for the restoration of the environment after the facility was pau. But protesters are arguing that's an approach similar to Germany's invasion of Poland; they're walking in backwards saying they're leaving.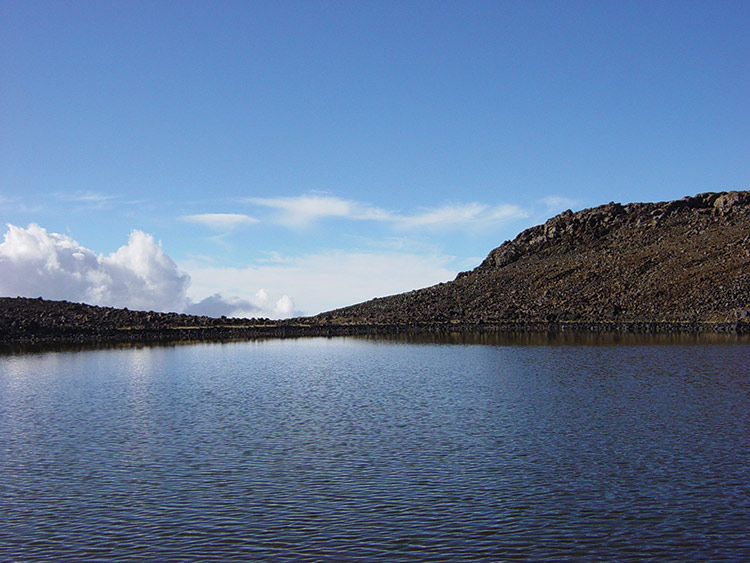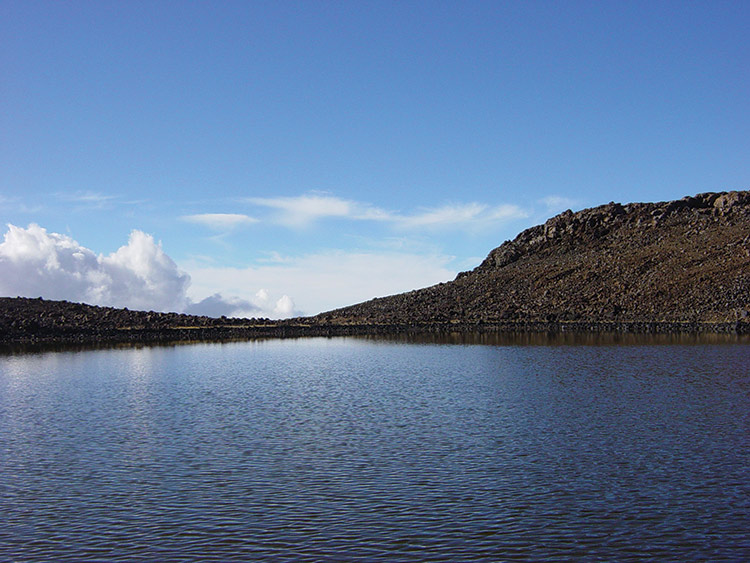 Despite these efforts, some say it's not enough and several individuals have taken their argument to the courts. They intend to take their case all the way to the Supreme Court if needed.
Another area of contention is the fact that the Office of Hawaiian Affairs (OHA), established in 1978, receives 20 cents to ever dollar made on ceded lands so that money made from the use of those lands can go towards improving the lives of the Native Hawaiian community. Many of the current telescopes are leased for $1 a year; meaning OHA receives only 20 cents per telescope.
TMT's lease costs currently $300,000 a year. That amount would increase incrementally to around $1 million when operations begin with 80 percent of those funds going to Office of Mauna Kea Management and 20 percent to OHA. Recently, however, OHA voted to rescind their support of the project in response to public outcry.
From then to now: two very different view points
Those who are in support of TMT are arguing the telescope will bring much-needed jobs to the local economy, provide educational benefits to Hawai'i Island children and provide a once-in-a-lifetime opportunity to search for the answers to the mysteries of the universe.
The project has dedicated a fund of $1 million a year to scholarships and education for Hawai'i Island students involved in science, technology, math and engineering. TMT will also include an advanced optics system capable of seeing further into the universe than any other telescope on the mountain.
In a letter to a local newspaper, Chad Kalepa Baybayan, a captain and navigator of various Hawaiian voyaging canoes such as Hokulea, wrote a compelling argument in favor of the project.
"As a Hawaiian, I recognize I am a descendant of some of the best naked-eye astronomers the world has known. It is culturally consistent to advocate for Hawaiian participation in a field of science that continues to enable that tradition and a field in which we ought to lead. I firmly believe the highest level of desecration rests in actions that remove the opportunity and choices from the kind of future our youth can own," he said in a letter published in West Hawai'i Today.
On the other side, protectors argue too much damage has already been done and the university and state cannot be trusted. "A'ole TMT," they say. Protesters have been camped out on the mountain for more than 40 days since the arrests occurred. Only a skeleton crew remains, but the fight is far from over.
Hawai'i Island resident and mother of two, Pamela Leslie, said the movement has been a learning experience for her and her children. "What I would hope my keikis would get out of this movement is to fight for what we believe in. We all need to come together as one, and this movement has brought the world together."
What will happen next
Letters arguing both sides of the argument are sent daily to the local newspapers and if one thing is clear, it's that finding a middle ground may be next to impossible.
Construction for TMT has since been postponed. Hawai'i Gov. David Ige issued a "timeout" on construction in early April following the arrests and again made an announcement on April 17, three days before the construction was slated to begin again, that TMT project managers decided to postpone construction until further notice.
Since then, outreach efforts have taken place but it's still uncertain as to when, or if ever, construction for TMT will start. First light  is expected in 2024, but only time will tell.
The TMT Observatory Corp. based in Pasadena, Calif. will oversee the project. Partners include universities and astronomy institutions in United States, India, China and Japan.
pau