by Stuart Coleman
Dawn, Waimea Bay, Feb. 25th, 2016. It is the morning of the Quiksilver In Memory of Eddie Aikau Contest. Clyde Aikau stands with his spear- like board on the beach with a grave look on his face, as if debating whether to paddle out into the massive waves at Waimea Bay. Because the swells have to be a minimum of 20 feet, the big-wave contest has only been held eight times in 31 years. The announcers say this is the biggest swell they've seen at the Bay.
At age 66, Clyde is the oldest surfer in the "Eddie," decades older than most of his fellow competitors. Some of them like John John Florence and Mason Ho weren't even born when Clyde won the first "Eddie" at the Bay in 1986— 30 years before! So why is this middle-aged man risking his life to surf against the world's best big-wave riders and gun- slingers?
His siblings Myra and Sol Aikau stand on the beach, nervously watching their brother drop down the faces of these moving mountains of water. The crowds on the beach and cliffs cheer each wave he rides and then let out a collective gasp as he falls in a horrendous wipeout. A million people across the world are watching the event from their computer screens, phones and TV sets, all wondering how this gray-haired, Hawaiian man could find the courage to compete in such large waves. But to understand Clyde, you have to know Eddie.
As the youngest of the family, Clyde Aikau always looked up to his older brother Eddie. He would watch in awe as Eddie seemed to perform the impossible, whether it was paddling into the biggest waves ever ridden at Waimea Bay or rushing into the North Shore's treacherous waters to save some drowning soldier or tourist.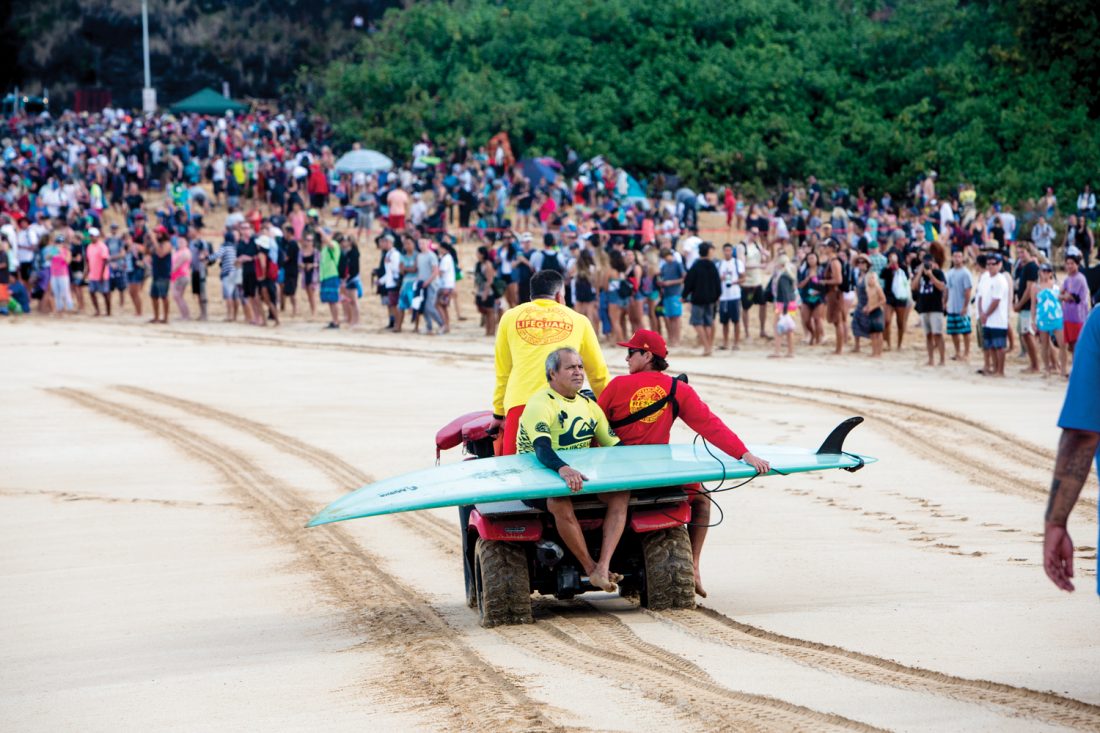 Following in Eddie's footsteps, Clyde started surfing with him on the North Shore and working as a lifeguard with him at Waimea Bay. The two brothers became best friends, surf buddies and even a musical duo, pushing each other into bigger waves and more complicated melodies. As a surfer, lifeguard and all- around waterman, Clyde went wherever Eddie would go. But in 1978, he lost his brother in a tragic sailing accident. Since then, Clyde has spent the rest of his life trying to find ways to honor him.
Years after Eddie disappeared at sea, Clyde even sailed on the resurrected voyaging canoe Hokule'a to bring his brother back home. And on this February morning, Clyde's love for Eddie is so strong that he would paddle into some of the largest waves on the planet to pay homage to his brother.
After an epic day of thrilling rides and painful wipeouts, young John John Florence would end up winning the Eddie Contest. But in the end, Clyde Aikau won the respect and admiration of his fellow big-wave riders and all those who witnessed his courage that day.
The following excerpts from Stuart Coleman's new book Eddie Aikau: Hawaiian Hero (Bess Press, 2016) paint a portrait of Clyde's relationship with his older brother over the years.
In the winter of 1967, ten years after Greg Noll and his gang first surfed Waimea, Eddie finally got his chance to take the stage. He was 21 and about to make his big wave debut in one of the largest swells of the decade. The waves were said to be more than 30 feet high, and in one photo he streaks across a massive wave more than five times his height! His performance that day would remain a vivid memory for those who witnessed it.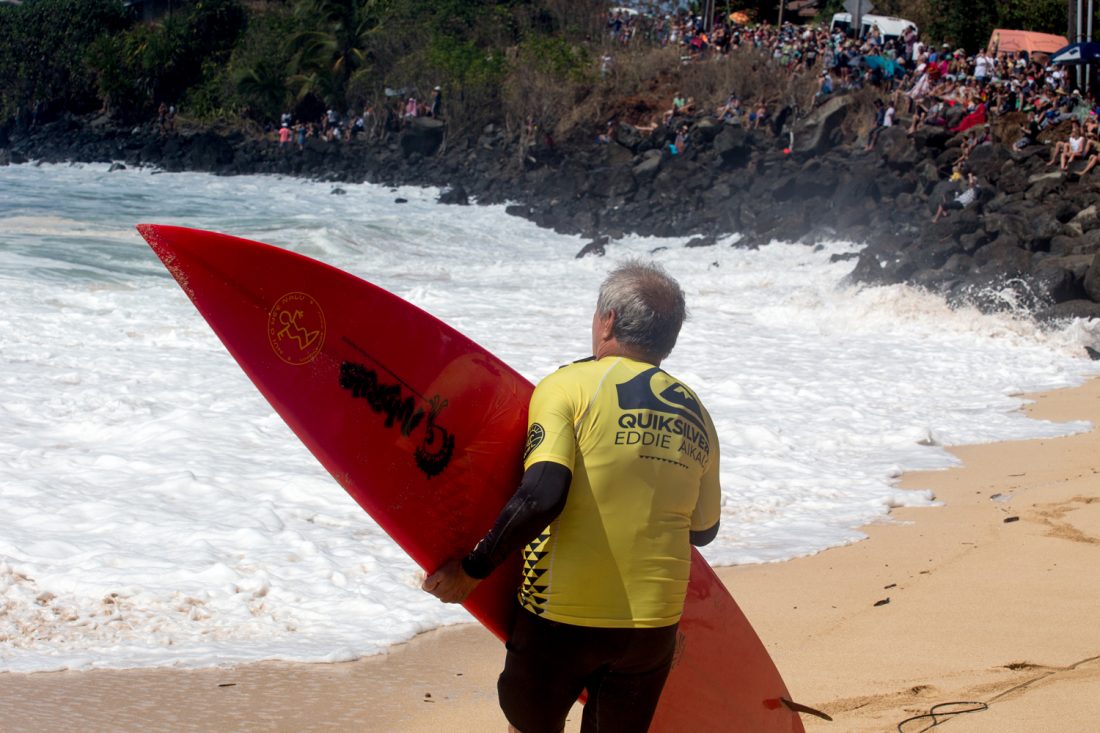 As an aspiring surfer himself at the time, Clyde says he was a "sixteen year-old scaredy cat," frightened to death of surfing waves that big. Fearing for Eddie's life, Clyde was thrilled to see him holding his own in  such massive surf. Still in awe of his brother after all these years, Clyde tends to speak in superlatives about him, and you can see the excitement in his eyes. "Eddie was definitely the master of Waimea Bay, surfing the biggest waves in the world. He made his mark in November, 1967. It's still the undisputed biggest day at Waimea Bay that's ever been surfed. I don't think Waimea Bay ever got as big as that day and still rideable. That was the first time I ever saw Eddie ride big waves. It's incredible how one day can really change your life."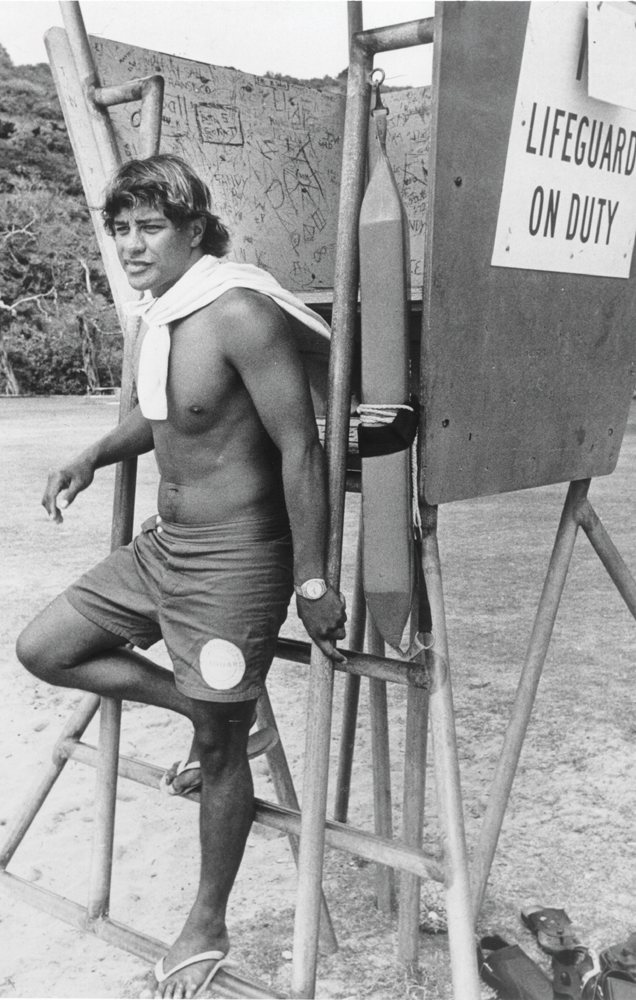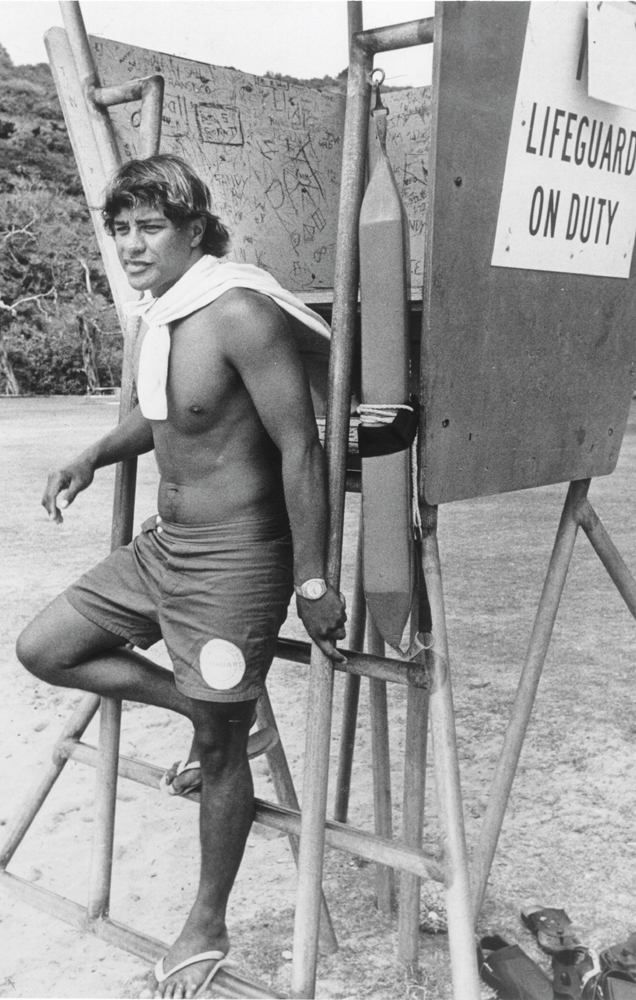 Still haunted by Eddie's disappearance [after he was lost at sea in 1978], Clyde needed to do something to bring Eddie back home and put his memory to rest. Nainoa Thompson, the navigator who had helped rebuild the Hokule'a, felt the same way; so he invited Clyde to sail on the voyage from the Marquesas to Hawai'i in 1995. Following in his brother's wake, Clyde decided to take up Nainoa's offer and sail on the canoe. "It was a voyage to complete Eddie's voyage," Clyde says. "He didn't have a chance to make it so I was going to take up where Eddie left off and complete the journey."
After a month at sea, Clyde heard shouts as one of the crew members spotted the majestic peak of Mauna
Kea on the Big Island in the distance. It was a beautiful sight watching each island slowly rise up out of the sea, and he imagined what his ancestors must have felt when they first arrived in Hawaii. When the canoe finally sailed back into Honolulu Harbor, Clyde knew had completed an epic journey. "I feel like I brought Eddie home."
Honoring their father's wish to share Eddie's legacy with the world, Clyde, Sol and Myra helped organize the inaugural Quiksilver in Memory of Eddie Aikau Contest at Waimea Bay in 1986. During the waiting period for the contest, a mammoth swell hit O'ahu's North Shore, flooding roads and destroying two homes. When a filmmaker asked famous surfer and TV host Mark Foo whether they should hold the contest in such dangerous surf, the big-wave rider turned to the camera and said the immortal words, "Eddie would go."
During the finals of that first contest, Clyde and Mark Foo were competing neck and neck in the giant surf. As the judges tallied the final scores, everyone wondered whether Clyde had been able to overtake his early lead. When the emcee finally announced that Clyde had won the event, a surge of electric energy went through the crowd. Family and friends swarmed around him. Overcome by emotion, he could barely speak. With tears in his eyes and a stammer in his voice, Clyde dedicated his victory to his brother, just as Eddie had done for Gerald during the Duke Contest ten years before.
Since then, the phrase Eddie would go has become a powerful mantra in Hawai'i and throughout the surfing world. And as the Hokule'a embarks on her voyages across the Pacific and around the globe, it is said that Eddie's spirit sails with the canoe and her crew.