Sitting under a row of tents that stood atop two-story scaffolding, Buffalo "Richard" Keaulana watched as competitors at the 40th Annual Buffalo Big Board Classic exchanged airs, power turns and deep barrels for maneuvers that Buff designed, like the dead cockroach, the coffin and the Buddha.
If stances like these weren't enough to show the audience at Makaha Beach the uniqueness of the Buffalo Big Board Classic, the heat categories certainly did. Where else can surfers compete using paipo boards, alai'a boards, bully boards, canoes, and SUPSquatches? And where else can an entire surfing community, all donning "Buffalo Big Board Classic" t-shirts, greet and embrace an 81-year-old living legend of the sport as if it were a Christmas family reunion?
A reunion is exactly what the Buffalo Big Board Classic has been for forty years on the sands of Makaha Beach, where members of the global surf community gather to compete in a contest unlike any other, founded by Buff – a man unlike any other.
"The Buffalo contest is timeless," said renown lifeguard and bodyboarder Mark Cunningham on the beach at the 40th which ran the weekends of Feb 13-15, 20-21. "The cast of characters gets a little older, and there's always a younger generation coming up. Forty years is an incredible body of work, so hats off to the Keaulanas, the DeSotos and the entire Westside community that puts on this wonderful event that is so giving to the surfing community and to the surfing world."
"I've been here for forty of Buff's contests, and they just get better every year," said Quiksilver's Glen Moncata. "This is more of a Hawaiian luau than a surf contest. If you walk down the road you'll even see the roasting of a pig… It's more of a friendship than it is a competition."
The Buffalo Big Board Classic's acclaimed history began in 1977, where it was founded upon an desire to reflect and celebrate Hawaiian roots and heritage.
"Every year is special, it just magnifies every year," said Brian Keaulana, Buff's eldest son. "From the first to the fortieth, it's practicing traditions and the intent of my father. When he first sailed in 1976 from Hawaii to Tahiti on Hokule'a, he had the vision of bringing back a culture of family, values, bringing back the whole beach culture to what you see today. Every year, there was more improvement, more fun and more laughter, along with a sharing of food, a sharing of knowledge. That's the treasure chest that my parents have given me and this community. The ocean community isn't separated by land, but connected by water. All people show up and they become part of our family."
According to Ants Guerrero, a friend first and advisor second to Buff, no one could have predicted what the Buffalo Big Board Classic would evolve into. "When Buff started it, we didn't know we were part of a revolution," said Guerrero. "We just wanted to go back to our roots and we knew we had fun doing what we do. All of sudden, it exploded."
On the beach at Buffalo's 40th Annual, it became evident that the tales spoken of colossal beach concerts by the Makaha Sons and bikini fashion shows at events of years past were closer to fact than fiction.
"There's been some changes to the event," said Moncata. "We don't have the bikini contest anymore. I thought that was the best part of the event."
According to Bonga Perkins, a two-time ASP World Longboard Champion, "the difference between then and now was that the beach was a lot bigger, and there were big stages and bikini contests night and day."
Guerrero credits Brian Keaulana with the evolution of the event after its founding in 1977. "Every year we added something, and the latest addition was the SUPsquatch, and before that was SUP. But all that's Brian. Anything new, he wants to figure it out. Buff insisted the surfboards had to be 10 feet. We wanted the old style of Hawaiian surfing."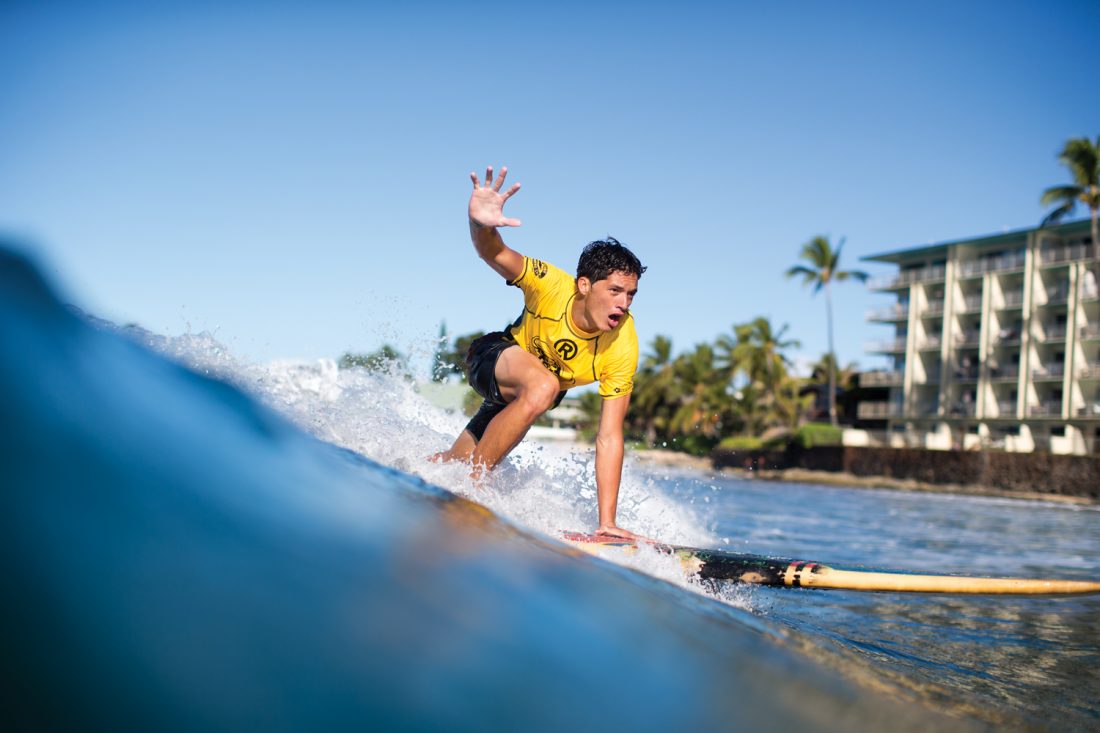 In Fierce Heart: the Story of Makaha, author Stuart Coleman writes that "just for the sheer fun of it, Brian would do stunts where he would take a beach chair, umbrella and surf magazine out on his board, catch a wave, then sit down and act like he was reading the mag. Once he took out a ladder on his board and climbed up it while surfing to shore."
At the 40th Annual, the categories encompassed the paipo board, the alai'a, team body surfing, bully board, canoe, SUPsquatch, tandem surfing, and team stand up surfing.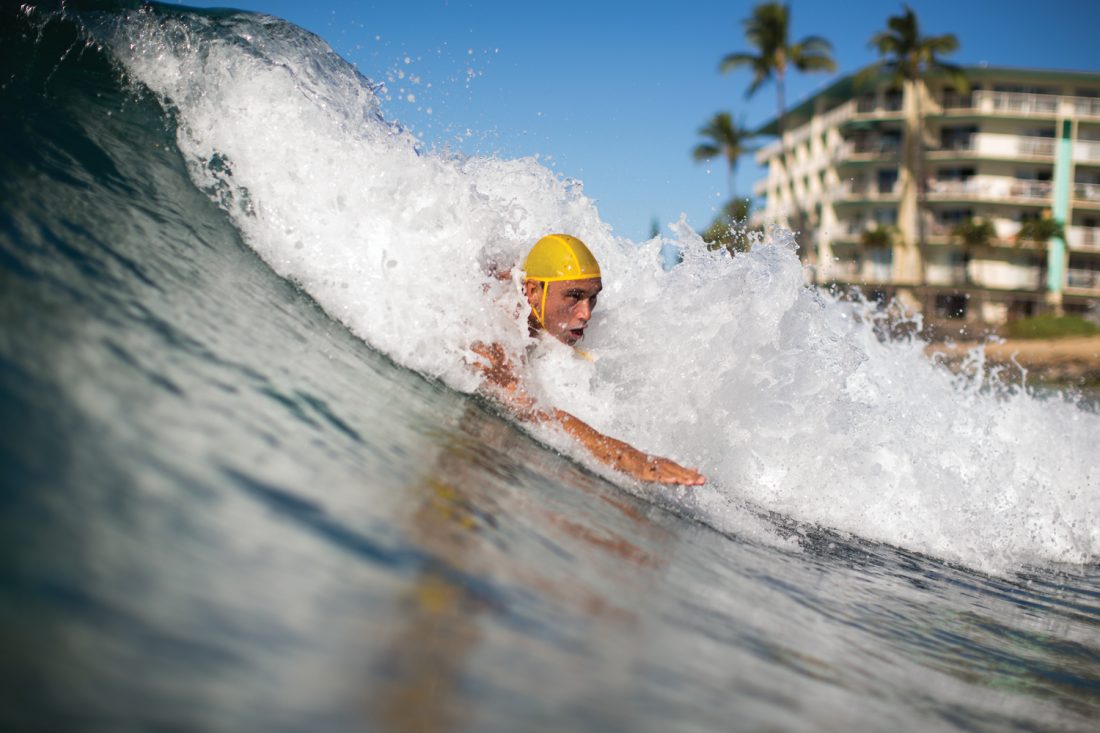 "It's why the event is so unique forty years later," continued Perkins. "There's a level playing field, whether you're a World Tour vet or young kid on the beach. It's surfing at its core because there's so many divisions. Take canoes. That's part of Polynesia, they've been traveling this earth for thousands of years and we're doing the same thing just with lighter materials. Some guys even made their alai'a just a week ago."
"I'm in at least 8, maybe 9 divisions, really honing all the skills," said Duane DeSoto, winner of the 2010 Oxbow ASP World Longboard Championship. "I get an opportunity to challenge Mark Cunningham and Don King in bodysurfing, there's also the opportunity to come up in canoe surfing against all the best steersmen. It's super competitive, but it's also super friendly. I'm with my whole family, everybody's cheering, camping, we're having fun cooking– it brings us together. There's no other beach that carries this type of 'ohana."
Which is what the essence of the Buffalo Big Board Classic has been for four decades: a family-like get together, something that is a breath of fresh air from today's current competition format.
"I can remember forty years ago when Buff and I were young pups, thirty-one and forty and racing everything," said Guerrero. "Now we're the kupunas, checking it out and watching the children and more so watching the grandchildren, the young Keaulanas and the young DeSotos That's what it's all about, family, 'ohana. It's not about winning or losing. It's about the process and having fun."
"It's not a performance contest in most cases," agrees Moncata. "For the men's open, they have to do the tricks Buff designed, like the tiki stand, the buddha or and the dead cockroach. Probably the most popular now is the SUPsquatch. I think we had 27 SUPsquatch teams this year, which was a record."
Fostering records, progressive thinking, and always looking to build upon the foundation of the past are staples that the Makaha surf community prides itself on.
"We're pretty innovative over here," said Guerrero. "I first did SUP in 1963. We didn't have the right paddles, we had heavy wooden paddles. Once they came around with fiberglass paddles, Brian and those guys started it right here and it just took off."
Legends Final
1 Dennis Sambrano
2 Manny DeSoto
3 Bunky Bakutis
4 Tommy Reyes
5 Mike Coleman
6 Bruce DeSoto
250-Pound Final
1 Brandon Martin
2 Travis Palmer
3 Conrad Martin
4 Jonathan Powell
5 Matt Patterson
6 Bruce DeSoto
Men's Open Final
1 Duane DeSoto
2 Chad Keaulana
3 Zane Aikau
4 Lance Ho'okano
5 Brandon Martin
Women's Final
1 Ha'a Keaulana
2 Melanie Bartels
3 Naluenu Pu'u
4 Chelsea Bizik
5 Miku Uemura
6 Pake Salmon
250-Pound Bully Board Final
1 Brandon Martin
2 Mel Keawe
3 Ikaika Van Gipson
4 Nainoa Barnes
5 Burla Yiu Lin
6 Jonathan Powell
Bully Board Final Tandem
1 Makama and Puamakamae DeSoto
2 Ikaika and Tamaroa Kalama
3 Noland and Christina Keaulana
4 Bonga Perkins and Kirra Clarabal
Team Body Surfing Final
1 Makamae DeSoto
2 Don King and Mark Cunningham
3 Duane and Ronald DeSoto
4 Makamae DeSoto and Anthony
Tandem Final
1 Duane and Keanuenue DeSoto
2 Aimee Marcia and Christian Bartson
3 Leleo Kinimaka and Melanie St. Dennis
4 Brian Keaulana and Kathy Terada
Alaia Final
1 Makamae DeSoto
2 Chad Keaulana
3 Bobby Fernandez
4 Brandon Martin
5 Benny Ferris
6 Duane DeSoto
SUPSquatch Final
1 Feel The Mana
2 Brian Keaulana
3 Na Kama Kai
4 Ilio Nui
Canoe Final
1 Show Me Da Money
2 Budweiser
3 Hana Inu
4 Hawaiian Water Patrol
TEAM SUP Final
1 Bonga Perkins and Pomai Hoapili
2 Ikaika Kalama and Atilla Jobagi
3 Brandon Martin and Noland Keaulana
4 Som Pae and Keola Auwoa