By Shannon Reporting
Our feature series Pau Hana highlights some of Hawai'i's most interesting professionals, telling their unique stories of their roads to success. This issue, we reach out to the oldest brother in the Moniz family of seven—Micah Moniz. In his younger years as an amateur surfer, Micah claimed the HSA State Championships at Ala Moana Bowls at the age of 17, even defeating noteworthy competitors like Zeke Lau. Billabong coach Rainos Hayes described his surfing as "exceptional." Now in his adult years, Micah is settling down with his fiancé, managing the family business at Faith Surf School in Waikiki, and paddling out to bigger waves at the North Shore's outer reef breaks… plus the occasional foilboarding session to keep things fun and fresh.
"Bowls and Pipe are my favorites, but I love surfing any of the breaks at home. Queen's is another one of my favorite spots," Micah told Freesurf Mag. Both work and play take place in the ocean for the Moniz clan, thanks to their parents' influence raising them in the heart of surf tourism. Today, the Moniz family runs the Faith Surf School, located in front of Duke's at the Outrigger Resort, and their newest location, Moniz Family Surf, is operated out of the Billabong store on Kalakaua Avenue.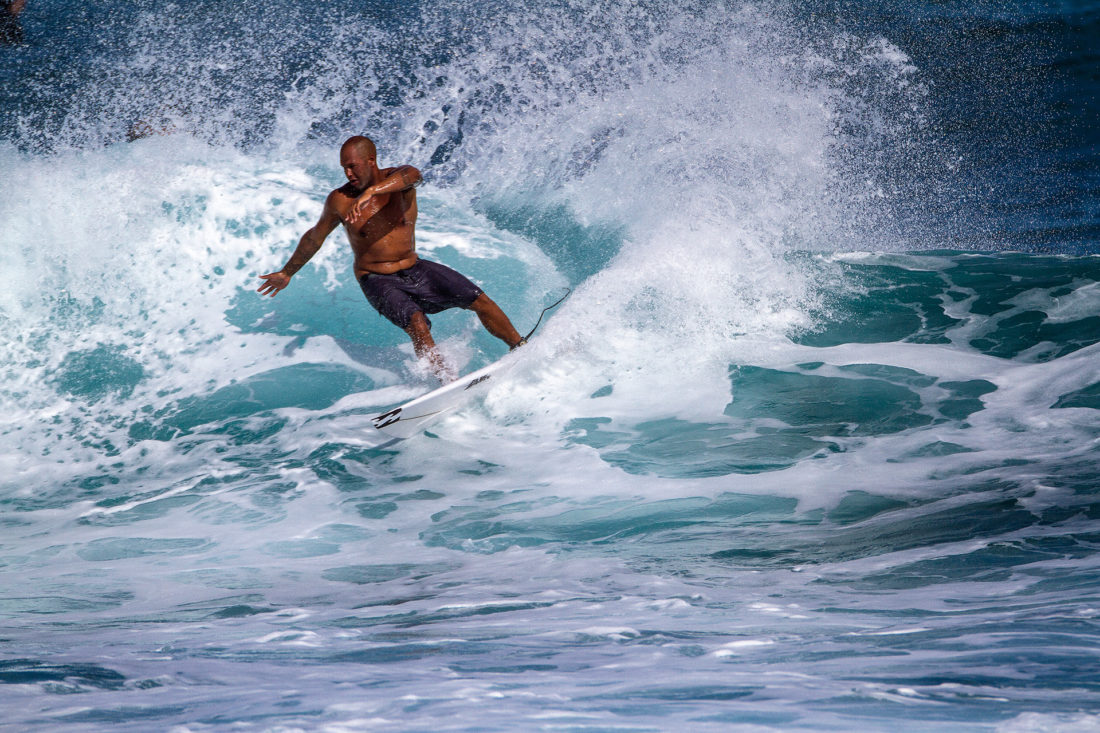 "It all started with my dad passing out fliers on the beach, setting up our pop-up tent right at Queen's, and doing homeschool on the beach all day while Mom and Dad hustled surf lessons… My dad would never push us or force us to surf. He always made sure we were having fun and enjoying our time in the ocean. I think that's why we all loved it so much."
Once the kids got serious in the competitive arena, Coach Rainos Hayes came into the picture: "Rainos was a major mentor for all of us. We got sponsored by Billabong 15 years ago, and he's been coaching me and my brothers ever since." And what a fairytale story it has been!
"The Moniz family is so supportive of whatever each of them is doing," Hayes told us. "They each have different strengths, and their love for each other is strong." As one of Hawai'i's most successful surf coaches, Hayes is now on the road with Micah's younger brother, Seth, who has fought hard to stay in the Top 10 of the World Tour, an incredible accomplishment for a rookie competitor. The family support has been a clear driving force of their success, and the stoke is palpable.
"It's crazy to see my baby brother on the Tour," Micah told us. "Our family was so pumped when he qualified! It was a dream come true for all of us. I get chicken skin every time I see him with the jersey on. I always knew that for Josh and Seth's surfing was meant for the World Championship Tour stage; it was just a matter of time."
Being gifted in the water seems to be a guaranteed Moniz trait. Micah also brings a humble and patient energy into every endeavor. "An ambassador of aloha treats people the way they want to be treated. That's something my mom has been teaching my siblings and me our entire lives." His mother, Tammy, was even voted by peers as the Manulele Awards' official 2018 "Ambassador of Aloha". Her teachings have gone far and wide, spread by her children who share positivity with all whom they meet, through each and every surf lesson and heartfelt smile.
When we asked Micah for any closing words, he had this to say: "Live the life you love!"