By Chris Latronic
When its comes to having a surfing craft for every condition, few come close to the well-equipped wisdom beholden to the quiver of all-around professional waterman extraordinaire Kai Lenny. Surfing the diverse Maui coastline since birth, Kai was exposed to nearly every part of the wave riding spectrum. From pristine swells at Honolua Bay to the windsurfing capital of Ho'okipa, and down the road to the pinnacle of big wave paddle surfing at Pe'ahi, Kai was able to revolutionize the definition of the modern-day surfer through his spectacular performances on multiple crafts. Accumulating as many boards as he can dream of into his glorified "Kai-Cave", Lenny is not your average board- hoarder. Instead, he is meticulously organized, approaching his quiver as a fine set of tools that should be well taken care of and ready to go at any moment.
Let's hear your core quiver.
I have so many. As far as shortboards go, I have a 5'7" for the tiny days, a 5'9" a step-up; a 6'0", 6'2", 6'4", 6'6", 6'8", 7'0", 7'2", 7'6", 8'0", and then a jump up to my 8'8" Jaws gun, a 9'4", a 10'0", 10'4" and 10'6". For SUPs, I have a 7'3", 7'6", 8'0", 8'4", 8'10", 9'4" and a 10'4". For tow-in boards, I have a 5'9" and 6'6". There are three kite boards I use, a 5'6", a 5'7" and a 5'10". I have my jet board, a 6'0", and my inflatable SUPSquatch, which is 17 feet by 6 feet wide.
Where do you store all of these?
In three big garages, and I have two giant containers off site
at a different piece of property where I put boards I'm not using: either for the off-season or that for the boards that don't have significance to me. Thankfully, my parents gave me these garages or else I wouldn't know what to do with all of them.
With so many boards, how key is organization?
I pride myself in taking good care of my equipment. I'm pretty meticulous on how I organize them. I personally put them away exactly where they're supposed to go, and I have a system that organizes from smallest to biggest boards. So if I see a giant swell on the way, I immediately know what boards I can take.
Why did you decide to ride so many different boards?
I'm a product of my environment, growing up on Maui. The conditions are world-class for multiple board sports. Surfing is fun in the morning, but it gets blown out by 9 a.m. You can go find hidden waves, but I've always been into alternative boards, my parents were windsurfers and kitesurfers. When you're a kid growing up and your family does multiple things, you go with it. I have thousands of dollars worth of equipment with so many different boards, and that's because of great sponsors that support me.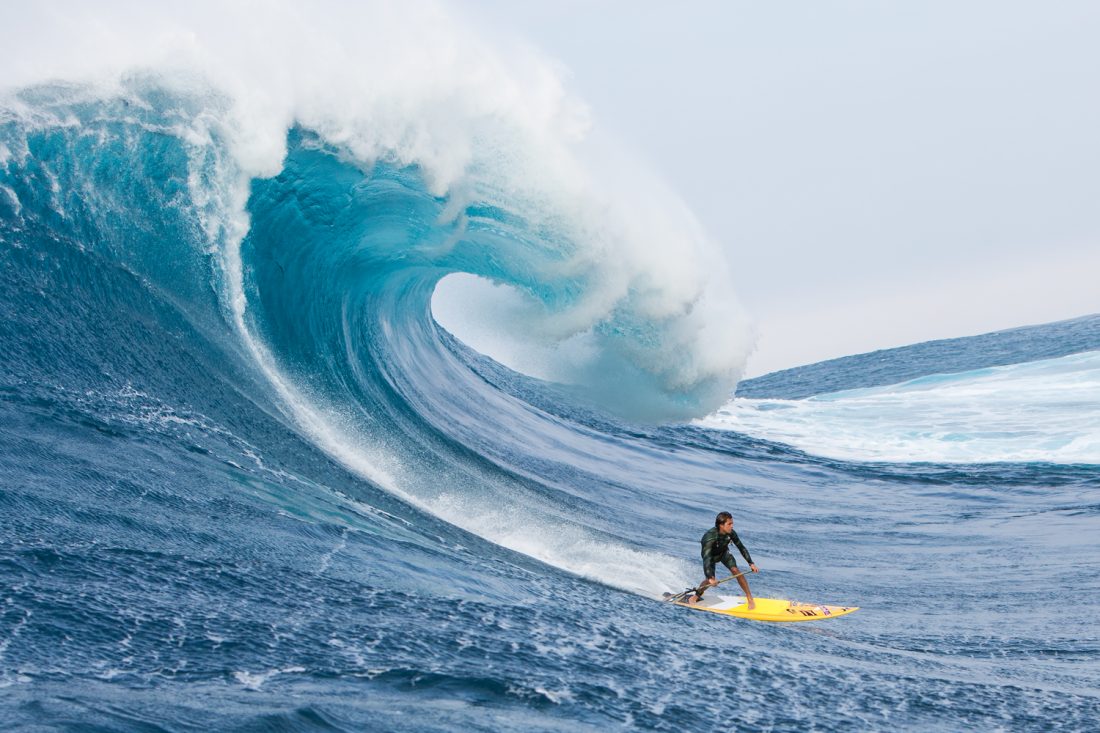 How did you learn how to organize your quiver?
When you're a little kid, your dad and mom helps you organize them, but my parents always taught me to take care of the gear. For me, again I've always been meticulous about my living area, and I like to have things well organized because if I'm in a rush and I fly in from Europe and the next day I have to be at Jaws, I don't have to go through everything, I know where everything
is and that's the nature of being organized. I am very much a perfectionist not only in the sports, but also in the way I store my equipment. I can walk into the Kai Cave, grab a board and go.
How do you avoid over-collecting of boards?
All the boards I have serve a purpose, I usually don't keep the same type of board. If I find a board I like, I'll use it until it's broken and I'll have a few backups. I'll exchange boards too, to keep from just sticking more and more on racks.
Any keys to success with packing and traveling with board bags?
I typically keep my board bag as light as can, if it gets too heavy that's when you can get dings. On trips, I'll use one board bag with wheels and one without, so that I can place one on top of the other and roll them around like a single board bag. I keep one bag clean too, because you never know when you'll use it
as sleeping bag or tent. You don't want to unzip a salty or sandy board bag. So I'll clean and dry my boards before putting them inside, because you never know when you'll need a good bed on the road.