By Kyveli Diener
Whether 17-year-old Brittany Penaroza is bashing the lip, threading a double-overhead barrel, or posing for a photoshoot showing off O'Neill's latest surf wear, her laid-back and confident manner embody one word: effortless. Surely that's how Penaroza will look on her upcoming 18th birthday when she fulfills an early life goal of skydiving, but until then she's looking just as badass ripping up walls of water as she will ripping through clouds.
Currently ranked 11th regionally, she kicked off 2017 with a quarterfinal appearance at the Pipe Junior Pro and defended her top spot as the reigning state Junior Champion this summer with another meaningful victory at her home break of Ala Moana Bowls.
Rounding out this fun-loving, rank-rising wahine is her commitment to giving back to others. She has been routinely volunteering with local nonprofits AccesSurf and River of Life Mission for years, and can also be found helping tourists learn how to surf on Oahu's east side. But wherever you find Brittany, be it on land, air, or sea, you can be sure that her every move is motivated by pure stoke and gratitude.
How did you start surfing, Brittany?
I remember my first session at Baby Queens in Waikiki on Father's Day when I was about 10. My dad took me to a surf shop to get a boogie board, but there were surfboards going around a conveyor belt up in the air, so I asked for "one of those". We started with longboards in Waikiki and that's where my love of it all began.
Who do you look up to in surfing?
I really look up to Bethany Hamilton, because she's an incredible human and surfer. I really admire anyone who breaks barriers and changes what was originally thought impossible. Carissa Moore is also my favorite surfer. She has so much power and has pushed women's surfing so much. Even with all her fame and accomplishments, she's still really down to earth to everyone.
What does being a wahine mean to you?
I think women's surfing is so beautiful and being a wahine to me means combining that beauty and femininity with the aloha spirit, spreading love wherever you go.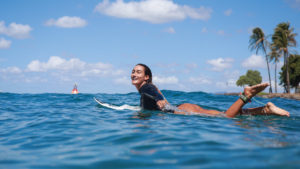 Talk to us about your volunteer work.
I volunteer with AccesSurf as often as I can. I started going about two years ago and for a long time, I just really wanted to be a part of something bigger than myself. All the volunteers and participants are so cool, nothing but good vibes when you're at the beach. Some participants had been surfers before they were injured, and I would be so hurt if I couldn't surf anymore, so helping someone get into the water again or even for the first time is so rewarding. I also volunteer when I can with the River of Life Mission in Chinatown to feed the homeless and I've recently decided to start volunteering with Sustainable Coastlines Hawaii. The oceans and our lives are interdependent and conservation is so important.
What recent achievements have been most meaningful to you and why?
Winning the State Championships for the second year in a row was really meaningful to me since it's at my home break Bowls. When I surf contests there, I'm always super excited because I've put in a lot of time in at that lineup and feel really comfortable out there. I wish there were more events at that wave!
Which shaper do you work with and what's in your quiver right now?
I've been working with Makani McDonald for 4 years now. Right now I have different variations of the H-mod and my favorite – the B1 model – that we created together.
Where do you go to school and what are your favorite subjects?
I'm a senior at an online school called Alpha Omega Academy. History for one, and my brother is a history buff. We spend countless hours delving into facts from the past, and debating. Psychology and philosophy are really interesting too, but I think I see myself doing something with the biological sciences. Almost every project or research paper I've had in school has revolved around the subject of sharks.
What always makes you smile?
I have hundreds of reasons to smile everyday, the only time I'm probably not smiling is when I'm really hungry.
Where are your favorite places that you've traveled to, and where is somewhere you're dying to visit someday?
Namotu Island in Fiji by far, such a magical place. I also just recently went to Sayulita, Mexico. It's such a unique little town and all the beaches around it are beautiful and empty. I want to travel all over the world, but the top of the list would be the Philippines and a boat trip in the Mentawais, that would be a total dream. I'm really grateful for all the opportunities to travel and for the people that I meet. It's helped me grow and learn so much faster. I've been traveling alone for a couple years now and it's made me much more assertive and responsible.
Any big plans for your 18th birthday?
I've been waiting since I was a little kid to be 18 just so I could go sky diving.
What are your goals in surfing?
The ultimate goal is to make the CT, but first I want to keep progressing, and to win QS events along the way.
What do you personally think is the most important message to share with others and spread around the world?
I think having a positive perspective is so important. It's not always easy but there's so much good and opportunities in life, if you know where to look.