By Daniel Ikaika Ito
In the first 10 minutes of the National Scholastic of Surfing Association (NSSA) Varsity Boys Shortboard final, it looked bleak for Imaikalani DeVault. The incoming-senior at Kamehameha Schools Maui was combed in last place in small, cold surf at Salt Creek in Dana Point, Calif. The lefts weren't giving any scoring opportunity and frustration started to rear its ugly head like a sea lion in the lineup.
Then two things happened at once. DeVault paddled away from the pack, who was sitting for long, soft lefts, and started looking for rights next to San Clemente High School's Kei Kobayashi. At the same time, DeVault's teammate Kahia Walker, 16, who will be a junior at Kamehameha Schools Kapalama, started chanting in Hawaiian on the beach.
"I ku maumau (Stand up)!"
Walker yelled in front the entire crowd, who gathered to watch the final day of the NSSA Interscholastic Championships.
"I ku wa (Stand and shout)," replied the Kamehameha Surf Team.
Firing up his team, Walker again chanted with passion:
"I ku mau mau, i ku huluhulu, i ka lanawao (Stand together, haul with all your might, under the mighty trees)."
"I ku wa (Stand at intervals)," screamed the Hawaiians.
"I ku lanawao (Stand up among the tall forest trees)," shouted Walker with his eyes closed.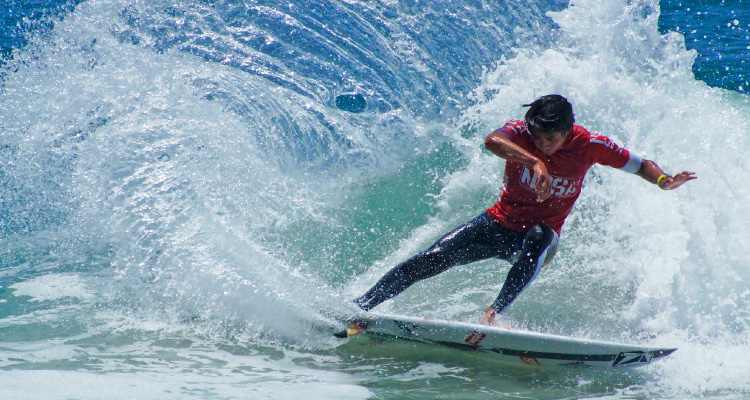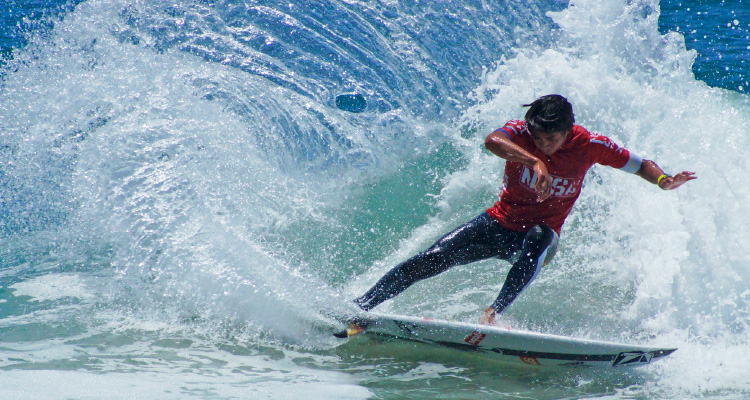 "I ku wa, i ku wa huki, i ku wa ko, i ku wa a mau, a mau ka eulu, e huki, e kulia (Stand at intervals, stand at intervals and pull, stand in place and haul, haul branches and all, haul now, stand up)," the Kamehameha Surf Team roared in unison.
It was a chicken-skin moment and a point of pride said Kamehameha Surf Team Captain Chasen Kim. "People were staring and didn't know how to react," said Kim, who graduated from Kamehameha Kapalama in 2013 and will be attending San Diego State in the fall. "At that point I was really proud to be Hawaiian."
As they continued to belt out "I Ku Maumau," a chant designed to inspire ancient Hawaiians when hauling heavy koa trees, Imaikalani DeVault started ripping into the rights. The 16-year old, regular foot snagged the biggest set waves of the final and came from behind to decisively beat San Clemente High School's Kei Kobayashi 15.06 to 10.5.
In one fell swoop DeVault, won his first National Title (NSSA Varsity Boys Shortboard Champion), helped the Kamehameha Surf Team win their first NSSA High School Team title and ended San Clemente High School's four-year stranglehold of the National championship.
"I was super stoked being carried up the beach this time by the whole team and it was a super cool experience," said DeVault. "It's super different coming from Hawai'i because the waves are more reef breaks and not too many beach breaks. [The reef breaks] are a lot more powerful and usually bigger and [Salt Creek was] one-foot and really weak, so you had to adapt a lot and it takes some getting used to."
The Kamehameha Surf Team was the only school representing Hawai'i at the NSSA Interscholastic Championships in June and narrowly beat San Clemente High School 110-107. Cayla Moore, 17, helped Kamehameha win its first national surfing title by capturing the NSSA Varsity Girls short board championship. As the younger sister of two-time ASP Women's world champion Carissa, Cayla felt that this individual and team victory helped her alleviate a lot of self-inflicted anxiety of being the world champ's sibling.
"I definitely felt pressure [as Carissa Moore's sister] before, but now that I've grown into my own skin I realize that I have a different path than my sister does," explained Cayla. "Before I would kind of compare myself, but now that I'm older I'm stoked to find my own path and it's exciting."
For Cayla, who was a member of the Kamehameha Surf Team since her freshmen year, the 2014 NSSA National High School Team Championship is a proud victory because they brought the title back to the birthplace of waveriding.
"It feels awesome knowing that surfing came from Hawai'i and we are bringing the [NSSA National High School Team championship] back to Hawai'i, making everyone at home proud because a Hawaiian surf team has never won the title before," she said.
This National High School Team Championship is a dream realized for Head Coach Lea Arce, who is a science teacher at Kamehameha Kapālama campus. Kamehameha Schools––a 128-year-old, private school that was founded by Princess Bernice Pauahi Bishop––is a Hawaiian institution with three campuses on O'ahu, Maui and Hawai'i Island. There is a rigorous and competitive application process (written exam and interview process) with a long wait list. Its admissions policy, depending on whom you ask, is highly controversial because Kamehameha gives preference to Native Hawaiian children.
Arce was instrumental in forming the Kamehameha Surf Team and getting the current club-sport approved by the school's administration in 2009. At the time, the squad was formed to allow professional surfer Zeke Lau (class of 2012), who was a student at Kamehameha at the time, to compete in the NSSA Varsity Boys Shortboard division. Since its formation, the Kamehameha Surf Team is undefeated in Hawai'i with five consecutive state championships, but Arce hopes this national title will help push for surfing to be an interscholastic sport like in California.
"I'm hoping that with this National championship it will solidify the need for surfing as an interscholastic sport in Hawai'i," said Arce. "Surfing can be used as a way to motivate these young men and women in their culture, but also their passion for that ocean as another outlet in addition to the sports that are already offered at schools."
Although Gov. Neil Abercrombie named surfing as an official school sport in 2011, the Hawai`i High School Athletic Association (HHSAA) has yet to implement a formal structure of events and competition format.
"I can't force leagues to implement a sport," HHSAA chief Chris Chun said to the Honolulu Star Advertiser. "If three leagues run it I have a sponsor willing to support it."
Currently, O'ahu Interscholastic Association (OIA) and Interscholastic League of Honolulu (ILH) schools organize their surf teams as club sports and compete against each other under the Hawai'i Surfing Association (HAS). According to the HHSAA regulations, it takes at least three schools to form a league and three leagues need to request a high school state surfing championship in order for the HHSAA to implement it.
Aloha Sunday owner and founder, Kahana Kalama, graduated from Kamehameha Kapalama in 2001 and was a member of the surf team. He had a successful career as a professional free surfer that he leveraged into an entrepreneurial endeavor with his popular brand and store, Aloha Sunday. Kalama knows that his experience with the surf team helped set him up for success.
"I think giving student-athletes an opportunity to represent their high school in interscholastic competition is a way to infuse a sense of pride into their education and even the act of going to school," said Kalama. "Knowing that my school and teachers also saw value in that pursuit helped me want to invest more into our school and my own education."
Kahana Kalama
Graduate of Kamehameha Schools and Point Loma Nazerene
"I would like for schools to show a little more support for their surf teams. By investing in a surf team, a school has the opportunity to inspire their students to make something of their passions. The surf team helps cultivate an interest in each of the members to be productive and to participate in organizations and industries in which they are able to balance their personal and professional passions. I got into business because I was interested in surfing and I learned about the surf industry because I wanted to work in a field that I actually cared about. Through my time spent in the industry I learned about design, sales, marketing and merchandising–none of this would be possible if I didn't have an introduction to the industry through competitive surfing. My encouragement would be to invest in surf team coaches and mentors that not only understand the ins and outs of surfing competition and the industry, but that are also able to give each team members good advice for their (post surf career) lives."
Zeke Lau
"Just being able to experience the whole team aspect is good for a student that surfs because not everyone is gifted to play football, basketball, soccer, etc. Having a surf team gives the other kids a chance to do something they love and be apart of a team just like every other sport. I think making surfing an interscholastic sport in Hawai'i would just legitimize the sport, just like football, baseball and basketball!"
pau