By Kyveli Diener
The approach we take to riding waves are as unique as fingerprints. We have our own style of riding waves on boards we think suit our strive to become better surfers. To some, high performance surfing and progression of the sport with new airs and faster lines on a wave is key to maxing out their talent in which their board needs to meet those standards. For the others, a cruisy approach with bigger boards or unique shapes where effort is minimal but style on how you ride a wave is key to expressing yourself. For the very few, survival. A solid board that is meant for speed to outrun mountains of water with every millisecond counted to making the wave or the wipeout of your life. Whatever path we choose, there is a board that fits our style and approach.
We spoke to key individuals that have chosen different paths in their surf career about their quivers and the key elements of their boards for them to maximize potential for world titles, catching the wave of a lifetime, or flowing with the ocean to appreciate surfing for all it's worth.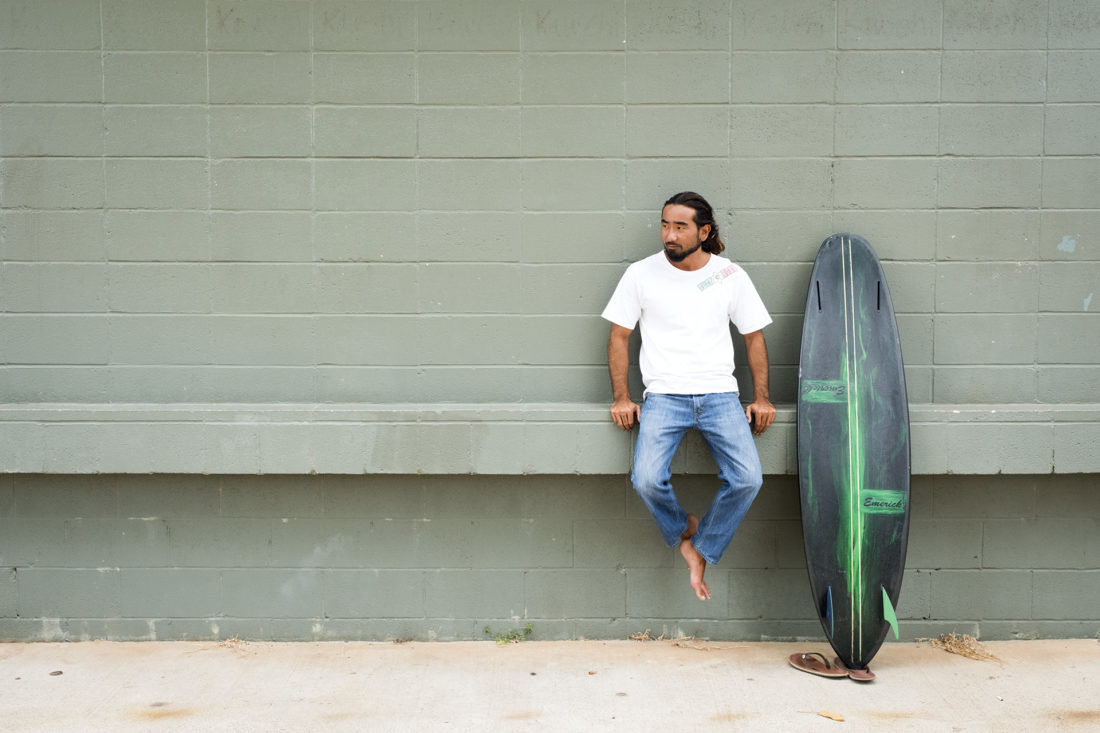 EmErick Ishikawa
Double Ender
Boards of the past and present are known to be a one direction shape that has design leaps over the decades. They are shaped to project the board forward with outlines and fins progressing boards to that motion. Emerick Ishikawa, a Barber's Point Lifeguard and shaper, came up with the idea of combining two boards into one that can be ridden both ways, a double ender. "The double enders I shape are made to adapt to waves at any given moment. If the waves are more slopey, I can ride on one side to adapt to the waves, and if I want to paddle to a steeper wave down the way or conditions change, I take out my fin and switch to the other side and it works just as good."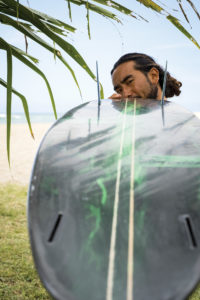 Emerick's shapes have fin boxes on both the nose and the tail (or tail and the nose, depending on your view), with variations such as twin fins, 2 + 1 setup, single-fin, and thruster.The idea behind his reasoning came from growing up in Hawaii, where a wide amount of different wave types are usually just a paddle away. "The shapes work great even though both sides are the tail and the nose, on the wave you're mostly on the back half of the board," Ishikawa said. His approach to waves is smooth, fast, non-restrictive, and has a knack for laying down some on- rail gouges. Last season Emerick had a solid run of sizeable OTW days on his double ender shapes and is conjuring more ideas for this coming season.
To be able to get on one of Emericks double ender shapes is pretty rare. He doesn't like machine shapes and does a lot of homework about the client before crafting a shape. "The double-enders are made for brown belts and above," he said. "You need to know how to ride waves so you can maximize the potential of yourself and the board."
---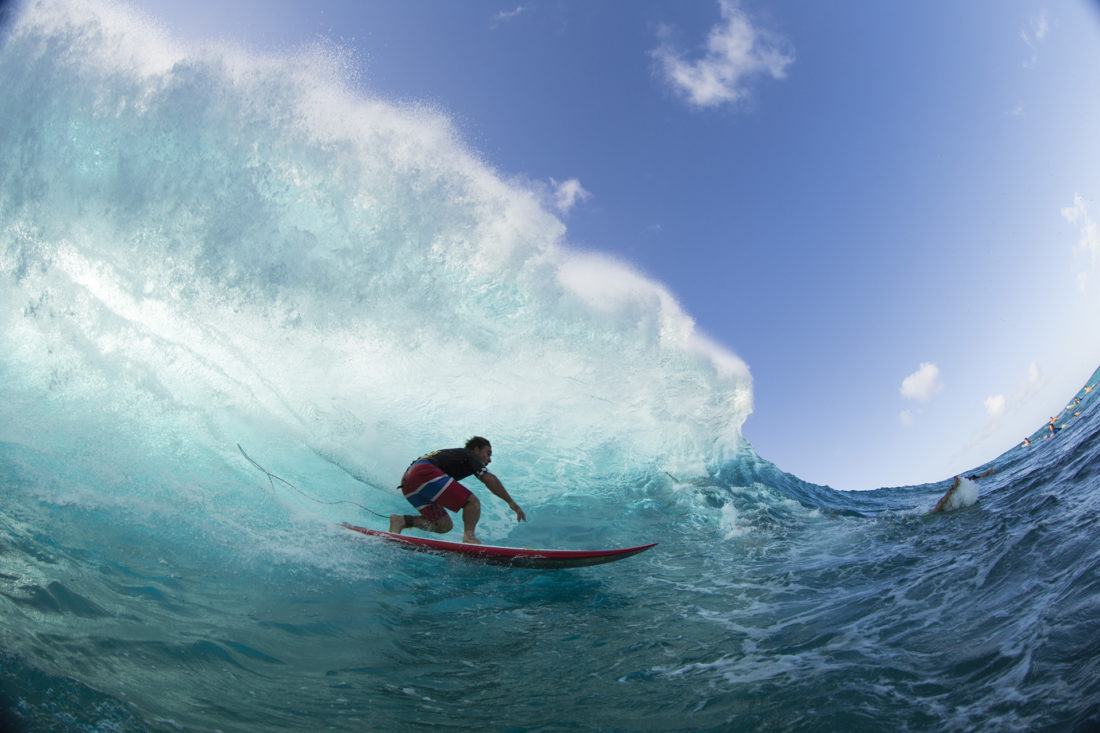 Kalani Chapman
Pipe Board
The perfect man to wave relationship can be summed up in one iconic image: Kalani Chapman deeply slotted inside a Pipeline barrel in November 2010 that could easily house a mack truck. Standing tall on his board, his face somewhere between shocked, mesmerized, and humbled. Chapman took that moment to honor a recently fallen brother, Andy Irons, by bringing his hands together in a solemn prayer. That historic barrel ride became the first-ever Wave of the Winter, and one of the many benchmarks Chapman has set for himself in a constant effort to improve his personal surfing.
"I'm trying to find a wave like that again. I hope it finds me," Chapman said, wistfully gazing from his lanai in the direction of Rocky Point. "All you can do it go out, try to ride the right equipment, use your knowledge to be in the right place, and hope it comes. It might take five, ten years, it might not ever come. But all you can do is try and be ready for when it does, if it does."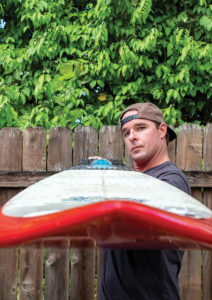 Chapman has noticed the barrage of young surfers frothing to surf Pipeline just like John John Florence, thinking if they paddle out on a 6'4 into heavy barreling Pipe they'll get the wave of their lives. Kalani is the opposite of such a lemming: his equipment choices, from the board (usually a Owl Chapman shape, these days) to the funs (large Mayhems) to the wax (Sex Wax, the red one), are all meticulously planned based on conditions and his own personal, heavy-footed, powerful surf style. Not to say he doesn't have an ideal all-conditions board for Pipeline.
"I'd say a 6'10, pretty much the thicker the better, just so you have the paddling momentum that you need because the waves move so quickly and jack up so fast that if you're just paddling and not going anywhere you're going to end up in the lip and go over the falls," he mused. "6'10, thick, if I could have one board for Pipeline it would be that."
But the best wave he ever got at Pipe (alongside the prayer hands barrel) was actually caught on a 9'0 single fin shaped by his uncle that took him three years to find the perfect day to ride. When he finally did in 2005, it changed him.
"I got the wave of my life on it. There was nobody around me and everybody was sitting just on the inside of first reef and I paddled in between second and first, but there were these huge cleanup sets but I perfectly timed everything. I went to the lineup that I know and sure enough a wave came to me — as soon as I saw the wave, I knew, 'This is it.' It had my name on it and I had the board and it was all right in front of me and I just had to man up and go, and I did," he remembered. "I never rode a single fin a Pipeline before that — I was asking Herbie Fletcher on the beach how to ride it and he said, 'Just set your line and hang on!' It would've been Wave of the Winter if there was one back then, there was no bigger wave that whole winter."
---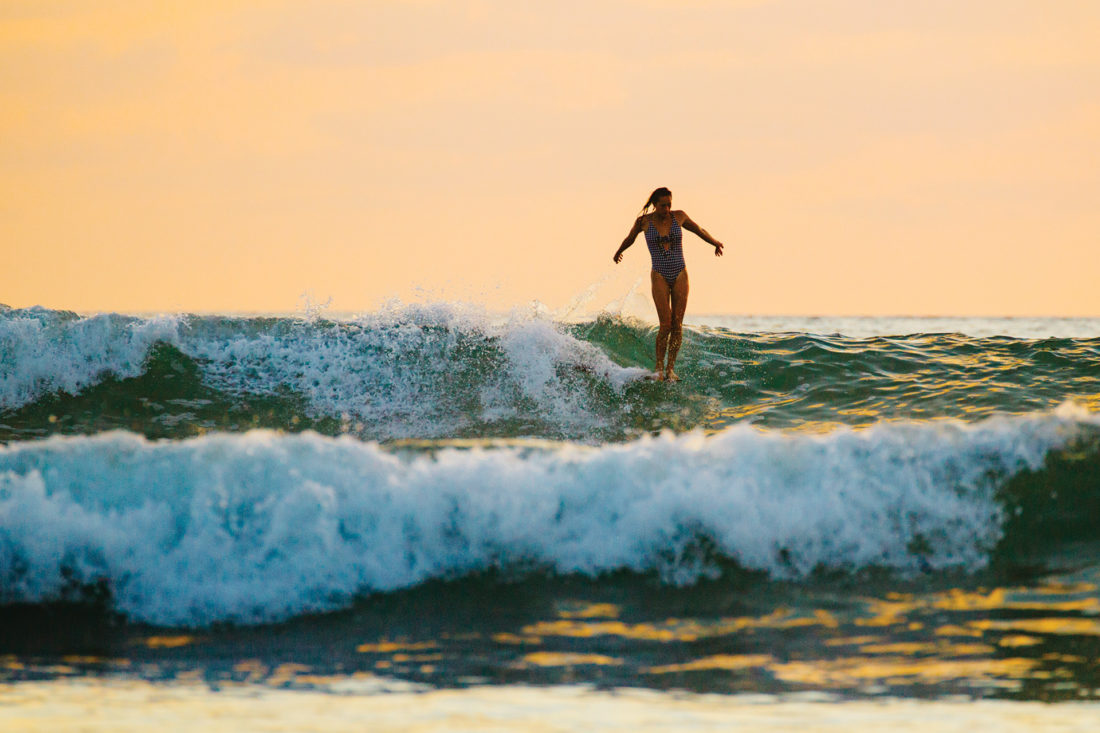 Honolua Blomfield
Longboard
It's a good sign when a surfer has been doing what they love so long they can't even remember their first board. That's exactly the case for Oahu-grown 2017 World Longboard Champion Honolua Blomfield, 19, who started out on a shortboard but was finally able to recall her first longboard: "My first longboard was like a Surf Lite foamy thing, a blue foamy that I had for contests when I was like 8 or 9," she said with a laugh. "I think [my first proper board] was a Dennis Pang longboard from my dad with flames on it. Me and my older brother Keone shared it and my dad would push me in on it in contests."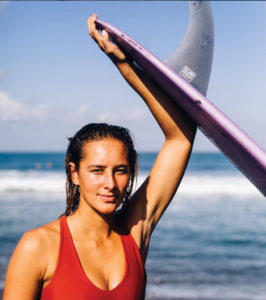 These days, Hono rides two types of longboards depending on the occasion. For World Surf League contests, the champ will travel with three 9'0 epoxy Classic Malibu high performance longboards with 2 + 1 set ups, an option that allows her to collect maximum points on nose rides and turns alike. Then there are all the logging contests Blomfield participates in, like the Duct Tape Invitational she won over he summer in Huntington Beach, which require heavier, longer, single-fin boards with no leash. The North Shore native is quick to admit that she prefers riding logs to high pros, though she's adept on both.
"I like it a lot better because I feel more myself and can really show my style and express myself. When you're high pro-ing you can do both turns and nose rides and stuff, but there's not as much style involved in that, and I personally think surfing is all about style. To each their own, I guess," the mellow Hawaiian said.
Her go-to all-conditions board that one can normally find her on at home is a 9'9 Two Crows log that she rides in anything from two to six foot surf, most likely at her favorite spots of Sunset and Ehukai.
"[My best day was on] my 9'9 at Ehukai one day, it was like 4 foot solid. I caught a couple waves and it was insane, I kept sneaking out the back just in time before the sets so it was like all-time session, best one of my life," she said. "The best feeling is longboarding on a sick wave, you know? That's what keeps me going. Just perfect size, not too big, but enough where you can stand up there so high up, hanging ten. I just think thats the coolest thing."
---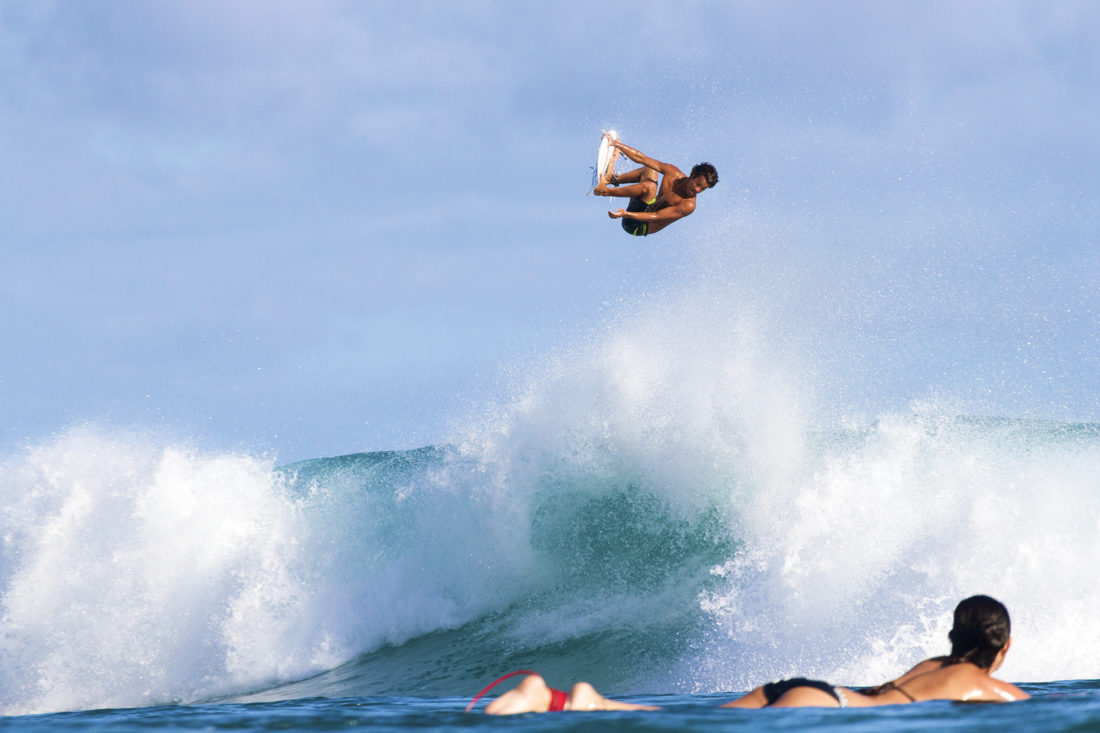 Seth Moniz
High Performance
Seth Moniz has expanded minds on the capabilities of the high performance shortboard, particularly with airs that leave us pinching ourselves like the recent outrageous circus act he pulled to make Quarterfinals at the Vans US Open in Huntington Beach in July. Now in the top spot on the WQS and on a fast track to the elite World Championship Tour, the multifaceted member of the storied Kewalos Crew — alongside Carissa Moore, Zeke Lau, Keanu Asing, and brother Josh Moniz — is preparing to represent his prestigious family on yet another world surfing stage.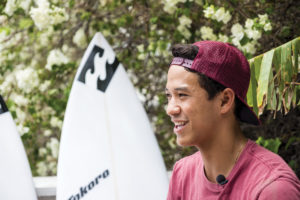 Seth was the last of the Moniz children to receive his own surfboard, but when he finally did it was a keeper: he won a custom John Carper board in a raffle by complete luck. Since then, getting zippy custom sticks has become easier, and strikingly more frequent. Seth said that it only takes about two weeks for each board in the finely glassed quiver he gets regularly from Wade Takoro to be creased, dinged, or smashed beyond repair. But that's an occupational hazard when the majority of your sessions are spent head-high above the lip.
Though Seth has to account for his still-growing frame with added thickness and width on his new North Shore winter quiver, he said the length stayed about the same: 6'0 to 6'8, with the bigger boards reserved for windier conditions with wave faces over 10 feet and the boards between 6'2 and 6'4 being ideal for waves between 6 and 8 feet high. Moniz says a 6'2 is an ideal go-to shortboard length for most conditions, though his go-to board for fun town surf is shorter at just 5'9.
Another new addition to the brand new quiver this winter foreshadows his hopes for the CT: a deep red Roman numeral 7 (VII) across the nose of the board to represent the Moniz ohana, made up of seven family members including Oahu surf legend and super surf dad Tony, tiger mom Tammi, champion long boarder sister Kelia, and Volcom Pipe Pro champion Josh, who Seth dearly hopes will qualify with him at the end of the Triple Crown season. One other board where Seth chose to honor his family history is on his sole big wave gun, a 9'6 blade adorned with his father's classic airbrush art, a board that is responsible for one of Seth's best surfing days ever.
"I got a wave out at Jaws that I'll probably remember forever because it was my first time out there and I got a barrel," Moniz said of the day Shane Dorian surprised him with a sesh out at Pe'ahi, Maui's equal part idyllic and terrifying XXL wave, where Moniz rode the gun he'd previously reserved for Waimea charging. "I never made it out [of that barrel,] but it was a memorable session and a memorable wave."
---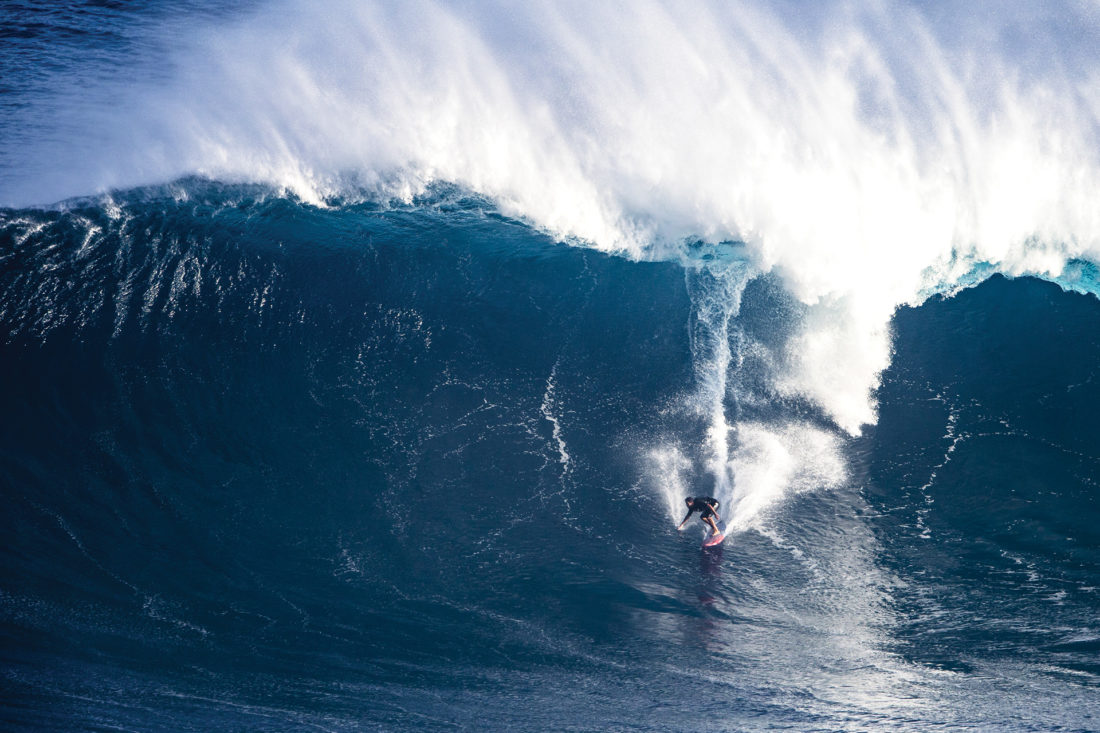 Billy Kemper
Big Wave
They say to never bring a knife to a gun fight, and two-time Men's Big Wave World Champion Billy Kemper lives by that creed every time he paddles out at his beloved Jaws (or Nazare, or Maverick's, or Puerto Escondido) with his arsenal of towering, angular big wave guns. Billy got his first paddle-in gun for Jaws around the age of 20 after five years of tow-in practice on what he calls, "the best big wave in the world, nothing can touch it pound for pound or perfection-wise in big waves."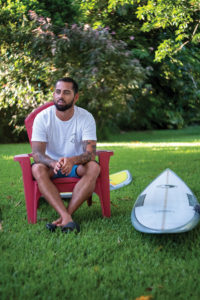 "I'm pretty straight up with what I ride out there, whether it's windy or glassy. I have my magic numbers and the boards I'm really conformable on and I don't switch it up to much," Kemper said. "If it's big and it's on and I'm looking to ride the wave of my life, I'm riding a 10'4 [about 3 3/4 thick and around 21 inches wide] Town & Country surfboard shaped by Glenn Pang or Pyzel."
Billy's dimensions for his Jaws boards are pretty locked in, but when he travels to other big wave spots Kemper tailors his selections the wave's demands. On his next trip to Nazare, the champ chose to trust local shapers in Portugal, sending them files with his usual measurements and allowing them to create the best options for the unruly record-setting beach break using their locals knowledge (with no risk to Kemper's existing boards). Conversely, for trips to the Mexican Pipeline in Puerto Escondido, Kemper packs a multitude of his own boards to fit the wave's many faces. He said he'll bring between four and six boards ranging from 8'0 to 9'6, with options at every six inches in between. Regardless of board selection, there is one very special tradition Billy likes to add to every gun he rides in waves of consequence.
"For big waves, on the front of my board basically right under my eyes it always says 'Little E' or 'Eric,' and that's my brother that I lost when I was 8 years old," Billy said. "He created this path for me, he walked these footsteps, and when I got to a certain age I had to keep walking and create my own footsteps. If there's ever a doubt in my mind, I just look down and there's never a second guess when I see those words I write on my board. Basically every board I paddle out in big waves it's there, and it's there for the right reason.