By Cash Lambert
Photos: Keoki
Follow Kimi Werner's hand as she begins drawing on a white canvas and you'll catch a glimpse of the hues and sights that make her tick: the mountainous backbones of Oahu. The dark blues that fill the deep sea. A medley of fish and other sea creatures (specifically, octopus) that frequently end up on her dinner table.
The outdoors and its aforementioned beauty has been more than both work and play for the Hawai'i native who has quite a shimmering resume: winner of the National Spearfishing Championships in 2008, an induction into the Hawai'i Freediving Hall of Fame five years later, and even serving as Patagonia's Provisions Ambassador, along with a heap of other sponsorships for the amount of time she's dedicated towards conservation efforts. Holding onto a great white shark's dorsal fin should fit under 'experience', right?
"My parents always taught to never take more than you need, and to always take care of the land and the ocean, because it's what will take care of you," Kimi says with her soft but direct voice. "It wasn't until I was getting back into diving as an adult that I started thinking of [my actions] as being environmentally conscious."
Thus, art organically developed as a way to vent the sights and scars she'd seen.
"My love for art came from my love for nature and that's what keeps me inspired to paint," Kimi says. "I don't always think about why I react the way I do or why I do what I do in the
water. It's instinctual. That's how I feel when I'm painting: I just put a color down and know what
color I'm going to go for next and if I actually try and think about it, that interrupts the process."
Although many of the blank canvases she's been recently drawing on are made to hang on the walls of art galleries, others are in the shape of pairs of white Vans shoes.
Vans, known for its frequent work with sustainability measures, partnered with the conservationist for a campaign "playing off the idea of 'treading lightly'", according to Kimi. "The idea for an art show came … that I could paint the shoes and we could collaborate."
But the event, taking place on December 5 at the North Shore Community Land Trust Benefit for the Country and backed by Vans, isn't Kimi's first involvement with donating her art. Last year, the philanthropist sold 10 pairs of painted Vans shoes with proceeds split between two non-profit organizations: Sustainable Coastlines and Malama Pupukea-Waimea.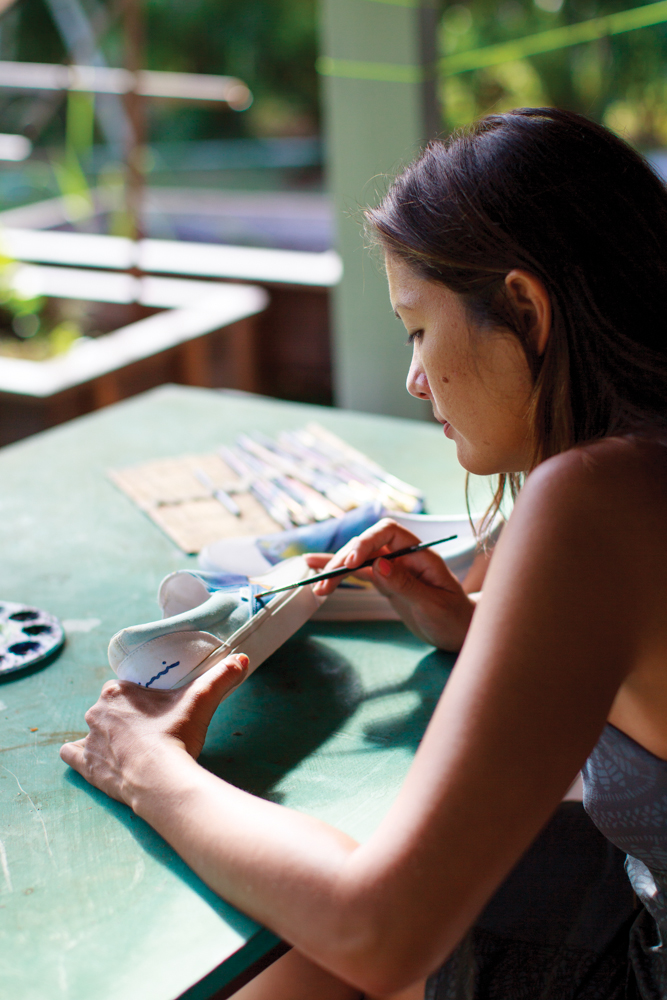 "I found out that Jack Johnson actually said he'd match the profit," Kimi says with a laugh. "That was a total coincidence."
 And at last year's North Shore Community Land Trust Benefit for the Country, she donated yet another pair of painted shoes as well as a painting to the silent auction.
"The painting was a collaboration that was framed by Ben Wilkinson, a pro surfer here on the North Shore who is very environmentally conscious," the artist says. "He made a beautiful frame out of reclaimed wood that he found. That painting ended up selling to John John Florence, for $750. And the donated pair of shoes were won by Pete Johnson, Jack's brother."
This year, she's donating all of the winnings from her hand drawn and painted 15 pairs of shoes to the North Shore Community Land Trust. "I thought it was the best idea, since the two pieces the year before were big bids for them," Kimi says. "They stand behind what I do: they're not just for the perseveration on the North Shore. Nothing makes me more proud than to see local community taking an issue into its own hands and going for it.
What will she be painting? "Mainly ocean art and all of my passions: fish, coral, octopus and underwater seascapes. I think it's really important when choosing something to pursue that you are authentically passionate about it. For me, it's the ocean. The reef. All the animals that live in it. When it comes down to the core, it's what I connect with: those underwater features."
At the core of the conservation movement during the Vans Triple Crown is the company behind the entire event, and for Kimi, that equates to invaluable progress.
"Just having a set influential, mainstream yet core company become a platform to bring awareness to these things and give back to community sets a great example. A lot of corporations don't have the same mindset; they have a bottom line, what they can get out of places and out of a community. They're not thinking about how to give back and how to leave a place even better. The fact that Vans is willing to collaborate with such an issue in Hawai'i … that's what they all should do. It's setting a great example."
Which according to Kimi, is not only what she believes in, but it's also what the entire concept of 'tread lightly' is built on. "It's important to live an examined life. What Vans is doing is a perfect example of that, if they're going to come to Hawai'i and have the Triple Crown, then they're going to have to look at what they can do for this local community to not just minimize the footprint but to actively give back and leave something better than when they got here, whether it's working with the community, children or culture."
And not just working with them, but understanding the local heart and determining which tasks and projects the community senses is of utmost importance, according to Kimi.
"That's what [Vans is] doing and that's something that everyone should be able to do," she says. "And because of their commitment to sustainability and their great help to the North Shore Community Land Trust, I'm hoping it'll set the example for anyone."
pau