Mount, Click, Surf, Repeat
By Cash Lambert
It's a narrative that we love to hear about: humble beginnings. The waterlogged and dinged first surfboard for a now contending sponsored surfer. A businessman's first sale of a t-shirt out of his truck that later exploded into a core surf brand. A photographer receiving a few dollars for his first published photo now serving as the photo editor for one of surfing's most prestigious publications. And a single surf trip that inspired the idea for a billion dollar company that would change the face of surfing and the entirety of action sports for years to come.
Or so was the case for Nick Woodman, the founder and CEO for GoPro.
I. HISTORY
By now, you've seen the advertisements and photos that consistently flow in from the mountable camera and its different models. Perhaps just as interesting as the product itself and what it produces is the story behind its inception, and that story begins with failure.
During the late 1990s and early 2000s, Nick Woodman injected his time, energy and capital into two startups that returned little. Marking the ventures as failures, the born and bred Californian embarked on a five-month surf trip to Indonesia and Australia. That's when his billion- dollar idea came to mind.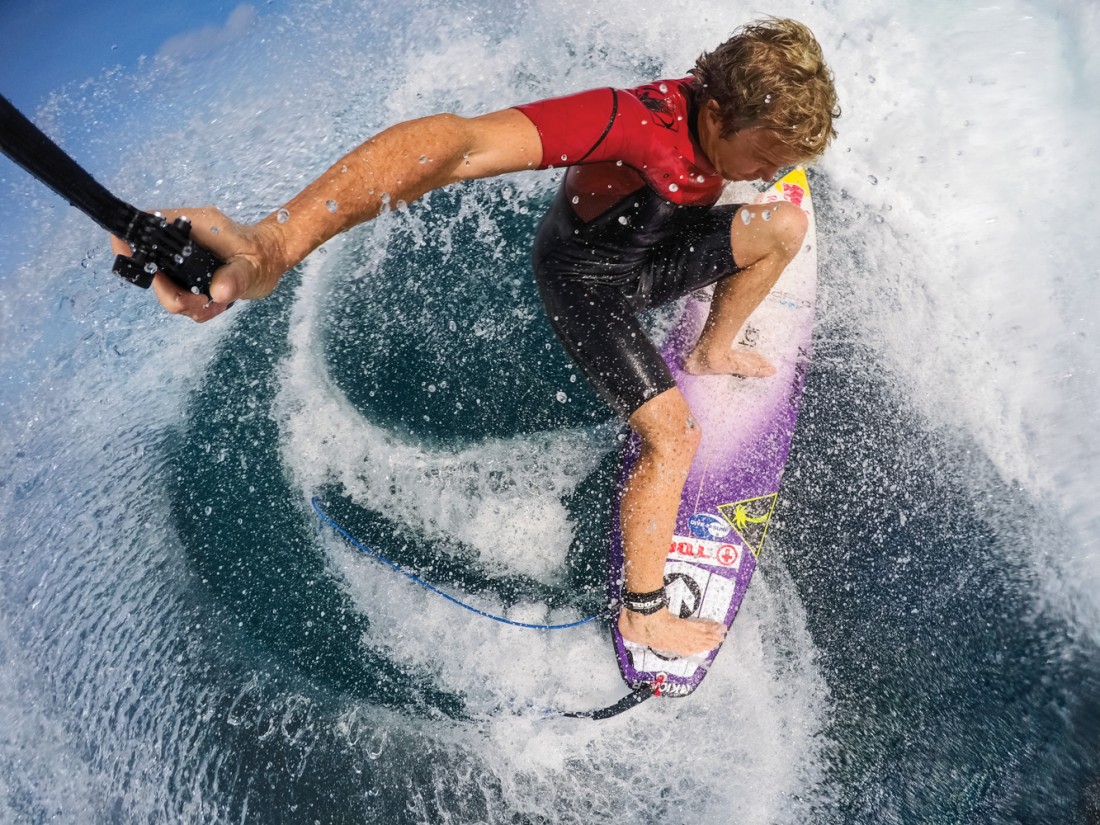 Wanting to take photos during surf sessions, the passionate surfer realized such a product had yet to exist. Unless you have a high-end camera lens and a photographer on the beach, your other option for photos during a session is a cheap and disposable camera that won't produce the quality you're hoping for. So Woodman strung together a 35mm camera and tied it to his hand with rubber bands. Thus, the entire GoPro concept began with this strap – a simple idea turned brilliant.
This idea of cameras and straps and surfing continued to resonate in his mind throughout the trip. Like when Woodman spied leashes that could serve as more suitable straps … and he began experimenting. But mostly continued surfing.
Upon returning to America, the entrepreneur at heart continued tinkering with strap ideas and eventually secured enough capital for a small start up. With sales from bead and shell belts purchased in Indonesia, combined with a generous loan from his parents, Woodman was poised to make a business move.
Soon enough, the surfer designed the exact strap he wanted for the prototype, but quickly realized technology wasn't up to par. This is when Woodman realized what was missing in the business structure: the product should not only be a strap, but a camera as well.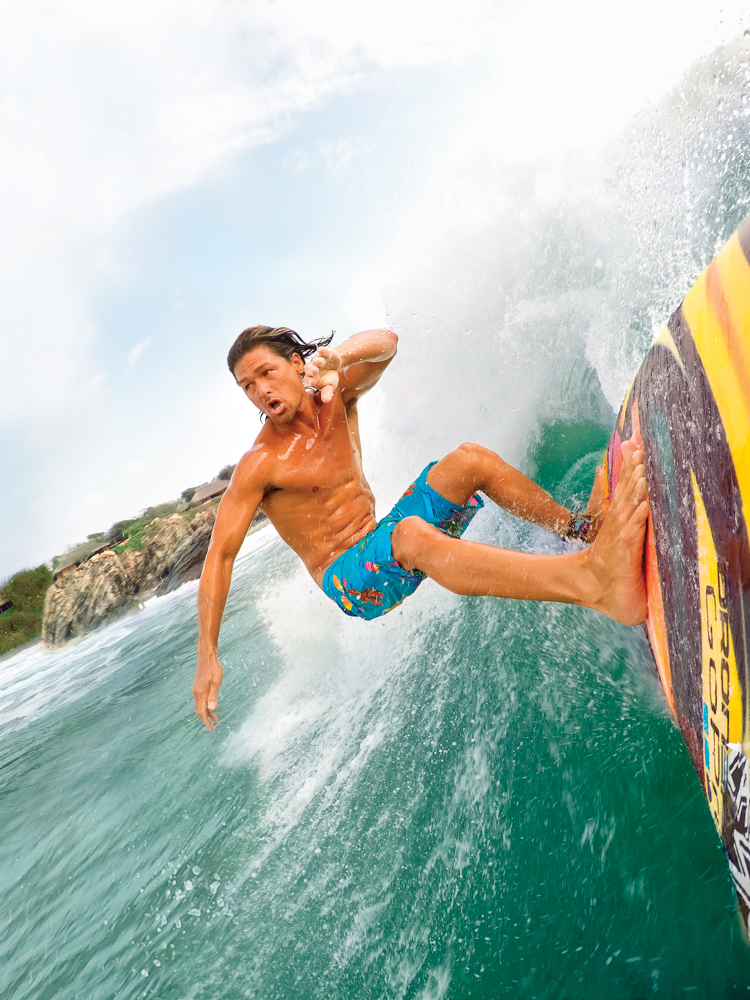 He shipped off makeshift models to a Chinese factory and received successful prototypes in return. Woodman went on to employ a small staff that drove bright yellow Penske trucks to trade shows throughout the surrounding areas, sealing the void in the marketplace.
Sales followed, and Woodman pushed the gas pedal to the floor: instead of cashing out on his initial prototypes, the businessman kept perfecting the product.
Durability and photo quality began to increase with each new camera model. Video capabilities followed, along with high definition. Like a rock rolling down a mountain, Woodman and company watched as the product took over the action sport marketplace, which it still maintains today. What began as a clunky camera in a waterproof housing with a wrist strap has now transformed into a bevy of other makes and models, like the Hero, the Hero4 Black and the Hero4 Silver. Even those with wireless capabilities have hit the market as well.
And the brilliance of GoPro's marketing is that it is essentially performed by every customer and ambassador. Seen a firsthand account of Shane Dorian charging Pipeline? GoPro. How about Alana Blanchard carving on an Indonesian dream of blue and white? GoPro. And Kelly Slater in a tight barrel, racing toward the setting of the sun? You guessed it: GoPro.
Easily and understandably lost in the sales and the busywork and the new models of GoPro is that the current leader in action sport  photography and videography began with a simple concoction of an unyielding passion to fold and Woodman's never ending mind-search for a void to fill. A narrative that will continue to push and evolve not only the businesses that surrounds our beloved sport of surfing, but also surfing itself.
II. ATHLETES
What does it take to be a GoPro-sponsored surf athlete, having the dreamy job requirement to capture yourself surfing as much as possible? According to Dustin Aron, GoPro Sports Marketing Manager for Board Sports, it revolves around a simple trait.
"We support athletes that instinctively share the love and passion we have at GoPro," Aron says. "Athletes that have the ability to shoot GoPro content on their own and collaborate with our internal teams on original GoPro content productions. Overall, good people that make a positive impact on surfing, their communities and are excited to spread the GoPro stoke."
Although 13 of the athletes that fill the rank of GoPro's sponsored team are Hawai'i-based, a Florida native surfer steals most of the views from clips online. With about 100 surf videos on GoPro's YouTube channel, there are roughly 29.4 million views, with an average of 303.2k views per video. And 5 out of the top 10 are Kelly Slater related.
Though there's no distinct count, it's believed that a large percentage of these views come from avid and pro surfers alike.
Such as North Shore hellman Jamie O'Brien. "It's like you relive the moment!" he says in regards to watching clips. And how has it changed his surfing? "It has in a lot of ways. It's just amazing to capture every moment, whether it's surfing Pipeline or just filming for our show, Who is JOB?. It's great to build constant content."
And POV charger Mikala Jones, who consistently packs "two or three" GoPro's during his surf trips, says that his favorite clips include Koa Smith on Skeleton Bay's infinite lefts "or anything from J.O.B. or Shane Dorian."
He adds: "It's a bonus to capture a good moment. Plus you see little detail that you normally wouldn't see or hear. Then you can hit rewind."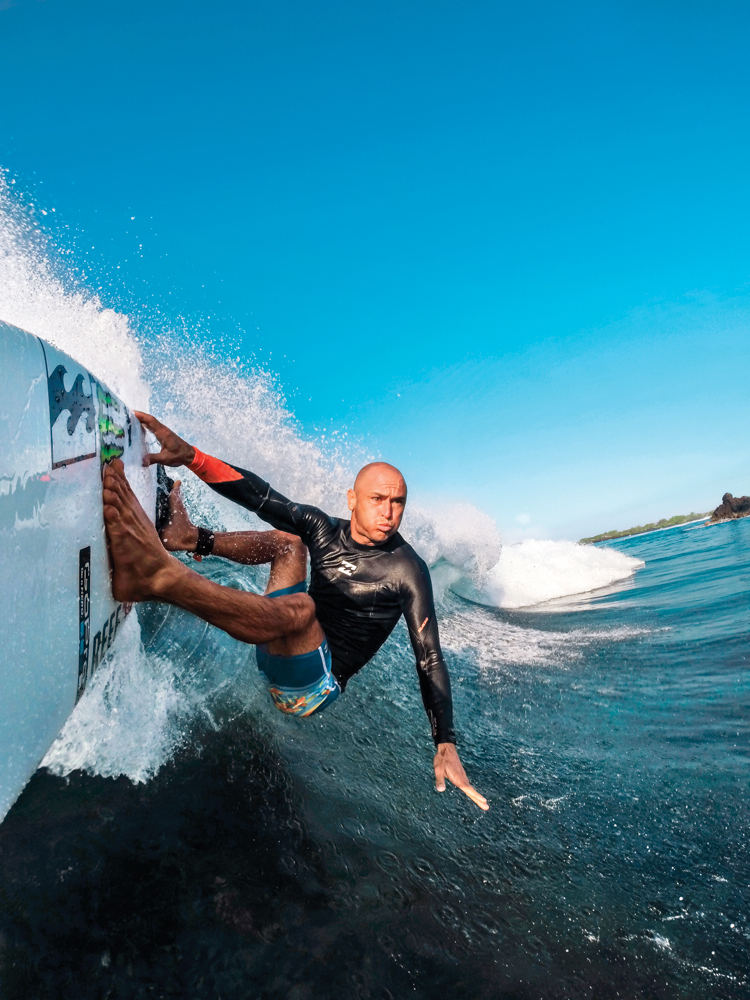 With much of the surf industry now entrenched upon the famed seven mile stretch to close out the season, GoPro is saving its best for last: The company is kicking off it's GoPro Challenge, with aims to highlight all WCT competitors.
"This GoPro Challenge kicks off in Maui on November 21 (with the women) and wraps after the Pipe Masters in December with the men on the North Shore," says Aron. "One winner will take $10k for the best GoPro clip, or $15k for rocking a camera and jersey during a heat in competition."
Also adding to the event mix is the GoPro Talk Story at SURFER the Bar on December 7, which includes top water photographers and GoPro athletes talking about GoPro's influence on surf photography.
An event that on the surface will fill seats and intrigue, but more so it's yet another example of how far Woodman's simple idea – along with passion, dedication and a bit of luck – has truly come.