After an action-packed Final Day at the secondary event site, Rocky Rights, Brazil's Deivid Silva was crowned the new Champion of the Hainan Classic. The Brazilian defeated Peru's Miguel Tudela in a highly entertaining Grand Final.
Despite small conditions on the last day of the competition, Silva was able to choose the right waves to earn the win. The young and talented Brazilian earned a 9.10 on his opening ride of the Final that helped maintain his lead through the rest of the heat.
Half way through the heat, Silva found another good wave, scoring a 6.43 for a total heat score of 15.53 to take the win and the $15,000 check.
Silva, the 2013 ISA World Junior Silver Medalist, who displayed high performance during the whole competition, commented:
"I'm really happy! First of all I want to thank God, without him I would not be here," said an excited Silva after his Final heat. "This is my first win in a WQS so I can't explain it, I'm so happy. I also want to thank my family, my girlfriend and all my sponsors. It's exciting to be in China, it's my second time here and now I came to win. I really liked it even though there were not many waves, but I know that waves here are good. It's a beautiful place and I want to keep coming back."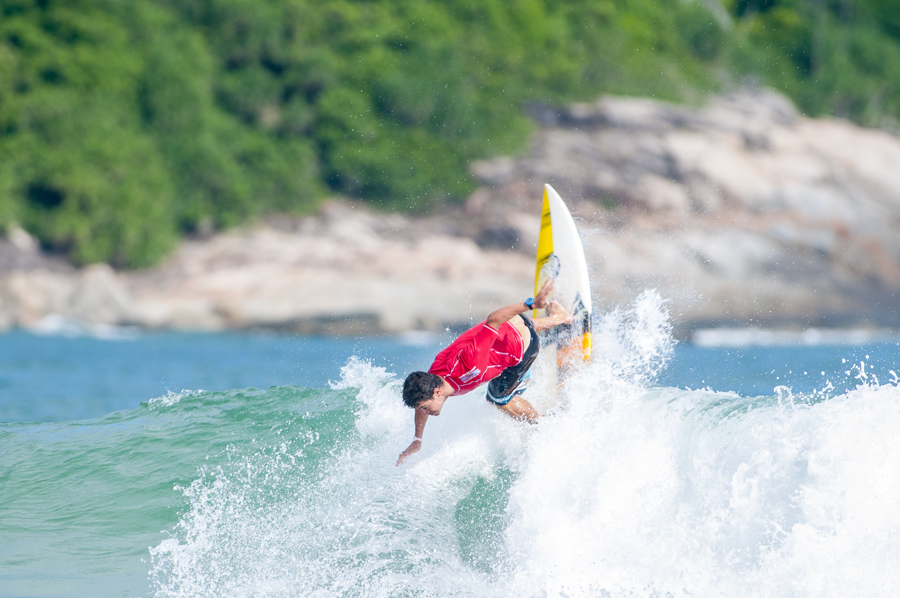 Tudela fought back but was unable to surpass his rival and lost by a small margin of less than half a point. The Peruvian earned a 6.77 in his first top-scoring wave and then backed it up with a big air that earned him an excellent score of 8.33, for a total heat score of 15.10. Tudela finished in second and with a $7,500 check and valuable ASP Qualifying Series points.
An excited Miguel Tudela commented after the final:
"I feel very stoked at this contest. I got a lot of support from the Peruvian team during the ISA event, and now in the ASP event with my coach Gabriel (Aramburu), and Lucca (Messinas). The Costa Ricans,the Brazilians, and all the Latin Americans were together the whole time. That's why there's a Brazilian and a Peruvian here in the podium, so I'm really stoked. Thanks to everyone!"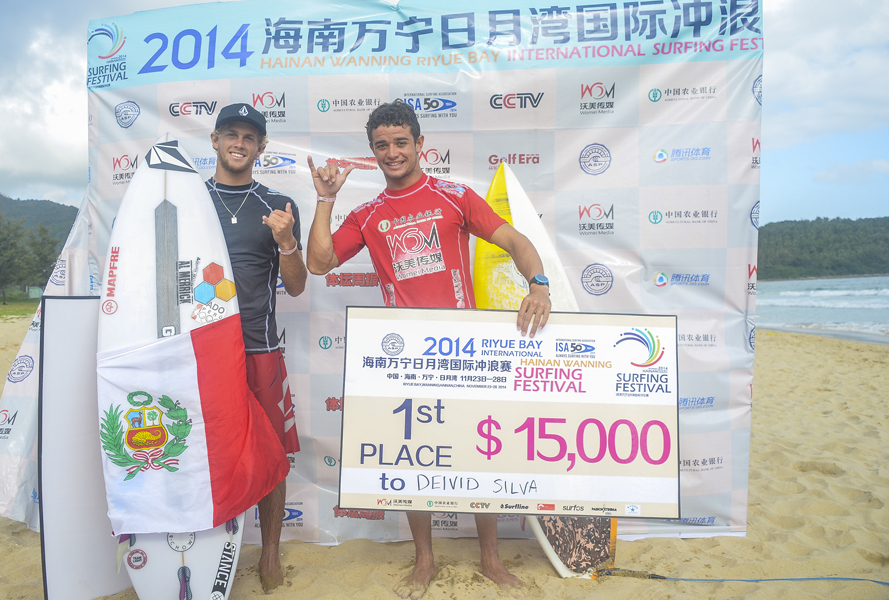 A thankful ISA President Fernando Aguerre commented after the conclusion of the Hainan Wanning Riyue Bay International Surfing Festival:
"I appreciate all the effort that went into putting on this successful third annual event. In the name of the ISA and the over 35 million surfers in the world, I would like to thank the people of China for welcoming us to surf their great waves, the City of Wanning, the Chinese Extreme Sports Association, and our great partners at Womei Media. With all of their support, I am looking forward to coming back to China, for the fourth time next year, for what will be an even better event."
For a full list of today's results, click here- http://hainaninternationalsurfingfestival.com/hainan-classic/results/