By Tiffany Hervey
It has been over 10 years since Bethany Hamilton lost her arm to a shark attack. This is the incident that defines her to the outside world, but it's not something Bethany really even thinks about or talks about anymore. It didn't take surfing away from her. Instead, it only further solidified Bethany's faith in a higher power.
Bethany Hamilton wasn't spared a tragedy, but chosen rather to speak a message to audiences beyond what pro surfing alone could have provided her with. This woman didn't merely survive a shark attack. She has become a blueprint for how to thrive in the face of challenges.
Growing up in Hawai'i, Bethany wanted what every grom wants: To become a professional surfer. Earlier this year, the athlete won the Surf-N-Sea Pipeline Women's Pro and is still stoked on the first place finish.
"It felt great to finally win an ASP sanctioned contest," she beams. "I surfed strong and competed smart!"
These days, the 24-year-old competes in select events that interest her. Bethany likes competing, but doesn't love it. "This and next year, my focus is surf trips for good waves," she says. "I want to surf big barrels and rip-able waves. I'm driven to get better and step it up on my aerials. Surfing is a constant challenge."
Short powerful reefs, with barrels, and ripping rights or lefts — basically Hawai'i waves — are her favorite. The Kauai girl also has sights set on a left in Namibia that the Smith boys recently surfed, and would also love to score solid Teahupoo soon.
Last year, Bethany got married to Adam Dirks. The two first met at the beach, a sort of set up by friends, and the first thing they did together was jump off of a cliff. "You could say it was love at first cliff jump," Bethany laughs. "I was immediately so intrigued by him."
The two started hanging out often – hiking, beach, tennis, socializing with friends. With Adam being from Kansas, it was an adjustment being paired with someone who wasn't a surfer at heart. But the relationship continued to grow.
"I never had the desire to meet a ton of guys, or to 'experience' different people," Bethany explains. "I think our culture has really messed up relationships… I wanted to be patient for that right one, to share life with that special someone in a deep and beautiful friendship. As Adam and my friendship grew, I quickly knew he would be the man I would spend my life with. I'm thankful I waited. He was, and is, well worth the wait."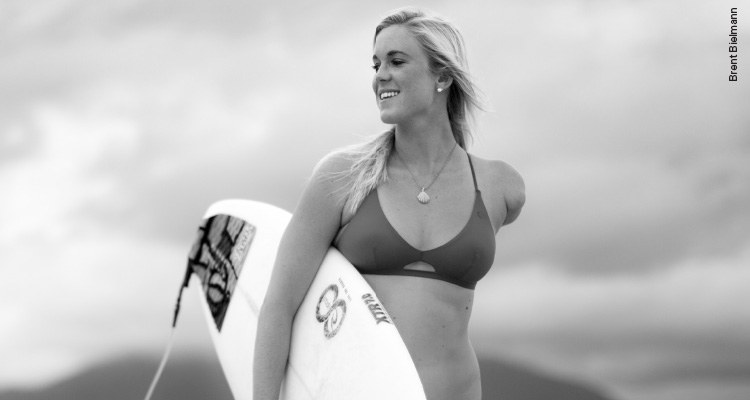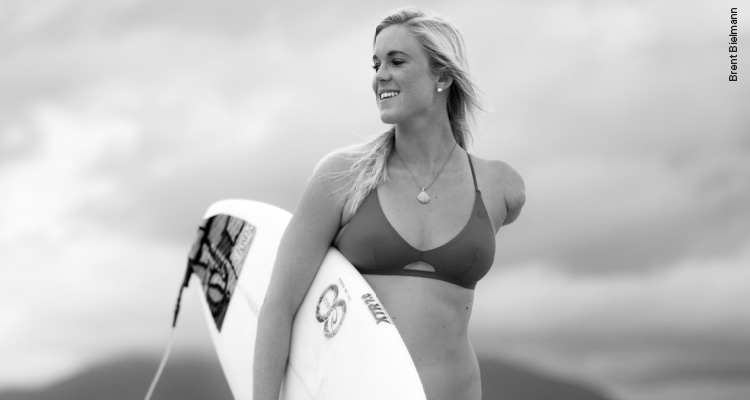 While she loves being married, Bethany has learned that experiencing life together also means supporting each other in all endeavors. "You must be selfless and thoughtful toward your spouse," she explains. "You must communicate well and not hold things back. The greatest thing for a marriage is forgiveness; being quick to forgive is essential."
The couple recently competed on the award-winning TV show, Amazing Race, which premiered the new season on September 26. "I loved that we did so many things we may never have had the opportunity — or be so crazy — to do," Bethany recalls. "I learned that we really work great together and how thankful I am for the way Adam treats me with love, kindness and respect. Many men could learn from him."
As a motivational speaker and author, Bethany currently does ten to fifteen speaking engagements per year. Despite living on the North Shore of Kauai, Adam and Bethany travel five to seven months out of the year, so they cherish every moment they get to spend at home. Bethany is passionate about health, so cooking and fitness have become lifestyle hobbies as well.
"I just love to eat healthy, and often I'm naturally eating vegan or vegetarian — local and organic as much as possible," she relates. "I love shakes, veggie juice, dark chocolate, good coffee! I eat seeds, nuts, beans, fish, eggs and chicken."
For fitness, Bethany often works with Dustin Dillberg who helped her write her new book, Body and Soul. "We focus on my posture and body alignment first, then my strength, agility and flexibility," she maintains. "I use the TRX a bit and a bit of weights, and change it up with different moves. I try to be sure to get some kind of exercise every day."
Media is also a big part of Bethany's life. The accomplished author recently had her book Body and Soul published in April of this year. It is meant to inspire girls and women to live a healthy and active lifestyle. Previously, Bethany released a documentary called "Heart of a Soul Surfer"; an autobiography entitled Soul Surfer that was then made into a major motion picture based on her life story; has a small part playing herself in the movie "Dolphin Tale 2" released in September; and has a new film in the works with Aaron Lieber called, "Bethany Hamilton: I Surf Like a Girl" set to release in Summer 2015.
While persevering in surfing with one arm, Bethany uses her experiences to encourage others to be strong in the face of optimism. "Think on the things that you know are good and true, and focus on what you are thankful for," she advises. "Life is so precious and should be cherished. There are lessons to be learned. Often, through challenges and difficult times, we have the opportunity to grow, mature and learn our strengths. Or it may show our weaknesses that we can work on and grow in."
Bethany's faith is also essential to her inspirational message. "I cling to my hope in Jesus Christ. When I am weak, He is strong," she adds. "Also choosing the right people we surround ourselves with will play a role in hard times."
pau