With Ocean Ramsey, Faith Wenzl, Honolua Blomfield, Dax McGill, and Monyca Byrne-Wickey
By Lauren Shanahan
The label "surfer girl" might be somewhat cliché, but the connotation is growing stronger every year. Despite all the double standards, square box molds, and low budgeting, women's surfing still cultivates respect. And girls are proving themselves not only by advancing past the boys at younger ages, but also by being role models throughout it all. These five highlighted females push beyond what's expected of them and emerge with something to share. Something to teach not only other surfers, but also other waterwomen, career women, and aspiring youth worldwide. 
Each female shares a perspective of her purpose that reflects the natural role model within. Whether it's proving that women have a place in competitive surfing or that girls can be cute and feminine while still achieving equal goals, these career-driven-shark-diving-board-crossing-world-traveling-fierce-competing-and-free-surfing females are taking part in an important message. To find and believe your own purpose.And have fun throughout it and enjoy the journey.
[divider] [/divider]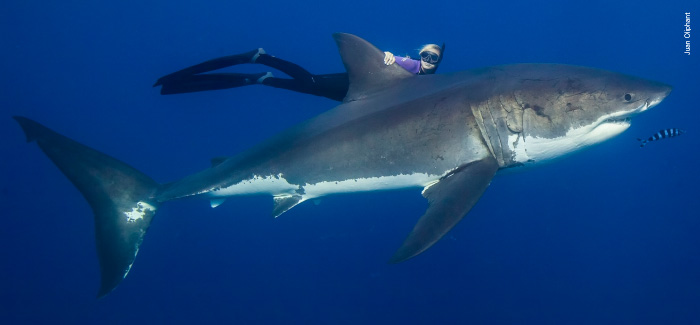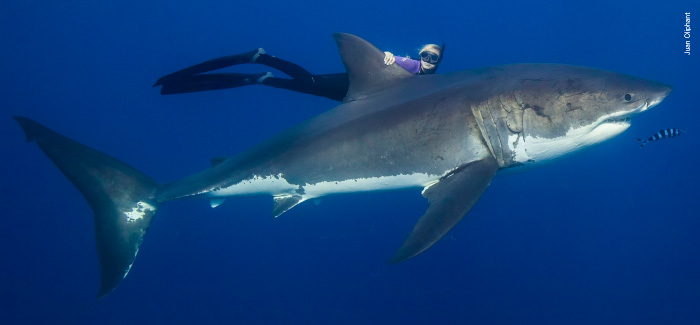 Ocean Ramsey
Scuba instructor and model. Shark activist, free diver, waterwoman, surfer, world traveler, braver than most guys.
Starting the day off with a deep-water free dive is a highlight for Ocean. Seeing a shark while in the water is a blessing. Every three seconds a shark is killed, and despite their importance in fragile marine ecosystems, people's fear is what holds them back from taking a stance against shark cruelty and disregard. Ocean's goal in life is to help save sharks and other marine life. She's hoping to achieve this by changing society's perception of sharks, getting people past their fears, and inspiring others to take an interest in these fascinating creatures. Capturing peaceful interactions of human and shark is Ocean's way of sharing her passion with the world. And with a healthy respect for the animal's capabilities, this waterwoman has learned to read shark behavior and communication skillfully. Sometimes she'll even spend more time with sharks, whales, and dolphins than she does her own family. As a female diving with great whites and tigers for the purpose of proving a message, girls everywhere can recognize how impactful they can be too.
On diving with sharks: "You don't have to completely love sharks, but at least respect them as part of nature. They deserve to be there, they were there before us, and it's their home… "As a surfer I love the days when I can go out, do a dive with sharks, and then go back into shore and go surf. Shark diving is a perception changer."
On females in the sport: "I think you can be cute and feminine, but you can also do everything that all the guys do. You don't have to fit into a cookie cutter society box of what you should and shouldn't do, and what people expect of you. There's no reason why you can't do everything."
Why Ocean is a role model: This inspiring woman lives by the quote, "what would you attempt if you knew you would not fail?" Ocean doesn't allow fear to hold her back from anything and she believes in her purpose so strongly that it brings her face-to-face with sharks, a calculated risk this female is willing to take every single day. Ocean is brave but not fearless, driven by love yet levelheaded. Speaking up for what's important in her life, Ocean leads the example that fulfillment comes from being true to yourself and true to the things that matter most. For this skilled diver this means the threatened marine life in our seas. To be a good person means fighting for what is meaningful and Ocean wonders aloud, "What type of person would I be if I didn't speak up for sharks?" Discovering your passion is like revealing your purpose, so make it significant.
[divider] [/divider]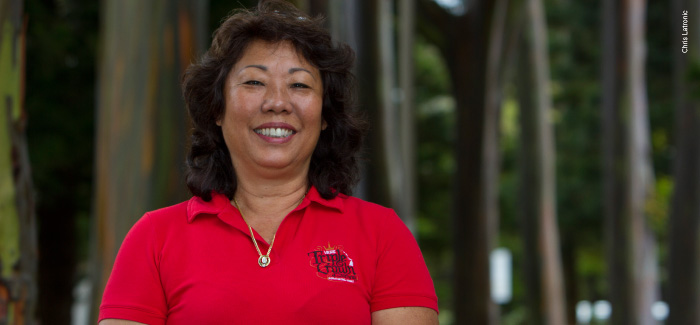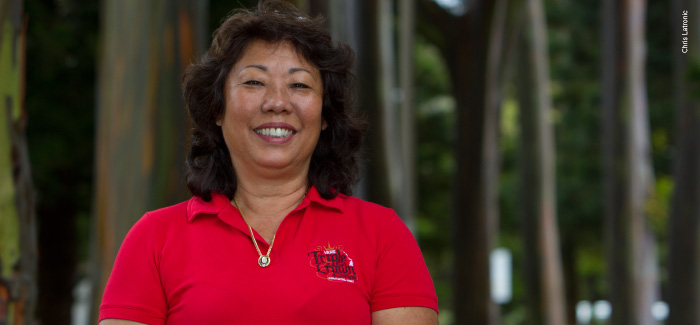 Faith Wenzl
Triple Crown Administrative Director. Queen of Queens. Organizer, supporter, achiever, town born country girl. 
Faith spent her childhood surfing every single day. Whether dominating Queens in Waikiki or keeping up with her dad at Ehukai, this Punchbowl native had a strong will from the get go. Faith is the Administrative Director of the Triple Crown, and has been THE woman of this event since its inception in 1981. "I do everything and anything," Faith remarks. Even before there was Triple Crown there were other amateur events throughout Hawaii, and Faith has had a presence in this industry since 1974. With a knack for organization, knowledge of surfing, and ability to transform a simple idea into a successful end outcome, Faith is a very accomplished woman.
On her career: "Rabbit Kekai told me one year, (it was my fate), "You have to help the pros". So he introduced me to Randy and I've been with Randy ever since. In my days there was no such thing as professional female surfing. And when they finally did have, there was only one event in the whole world."
On female progression: "Female surfers have come far, they're way more aggressive and yet they still look like females. It's nice to see the women surfers look feminine and yet still be strong surfers."
Why Faith is a role model: Faith has gotten to a point in her career where she is at the top. Working her way from humble beginnings, this strong-willed woman gives any female the example that if you dedicate yourself wholly to something, you will succeed. "There's really no one who can tell me what to do," explains Faith with a calm confidence. The ins and outs of her job are so familiar, that year-over-year improvement is now her forte, with online registration being one of the latest and greatest additions that Faith has carried out. "I always try to better each year." Over thirty years of this mindset has gotten the Triple Crown to where it is today; The most prestigious surfing events of the year. And this wonder woman helps keep the wheels (and surfers) on track.
Instead of standing out from the crowd, Faith feels it's necessary to be part of the crowd. As a perpetual supporter, she'll bend over backwards for others and always lend a helping hand. Growing up with six other siblings, Faith had hand-me-down everything's and learned to appreciate the small things. Humble yet powerful, and with an older sister mentality, this lady was born to be an advocator. Faith's personality and drive created a tailor-made career that has produced success and fulfillment. What better way to spend your time than working a job that makes you happy?
[divider] [/divider]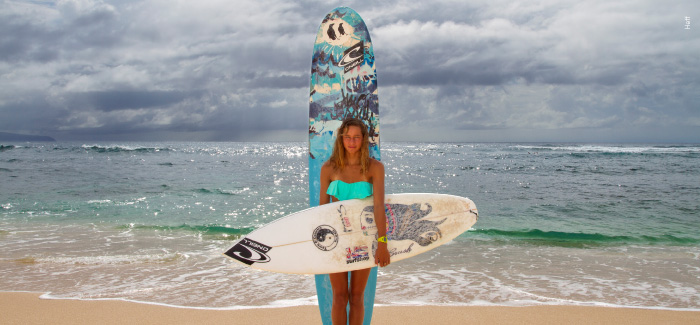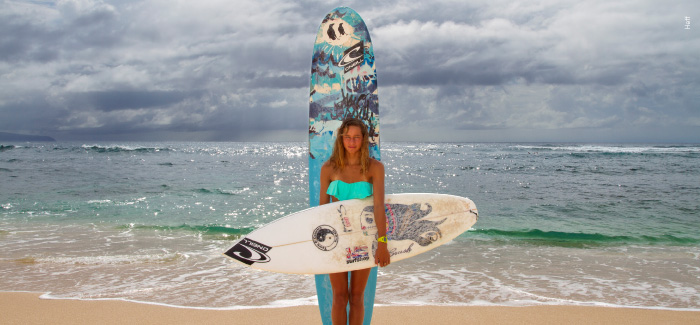 Honolua Blomfield
North shore surfer and student at Waialua High. Spiritual light of the family, artist in the water. Hawaiian, humble, naturally athletic. 
Born and raised on the north shore of Oahu, Honolua took up surfing like a fish takes to water. Coming from a generational surfing family, the sport runs in her blood. And it's evident in her movement on both longboard and shortboard. Surfing competitively, Hono strives to break the mold of being categorized as either a longboarder or a shortboarder. "Why can't I be both?" she questions. With inspirational females like Rell Sunn and Kelia Moniz helping pave the way, this quiet teenager is hoping for that voice to be heard. Naturally sweet and friendly, Honolua works on her goal to be an all-around good person and talented surfer. And along the way she's also helping revolutionize women's longboarding for future generations. It is pure delight watching this Hawaiian descendant move with water on waves. La'akeakaihonolua, "the sacred light from the sea of Honolua" couldn't have been a more perfect name for this force field.
On growing up in Hawaii: "A bad day here is a perfect day anywhere else. I like how it's sunny and it's always perfect, and all the families surf. For me personally, growing up in Hawaii is cool because my ancestors are from here and they did what I'm doing now, they surfed… "My grandma was very graceful and she could probably still longboard to this day, she is 67 years old."
On surfing: "I'm trying to break the stigma of just being a longboarder or a shortboarder, and just be a surfer." More and more girls are entering contests in the longboard division because of Hono's influence, and doubters of crossing are being proved wrong. "Don't be put in a box and do what makes you happy." After all, Hono is just trying to be who Hono is.
Why Honolua is a role model: An artist on a longboard and an equally tough competitor on a shortboard, this Hawaiian wahine continues to strive toward her goals. With a natural drive to achieve, Hono hopes to be the first female World Champion in both long and shortboarding. "Not necessarily the same year or the same time, but in my life, in my career," she smiles. Younger girls are looking up to Hono because she does what makes her happy and stands up for the fun aspects of surfing. A contender in the water but a true friend on land, this girl doesn't let the stress of competitive surfing get in the way of what's important; and that is simply having a good time in Hawaii's beautiful ocean. Young, beautiful, and possessing a traditional air of humbleness, this athlete is a role model for girls who just want to be themselves and have fun surfing.
[divider] [/divider]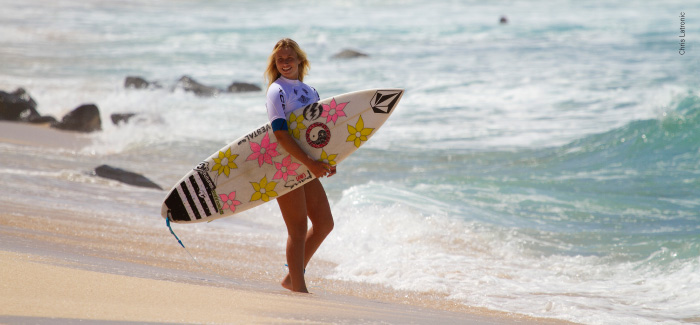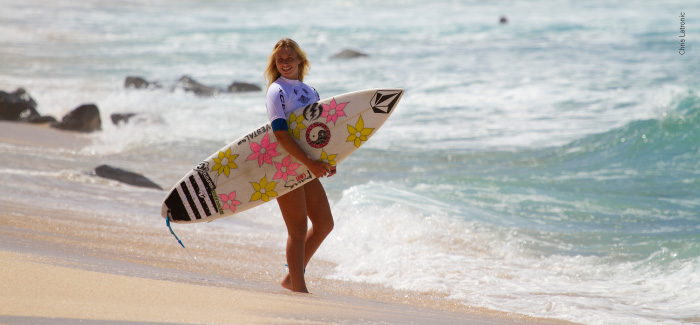 Dax McGill
Competitive surfer and high school student. Class clown, highly determined, fierce, silly, skater girl. On a path to success.
Born with a drive for competition, this north shore girl is proving to the world that determination pays off. One of the toughest things Dax has ever overcome was the injury that left her in the hospital for eight days, just weeks before Nationals two years ago. Most don't know that Dax's very first title in 2011 was accompanied with a snapped rib and migraines that left her blacking out from pain days before the competition. And almost one year to the day when she was hospitalized is when Dax won the world title. You've never seen more of an example of "no pain no gain" than with Dax McGill. But there is a personality behind this type of determination, and it comes in the form of a fifteen-year old surfer whose dream in life is to be world champ. While setting a positive example for girls, this power package strives to always do better.
The flip side to this competitive surfer is her goofy traits. Known as a class clown, Dax has always been outgoing, talkative, and "very loud," she laughs. By not taking herself too seriously outside of competition, Dax is able to create a balance between her career and just being a teenager. "The last thing I'm thinking about is making a joke in the water during a competition, but right when I get out of the water, it's all laughs." With a will that's beyond her years, this fighter won't stop until she reaches her goals. She's positive throughout the journey and describes herself as somewhat of an optimist, but is known to set off a heavy determination in the water.
On staying focused: "When I want something I go for it full force and give it 110%." She uses this fierceness as a tool to stay ahead and concentrate, and considers herself a very competitive person. Her top goal is to win a world title one day and win it as young as she can.
On her career: "Getting a new experience every time I go somewhere and meeting new people, it's all an adventure." By soaking in the positive things about surfing professionally, Dax is able to show women worldwide that it's achievable to live your dreams. "Bottom line is you have to love what you do, aside from the competition. If you love what you do then you will always be happy. Doing what you love is the best feeling in the world."
Why Dax is a role model: Powerful, positive, and good-natured, Dax teaches kids to never give up. This surfer works hard for everything she has achieved and is a great example to young girls that if you stay focused and determined, you can reach top goals at an early age. Stand out from the crowd, shine bright, and do everything with intention. "Never give up. With anything. If you want to be really good in school, get a good education, go into sports, or win a world title one day, never give up. Keep giving it 100% until you get it." With drive comes success and women worldwide can learn from this type of spirit.
[divider] [/divider]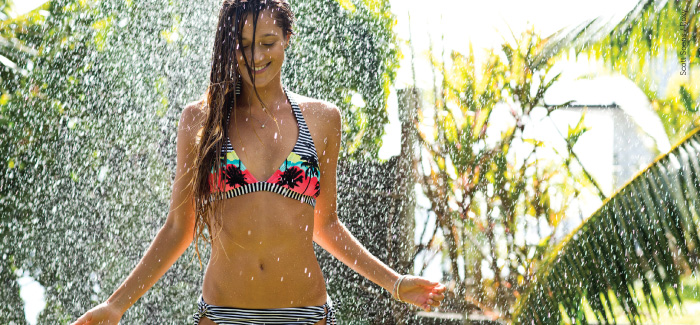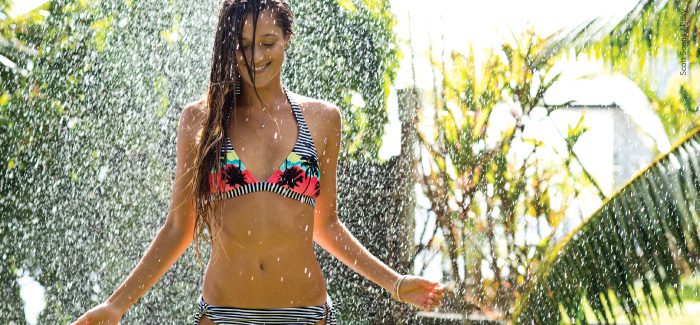 Monyca Byrne-Wickey
Freesurfer and Roxy model. Free spirit, confident, passionate. Hana girl, old soul, deeply connected to friends, family, nature.
At the young age of 18, Monyca turned down competitive surfing on the QS and embraced being a free surfer. A risky move at the time, in hindsight this free spirit believes it opened up opportunities for sponsors to utilize her in more unique ways. As a Roxy model, Monyca travels the world to surf, but admits that there is nothing like being back home in Hana, Maui. By taking the competition out of surfing, this twenty-two year old gets to take what is meant to be taken out of the sport; and that is the love, fun, and enjoyment of the ocean. Deeply connected to her fiancé, friends, and family, Monyca expresses herself best by being passionate.
Passion is an asset she truly admires in a female, and believes it is a word that can symbolize what is most important in life and how to express it. Being in love with anything is what "keeps you happy and looking forward to the rest of your life," Monyca describes with worldliness beyond her years. Possessing a confidence that comes from within, this loving person believes that self-esteem is key. "If you are doing what you love and you're working toward your dream, then you'll have the confidence to love who you are on the inside and out."
On female surfing: "Surfing has become more feminine. The generation I've grown up with has been the difference. Women are embracing their feminine beauty and really embracing what they've got as a woman. I think absolutely neck and neck with that is progression. The progression with surfing has changed immensely in the past ten years… "Beauty, fitness, and progression have gone up so many levels in the last few years, it's really pushing everybody's eyes open for surfing." But when it comes down to the difference between male and female surfing, Monyca says there isn't much of one. "Everybody's together in the water having fun riding a wave. I think if I were a boy I would be having just as much fun."
On what's important: "The most important things in my life are definitely my fiancé and the rest of my family and all our friends. Also surfing, ocean, nature, and Hana." Also staying true to herself and letting that radiant personality shine through in everything this free surfer does.
Why Monyca is a role model: Guiding others down a positive path, Monyca helps females because she is a successful surfer without having to compete. "I'm a little more accessible because I'm not a competitive surfer, it's easier for girls to relate… "Girls who aren't striving to be pro surfers can still strive to love the ocean and have respect for it." Monyca is setting a good example for young women worldwide by telling them that they "can always find love and happiness, whether it be through relationships, surfing, being active, or following their dreams." Competition doesn't have to be an ingredient for success; as long as you live life whole-heartedly, passion and accomplishments will follow.